---
Preamble:
Cowon (
http://www.cowonglobal.com/
) is definitely no unknown company at all and doesn't need much further introduction – founded in 1995, the South-Korean company managed to established to a major "big player" when it comes to digital audio players, with a large international network of resellers and distributors.
In the past, the company has already released many audio players and was one of the first to use a touchscreen and touch control navigation for their products. Right from the start, their dedication to audio and a clean signal path was strong, as even their earlier players already usually had a low output impedance and noise floor, with the only downside having been a sub-bass roll-off with connected low impedance headphones because coupling capacitors were used in the signal path. These days are fortunately gone and modern Cowon audio players feature a flat frequency response without sub-bass roll-off with all headphones regardless of impedance and a clean, cap-free internal signal path.
Cowon's recent line of premium audio players is called "Plenue" and includes a couple of different models, differing in pricing, technical specifications and features.
In the not too distant past, I had already bought their small Plenue D audio player that was great on the objective side, however I sold it quite quickly because the menu navigation response (scrolling through lists) was a bit slow for my liking, along with a few other subjective trifles that however didn't stop it from being a sonically excellent audio player (in fact I had even started a private review that I never finished though due to time and work coming into my way, however it would have turned out around 4.5 out of 5 stars).
Recently I got the great opportunity to get my hands on another of Cowon's Plenue line, the Plenue M2 (
http://www.cowonglobal.com/product_wide/PLENUEM2/product_page_1.php
). Equipped with a 3.7" AMOLED touchscreen, Burr Brown PCM1795 DAC capable of DSD and Hi-Res playback, high SNR, low distortion, low output impedance and good crosstalk values, 128 GB of internal memory plus a micro SD card slot, a digital optical audio output next to the headphone socket, a metal unibody frame, and of course Cowons well-known "JetEffect" EQ and DSP internal sound manipulation software (that doesn't
have
to be used but offers plenty features to tailor the sound to one's liking), it should offer a lot of fun and a really clean and precise sound which is to be tested in this review.
Disclaimer:
I was provided with the Cowon Pleunue M2 for the purpose of an honest, unbiased review. I was told that I can keep the sample for free for personal use as well as for future reference and comparisons. Before I go on with my review, I want to take the time to personally thank Cowon and especially Hailey who got in touch with me and arranged the shipping.
Technical Specifications:
Price: KRW899000/~$799/£590/~€729
Delivery Content:
The Package the Plenue M2 arrives in is very simple and something I already know from Cowon (from the Plenue D that I used to own). It is a simple and black cardboard box that contains the player (with a temporary screen protector applied), a charging/data transfer cable, a brief manual (the real and very detailed plus informative manual is located on the player's internal memory) and a warranty card. A cover for the Micro SD slot is also already installed and also something that I already know from Cowon (it is actually quite useful and prevents the player from dust getting insode when intending to use it without a memory card but solely with the internal memory).
While this is basically all one needs to get started, I would have probably wished for more accessories as well as a more impressive presentation to give the premium player a premium first contact and unboxing experience.  
---
---
Looks, Feels, Build Quality:
The Plenue M2 is just beautiful and also looks and feels like a premium product. Its casing is made of a single block of milled aluminium (-> unibody) that is brushed and coated on the back and matte on the sides. On the front is a large 3.7" touchscreen as well as a sensor button below it.
The design with the added edges of the aluminium unibody on the left side of the screen shares some similarities with some of Astell & Kern's models without looking as extravagant – the Plenue M2 appears rather like an English gentleman with style, class and understatement.
On the right hand side, one will find the volume control buttons as well as three playback control buttons that I already found handy on my Plenue D.
The bottom side features a 3.5 mm output that acts as combined headphone socket and digital optical S/PDIF output. Next to it is a micro SD slot as well as a micro USB socket that is used for charging/data transfer/USB DAC use.
The top has got a small button on the right hand side with a ring around it that reads "high definition sound" and "Plenue". Next to it is a small and multi-coloured LED that is useful in some situations (seeing whether the player is on or off (blue flashing), knowing about the charging status (shining red)), however I found the Plenue D's illuminated ring around the button to be more innovative, but nonetheless I am glad they also implemented a status LED on the Plenue M2. Just as with the Plenue D, it can also be turned off in the player's settings.  
---
---
The Player by the way feels very well in one's hand and is well built. The touchscreen has also got a good resolution (no modern smartphone levels though) and the buttons' pressure points are crisp, well-defined and precise.  
---
---
Operation, User Interface:
Firmware Version 1.01:
Who knows Cowon's more recent UIs will feel extremely familiar with the Plenue M2's user interface, library, playing screen and settings. I could actually just redirect you to the manual that probably explains everything better than I do here, however I still wrote a detailed guide about the Plenue M2's user interface.
By the way, one of the reasons why I sold my Plenue D shortly after I bought it was because the menus felt quite slow and the same went for scrolling in lists, but I can fortunately tell you that with the Plenue M2, the response speed is very high and nothing feels even slightly laggy. Also scrolling through lists works extremely fluently – the benefit of the faster CPU is definitely noticeable.
The UI can be split into three main screens – the library, a playing screen as well as the settings.
On the main playing screen, the album cover art takes up the most space and sits right in the centre.
On the top in the status bar, with information about the set playback (order, shuffle etc.), the EQ pre-set, time, gain, volume (140 steps with 0.5 dB per step increments) and battery status being present.
Directly below, the track and artist info are displayed as well as the icon buttons to get to the music library as well as quick settings.
Below is the album cover art with overlaid track counter and symbols that can be clicked to enable loop play, shuffle and list play.
Clicking on the album cover art, it gets larger and more information about the track, artist and album are revealed.
Clicking on the tiny red arrow, one can see detailed information about the track.
Below are three virtual playback control buttons that can be used just as the physical buttons on the right side to change tracks and pause songs. Changing tracks can also be done by swiping across the album cover.
A progress bar is right underneath.
At the bottom of the screen is a VU meter (that can be turned off).
Turning the player by 90 degrees, a quick music library access to the albums with their cover arts (as known from the iPhone and iPod Touch) is displayed in a 2 by 5 array.
By the way, gapless playback with FAC files works perfectly and the gap with MP3 files is just very short (just a small "click" between tracks).  
---
Tapping on the list-like icon on the left, one will get to the music library.
The Plenue M2 has got 128 GB of built-in memory as well as a micro SD slot that reads 200 GB exFAT-formatted cards without any problems. And the best thing is that the database updates itself is performed very quickly.
In library view, we have a few different tiles that lead to the folder browser, user-manageable favourite lists/playlists, all songs, artist view, album view, genre view, Cue/SACD (yes, the Plenue M2 can read cue-sheets as well as two-channel SACD ISOs) and last but not least the most recently added songs.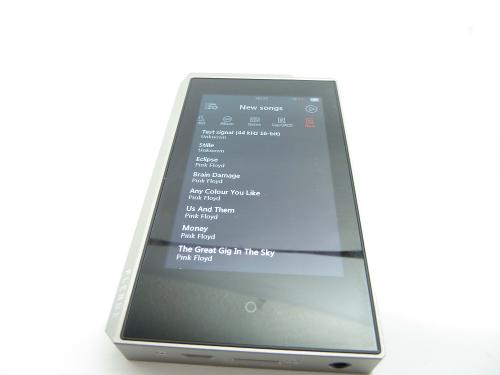 Unfortunately, like the vast majority of players on the market, the Plenue M2 does not read the "Album Artist" tag but only the regular "Artist" tag.
However, this is no problem at all as we have one very handy icon in the upper left corner of the screen that allows us to quickly create and manage playlists but also contains a search feature with an on-screen keyboard, so I am not disappointed at all that the "Album Artist" tag is neglected, as when I am looking for a specific artist but don't want to scroll through my music folder, I can just use the search function.
Depending on the view in the library, the library options icon also lets you delete files/folders and rename playlists.
---
On the main playing screen, the quick settings can be accessed by tapping the icon in the upper right corner.
Then a semi-transparent grid of tiles pops up.
The first icon leads us to the detailed settings where we can for example set the clock, disable the status LED, change the digital filters from fast to slow roll-off, remove the silent parts at the beginning and end of a song, set how many user-configurable profiles (anything between 4 and 16) are accessible in the JetEffect DSP settings, define whether the touch button below the screen gets us back to the settings, music browser or playing screen, and activate the USB-DAC mode.
The other quick settings will let you add the song to a playlist/favourite list, give you quick access to JetEffect (I'll have a dedicated paragraph about that further down in the sound section), define a part of the song that is re-played in a loop, disable the auto-rotation of the screen, choose whether the elapsed, remaining or both times are shown on the progress bar, define what a short press on the skip button does, define the seek interval of the playback control buttons, enable/disable the automatic resume feature (the last position of the song is remembered after re-booting the player), enable/disable the silence remove feature for the beginning and end of a track and choose between low gain and high gain ("headphone mode").
Also, we can choose between two VU-meter styles or disable them completely.
And lastly, we have five different menu skins to choose from.
---
The player really does have a good user interface and firmware with many options and customisation features as well as a good library and a very handy search feature with on-screen keyboard. The user interface and navigation feel very mature and touch inputs are immediately recognised. There is no lag or whatsoever and everything runs fast and smoothly. Also, I found the sensor button below the screen to be quite handy at times to get back to the main playing screen quickly with just a tap.
The team responsible for the user interface and software features has just done a great job.
By the way, I haven't experienced any bugs or crashes so far except for an occasionally appearing database update (however just a few seconds) upon start-up and the player crashing once when I inserted a new card and performed the media update. As the software is still in an early version, I am quite sure that this small thing will be resolved over time.
Battery Life:
For the battery test, I connected my cheap Superlux HD681 headphones to the headphone output and set the volume to 75 at low gain. Then I played circa 70% CD format (16 bit/44.1 kHz) and 30% 24 bit Hi-Res FLAC files. Occasionally, I unlocked the screen and navigated through the menus.
With this test method, the battery lasted pretty exactly 8 hours and 45 minutes.
Sound:
Needless to say, the JetEffect settings were disabled in the next few paragraphs.
Frequency Response, Output Impedance:
Measured without load, these are the two DAC filter settings:
So the raw frequency response is just as neutral as it should be and the slow roll-off filter also works as it should.
Increasing the difficulty, let's see how the Plenue M2 performs with critical multi-BA in-ears with a strongly varying impedance response:
My
Shure SE846
and Ultimate Ears Triple.Fi 10 are in-ears that react very critically on devices with a rather high impedance response that will skew their frequency response. The calculated output impedance based on these measurements is at ca. 1, maybe 1.25 Ohms, which is ideal for most multi-driver in-ears (
SAVANNA
, UE900,
W4R
, SD-2, UERM,
SIRIUS
, …) and within the ideal spec for multi-driver in-ears (1 Ohm or less are ideal, so a little over 1 Ohm is still very good) whereas only the very low impedance and critical ones showing some slight deviation (that is however around the 1 dB threshold and many people don't even notice this deviation without training and critical listening, so I have experienced over the years). Therefore the Plenue M2 is good in terms of output impedance although the Plenue D was even a little better here with calculated ~ 0.5 Ohms.
Hiss:
I am someone who is quite sensitive to hiss and have got some very sensitive in-ears (the Shure SE846 and Ostry KC06A for example) that reveal even the tiniest bit of hiss when it is present.
Just as with the Plenue D I used to own, I have positive things to report about the noise floor of the Plenue M2: it is very low wherefore the Cowon is definitely among the better/best devices when it comes to being (almost entirely) hiss-free. The noise floor is very low and lower than with the Chord Mojo which is already a good performer in this regard, and going by memory also somewhat lower than the Plenue D. Only very few stand-alone audio players have got even less hiss (even less hiss in this case means virtually no hiss) (the iBasso DX90 and Luxury & Precision L3 Pro and L3 for example, however the L & Ps' output impedance is higher as well). So regarding noise floor performance with very sensitive in-ears and for hiss-sensitive people, the Plenue M2 does definitely get a "thumbs up" from me.
Transparency, Precision, Soundstage:
Now to the very subjective part of my review. My opinion and experience regarding the sound signature of source devices and amplifiers goes like this: there is an existing audible difference between various devices, but it shouldn't be overrated – simply because the basic character of a headphone won't be completely changed (if the circuit follows a clean design philosophy), but sometimes rather "shaped" a little and is extremely subtle in many cases and is (in most cases) just slightly present (if even) and not huge like totally different classes or night and day.
So let's continue with my subjective impressions and observations (for this critical listening, I used my UERM,
Pai Audio MR3
, Sennheiser IE 800,
Shure SE846
, Audeze LCD-X as well as the
Noble Audio SAVANNA
and
Fidue SIRIUS
):
First things first: the use of 140 volume steps that let the volume increase in very fine 0.5 dB per step is a thing that I welcome a lot. This means that the perfect listening volume can always be found as there is no big gap between two steps like some players have (especially in the low adjustment range). The use of a two-position gain mode is also a good thing and if I am not horribly wrong, the Plenue M2 does have a quieter lowest volume setting than the Plenue D. One thing I would however personally like to see being implemented by Cowon is an ultra-low-gain-mode that could come in handy in a situation where tracks with an average/lower dynamic range are played back through extremely sensitive in-ears (e.g. my SE846) late at night when one wants to listen really really quietly with the music playing quietly in the background. With most in-ears and in most situations though, the lower volume range is perfectly fine (and I am kind of the exception here anyway – still I'd
personally
love to see an additional ultra-low-gain-mode).
Let's move on to my sound impressions:
It is sometimes said that Cowon players tend to sound really smooth, with an organic presentation – volume-matched (which is the most important thing when doing reliable comparisons) and using my UERM, MR3, the SAVANNA and the SIRIUS, I, who is definitely more on the objective side, wouldn't agree to this. Just as the Plenue D, the Plenue M2 sounds very neutral, un-coloured and natural to me; basically just like an ideal player should sound like. No added warmth, no thickness, no shift of the tonality in the vocal range, but also no hard edges and no glare in the treble (unlike my DX90 which is just a little more "aggressive" in the highs and represents the "typical SABRE glare", but it is no night-and-day difference either).
The only in-ear out of the ones that I used for direct comparisons where I could spot a difference was my Shure SE846 that sounded a little fuller in the mids with the Plenue M2 compared to my Chord Mojo-Leckerton UHA-6S.MKII stack or iBasso DX90, but that is only mainly because the Shure has got such a low impedance that even with the Cowon's low ~ 1 Ohm output, there will be a slight dip in the upper mids to middle highs area, as the Shure really wants to be driven by a 0.1 Ohm output in order to avoid frequency deviation (yeah, the SE846 is a touchy diva in this regard).
When it comes to "transparency" and clarity, the Plenue M2 is superb – due to its really good noise performance and otherwise also great specs, the player sounds highly transparent, clear and clean with a "black background". As we are in an area and class where the specs are that good that there shouldn't be a distinctly audible qualitative difference between two players when correctly volume-matched, I definitely won't speak about how I perceive large qualitative differences as I simply don't. The player just sounds great and highly transparent, just like many others in the same league. If anything, I would say it sounds subjectively a tiny bit "livelier" and probably a touch cleaner separated in the highs than my iBasso DX90, but I definitely wouldn't tie myself down to it and for the latter, I wasn't able to accurately spot it in a semi-blinded comparison, so it might be imagination and the infamous "new-toy-syndrome". And when it comes to bass speed (LCD-X, UERM and SE846 used), it is just as clean and quick as with other players that exceeded a certain tier. And as for the sometimes slight timbre differences between some players and the Plenue M2, I would say that it is a matter of personal preference and definitely no night-and-day difference.
When it comes to soundstage, I can happily report that it is authentic and has got good instrument separation and placement, unlike the Plenue D that had a quite small and tendentially somewhat mushy spatial presentation (however, this was no night-and-day difference back then either as there are just no
huge
differences between well designed audio devices but rather smaller ones that are sometimes a little more and sometimes a little less present, if even), likely caused by at best average stereo crosstalk values. The Plenue M2 has got a precise spatial presentation. Compared to the iBasso DX80 that I perceive to have a larger stage than many other players, the Cowon's is a little narrower but not small. It is also a little less wide than my DX90's stage but a bit deeper (the DX90 has got a wide but not as deep stage to my ears). I would however say that somewhat similar to the DX90, the Cowon's soundstage is slightly more oval than round.
So on the sound side, everything is really good and the player sounds clear, clean, natural, neutral and precise.  
---
---
Digital Out, USB-DAC:
The digital optical output is automatically enabled when an optical cable is plugged into the combined headphone/digital socket. Then a symbol shows up in the status bar and one can see the red light of the S/PDIF connection. Using the Plenue M2 with any DAC with optical input (for example my Leckerton UHA-6S.MKII and Chord Mojo) works flawlessly.
The USB-DAC feature can be enabled in the settings (System -> USB Mode). Connecting the Plenue M2 to my Windows 7 laptop, the drivers are automatically downloaded and installed within seconds (plug & play) and the player's internal volume control is still accessible (it even shows up on the Cowon's screen). There is no stutter and the audio is very clean, without any additional hiss or noise.
JetEffect 7 DSP and Equalizer:
One of Cowon's most powerful features has always been the easy to use and quite powerful sound manipulation features. With this, it also features a parametric EQ and while it is not as powerful and finely adjustable as most desktop software EQs or few Android and iOS app EQs, it offers much more features than most other audio players' equalizers and lets you select between three Q-values (bandwidth) and also slightly adjust the frequency band.
What's even more powerful than the EQ is the number of DSP settings (reverb, adjustable sub-bass boost, loudness, echo, soundstage enhancer, MP Enhance (I assume that this is probably upsampling/re-encoding of MP3 files), …). All of the settings are applied in real time and without any delay.
If you like playing around with these DSP settings and tailoring the sound to your preference, you will love JetEffect. Also, for example, it allows for incredible amounts of distortion-free bass boost. And all of the 50 fixed pre-sets offer something to like with none of them sounding like crap – it is quite obvious that Cowon is doing these sound manipulation features for some time now. In addition, up to 16 user-configurable profiles can be created (but not renamed as it seems).
Of course, all of the JetEffect settings are disabled by default and unless they are activated, one is getting a purely neutral and unaltered sound from the Plenue M2.
On the total, we have 10 EQ bands. The frequency of each can be adjusted in three steps per band and the same goes for the Q-factor where we also have three (narrow, normal, wide) for every frequency band.
Then there are the BBE+ settings.
BBE is a basically an adjustable loudness.
The Mach3Bass is a bass boost for the lower midbass (unfortunately it doesn't affect the real sub-bass below 40 Hz).
And 3D Surround is kind of a virtual soundstage enhancer that works surprisingly well and doesn't sound the slightest artificial to me.
MP Enhance is there to enhance MP3 files and I assume it is doing it by upsampling the signal (I haven't investigated it further).
Lastly, we can also dial in some chorus and reverb with different characteristics for each. This is nice too and can create the effect of a different location without sounding artificial as long as not driven to the max.
Overall, if you like playing around with some DSP features that don't sound artificial but actually realistic and are very easy to use, and if you want an Equalizer that is somewhat more advanced than a normal 10-band EQ, you will find some very useful things here. Even when combining BBE with Mach3Bass and the EQ, there is no hint of distortion or muddiness at all and a massive boost of the lower frequencies that is out of this world can be added if desired.
The only negative thing about the JetEffect settings is that none of the EQ settings really affects the sub-bass below 40 Hz, which is a pity (it was probably not implemented as it requires more processing power and starts to distort earlier). Only the BBE also elevates the bass, however also the treble as it is a loudness feature.
---------
Comparisons:
Needless to say, the devices were metrologically volume-matched as close as possible. Here, I used the Audeze LCD-X, Sennheiser IE 800, Ostry KC06A, UERM, Shure SE846 and Noble SAVANNA for direct comparisons.
iBasso DX80:
Both players appear about comparably valuably built to me with the Plenue M2's upper side being a bit more premium.
The DX80 has got two micro SD cars slots, the Cowon only one but 128 GB of built-in memory. The DX80 offers some more features/connections (coaxial output, Line Out) and is more powerful, however the Plenue is really more than powerful enough for me.
When it comes to user interface, both are really good but where the Plenue M2 is superior are things like scan speed, responsiveness and especially the search function. I really like the DX80's software and interface but have to admit that the Cowon's is just better and offers more features, too.
Both have got a very fine-grained volume control with 0.5 dB per step but the iBasso allows for even more quiet listening levels for extremely sensitive in-ears if needed.
The iBasso has got audibly more hiss with sensitive in-ears whereas the Cowon is almost completely quiet. Both have got a low output impedance that is ideal for the vast majority of multi-driver in-ears but with ca. 0.2 Ohms, the iBasso's is even lower wherefore it can also drive divas such as the SE846 with zero frequency deviation.
The DX80 is the somewhat warmer and darker sounding player of the two. I cannot really spot a difference in terms of transparency (we are at a level where no real/greater difference should be expected anyway when objectively compared) with the Cowon sounding clearer because of the much lower and almost inexistent noise floor.
The DX80's soundstage appears to be somewhat wider and deeper but both are equally well separated.
iBasso DX90:
The Plenue M2 appears more premium and better built due to its aluminium unibody.
The Cowon has got more possible memory due to its greater built-in memory (128 against 8 GB). The iBasso features a coaxial digital output whereas the Cowon's is optical (which connection is more practical will be up to you – I personally prefer the optical digital signal transmission). The iBasso offers a Line Out whereas the Plenue doesn't. The iBasso's output is more powerful but the Cowon's isn't weak at all either and more than powerful enough for me.
The Plenue M2 has got the more advanced user interface with many more options and has got the faster scanning speed. Both are more or less equally responsive but scrolling is somewhat more fluent and faster with the Cowon and the search function is a huge plus.
Both have got very fine-grained volume control with 0.5 dB per step but the iBasso allows for even more quiet listening levels for extremely sensitive in-ears if needed.
The iBasso has got even less hiss than the Cowon and is about perfectly quiet (its tiny bit of noise floor is just barely louder than my blood's stream noise in an extremely quiet room with extremely sensitive in-ears when playing an empty audio file). Both have got a low output impedance that is ideal for the vast majority of multi-driver in-ears but with ca. 0.1 Ohms, the iBasso's is even lower wherefore it can also even drive divas such as the SE846 with zero frequency deviation.
The DX90 is slightly more "aggressive"/rawer sounding in the highs, but besides that I cannot spot any difference in terms of timbre. Transparency and clarity are identically ideal to me.
The iBasso has got the somewhat wider soundstage whereas the Cowon has got more spatial depth in my ears while both are equally precisely separated.
Luxury & Precision L3 Pro:
I only used the Audeze, Sennheiser and Ostry for this comparison as the L & P has got the higher output impedance that somewhat affects the sound signature of multi-driver in-ears.
Both players feature really high build quality but I find the L3 Pro's design to be more luxurious and premium.
The Cowon has got more possible memory due to its greater built-in memory (128 against 32 GB) and takes exFAT-formatted cards whereas the L3 Pro only accepts the FAT32 format. The L3 Pro features a coaxial digital output whereas the Cowon's is optical (which connection is more practical will be up to you – I personally prefer the optical digital signal transmission). The Luxury & Precision also offers a Line Out whereas the Plenue doesn't which is also true for the additional Balanced headphone output.
The Plenue M2 has got the much more advanced user interface with many more options while both offer similarly great scanning speed. Both players feature a really responsive navigation and user interface but at the current state, the L3 Pro doesn't offer what you would normally expect from a touchscreen interface (swipe-scrolling for example). The Cowon's search function is a huge plus, too.
The Cowon offers volume steps with constant 0.5 dB per step compared to the logarithmic increment of the L3 Pro. The Cowon allows for the somewhat more quiet listening levels for extremely sensitive in-ears if needed.
The L3 Pro has got even less hiss than the Cowon and is about perfectly quiet. The Luxury & Precision has got a higher output impedance that is not as ideal for multi-driver in-ears as the Cowon's.
When it comes to perceived timbre, the Cowon sounds slightly smoother in comparison, with the L3 Pro being slightly more direct but not harsh/aggressive in the treble.
Transparency and clarity appear identically great to me. Directly comparing the two with matched volume, the L3 Pro seems to have the slightly softer bass with the Cowon's being firmer (more arid).
The Cowon has got the somewhat wider soundstage while both players have got just as much spatial depth to my ears (the L3 Pro's soundstage appears perfectly round in my ears with the Cowon's being just slightly oval). Instrument separation and spatial cues are similarly precise from what I perceive.
Chord Electronics Mojo ("standalone" use):
The Mojo is a DAC-Amp and needs to be fed by a digital source device (PC, CD player, audio player or anything that outputs a digital signal). I am usually using my Mojo as pure DAC with an additional amplifier for various reasons, but for this comparison I used the Mojo directly.
When it comes to design, Chord Electronics' device is more extravagant compared to the more simple and elegant Cowon.
The Plenue M2 has got the more fine-grained volume control and also allows for a lower lowest possible volume level.
The Mojo's output is more powerful but as mentioned more than often enough, I have personally still more than enough headroom left with the Cowon.
The Mojo has got a little more hiss with extremely sensitive in-ears than the Plenue M2.
Both have got a low output impedance, however the Mojo's output impedance response is not 100% linear due to its simple output stage (its Mojo's output impedance is higher in the treble), so both will show some slight frequency response deviation with extremely critical and diva-like in-ears. By the way, the Mojo's frequency response shows the characteristic of a slow roll-off filter in the highs when low impedance headphones are connected but turns into a sharp roll-off-like response when a high impedance load is connected.
Regarding sound/timbre, the Mojo sounds smoother to me and a bit different than many devices in general. Compared to the Cowon, it sounds somewhat smoother and kind of "warmer/richer" to me which I think is mainly because its treble seems to lack any sharp edges and decays really "quickly" which leads to a more "rounded" perception in the highs (personally I wouldn't mind a little more aggressiveness in the Mojo's treble and (unfortunately) could also replicate that treble behaviour in a volume-matched and blinded test).
When directly compared, the Chord Mojo appears to be a bit more transparent sounding – it is definitely no night-and-day difference and not as "eye-opening" as many people describe it, but the somewhat higher transparency is reproducible to some degree when using highly resolving in-ears.
With in-ears such as my UERM or the SIRIUS, the Mojo just appears to sound somewhat more transparent, especially in the midrange. And while I am personally not always a fan of its treble behaviour/"timbre", there is just something magical about its presentation wherefore I also didn't return it within the 30-day period, as it fails some of my
personal
must-have characteristics for the "perfect" standalone DAC-Amp but comes close(r) to it in a stack with an external amplifier.
The Mojo's soundstage appears slightly more compact compared to the Plenue M2's larger one but both are equally well separated and placed to my ears.
Conclusion:
Sure, you can already get some audio players that offer streaming, Bluetooth, WiFi and/or interchangeable amplifier modules for the price of the Cowon Plenue M2. However, it is a premium player for those who don't need those extra features and solely want to concentrate on the music without any distraction. And this is where the Plenue M2 shines – it offers a premium, valuable build quality with a nice, elegant design, has got a large internal memory, physical playback control buttons, an extremely stable and highly advanced firmware and user interface that allows for very easy database browsing (it offers even a search function with a virtual on-screen keyboard which I think is a huge plus), a very fine-grained volume control (0.5 dB per step with 140 steps in total as well as two gain settings), advanced and well working sound manipulation features without any distortion or degradation of the sound quality and of course a clean, transparent, precise and natural sound with a very low noise floor combined with a low output impedance.
I really have a hard time finding any actual flaws and what I could list is solely the lack of a dedicated Line Out, the lack of the "Album Artist" tag support (which doesn't matter though because of the excellent search function) and that the Equalizer of the JetEffect doesn't affect the lowest sub-bass.