---
The product was provided to me free of charge for the review purpose in exchange for my honest opinion. The review was originally posted on my
blog
, and now I would like to share it with all my readers on head-fi.
Manufacturer website:
Cowon
.
---
Intro.
Cowon has been on a roll with Plenue releases that include both updates and brand-new models. When it's an update with incremental number, you have some idea what to expect, though Plenue 1 (P1) to Plenue 2 (P2) had a few surprises. But when we have a brand-new model, it becomes a guessing game, just like when Plenue R (PR) was announced as being "all round player". When you hear that marketing reference, many will probably assume a "jack of all trades" with an average performance. But once you read the full spec, you'll quickly realize it's going to be something else!
I'm sure many Cowon fans already noticed a trend with every new Plenue release having some new design teaser which going to appear in the next model. The transformation from boxy P1 and PM to sexy PD set the design tone for future PS and PM2 chassis. The balanced output of PS, though a less common 3.5mm TRRS, paved the way for 2.5mm balanced in P2 and the latest PR. The LED light of P2 appeared as a new Sound Source LED in PR. And now, PR introduced Bluetooth with aptX, which I have a feeling we probably going to see in future flagship models.
What I'm trying to say, Cowon likes to push the envelope one step further with every new release, building on a legacy of their previous models. Ever since 1995, they continued down this path, evolving with every new model and trying to stay relevant and competitive as a pure audio player with world class JetEffect dsp effects. Plenue R is another fine example of this progress, which I found to be like a lovechild of PM2 and P2. Now, let's find out more!
Unboxing.
As I mentioned in my previous Cowon reviews, this company takes a lot of pride in presentation of their products, and I always found the unboxing experience to be rewarding. Here we have a traditional Plenue all black formal dressed box with a silver ribbon. When you lift the cover up, you see PR in a secure form fitted cutout to make sure the DAP arrives safely to its destination.
Unlike P2 unboxing where the analog volume/control wheels got my attention from the start, here it was a more traditional looking slim DAP with a display occupying the entire top view.
Accessories.
Cowon usually doesn't spoil us with too many accessories, but the one you get are well thought of. You get a warranty and a manual printed on a premium paper, and if you want you can always download a full manual in many different languages directly from their
website
. The manual is detailed enough to give you a good idea about the DAP and its operation prior to purchasing it. They also provided micro USB cable, used for charging, data transfer, and usb dac connection, and I found it be of high quality. And that's about it.
Leather case (optional).
Due to PR being a more budget oriented DAP, almost half the price of P2, leather case is optional here, but I highly recommend it. I will cover this more in Design section, but I found the lower right edge of PR chassis to be not as comfortable, digging into the palm of my hand. Not sure if it's a pre-production sample quality, but I found handling of PR to be more enjoyable with case on.
The case is pure leather and fits the DAP like a glove, doesn't easily slide off, and doesn't hide the beauty of PR shape. The quality of the leather is different from P2 case, softer to the touch, nearly the same as PM2 leather case. It also has a soft inside lining to make sure PR doesn't get scratched. On the outside, it has a neat red stitching and a stamped Plenue logo on the back.
The top is fully open, that's where PR slides in. Left side is solid, covering uSD slot as well; if you need to remove/exchange the card, you will have to remove the case. Bottom has one generous opening for micro-usb and both headphone ports. Right side also has one generous opening for the whole cluster of volume and playback buttons. I prefer it over being covered because you can easily slide your finger to feel every button, and the cutout makes buttons recessed so you don't accidently press it while in a pocket.
I'm sure the idea was to trim extra accessories to keep the price at $599, thus a leather case is optional, but in my opinion, it worth every penny.
Design.
Like previously reviewed PM2 and P2, PR feels very solid in my hand, has a brushed aluminum chassis, a rubbery non-slip back panel, and 3.7" AMOLED symmetrically positioned touch screen with an assignable home button at the bottom (like in other Plenue models). The footprint of the DAP is very compact, measuring 61.5mm x 112.9mm x 13.8mm and only 154g in weight. It is more compact than PM2 and P2, smaller than majority of my other mid-fi and flagship DAPs. Since there is no volume wheel to worry about, you can just drop it in your pocket with HO connectors facing up toward you.
The only negative here is a sharp lower right edge which makes it not very comfortable to hold in my hand without a case. I'm not sure if it's only with my review unit or intended by design, but I felt a lot better when I got leather case on, feeling a lot more comfortable to hold it. Plus, as mentioned before, the leather case is of a high quality, like premium Dignis cases (but this is Cowon own design).
Upon closer examination of PR, you will find on the left side at the bottom a slot for microSD card which can accommodate 256GB card and I think the latest 400GB should work too. At the bottom, you have micro-USB connector for charging, data transfer, and USB DAC connection, 2.5mm TRRS balanced headphone output, and 3.5mm single ended headphone output which also doubles as optical digital out.
At the top in the upper right corner, Cowon has a unique looking power button in a shape of a camera shutter-release. This specific power button design, including its physical placement, is now common among the other Plenue DAPs, such as PD, PS, and PM2. But what's different is Sound Source LED indicator (like in P2) inside of the upper left corner cavity of the chassis, underneath of that power button. It changes its color according to the sound source. Teal color whenever it's a normal lossy playback, magenta color when it's HD sound with lossless file playback, and Yellow color with its DSD/DXD playback. Nice eye-candy feature, though I have it turned off to squeeze more battery life without causing extra drain.
Identical to PM2, on the right side you have transport control and volume buttons. Volume up/down is placed logically at the top and it's a combined rounded button, adjusting the volume in 140 steps, 0.5dB at a time. Play/Pause is a separate button below it with similar rounded corners, just shorter. And then you have track skip next/prev, a combined button in the same shape as volume, also multi-functioning as rewind/fast forward when you press'n'hold it. All the buttons have a clear marking on the top, very nice tactile response, and absolutely no wobbling. They are accessible to control volume and playback with screen either on or off.
The back has a ribbed non-slippery rubbery/plastic material, making it safe and secure to place on any surface. It feels nice and helps with a grip of PR, but as I mentioned before – I still prefer to dress this DAP in a leather case.
LED light.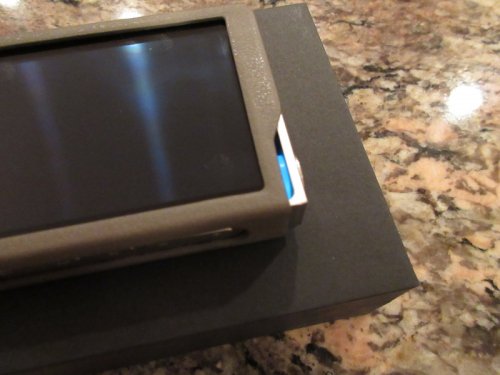 Under the hood.
PR makes a comeback with Burr-Brown PCM series DACs, using PCM5242 model. Even so it's not as common as 1795 or 1792A models, judging by its sound performance, this is not a cheap entry level DAC. Also, like in other Plenue DAPs, you have a low jitter dual clock precision TXCO oscillator. In the heart of the DAP you still have ARM Cortex A9 1.2GHz dual-core processor since we are not running a demanding environment requiring high level of processing power. But it's plenty of power to easily decode and process any lossless or lossy audio formats, such as DXD, DSD (DFF, DSF), FLAC, WAV, AIFF, ALAC, APE, MP3, WMA, OGG, WV, TTA, and DCF. Just keep in mind, it only supports up to DSD128.
Display has 3.7" AMOLED touch screen with 480x800 resolution and deep rich colors. PR has 128GB of built-in memory and microSD card expansion to add another 256GB (and probably 400GB) of storage. In addition to 3.5mm single ended HO which doubles as optical digital output, PR also adds 2.5mm balanced HO. Per spec, the balanced 2.5mm port is rated at 1.6Vrms with output impedance of 1.6 ohms, and the unbalanced 3.5mm port is rated at 1.4Vrms with output impedance of 0.8 ohms. It's below 2Vrms like in P2 and PM2, and I noticed that when trying to drive higher impedance more demanding headphones. But it had plenty of power for iems and efficient headphones, and 1.6 ohms output impedance wasn't an issue with multi-BA iems.
The rechargeable battery is a nicely sized 3,000 mAh li-po @ 3.7V which you can charge in under 3hrs using 5V/2A charger. In my testing with occasional screen on, I found hi-res (FLAC) file playback to be around 16hrs, while 320kbp mp3 playback lasted a solid 17 hrs. This is a very impressive battery performance for a touch screen DAP packed with so many features. The battery performance is better than PM2 and P2, though nothing can beat PD.
GUI.
One thing you can find in common with many Plenue DAPs is the graphic user interface which doesn't vary too much between Cowon models. I guess it's one of the advantages of the closed OS with the same processor/controller where you can keep consistency in interface between different models and put more focus into the sound tuning and the exterior design. Of course, there will be variations driven by features, such as Bluetooth and the filters associated with a new DAC in PR, but overall interface is similar to PM2 and P2, thus a reason I was able to re-use parts from my other Plenue reviews here.
Before getting into the User Interface, let me first bring up the quality of the display. I know some might find 480x800 resolution to be not the greatest, but for displaying artwork and other elements of the GUI it was just perfect. It's not the highest resolution but, for example, the analog needle of level meter display wasn't choppy and looked pretty convincing. I personally never put too much emphasis into the display quality unless I'm planning to watch videos, movies, or play games.
When you turn the power on (boot up was 9sec, though I only have about 20GB of songs loaded and the scan always performed at the start), the DAP starts in the main playback screen where you will find a clear layout with a very efficient interface. Starting with notification bar, upper left corner will show you icons corresponding to playback modes and selected dsp effects, in the middle there will be a current time (I forgot the last time I've seen a time displayed on non-Android device), and upper right corner will have a volume level, gain setting (IEM – low, headphone – high), "B" indicator when balanced HO is connected, and a battery indicator, though I wish it would show a numerical value of the remaining capacity.
Right below notification bar there is an icon which takes you to Music Selection screen. In there you can navigate up to the top level to select between Folders, Favorites, list of All songs, sort by Artist, Album, Genre, view Cue/SACD, and New. Under each selection, you have another icon which brings up either Add to favorites (a song or a folder) or Search using a touch-keyboard with a full alphanumeric search. Next to Music Selection screen icon, you have the area for artist and song name with a scrolling text. To the right is Playback Setting icon which I will talk about separately. I know, it sounds like a lot, but everything is very intuitive and easy to figure out without a need for a manual.
The main screen with an album artwork occupies upper half of the screen, and if there is available lyrics, you will notice a corresponding icon in the upper right corner. Clicking on the album/song art will zoom in to provide you with a more detailed info view about the song format, and while scrolling down from there you will see all the corresponding tags. Underneath the album/song art, you have quick shortcut icons to enable/disable Looping, enable/disable Shuffling, and a choice to play a Single track or tracks from a current Folder or to play All tracks. Below it is a playback control Play/Pause and Next/Prev touch buttons to skip or forward through the track. Also, you have a scrub bar to fast forward/back through the track to a desired point by swiping through it, and this scroll bar will be either below or above playback buttons depending on the selected skin. All the way at the bottom, you have L/R channel level meter in either analog needle dial or digital bar displays.
There are quite a few customization options to change the skin of the GUI where you can switch between analog or digital level meter, including turning it off, as well as 6 different skins which affect the layout and graphics of the touch controls. Going back to Playback Setting you will find a plethora of other shortcut options, such as Setting, Adding current track to favorites, selecting JetEffect DSP effects, Replay a selection of the track (lets you select start/stop marker), Activate auto rotation (normal view in a portrait mode, tile view in a landscape mode), show time elapsed or remaining, set the track skip interval, set Rewind/Fast Forwards speed, Bluetooth On/Off, Skip the silent part of the beginning and the end of the track, Select a level meter, and Select a skin. Last, but not least, you can select Headphone mode On (high gain) or Off (low gain). Skip the silent part actually activates a flawless Gapless playback.
In Setting you have access to select a specific JetEffect preset or to modify your own user preset, Music setting with many options already described in the shortcut Setting menu above. The only addition here is a DAC filter roll-off where you have a choice of Normal, Low Latency, High Attenuation, and Asymmetric FIR. Display setting has a selection of Language, Brightness, and a number of User Presets (from 4 to 16), and option to show the song change. Timer for a sleep timer, auto off, auto display off, and to set the actual time in notification bar. Bluetooth Setting to turn the BT on and pair up and scan for wireless headphones. System setting with selection of multi-function button assignment (music play screen, browser, settings, or volume), button lock, lock screen (on/off), Multi wheel, L/R Balance, LED (on/off), USB mode (MSC or MSC/DAC), USB DAC power (internal battery or PC/Smartphone), database update, loading defaults, formatting internal memory, and Info.
In my opinion, JetEffect 7 DSP effects is the crown jewel of Plenue DAPs. You get a total of 66 presets with 50 pre-defined ones and 16 user-defined. Furthermore, you have access to 10 Band EQ where each band has 3 selectable values: 63/76/92, 112/135/164, 200/240/290, 350/430/520, 620/750/910, 1.1k/1.3k/1.6k, 2k/2.4k/2.9k, 3.5k/4.2k/5.1k, 6.2k/7.5k/9k, 10.9k/13.2k/16k. You can adjust every band by +/- 12 steps and select bandwidth (Q) of each frequency as normal, wide, or narrow – turning this EQ into Parametric EQ.
Next you have BBE+ effects with BBE exciter/enhancer in 10step adjustment, Mach3Bass 10step bass adjustment, 3D Surround 10step adjustment, and MP on/off harmonic-compression restoration effect. There is also Chorus effect which you adjust in 10steps and can select between 3 chorus, 2 unison, and 3 flange types, and Reverb effect adjustable in 10steps where you can select Chamber, Room, Club, Hall, Auditorium, Cathedral, Stadium, Canyon, or Long reverb types.
Some people might not be familiar with Chorus and Reverb effects, but anybody who ever dabbed into a music production, mixer decks, PA system or even Karaoke machines will know that these effects make music sound more Live, add an expanded dimension, make sound less dry. Of course, you are welcome to experiment, but usually the sound engineer who mixed and mastered the song already applied these effects, so you can skip it. But precise EQ adjustment or surround sound tweaking or adding bass are all very useful. BBE enhancement is derived from a popular hardware sound processing equipment to add more sparkle and excitement to the sound, and MP really opens up the dynamics by restoring the sound envelope, especially the transient of the attack.
Bottom line, aside from PM2 and P2, I never tested another DAP with such high level of Setting and Customization options, and never came across another DAP with so many quality DSP effects that sound relatively natural and realistic. You can tweak it yourself, but many will probably jump right into the provided 50 presets, though I have to admit that I enjoyed PR sound enough to keep JetEffect off versus PM2 where in some pair-ups it was a necessity. I know that audiophile purists might not like the idea of DSP effects, but the quality of JetEffect 7 and how they transform even average quality headphones into TOTL sound quality can't be dismissed. It's a real deal.
Sound Analysis.
In my opinion, the ideal signature of any DAP is to be as neutral as possible so you can evaluate and enjoy the true sound signature of your headphones without additional coloring of the sound. But nothing is perfect, and you have variations of sound being skewed either toward the more revealing or smoother/warmer side of neutral.
PR has a more neutral-revealing signature, excellent dynamics of the sound (expanded rather than compressed sound). It has a relatively black background, with a minor hissing level when paired up with very sensitive IEMs. As a result, the transient response of notes is fast and with a clean on/off transition.
Soundstage is wide, especially with balanced output which is wider in comparison to SE output.
Balanced output sounds not only wider in soundstage, but I'm also hearing it as having a more transparent sound with a better dynamic expansion and layering.
My readers always ask me about the filters, so I spent quite some time going back'n'forth, trying to analyze it. Below is how I'm hearing a change of going from Normal filter setting, though the changes are very minor.
Normal to Low Latency
– hopefully it's not my imagination, but it feels like the attack speed of the sound is a touch slower now, with an overall sound being a little less aggressive.
Normal to High attenuation
- I hear a very subtle change, feels like mids gain a little bit of depth (soundstage, pushed back), and a treble is a bit smoother.
Normal to Asymmetric FIR
- very hard to detect a change, maybe some phase shift, something very subtle with a treble being a touch smoother.
Comparison.
In this DAP comparison, I used multiple pairs of IEMs, volume matched, to have a more accurate comparison without a bias of one specific headphone tuning. I did mention that I find PR to be a lovechild of P2 and PM2, so I spend more time analyzing and comparing these 3 Cowon DAPs and found them scale up in order of P2 => PR > PM2. I'm not saying that PR is equal to P2, but there are a lot of similarities in sound, and the technical performance is not too far off either.
Out of these three, P2 has the blackest background, while PR has just a touch of hissing noise with sensitive low impedance iems. On contrary, I found PM2 to have more hissing noise.
With a soundstage expansion, P2 just a touch wider, but PR comes very close, especially with balanced output. I find PM2 to have a narrower soundstage.
P2 and PR share a similar more neutral-revealing sound, while PM2 has neutral-smoother tonality which is a little warmer. That's why I found more often reaching out to use JetEffect with PM2, and not so much with P2 and PR.
In terms of technical performance, both P2 and PR have a good dynamics expansion range. P2 still has an edge with a little more dynamism and layering, and a blacker background, but not by a whole lot. Difference with PM2 is more noticeable where the sound is a little less dynamic (a little more compressed in comparison), a little smoother with less air between the layers. Also, I hear P2/PR as having a higher level of transparency and resolution. Again, P2 edges ahead, but PR is not too far behind it.
P2 and PM2 have more power, while PR is rated less. It's noticeable when you switch between the same pair of IEMs or headphones where I had to raise PR volume 7-8 clicks higher in comparison to P2/PM2.
PM2, PR, P2 comparison:

With other DAPs, here is how it compares.
PR vs Opus#3
- PR has a wider soundstage, both have a neutral baseline tonality but PR has a fuller more organic sound with a faster and punchier bass and more natural lower treble while #3 has a brighter sound with a little softer bass and crisper splashier treble, in comparison. Both have a dynamic presentation of sound, but I hear PR with a little more transparency and refinement. Both have a very low level of hissing with sensitive U18.
PR vs X7ii
- Both have a similar wide soundstage, and neutral natural tonality. I'm only hearing PR bass being a touch faster and with a bit more rumble in sub-bass, but the difference is very minimal. They both have a natural treble extension, and overall excellent retrieval of details. Both have a dynamic sound, though here X7ii has a little better transparency. Again, very little difference, but I can hear X7ii pulling just slightly ahead. One thing that is more noticeable is X7ii having a little more hissing with sensitive U18.
PR vs i5
- Both have a very similar soundstage expansion, and neutral natural tonality. Here, bass also matches the speed and the quantity, and the same with mids and treble having a neutral natural tonality. I'm also hearing both as having a very similar technical performance in terms of dynamics and transparency. With sensitive U18, both have a very little level of hissing.
PR vs AK120ii
- Both have a similar soundstage expansion, and while PR is more neutral natural and smoother, AK120ii sounds brighter in upper mids and lower treble. Also, PR bass is faster and with a little more punch, while AK bass is more relaxed in comparison. From technical perspective, they sound the same, similar dynamics, transparency, layering, and separation. Also, with sensitive U18, PR has a very little hissing, while AK is dead silent.
Pair up.
In my pair up test I had PR set in high (headphone) gain, and noted volume level in every case.
U18
- (67/140), wide soundstage, balanced signature with a more neutral natural tonality, fast punchy bass, detailed layered mids, and crisp well-defined treble. Very good pair up.
TIA Fourte
- (67/140), wide soundstage, balanced signature with a revealing brighter tonality, great sub-bass rumble, punchy fast mid-bass, neutral mids, revealing layered upper mids, very crisp airy extended treble.
RE2k
- (86/140), wider soundstage, balanced revealing signature, excellent sub-bass extension, softer mid-bass punch, neutral mids, revealing micro-detailed upper mids, crisp airy treble.
W900
- (69/140), wide soundstage, balanced signature with more bass emphasis and smooth neutral tonality. Actually, bass impact here is a little stronger, spilling a bit into lower mids which adds to the body of the sound. But upper mids are detailed and layered, and treble is crisp and well defined.
UERR
- (85/140), wide soundstage, nicely balanced signature with a revealing natural tonality, transparent, layered sound, punchy fast bass, detailed mids, crisp airy treble.
ES80
- (83/140), balanced detailed sound, punchy bass, neutral mids, crisp treble, the sound is very natural, a little less dynamic in this pair up, but still quite resolving and layered.
VEGA
- (65/140), wide soundstage, powerful bass impact, making sound more L-shaped, smooth analog bass, punchy mid-bass, full bodied lower mids, clear detailed upper mids, crisp airy treble.
Zen
- (99/140) volume set higher to drive these 320 ohm earbuds, soundstage is a little above average in width, smooth organic sound, softer bass, detailed natural mids, clear smooth treble. Sounds a little congested.
EL8C
- (105/140), soundstage a little above average in width, smooth, natural sound, punchy bass, organic mids, crisp treble without metallic sheen, very good pair up, though I do have to push it a little harder in headphone gain to get these planar magnetic cans to a good listening level.
R70x
- (120/140), soundstage of these open back cans is "open", expanded; smooth, natural sound, organic tonality, a little more on a warmer side, not as revealing; need to push a lot harder these 470 ohm cans to reach their full potential.
Overall, I noticed that PR doesn't drive as well high impedance or more demanding cans, making tonality warmer, smoother, and less revealing.
Other connections.
USB DAC.
I'm not a big fan of using a dedicated DAP as USB DAC because I usually look at a DAP as a portable standalone source. If you are not happy with an audio output of your computer, there are plenty of dedicated USB DAC choices. But in some cases, when you are traveling and don't want to bring multiple pieces of equipment, using DAP as USB DAC has its advantage.
Here I found PR to pair up flawlessly with my laptop, and, as expected, to improve a sound quality of my aging T430s Thinkpad. The drivers were installed automatically, no need for a manual installation of any 3rd party files. One very useful feature is when you connect PR to your computer, when connection is detected you have a choice from the touch screen to either select USB DAC or USB MSC (for a file transfer). Once you select USB DAC, my laptop volume was set to the max and I adjusted the volume from PR. The only negative here, DSP effects are disabled when in USB DAC mode. When connected, red led light indicated that P2 was charging while being used as USB DAC.
And the most important aspect of this pair up, when using PR as USB DAC from my laptop, the sound was nearly identical when comparing it directly from a standalone PR.
Optical Out.
PR vs PR + Micro iDSD (optical) w/RE2k – here with optical connection the sound is crisper with iDSD, more revealing and more neutral vs direct connection to PR where I hear a little smoother body and deeper sub-bass extension, as well as a more natural treble.
In general, it's a great option to be able to use PR as a digital touch screen transport to drive external DAC/amp supporting optical input since PR's 3.5mm HO port is shared with optical digital output. In my previous tests, I always found optical link to be superior in sound quality to electrical coax cable.
Bluetooth.
Wireless pair up was painless as well. It quickly connected to Sennheiser Momentum 2 Wireless headphones and I was able to use it in an open space about 40-50ft away from PR. The same pair up with my Note 4 covered 50-60ft range. Up to 50ft wireless range coverage is great in my book. And the sound with Momentum was nearly the same between PR and Note 4, certainly thanks to aptX codec support.
Conclusion.
When I say this is NOT just All-Round DAP, I really mean it. As a reviewer, I get a chance to test and to compare many different DAPs. So, when people ask me "what is your favorite DAP", I don't have a simple answer but certainly do pick one of the flagship choices. But when you are a consumer on a budget, looking to buy a new DAP, you are faced with many choices and a hard decision to pick one. That's where you start looking for the best value to suite your needs.
So, if your needs don't include the streaming or app support, and if you want something portable on the go without a requirement to drive more demanding headphones, Cowon Plenue R is one heck of a value. You get 128GB of internal storage with 256GB (and possibly 400GB) uSD expansion. You get Bluetooth with aptX codec support. 2.5mm TRRS balanced and 3.5mm single ended and Optical output. Very responsive touch screen with customizable GUI, a ton of Setting options, and fantastic JetEffect dsp effects. And on top of that, 16-17 hours of battery life.
There are many DAP choices out there, and mid-fi market is starting to get saturated with players that cost less than PR. But when you are deciding on your next DAP, make sure you don't just look at the price, but also compare everything else it has to offer. In case of Plenue R, it offers a lot!