Thanks to Cayin to organize a review tour program for Cayin C5 DAC!
I've given around 2 weeks to use and observe the quality of the C5 DAC. Usually I would need a minimum of 1 month to do a proper review of a DAC, so I hope within the short period I would be able to cover all the the important aspects of the C5 DAC.
http://en.cayin.cn/product_view.asp?id=791
Some background of CAYIN model naming is explained here:
http://www.head-fi.org/t/768094/new-portable-cayin-spark-c5-dac-amp-released-may-2015/15#post_11650004
Summary of Sound Signature:
Neutral, slightly warm, energetic with good dynamic, especially for IEMs & easy to drive headphones.
Summary of Features:
Up to PCM 24bit / 96kHz USB DAC.

Multi-platform driver-less USB operation.

USB DAC + Headphone amplifier. No dedicated line output, so cannot be used as dedicated DAC without the headphone amplifier.

Headphone amplifier. There is a 3.5 mm socket analog line input to use only the headphone amplifier without the DAC (AUX mode). The headphone amplifier is quite powerful and can be considered the strong feature of the C5 DAC.

USB to SPDIF (electrical / coaxial) converter.
Pros:
Multi-platform driver-less USB operation.

Powerful headphone amplifier.

Very good battery life.

Very soft On-Off popping noise.

Carefully thought accessories.
Cons:
Low gain output is still too high for general IEMs.

No line output.

No SPDIF input.
Suggestions for improvements:
To reduce the maximum output level at low gain by half, from 2.4 Vrms to around 1.2 Vrms.

Line output.

SPDIF input.

Full metal housing with clearer marking and text.
Sound quality
When I tried C5 DAC for the first time, I connected an IEM, and my first impression was, 'Wow it sounds powerful!'. Probably the main sonic character to be highlighted is the sense of good driving power, especially when driving IEMs. C5 DAC drives most headphones pretty well, but when using high impedance headphones the sense of driving power was not as strong as with lower impedance headphones and IEMs. So it is not yet a replacement for a good desktop setup for high impedance headphones, but quite a powerful DAC+Amp combo for portable setup for IEMs and easy to drive headphones.
The headphone amplifier of C5 DAC is quite powerful and has good dynamic and driving power. When using C5 DAC as headphone amplifier, with ifi micro iDSD as DAC, I can hear some improvements, indicating that the headphone amplifier scales well with better DAC. The following is comparison of RMAA measurement of the C5 DAC as DAC+Amp combo (White), and the headphone amplifier using ifi micro iDSD as DAC with minimum phase setting (Green). We can see that the DAC output of the C5 DAC uses a sharp low pass filter that rolls off quite early before 20 kHz. While the headphone amplifier section reaches beyond 30 kHz when using a better DAC. The 30 kHz is most probably the limitation of my HRT LineStreamer+ that I use as ADC for the RMAA measurement. A good headphone amplifier usually reaches 100 kHz easily.  
Overall tonality of the C5 DAC as DAC+Amp combo, I perceived as neutral with a touch of warmness. While level of clarity is good, I do prefer a little more transparency and detail resolving power like what I hear from my AudioQuest Dragonfly 1.0c and ifi micro iDSD. Tonality is a little warm, but just a little, don't expect tube warmness here. The extra warmness makes C5 DAC pairs well with neutral to bright IEMs and headphones, for less ear fatigue over long sessions. I tested C5 DAC with 1964 Ears V3, DUNU DN-2000J, Audio-Technica ATH-MSR7/LTD, Philips SHP9500, and Beyerdynamic T1, and they pair well with C5 DAC. I like especially the pairing with Audio-Technica ATH-MSR7/LTD, and I would recommend C5 DAC for ATH-MSR7 users who are looking for portable DAC+Amp.  On the other hand I do find C5 DAC sometime could sound a little boring when driving warmer headphones such as my Shure SRH1540 and Audio-Technica ARH-R70x, where extra transparency is preferred. So my recommendation for C5 DAC is to pair it with neutral to neutral-bright tonality IEMs or headphones.
Stereo imaging is clear and focus, with perceived presentation that is more towards close and intimate. Not congested, but not the wide and spacious type either. For comparison, ifi micro iDSD has a more spacious and holographic imaging. As for detail and clarity, it is presented in a natural way without any emphasize or de-emphasize. Though as mentioned earlier, having used to ifi iDSD micro and other desktop DACs, I do prefer slightly higher detail resolving capability and transparency than what C5 DAC offers.
In summary, overall sound quality of C5 DAC is pretty good, neutral warm with very minimum noticeable coloration. The headphone amplifier sound quality seems to be a level better than the DAC section, better detail, clarity, and transparency when paired with higher quality DAC.
Features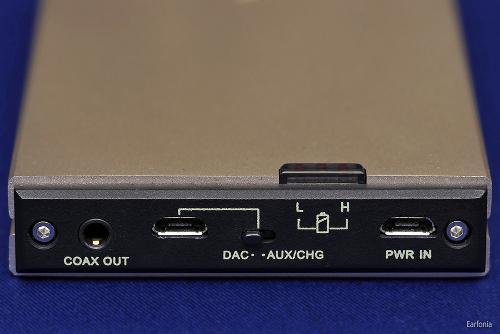 Overall build quality is good, but not stellar. I do prefer full metal housing without any plastic parts, but it is just personal preference. The text and signs behind the transparent brown plastic cover are difficult to read in dimly lit environment. There are 2 separate USB inputs, one for data and the other one dedicated as charging port. Although it is possible to use C5 DAC while charging, but it is not recommended to play and charge at the same time.
C5 DAC has about the same width and thickness as the Fiio E12DIY, only slightly longer.    
3 main functions of C5 DAC are:
USB DAC + headphone amplifier combo.
Standalone headphone amplifier.
USB DAC to SPDIF (coaxial) converter.
For easy multi-platform and driver-less operation, C5 DAC supports only PCM up to 24 bit - 96 kHz resolution. It is sufficient for me as my ears hardly distinguish any sonic improvement from files with higher resolution than 24/96, especially from a portable setup.
Within the 2 weeks of testing, I didn't have much chance to test USB DAC compatibility with many platforms or devices. With Windows 7 and 8 everything works fine and very stable. For mobile devices, I only tested it with a few Android devices as the following:
Samsung Galaxy S4 (SHV-E330K - Korea version) - Android 4.4.2 : Not compatible.
Samsung Galaxy S5 (SM-G901F - Singapore version) - Android 5.0.2 : Compatible.
Teclast TPad X89 - Android 4.4.4 : Compatible.
Short USB micro B to micro B cable is included in the accessories for connecting C5 DAC to Android smartphone or tablet. But in case longer USB micro B to micro B cable is required, this USB cable I bought from AliExpress has been proven to work for connecting USB DAC to tablet or smartphones:
Straight Micro Male to Micro USB B
Amplifier Gain
There are 2 level of gain on the headphone amplifier. As we can read on other reviews of C5 DAC, common feedback for the low gain is that the low gain output is way too high for most IEMs. The maximum output voltage of the low gain output is around 2.4 Vrms (2400 millivolt rms), while common IEM listening level is only in the level of up to a few hundred millivolt rms. My listening level for my DUNU hybrids for example (DN-1000, DN-2000, & DN-2000J), is only around 100 mV rms or less. Meaning, the usable volume level for IEMs and easy to drive headphones is very limited, only between 2-3 of the volume level, from the maximum level of 9. And it is a common fact that analogue volume control performs better at medium to high volume level, and best at maximum volume. In this case, for most IEMs, we can only use the volume control at low level, the area where analogue volume control doesn't perform at their best, and suffer from moderate volume imbalance between left and right channels. At low gain, the optimum maximum output is around 1.0 to 1.5 Vrms. I strongly suggest to reduce the maximum output at low gain setting by half, to around 1.2 Vrms, to have wider usable range of the volume control.
Amplifier Power Output & Output Impedance
The maximum output voltage measurement with 600 ohms load:
Lo gain max Vrms: 2.4 V
Hi gain max Vrms: 4.2 V
Max output current at 15 ohms load: 2.074 / 15 = 138 mA
Calculated maximum headphone amplifier power output at:
16 ohms: 305 mW
32 ohms: 551 mW
300 ohms: 59 mW
600 ohms: 29 mW
Measured output impedance of the headphone amplifier is very low, at around 0.18 ohms.
Channel Imbalance
Measured volume channel imbalance of the demo unit is between 0.15 dB to 0.53 dB, which is good. Volume level below 2 is practically too soft and not usable, so channel imbalance at volume level 1 can practically be ignored. Channel imbalance below 0.3 dB is very good, and below 1 dB can still considered good performance for analogue volume control.
Brand / Model​

Vol. Position​

HP Output (Vpp)​

Imbalanced
(dB)​

Left​

Right​

Cayin C5 DAC
Headphone Out
Low Gain

1​

0.015​

0.014​

0.60​

2​

0.063​

0.067​

0.53​

3​

0.408​

0.432​

0.50​

4​

1.680​

1.740​

0.30​

5​

3.120​

3.200​

0.22​

7​

6.080​

6.200​

0.17​

9​

6.800​

6.920​

0.15​
Noise
On-Off popping noise is very soft on C5 DAC, simply ignore-able. This is for me is very important especially for portable device. Noise floor or background hiss noise if volume dependent. At low volume, below 4, hiss noise is very low and ignore-able even for sensitive IEMs. But as volume goes up, when playing silent, hiss noise is becoming louder and more audible. But even playing music at volume level 3, it is already quite loud for sensitive IEMs, so hiss noise at higher volume is practically not relevant for sensitive IEMs. While headphones are less sensitive to hiss noise, so even at higher volume, practically I didn't have any issue from background hiss noise.
My noise measurement for sensitive IEM is at volume level around 100 mV rms, because in average when using sensitive IEMs, my listening level is less than 100 mV. First I played a 0 dBFS 100 Hz Sine wave, and then adjust the volume and measure the headphone output until the output is measured approximately 100 mV. 33 ohms load is used as dummy load for the amplifier. Stop the Sine wave then play silent track. Observe the headphone output using digital oscilloscope, to observe the average value of the noise floor. From my observation, at 100 mV output, C5 DAC headphone output noise floor at low gain is less than 4 mV rms, which low and will be hardly audible even using sensitive IEM such as 1964 Ears V3. Starting from 6 mV rms and above, noise floor will start to be audible on sensitive IEMs.
Temperature
Working temperature is generally only up to the level of warm and C5 DAC never gets hot like my Centrance DACport and LH Geek Out 450. I tested once in a warm environment in Singapore, where room temperature was measured 31.5 degree Celsius, after more than an hour of continuous playing, C5 DAC case temperature only reached a maximum of 38.8 degree Celsius. In a cooler air-conditioned room, it only gets mildly warm. So, practically no heat issue with C5 DAC.
Battery
According to Cayin, battery life in USB DAC mode is around 9 hours, and around 19 hours in standalone headphone amplifier mode (AUX mode), driving 32 ohms load. I didn't measure the AUX mode, only the USB DAC mode. Continuous playback in USB DAC mode, driving full size headphone ATH-MSR7LTD (35 ohms) at low gain, volume level at 3, the battery last for 9.5 hours. Battery life performance of C5 DAC is really good. But to use the battery until it is totally empty is not recommended. And when the battery is almost flat, C5 DAC relay toggles between on and off intermittently. I suggest for the next version of C5 DAC or other models to use
Schmitt trigger circuit for the relay, to avoid the relay toggles intermittently when battery is reaching its minimum operating voltage.
Some measurement of battery charging using 2A USB charger:
Measured maximum charging current capacity: 3400 mAh (5.1 volt charging voltage)
Measured maximum charging current using 2A USB charger: 1.08 Ampere
Maximum charging time: 5 hours
Please take note that the maximum charging current capacity is measured on 5 volt charging voltage and not directly related to battery maximum current capacity, because the battery voltage is lower at around 3.7 volt. The right calculation should be in Watt, with some power loss on the charging circuit. Without knowing the efficiency rate of the charging circuit there is no way to accurately calculate the real battery capacity. From what I observe, the battery life is very good, and I think Cayin specification is accurate.
Bass Boost
The bass enhancement feature is pretty well done. The +6 dB bass boost area is wide, so it adds body to the midrange as well. The bass boost is not particularly boosting only some narrow area of the bass, but more like adding fullness and body to the whole tonality. The bass boost sounds quite natural and not artificial sounding like some other bass boost implementation. I guess the bass boost is done using analogue circuit rather than digital DSP, It sounds so natural that when listening to Philips SHP9500 and Beyerdynamic T1 headphones, I prefer to turn on the bass boost most of the time, to make vocal sounds fuller and bass has more body. Below is the RMAA measurement comparing bass boost off and bass boost on.
At this price category, I would say C5 DAC is a good performer. Not really at the level of a giant killer, but quality per price ratio is pretty good. C5 DAC is recommended for those looking for a portable USB DAC with powerful headphone amplifier to drive neutral to neutral-bright headphones.
Equipment used in this review:
Headphones:
Audio-Technica ATH-R70x
Audio-Technica MSR7LTD
Beyerdynamic T 1
Philips SHP9500
Shure SRH1540  
Earphones / IEMs:
1964 Ears V3
DUNU DN-2000
DUNU DN-2000J
Jomo4  
DACs, ADC, & Headphone Amplifiers:
AudioQuest Dragonfly 1.0c
Fiio E12DIY
HRT LineStreamer +
ifi micro iDSD  
Computer & Player:
DIY Desktop PC: Gigabyte GA-H77-D3H-MVP motherboard, Intel i7-3770, 16 GB RAM, Windows 7 Home Premium 64 bit SP1.
foobar2000 v1.3.3  
Measurement Instrument & Application:
Owon VDS3102 Digital Storage Oscilloscope      
Some recordings used in this review: