Cayin N3Pro
Pros
:
Excellent build quality
Beautiful design
Snappy, intuitive OS
4 different sound signatures
Lovely, romantic and highly musical sound that's easy to absolutely love
Tubes!
Output power
Comfortable to hold and use
Cons
:
None for me
Lack of Android might be a problem for some
Cayin N3Pro is a newest DAP by Cayin. It is priced at 479$ and it's the first DAP to feature miniature vacuum tubes inside.
Packaging
Cayin N3Pro comes in a minimalistic and rather simple box compared to it's older and more expensive brothers like N6ii and N8. It's a nice looking and well made box which is quite pleasant to unbox.
Inside you'll find the N3Pro, a screen protector for the front (back panel is already protected right out of the box), a usb A-C cable, transparent case and some Hi-Res audio stickers. Well, if it's between the manufacturers putting these stickers on the device or just including them in the box for you to decide wether you want to use them is a great touch.
Leather case
I received the N3Pro with the green leather case which was included in the preorder bundle a while ago. It's a pretty short story – I simply love it. Great color, quality is actually very good, and this metal frame on the back…damn, it just looks sophisticated, industrial and fresh. Beautiful little thing. If you're planning to order this DAP and you love the case – don't worry. It can be bought separately, and I strongly suggest doing it.
Build quality
Cayin N3Pro is somehow similar to it's older brother – the N6ii. It is all black with satin finish. The design is quite minimalistic which I absolutely adore. Looking at the device from the left side it is just a metal block with microSD card slot. On the other side you've got your play button, as well as previous and next song ones. Right side is finished with a copper/golden color potentiometer which always works as a power button. The knob works with some resistance and its very robust and accurate, which makes it easy to operate.
Front panel is occupied by a 3.2′ IPS screen with a resolution of 480×320. It gets bright enough to comfortably use it in direct sun, yet can be dimmed enough to not distract you during night listening sessions. Underneath, there's a vacuum tubes window, which is lighten up when you're using the triode or an Ultralinear mode (damn it looks cool). At the very bottom there's a button which glows in different colors to indicate the sample rate of a currently played track.
Two problems with the button itself – I wish it was reprogrogrammable so it could work as a back button, since it's quite uncomfortable to press the one on the top-left part of the screen. Also, you can simply turn down the led indicator, which I did instantly, as it glows so bright it's really interrupting in the dark, when im listening to music in my bed at night. An option to change it's brightness would be great to have.
On the bottom, you've got a 3.5mm line out, 3.5mm jack output, a 4.4 one working as a headphone out and balanced output and a usb type c connector. Its worth mentioning that tubes can only be used through the 3.5mm connector, as the valve circuit is not balanced. Also, the USB C also works as a coaxial output, all you need is a special cable which you can also get from Cayin.
The whole thing is a bit chunky, but it ain't that heavy. Both build quality and ergonomy is simply spot-on. Absolutely no flaws, Cayin N3Pro is stunningly looking, robust and well thought out.
Functionality
Cayin N3Pro has a lot of functionalities, even if it's not an android based DAP with no streaming services whatsoever.
I really don't want to make this review overly long, so the functions which are pretty self-explanatory will only be mentioned, with no details.
So, as previously mentioned N3Pro doesn't operate on an Android OS, but it's a custom Hiby software which Cayin has used in their flagship N8. The OS is quite snappy, intuitive and just doesn't get in the way, which is great. For me personally, it is a great example of how a minimalistic and simple OS in a DAP should be made. Oh yeah, and the amount of times the N3Pro crashed on me was…exactly zero.
Because of the OS though, this DAP does not support Tidal, Spotify, Qobuz etc natively. It might be a deal breaker for some. Me? I personally prefer an old school microSD filed with tons of music, which i gathered for many years now. But that's hugely subjective, as i know many people that would never buy a DAP with no streaming services built in it. Fair enough, if you need them, it's a bad luck for you this time unfortunately.
Nonetheless, you've got Hiby Link and Duplex Bluetooth 5.0 (up to 96kHz) – which you can actually use for streaming services via your smartphone, so even tho it's not a perfect solution, it's more than doable.
I'm getting around 9h of battery life out of it, just as Cayin states on their website. Charging time is a bit long at +/- 3h, but if it's between this or quicker battery deterioration – i'll take this anytime.
Tech
Cayin N3Pro is using a dual AKM AK4493EQ DAC. It supports a wide variety of audio formats including DSD256 and 32bit/384kHz, so it pretty much got you covered with everything you'll need in this regard.
But let's get into the star (or rather stars) of the show – the tubes. N3Pro has two miniature JAN6418 vintage tubes built inside. Damn, real tubes in a DAP – it's a first time I'm seeing this ever, have i missed something or Cayin truly is the first company to really do it?
Nonetheless, it's much more complicated than to put these inside the chassis and call it a day. Cayin had to design and engineer a special silicon case which they suspended inside the specially crafted slot inside the body. They also used a flexible PCB to maximilize the suspension effect. Thanks to that, you can even run with this thing and dont worry about your hardware getting damaged.
I'd like to show my respect to Cayin here, as they took something never seen before (or at least not on this scale?) and they overcame all the problems and inconveniences to make it work…and work good. We're talking months or even years of development and testing to create such a flawlessly working technology. Fantastic job Cayin!
Sound
Okay, i've been wondering about how to put this as simple as it gets for a while now. I don't want to get robotic and all analytical over here tho, so i decided to just let it flow and try to organize stuff as much as i can
.
Firstly, N3Pro has 2 MAIN sound setups – tube and solid state. I'd like to subjectively point out one thing here. If you're using some hard to drive over-ear cans and you need a lot of power (800mW to be specific) – plug them into this bad boy's 4.4mm output and youll be happy. I did it with the Sennheiser HD800 and they sounded very good. Obviously, not fully reaching their potential, but as for a portable player sub 500$? Terrific.
Other than that situation, just use the
Triode
or an
Ultralinear
mode. Why? Well…here's a thing.
I believe that a sub 500$ DAP isn't meant to be a reference, detail retrieving monster focused on being absurdly neutral. Especially, if it has tubes in it. And those tubes…oh gosh, they do sing.
When turning on the
Triode
mode you're instantly aware what's going on. This sweet, soft and delicate timbre, full and thick body of the sound, warmth and naturalness from top to bottom. Soundstage gets absolutely huge for a DAP here, being both wide and deep, with spectacular imaging.
But then, you switch to the
Ultralinear
mode, and you're sacrificing a bit of that sweetness, thickness and richness to get more slam, faster decays and an overall boost in dynamics. Don't get me wrong here – Ultralinear is still very sweet, rich and natural, but it's just a tiny bit more neutral than the
triode
, with better technicalities. I'd call it a best of both world's – tube timbre with ss slam and speed.
Based on that, i use Triode mode for vocal, jazz and acoustic music, to get this beautiful, vintage-like analog sound full of emotions. When I'm listening to metal, rock, rap and triphop i just simply switch to the Ultralinear mode and i get this more coherent, crispy and faster sound with just a tiny bit less color. That's more than a fair trade.
With the
4.4mm balanced
output you're getting this hardcore fast, accurate and very powerful sound ready to take on the world. Fantastic for some modern genres, rap and metal or simply for more demanding headphones. You truly can't go wrong with any of these 3, but if you're using IEMs and you've got these sweet tubes inside your DAP…just use the bloody things, they'll award you with some of the most (if not
THE
most) musical sound in a DAP ever.
As for the technicalities of the sound – it truly depends on the mode youre using. With
UL
and
4.4 balanced
you're getting a fantastic detail retrieval, dynamics and an overally controlled sound from top to bottom. Great imaging, layering, textures of the instruments. Compared to Fiio M11, M11Pro and Cayin N5ii it just completely blows these out of the water in an overall sound quality, and that means something from a long-term Fiio M11 user and lover. It is faster, more defined, more dynamic and natural sounding.
Triode
is objectively the worst out of the three in terms of pure sound quality. It's slower, it has longer decay, less details and is slightly pushed back. But i still use it the most, for that absolutely lovely timbre, sweetness and overall pleasing tone. For me music is all about emotions, and this mode gives me
the most emotional and romantic sound i've ever heard in a DAP ever.
In terms of matching N3Pro with different IEMs – it pairs with just about anything i plugged into it. What striked me the most was how excellent does it pair with the Cayin YB04 – this combo sounds so natural, refined and just right.
Also, Campfire Andromeda (2018 version) and Lime Ears Aether R sounded extraordinary with it, as that lovely timbre really helps these two brilliant IEMs to really step up to another dimension of enjoyment.
Summary
Cayin N3Pro is a marvelous DAP designed, engineered and refined in every single detail. It is perfectly built and has a very minimalistic yet technical design which is easy to adore. It's a pinnacle of engineering by Cayin, and im still a bit suprised they priced it that low.
Finally, it sounds spectacular and has 4 different sound signatures for you to choose from, depending on your IEMs/Headphone, music you're listening to or just your mood. It's a first perfectly rated device that i have reviewed in my 7 year reviewing career. But how could i rate the Cayin N3Pro any lower, if it's giving me the most pleasant music listening sessions in years? It's my new daily driver and it won't change in a near future.

Highly recommended.
Gear used during this review for the sake of comparison and as an accompanying equipment:
Headphones – Lime Ears Aether R, Lime Ears Pneuma, Campfire Andromeda, Noble Audio Khan, Cayin YB04, RHA CL2, Sennheiser HD800, Dan Clark Audio AEON2 closed, Focal Clear, Audeze LCD3, Akg K501
Sources– Cayin N8, Cayin N5ii, Fiio M15, Fiio M11, Fiio M11 Pro, Shanling M5s
Remember to visit us at
ear-fidelity.com
Nate Jr!
Pros
:
Choice of Solid State or Tubes, 2 Tubes modes: Triode and Ultralinear, high power SS output, duplex (Tx/Rx) Bluetooth with LDAC and UAT support, responsive interface, balanced Line Out, solid build, price.
Cons
:
5sec tube warm up delay (necessary, but still a bit annoying), no internal storage.
---
The product was provided to me free of charge for the review purpose in exchange for my honest opinion. The review was originally posted on tw6 review
site
, and now I would like to share it with my readers on Head-fi.
Manufacturer website:
Cayin
. Available for sale from various authorized retailers like
Musicteck
and others.
---
Intro.
There are magic words that can get attention of any audiophile, and
Tubes
is one of them. Now, if you add on top of that
in a compact pocket friendly
DAP and
at lower mid-fi level
price, this attention will be undivided. And that is exactly what happened when Cayin announced their latest N3Pro DAP. Actually, the undivided attention was a follow up to the initial confusion triggered by "N3Pro" name. With so many recent Pro releases, people assumed it is a refresh, similar to R3 Pro, M3 Pro, AP80 Pro, etc., without realizing N3Pro is a brand-new DAP.
Once you start reading the spec of N3Pro, you quickly recognize that it has nothing to do with the original N3. Instead, it follows dual Solid State/Tubes architecture similar to flagship N8. Cayin even took it one step further by offering Tubes output in two different operational modes. With all this new stuff under the hood, I was surprised they kept N3 name. But nevertheless, this reincarnation or reboot, or whatever you want to call it, is the focus of today's review after I spent the last month testing N3Pro. Now, let's take a closer look at what I found.
Unboxing and Accessories.
Considering this being Cayin's "entry" level DAP, the packaging is less glamorous, in a smaller compact box inside of an all-black sleeve with an outline of N3Pro (and a hint of two tubes) on the front and a highlight of main features on the back. Inside the box you will find N3Pro surrounded by a secure foam cutout, and a collection of basic accessories such as a detailed manual booklet, screen protector, durable usb-c cable, and a clear protective TPU bumper.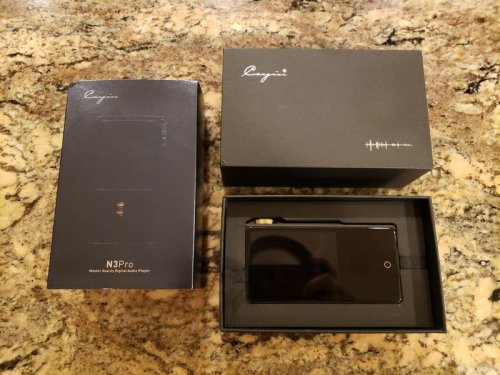 It makes sense that Cayin keeping the number of accessories down to a minimum so it can distinguish its "entry" level model from mid-f and flagship. But nevertheless, usb-c cable was rather nice, and I would take this protective bumper over a cheap silicone case. The bumper keeps the front and the back open while protects all the corners and sides, has a generous cutout for ports at the bottom and the volume wheel, covers micro SD slot, and has playback control buttons covered as well, yet still easy to press. The bumper enhances the grip and will give you some level of protection if you drop it.
You can also get the optional leather case ($29,
here
) which IMHO worth every penny. With an aged green color finish and gold infused swirls, the case also features a cutout with a metal mesh on the back, similar to popular Dignis cases. N3Pro slides from the top with a case fitting the DAP like a glove. Micro SD card is covered, playback control buttons are covered as well and easy to feel and to press. Volume wheel has easy access, and all the ports are open and easy to access at the bottom.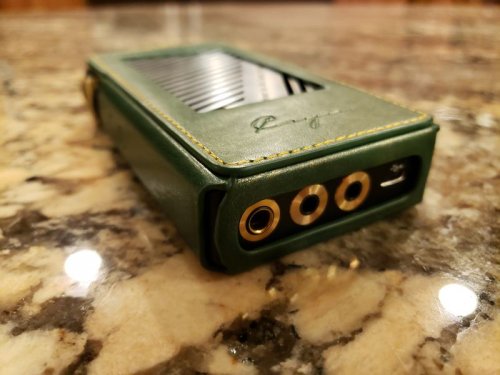 Design.
While functionally N3Pro reminds me of N8 Jr, the exterior design has more resemblance with N6ii, especially around volume wheel and hardware playback control buttons. As expected, with a lot more built-in functionality, N3Pro will be bigger than its N3
brother-from-another-mother
. Actually, its overall size of
115x63.5x18.9mm
is closer to N5ii. With the weight of
195g
it is lighter than N6ii and N8, but you still feel some heft when holding it in your hand. Its compact pocket friendly size and weight makes it very comfortable to hold and to operate in one hand and being able to easily reach across the touch screen with a thumb even if you have average or smaller size hand.
And speaking of touch screen, I assume it's the same 3.2" IPS touch display with 480x360 resolution as used in N8. The whole top surface is glass, only 3.2" area is allocated for touch display. At the bottom, you have a round touch LED Home button which also has functionality to change LED color depending on sample rate of played file or when charging. The light could be disabled as well in Settings. The back of N3Pro seems to be glass as well, while the chassis frame is metal. There is nothing at the top, and the left side has a spring-loaded slot for micro SD card, the only internal storage option for N3Pro which you can expand up to 1TB with the latest high capacity flash cards, or you can add OTG external storage as long as it doesn't draw more than 300mA of current.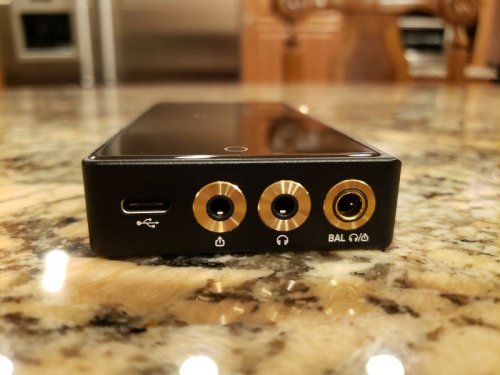 As already mentioned, the right side resembles the design of N6ii. You will find a volume wheel at the top, surrounded by top/bottom guards. The wheel also doubles as a power button you long press to turn the power on/off and short press to turn the display on/off. Similar to N6ii, the wheel is not super tight, allowing easy control with just a thumb when you roll it up/down to change the volume. There is a click action as you turn it with every step. Below the volume/power wheel you will find 3 playback control buttons, comfortably spaced even for fat sausage fingers, where you have Play/Pause in the middle and Skip/Forward at the top and bottom. While chassis of N3Pro are all black, the volume wheel and buttons are golden, but it has a muted golden tone, not too much bling-bling in your face.
All the ports are located at the bottom of N3Pro. Multi-function
USB-C
port supports charging, file management, USB DAC, digital Transport, as well as embedded SPDIF Out using optional cable to bring out Coax output. Then, you have a dedicated
3.5mm SE Line Out
with a selectable output voltage of 2.0/1.5/1.0V corresponding to High/Mid/Low in Settings. Next to it is
SE 3.5mm Phone
output which you select as either SS or Tube in Settings and change the gain between H/M/L. Tubes output is only from 3.5mm jack. And last, but not least,
4.4mm BAL
output which is shared between
Phone output
(SS only, H/M/L gain) or
BAL Line Out
with also has a selectable voltage level of 4.0/3.0/2.0V corresponding to High/Mid/ow in Settings.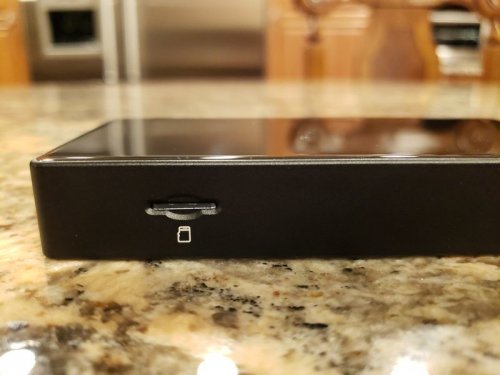 Under the hood.
In the heart of N3Pro you have a dual AKM Velvet Sound AK4493EQ DAC, with a playback support of all the popular lossy and lossless audio file formats, including PCM decoded up to 32bit/384kHz, handling DSD up to DSD256 and even SACD-ISO. I went back and forth switching between mp3, flac, and DSD (DSD64, DSD128, and DSD256) files, and didn't experience any noticeable lag in the audio playback. Since no internal storage is offered, you will have to use micro-SD cards, though those are growing in storage capacity and dropping in price. Plus, you can connect additional storage via USB OTG, just make sure it doesn't draw more than 300mA of current.
As previously mentioned, the display is similar to N8, 3.2" IPS with resolution of 480x360, nothing special by today's smartphone standard, but considering it's not intended for apps or video playback, this is more than adequate. Plus, I'm not too picky about the quality of embedded artwork. Also, the viewing angle was good, thanks to IPS display, and the same with visibility in a daylight, just need to bump the brightness setting higher. Considering compact size, the battery capacity of 4100mAh (3.7V) is not bad, and you will get up to
11hrs
of playback time from 3.5mm SE SS output, or up to
9hrs
of playback time from either 4.4mm BAL SS or 3.5mm Tubes outputs.
The headphone output spec can shed some light about the design since
4.4mm BAL
(1ohm impedance) can drive up to
800mW
into 32ohm load, while
3.5mm SE
(0.6ohm impedance) scales it down to
250mW
@32ohm (
SS
) or
130mW
@32ohm (
Tubes
). Obviously, if you need extra power to drive your more demanding headphones, SS Balanced output would be the way to go, while SS/Tubes Single Ended are for easier to drive headphones and IEMs. I will cover various IEMs/headphones examples in Pair up section of the review.
You also have WiFi support (2.4GHz band only, according to Cayin spec), so you can upload fw OTA or do wireless music file transfer. Though only a single band, in reality this is not Android DAP intended for streaming or running apps, thus single band WiFi is not a showstopper. Instead, Bluetooth plays more important role here, and BT 5.0 with a duplex operation (Rx/Tx) has a higher value. From the Bluetooth menu under Quality option I see an option for LDAC, UAT, aptX, and SBC, and while AAC is not listed, several users on Head-fi reported about being able to stream AAC from their iPhone. With a duplex BT, you don't just pair up with wireless headphones/speakers, but also can pair up with your Smartphone to use N3Pro as a hi-res Wireless DAC/amp.
Of course, I saved the best for last. What makes N3Pro stand out from other DAPs in a similar price range is dual Timbre design of using either Solid State or Tubes. Cayin doesn't call it SS and Tubes
amplifier design
because the selection between SS and Tubes is an audio buffer before going into the final Phone Amplifier stage. Thus, Cayin refers to this part of the circuit as SS Timbre and Tubes Timbre, user selectable from 3.5mm port (SS or Tube) or SS only from 4.4mm port.
The tubes used in the design are Raytheon JAN6418, vintage miniature pentode tubes, known for their low power consumption which is appropriate for a portable use. These are not considered to be very
warm
tubes, but have just enough to give the sound a warmth and texture which is different from Solid State timbre signal path. Also, only two matched Tubes are used to cover SE output because fully balanced design would require not only 4 matched Tubes but also doubling of the ckt around it. The compact footprint of N3Pro wouldn't be able to fit all the ckt to a have a fully balanced Tubes output.
Just like with any real Tube, you also have to deal with microphonics effect due to vibration of the filament. For that, Cayin designed a custom silicone case, suspended inside N3Pro with a flexible PCB. This way you can move around without too much of microphonic effect, but you have to keep in mind when you tap or shake the DAP, you will hear some ringing which goes away after a few seconds when you hold it steady. Also, by default, when you switch from SS to Tubes or pause for a few minutes, you have to wait 5sec for Tubes to warm up and stabilize after being powered up. And even after this 5sec timeout, sometimes it could take another 5-10sec to fully stabilize the output sound.
Tubes by itself are not the only highlight of this design. When you switch from SS to Tubes timbre, you also have a choice of 2 Tubes modes: Triode and Ultralinear to give you more variety in fine-tuning and coloring of your sound, as part of their DOM (Dual Operation Mode which first appeared in HA-6A desktop tube amplifier). I will go over the details between SS and Tubes and Triode (TR) and Ultralinear (UL) in Sound Analysis section of the review, but as a spoiler – the difference between TR and UL is quite noticeable. So, overall, you are getting a DAP with 3 different sound timbres, Solid State, Tubes Triode, and Tubes Ultralinear.
GUI.
Considering "if it ain't broke, don't fix it", N3Pro interface is nearly identical to their flagship N8. This is a custom Hiby software, optimized for maximum audio performance, and it's not Android based. So, don't expect running apps or streaming directly from this DAP.
The N3Pro GUI is split into two main screens to simplify the navigation and operation. The Home screen has a clear layout when browsing songs by Folders (to access micro SD card or attached USB OTG storage, as well as to scan the music), List (Recently played songs, tagged My Favorites, or custom Playlist), Songs (every song in alphabetical order), Artist (every artist in alphabetical order), Albums (all albums in alphabetical order), and Genres. Underneath of browsing section, you have an area for the currently playing song with an artwork thumb (if one is embedded), name of the artist/song, file type and remaining time. You can skip the song by swiping left/right. By tapping on the song or pressing Home button, you will get to Playback screen. To return to Home screen, press on back arrow in upper left corner.
In Playback screen you have a more expanded view of embedded artwork if one is available. If not, Cayin has their own picture artwork, or you can add and replace your own background image in Settings. The artwork could be swiped to the right to display detailed song info or to the left to display lyrics (if embedded). Above artwork you also have brief info about the file type and in the upper right corner 3-dots shortcut to bring up a menu with play mode selection, current playlist (by default shows songs in the current folder), tagging as my favorite, adding to a playlist, or deleting the file. Underneath the artwork, you have a scroll bar to fast forward/back through the song and current time position / total song duration. Below it you will find a song name, touch buttons to skip the track and play/pause button. The screen and controls are very clear and easy to read.
The Notification bar at top displays all the relevant info at a glance, including small icons showing volume level, playback and play mode, gain setting, digital output setting, EQ, and a battery status with a percentage. When you swipe Notification bar down you have a set of 8 shortcuts to choose the Gain (low, med, high), switch between SS and Tube (when using 3.5mm output), switch between UL (Ultralinear) and TR (Triode) operation modes, Headphone or Line Out selection of balanced output, DSD output (D2P, DoP, or Native), Bluetooth enable/disable (long press to get into BT setting menu), USB mode (to switch between data or usb DAC), and enable/disable Idle shutdown. Every shortcut has a clear label and a graphic icon for an easy identification when it's enabled or disabled. Underneath of the shortcuts you have brightness control slider and link to About where you can find a device name, micro SD storage info, WLAN/MAC address, FW version, and OTA version.
When you swipe the display up, you get a link to Music setting and System setting. Music Setting brings up a comprehensive menu with Play Mode (order, single repeat, random, list repeat), DSD output (D2P, DoP, or Native), DSD gain compensation (up to +6dB), breakpoint resume (off, song, or location), Gapless on/off, max volume, startup volume, Fade in/out, Replay gain, Line Out setting (Low, Mid, High voltage levels), L/R Balance, PCM digital filters, EQ (10band with +/-12dB custom adjustment, 8 genre specific presets which could be modified), Plays through folders and albums option, and displaying album art option.
System Settings starts with WiFi on/off, Bluetooth on/off (including HibyLink on/off and Quality with a list of all the codecs, Language selection, Font Size (small, middle, big), Background image, Backlight time, Lock screen (very useful to enable/disable), Key Lock on/off and Key Lock setting (with individual controls of Volume, Play/Pause, and Prev/Next - each one can be enabled/disabled separately), Led on/off (for home button), Idle shutdown and time, Scheduled power off and time, Reset, and System upgrade.
With any selected menu choice under Music and System Settings, the available options are displayed in a pop-up window at the bottom of the screen with a clear graphics and easy to read text, so you know exactly what you are selecting. I found the GUI to be organized in a very logical way, everything is easy to find and self-explanatory, and the most important - you have text and graphic icons, so everything is easy to id. Also, navigation is relative fast, I didn't notice any lag.
Considering compact size of N3Pro, it is very easy to hold it in one hand and navigate touch screen with a thumb. And no matter which screen you are in, tapping on home button always brings you back to the main Playback screen.
Sound Analysis.
I analyzed N3Pro sound with Odin, Luna, and Solaris '20 IEMs while playing a variety of my favorite test tracks, such as Agnes Obel "The curse", Sandro Cavazza "So much better" (Avicii remix), C-Bool "Never go away", Ed Sheeran "Shape of you", Alan Walker "Darkside", Galantis "Hunter", Iggy Azalea "Black widow", Indila "Boite en argent", Dua Lipa "Love again", Counting Crows "Big yellow taxi", David Elias "Vision of her", and Michael Jackson "Dirty Diana". I let N3Pro burn in for 100hrs before starting my sound analysis.
I prefer to describe the DAP sound based on the comparison to other DAPs and pair ups with different IEMs/headphones since the DAP by itself doesn't have a "sound". What we hear is how it sounds through IEMs/headphones connected to it or the difference relative to other sources using the same pair of IEMs/headphones for monitoring the sound. As a result, this section of the review usually summarizes what I find in the follow up Pair-Up and Comparison sections.
Tubes vs SS (Solid State) - despite SS being 4.4mm BAL (and 4.4mm SS having wider soundstage than 3.5mm SS), 3.5mm Tubes (UL) output has an even wider soundstage. The difference is easy to pick up, the sound spreads wider left/right. When it comes to tonality, as expected, SS will be more transparent, colder, less colored, and with a blacker background. In contrast, Tubes output is smoother, softer, more musical, with fuller body, and more textured tonality. I also found Tubes (UL) output to have some improvement in vertical dynamics and more rumble in sub-bass. But what stands out the most to my ears was the analog texture of the sound when switched to Tubes timbre.
UL (Ultralinear) vs TR (Triode) - both of these Tube operation modes have a smoother fuller body tonality but the sound is quite different. TR is smoother, warmer, and slower, with a less aggressive sound that has shorter attack and longer decay, and slower transient response of note on/off. UL is faster, more articulate, more energetic. Both Tube operation modes have a wide soundstage, but UL is noticeably wider with a more open soundstage and better layering and separation of the sounds while TR sounds more intimate and even a little more compressed and congested in comparison.
Don't get me wrong, Solid State output is not bad at all, and it is on par with other DAPs in the same price bracket. But when you switch to Tubes output and enable Ultralinear operation mode – the sound scales up with a wider and more open soundstage, more expanded vertical dynamics, and more natural and musical tonality. As a result, the contrast when going back and forth makes SS sound flatter and less exciting. Of course, everything will depend on pair up synergy, but for me personally, I went straight to Tubes output and kept it at UL as my favorite mode when using N3Pro.
Pair up.
The sound of a DAP is based on pair up synergy with different headphones. Afterall, you are hearing the sound of headphones connected to the Source. In this section of my review I will go over how various earphones and headphones pair up with N3Pro. In each pair up I noted the port (BAL 4.4mm or SE 3.5mm), SS Solid State or Tubes TR Triode or UL Ultralinear mode, HG high gain or MG med gain, and V# volume level.
Beyerdynamic T5p 2nd gen
(full size Tesla drivers)
4.4mm, HG, SS, V33 - balanced clear signature, deep bass, smooth clear vocals with colder tonality, smooth treble, not as extended.
3.5mm, HG, Tubes TR, V38 - still balanced sig, some improvement in dynamics, bass is warmer, a little slower, mids/vocals are smoother, a little nasal mids, treble has a little more sparkle.
3.5mm, HG, Tubes UL, V38 - balanced sig, better dynamics, more sub-bass rumble, bass is tighter and faster, mids/vocals have more clarity and better definition, doesn't sound as "nasal" as it was in TR mode, more sparkle than SS, but similar to TR mode.
Audio Technica ATH-R70x
(470 ohm, open back full size)
3.5mm, HG, SS, V60 (don't have BAL cable for this one) - balanced sig with a natural tonality and a smoother more laid-back sound presentation. More focused soundstage/imaging, even for open back feels a bit more intimate. Mids/vocals are smooth, not as layered or well separated.
3.5mm, HG, Tubes TR, V60 - sounds similar to Solid State SE, except SS has blacker background while with Tube TR is a little smoother and slower.
3.5mm HG, Tubes UL, V60 - soundstage expands wider, sound has blacker background like Solid State, but tonality has a little more body and richer texture. Mids/vocals have more focus, and improved layering and separation of sounds.
Meze Audio Empyrean
(dual driver Planar magnetic)
4.4mm, HG, SS, V38 - a bit narrow soundstage, sound is balanced, smooth, laidback, mids/vocals are a bit veiled, lacking some clarity, too smooth overall.
3.5mm, HG, Tubes TR, V44 - very similar to solid state output, just a little bit smoother and more laidback.
3.5mm, HG, Tubes UL, V46 - wider/deeper soundstage, smoother detailed, but has more resolving mids with more clarity in vocals.
Out of these 3 headphones, I preferred using 3.5mm Tubes UL output/mode, and actually found T5p 2nd to pair up better, while R70x and Empyrean felt like they were not exactly driven to their full potential.
Campfire Audio Solaris 2020
(hybrid DD/3BA sensitive IEM)
4.4mm, HG, SS, V11 (MG, V21) - balanced signature with a nice sub-bass rumble, natural clear detailed mids/vocals, well controlled crisp treble. Average soundstage. Very faint background waterfall hissing. When I switched to Med gain, that waterfall hissing was nearly gone.
3.5mm, MG, Tubes TR, V27 - balanced signature with a deeper bass, smoother more natural mids, treble is more natural as well. No waterfall hissing at all.
3.5mm, MG, Tubes UL, V27 - similar balanced signature with a deeper and faster bass, natural more transparent mids with improved layering and separation, natural detailed treble, wider soundstage expansion. Probably one of my favorite pair ups with Solaris.
Dunu Luna
(beryllium driver single DD)
4.4mm, HG, SS, V25 - relatively balanced sound sig with deep bass, smooth natural vocals, and sparkly treble. Average layering and separation, and dynamics is just OK in this pair up.
3.5mm, HG, Tubes TR, V31 - more balanced sound sig with mids coming more forward, but overall sound is still smooth and laidback.
3.5mm, HG, Tubes UL, V31 - similar to TR, but there are many more improvements. Overall sound is faster with a black background, bass has more rumble and also faster attack, mids are more forward and also slightly more revealing.
Venture Electronics SUN Dice
(180ohm single DD earbuds)
4.4mm, HG, SS, V40 - smooth balanced natural tonality, but for some reason the mid-bass and mids/vocals sound hollow. I wasn't too crazy about SS BAL output pair up with Dice.
3.5mm, HG, Tubes TR, V45 - still a smooth balanced natural tonality, and I also hear now a little more sub-bass rumble and more treble sparkle, but the most noticeable improvement is in mids/vocals where they have now a fuller more natural body.
3.5mm, HG, Tubes UL, V45 - very similar to TR, with the soundstage being wider now, but in my opinion, it ruins the sound because vocals are spreading wider and I was having a hard time focusing. With SUN Dice, I preferred to use Tubes TR mode.
Empire Ears Odin
(tribrid 2DD/5BA/4EST)
4.4mm, HG, SS, V26 - sound signature is a little more mid-forward with more focus on mids and lower treble. Plus, mids/vocals are brighter and colder and lower treble a bit harsher.
3.5mm, HG, Tubes TR, V30 - sound sig is more balanced, now I hear a deep sub-bass rumble and stronger punch of mid-bass, mids/vocals have more body which still sounds smooth, though also more resolving.
3.5mm, HG, Tubes UL, V30 - switching to UL mode fine-tunes the TR sound with a wider soundstage, blacker background, and fuller body vocals.
64 Audio U12t
(12BA w/TIA driver and M15 APEX module)
4.4mm, HG, SS, V26 - balanced signature with a deep bass, clear detailed natural mids/vocals, and sparkly treble; actually, treble is a bit splashy.
3.5mm, HG, Tubes TR, V32 - similarly balanced signature, with more sub-bass rumble, mids/vocals have fuller body sound, more natural tonality, and treble is less splashy.
3.5mm, HG, Tubes UL, V32 - soundstage expands, background is blacker, the sound is not as laidback as in TR, but the biggest difference was in mids/vocals, given them more clarity and articulation.
In general, like in example with Solaris '20, I found that more neutral or brighter/revealing IEMs to pair up better with Tubes output while warmer and bassier IEMs to have a better pair up synergy with SS output.
Comparison.
In this test, I was using EE Odin and 64 Audio Nio to listen/compare between N3Pro and other DAPs, volume matched. Each of these DAPs, besides a difference in tonality and pair up synergy, has its own Pros/Cons, all of which should be taken into consideration depending on your preference.
N3Pro vs iBasso DX160
– starting with a soundstage, when comparing N3Pro SS vs DX, the DX is wider, but when switching to N3Pro Tubes the soundstage is the same as DX, even a touch wider in N3Pro. With tonality, depending on pair up, DX is a little brighter and leaner in mids, while N3Pro has more body and stronger and tighter bass impact with both SS and Tubes outputs. With Tubes, TR mode of N3Pro gives sound slightly warmer and smoother tonality with a slower speed, while UL still sounds smooth but with more speed and articulation. Also, keep in mind, DX is Android DAP with direct app support.
N3Pro vs Shanling M5s
– with soundstage, when comparing N3Pro SS vs M5s, N3Pro is a touch wider, but when switching to Tubes timbre, the width improvement in N3Pro is a lot more noticeable. With tonality, M5s is a warmer and smoother sounding DAP, so it actually has a tonality closer to N3Pro Tubes, while N3Pro SS sounds a little brighter. Both have a strong bass impact, but N3Pro yields a deeper sub-bass rumble in various pair ups I tried. Another interesting observation, the vertical dynamics of N3Pro SS is similar to M5s, but Tubes output of N3Pro improves the dynamics, making the sound more expanded and layered.
N3Pro vs Dethonray DTR1
- soundstage of N3Pro Tube and DTR1 are on the same level, having wide expansion, while N3Pro SS is a little bit narrower. With tonality, both N3Pro Tubes and SS have a smoother tonality in comparison to more revealing brighter sound of DTR1. Also, both tubes/ss outputs of N3Pro have stronger and faster bass impact in comparison to more neutral DTR1. When it comes to a technical performance comparison, DTR1 and N3Pro tube (UL) have more in common with a dynamic layered sound which has the edge over N3Pro SS. Another thing to keep in mind when comparing Pros/Cons, DTR1 has a non-touch screen.
N3Pro vs Lotoo PAW6000
- in this comparison I found LP6k to be somewhere in a middle, between N3Pro Tubes and SS when it comes to soundstage. LP6k soundstage is wider than N3Pro SS, but not on the same level as N3Pro Tubes. With tonality, LP6k is smoother and closer to N3Pro Tubes, though not exactly as textured. Also, LP6k bass is softer in impact and not as fast as N3Pro Tubes/SS. With technical performance, when it comes to layering/separation/dynamics LP6k has an edge over N3Pro SS, but N3Pro Tubes comes closer to it.
N3Pro vs Cowon Plenue R2
- this is another interesting comparison since I find PR2 to have a performance somewhere in between of N3Pro Tubes and SS as well. With a soundstage, N3Pro Tubes is definitely the widest in comparison. Plenue R2 is a little be narrower but still wider than N3Pro SS. With a tonality, I also noticed how PR2 is a little bit smoother, having fuller body when compared to N3Pro SS, but it is not quite there when it comes to comparison with N3Pro Tubes. And I also noticed how in many pair ups PR2 bass has as much sub-bass rumble as N3Pro, but when it comes to mid-bass punch PR2 is a little softer and slower. Technical performance, such as layering/separation of sounds in PR2 is nearly identical to N3Pro SS, while N3Pro Tubes is superior in comparison.
Wired/Wireless connections.
In this section of the review I will go over various wired and wireless connections I tested and verified with N3Pro.
Digital usb-c out
You can use N3Pro as a digital transport which I verified connected to iFi micro iDSD BL using usb-c OTG cable. I was able to adjust the volume from N3Pro and iDSD. The sound was typical of micro iDSD BL signature with a natural smooth tonality.
Coax out
You can also use N3Pro as a transport connected to iFi micro iDSD BL using Cayin CS-30TCR Type-C to coax cable. In that connection, volume can only be adjusted from iDSD. The sound tonality was a little brighter, soundstage was wider, and I was able to hear more air between the layers. For me personally, I enjoyed COAX out better than USB-C with N3Pro.
Line Out
Connected to Romi Audio BX2 amplifier, the sound tonality of N3Pro 4.4mm BAL Line Out, the output which is shared with phone out, is a touch warmer relative to N3Pro direct 4.4mm SS Phone out. The sound quality of N3Pro 3.5mm SE Line Out, the clean unamplified dedicated line out, is a little warmer as well when compared to 3.5mm SE Phone out. In both cases, BX2 does improve the soundstage expansion and I also hear some improvement in dynamics. Based on these two tests and considering how transparent BX2 is, I can draw the conclusion that Line Out (output of DAC) is warmer, while internal SS amp ckt brightens it up a bit. Of course, Tubes output is a different story.
USB DAC
N3Pro was recognized right away on my Win10 ThinkPad T480s without the need to install any drivers. I was able to adjust the volume from laptop and from N3Pro. N3Pro connected as USB DAC sounds nearly identical as playing the same file directly from N3Pro.
Bluetooth Wireless
Bluetooth Tx – tested with Hiby WH3 TWS, working 30ft away without a problem, and it sounds the same as paired up with other wireless sources. The support of different codecs makes you appreciate the difference in quality as you step through them. Also, you can control playback directly from wireless earphones/headphones.
Bluetooth Rx – Paired up with my Galaxy S9 smartphone, using HibyMusic with UAT option enabled, N3Pro was connected using UAT codec and works flawless as a wireless DAC/amp paired up with my phone as a wireless transport. If UAT disabled in HibyMusic, wireless connection switches to LDAC. The sound quality was nearly identical to playing directly from N3Pro.
HibyLink
HibyLink allows pair up of N3Pro with your smartphone running HibyMusic app to use it as a remote control/display of the DAP. This is not a Bluetooth pair up to stream music, as some are mistaken. You enable HibyLink under Bluetooth control on N3Pro and enable it on your smartphone in HibyMusic and then search for N3Pro to pair up from a phone. This way you can keep N3Pro in your pocket or backpack with headphones connected, and control the playback and volume of the DAP straight from your phone.
Conclusion.
Relative to other DAPs in Cayin's current lineup, N6ii and N8, N3Pro is considered to be
entry level
, but there is absolutely nothing
entry
about it. I do understand that Cayin narrowed down their DAP product line to N3Pro, N6ii, and N8, where "ii" indicates Android audio player, and two others are not. But each player is packed with so many unique features that I'm having a hard time putting a label on them. There is no question flagship N8 will be superior in every aspect, but if you want to get a taste of a pocket DAP with Tubes, N3Pro is a scaled down version of N8 that will surprise a lot of people, especially those who still think BAL output is superior to SE.
Besides having a similar display and identical OS/GUI, this Nate Jr (as in N8 Jr) follows the same design architecture with selectable Solid State and Tubes timbre outputs, and its Tubes output has 2 unique operational modes, Triode and Ultralinear. It's not an Android DAP where you can install and run apps from, but its hi-res Wireless connection allows pair up with your smartphone to use it as a wireless DAC/amp to stream apps. Overall, N3Pro packs a list of impressive features, but in my opinion, Tubes output is still the main attraction of this $479 DAP which makes it stand out from the crowd because you will not find another audio player with Tubes to compete with N3Pro in this price bracket.
Last edited: