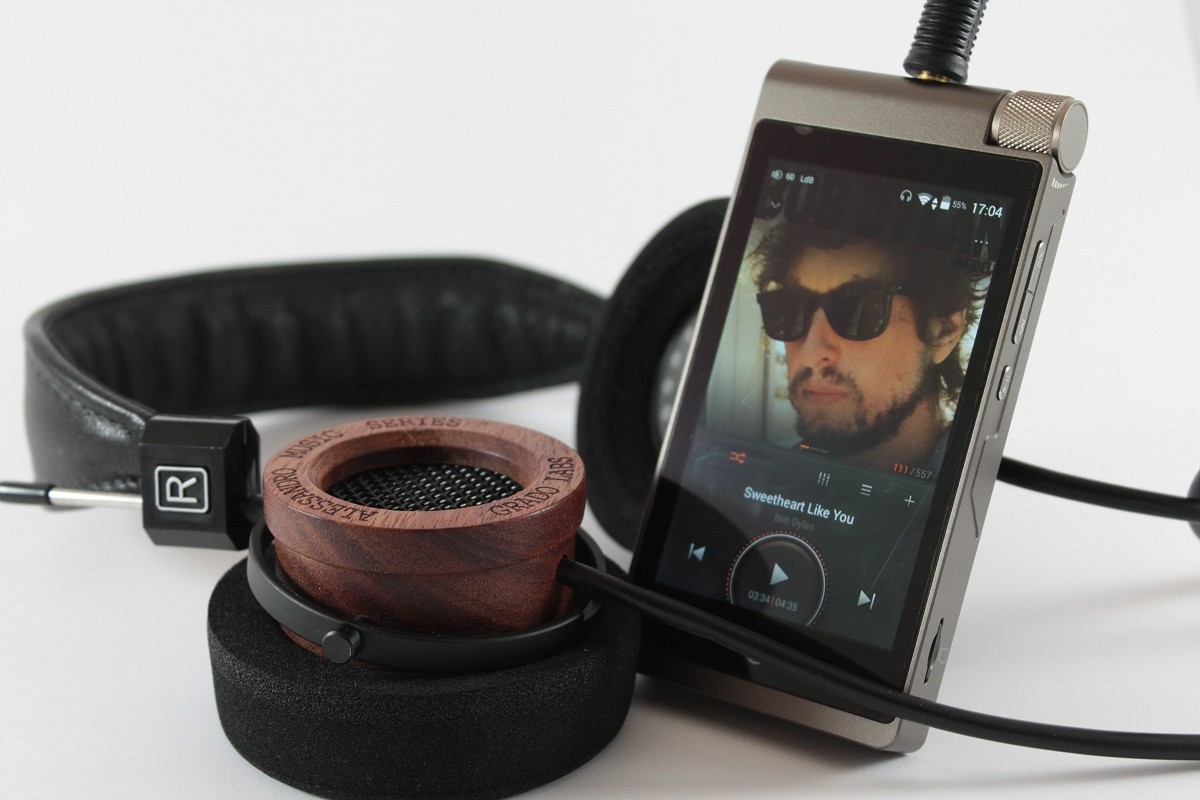 Picture are default 1200 x 800 resolution - click (photos in tables) to view larger images.
​
INTRODUCTION
DAPs or Digital Audio Players are pretty hard to review (in my humble opinion anyway). Everyone wants to know about the sound – how is the sound stage, is it bassy, bright, noisy, clean background? Unfortunately I've found the differences in sound between DAPs are often very minute, and more about tonality than anything else. The real differences (to me) are usually in the features, the power and battery life and the ease of use.

So if you're looking for a review which raves about the minutiae of sound, and expounds about the smallest of nuances, you'd possibly be better to skip this one and skip to one of the more subjective reviewers. If however you'd like to know my impression of the i5, the features it has (and what its missing), the overall usability, and what I like and/or get frustrated by – then please pull up a chair, and lets get to know this DAP together.
ABOUT CAYIN
Cayin is a registered brand of the Zhuhai Spark Electronic Equipment Co., Ltd. The company was founded in 1993 (celebrating a big anniversary next year), and their main focus up until 2013 was on HiFi products including CD players, tube amplifiers and speakers. Some of their range is truly gorgeous too – if you get the time, browse their website (the tube amps in particular look wonderful!). In 2013 Cayin started branching out into portable and personal audio, and have released a string of products which have been met with critical acclaim, especially for their sonic ability. To date they have produced more than 400 products.

I always like to let the company's words speak for themselves – and in Cayin's case this comes from their Facebook site:

"While our products carry a distinctive cultural connotation and span over a very wide price range, we are devoted to developing the best sounding audio equipment at competitive prices.

Cayin pays attention to detail because we believe this is what it takes to reproduce music naturally. We might have a different agenda or employ different technologies for different products, but ultimately, we serve only one purpose: to move our audience with hi-fidelity.

We deliver music diligently, and we are prepared to go a long way for that. With Cayin, your music will never be the same again."

In closing I'd also like to mention Cayin's rep on Head-Fi, Andy Kong, who has been truly diligent on the website – always helpful, and ready to act as a conduit between the community here and their engineers.

DISCLAIMER
The Cayin i5 was provided to me as part of a review tour. At the completion of the review, the i5 will be returned to Andy (along with my thanks for being allowed to spend time with the unit). I do not make any financial gain from this review – it is has been written simply as my way of providing feedback both to the Head-Fi community and also Cayin themselves.

I have now had the Cayin i5 for around 6 months (my apologies Andy). The retail price at time of review is USD 380-400 (Amazon), but has been around the $450-$470 mark.
PREAMBLE - 'ABOUT ME'.
(or a base-line for interpreting my thoughts and bias)
I'm a 50 year old music lover. I don't say audiophile – I just love my music. Over the last couple of years, I have slowly changed from cheaper listening set-ups to my current set-up. I vary my listening from portables (mostly now from the FiiO X7ii and iPhone SE) to my desk-top's set-up (PC > USB > iFi iDSD). My main full sized headphones at the time of writing are the Sennheiser HD800S, Sennheiser HD600 & HD630VB, MS Pro and AKG K553. Most of my portable listening is done with IEMs, and it has mainly been with my own personally owned IEMs - the Jays q-Jays, Alclair Curve2 and LZ Big Dipper. A full list of the gear I have owned (past and present – although needs updating) is listed in my Head-Fi profile.

I have very eclectic music tastes listening to a variety from classical/opera and jazz, to grunge and general rock. I listen to a lot of blues, jazz, folk music, classic rock, indie and alternative rock. I am particularly fond of female vocals. I generally tend toward cans that are relatively neutral/balanced, but I do have a fondness for clarity, and suspect I might have slight 'treble-head' preferences. I am not overly treble sensitive, and in the past have really enjoyed headphones like the K701, SR325i, and of course the T1 and DT880. I have a specific sensitivity to the 2-3 kHz frequency area (most humans do) but my sensitivity is particularly strong, and I tend to like a relatively flat mid-range with slight elevation in the upper-mids around this area.

I have extensively tested myself (ABX) and I find aac256 or higher to be completely transparent. I do use exclusively red-book 16/44.1 if space is not an issue. All of my music is legally purchased (mostly CD – the rest FLAC purchased on-line). I tend to be skeptical about audiophile 'claims', don't generally believe in burn-in, have never heard a difference with different cables (unless it was volume or impedance related), and would rather test myself blind on perceived differences. I am not a 'golden eared listener'. I suffer from mild tinnitus, and at 50, my hearing is less than perfect (it only extends to around 14 kHz nowadays). My usual listening level is around 65-75 dB.
For the purposes of this review - I've used the Cayin i5 in combination with many different earphones and tested most of the functions I am able to. This does not include some applications like DLNA or OTG – which I can neither test properly, nor am I interested in. We'll touch very briefly on streaming, but again it won't be an area I'll spend a lot of time on, simply because I simply use the Cayin i5 predominantly as a player. I have prior experience with entry level Sony's (very early models), then step-ups to the Cowon iAudio7, iPhone4, iPod Touch G4, iPhone 5S, HSA Studio V3, FiiO X5, X1, X3ii, X5ii, X7, X1ii, X7ii, X3iii, iPhone SE, Cayin N3, and the L&P LP5, L5 Pro, and L3.

This is a purely subjective review - my gear, my ears, and my experience. Please take it all with a grain of salt - especially if it does not match your own experience.
WHAT I PERSONALLY LOOK FOR IN A DAP

I thought I'd list (before I start with the review) what I really look for in a new DAP.

Clean, neutral signature – but with body (not thin)
Good build quality
Reasonable battery life – at least 8-10 hours
Easy to use interface
Able to drive both low impedance and (within reason) higher impedance cans without additional amping.
Value for money
Enough storage to hold either my favourite albums in red-book, or my whole library in a reasonably high resolution lossy format (for me – aac256)
Gapless playback
Reasonable EQ
Bluetooth/Wireless if available
Did I get all of this with the Cayin i5, and more importantly how did it compare to equivalent DAPs in similar price ranges? We'll take a look and as we go, I'll refer to this list. We'll also make a comparison to other DAPs later in the review.
THE REVIEW
PACKAGING AND ACCESSORIES
The Cayin i5 arrived in a box and lid, with a printed retail sleeve. The sleeve has a photo of the i5 on the front and details of the main features on the rear. The box measures ~ 183 x 116 x 53mm, and has two compartments – one for the i5 and one for the accessories.
| | | |
| --- | --- | --- |
| | | |
| Retail box | Inner box | Full accessory package |
The total accessory package includes:
One USB to USB-C data and charging cable

One USB-C to coaxial cable

One micro USB to USB-C adapter

One leather case

Three screen protectors

User manual and warranty

The Cayin i5
The case is quite nice but a little loose fitting and the sides cover the edge of the screen (making scrolling the right side a little difficult, and the buttons a little too deep to be easily accessed). Its a decent case overall though as long as you're careful not to tip it.
| | | |
| --- | --- | --- |
| | | |
| Charging and USB-C to Coax cables | i5 in provided case | Buttons are recessed |
TECHNICAL SPECIFICATIONS
(From Cayin's website and packaging), and I've included the FiiO X5iii specs as well as a comparison.
| | | |
| --- | --- | --- |
| Model | Cayin i5 | X5 3rd Gen |
| Approx current price | $399 USD | $399 USD |
| Dimensions | ~ 126 x 64 x 16 mm | ~ 114 x 66 x 15 mm |
| Weight | 195 g | 186 g |
| DSD Support | DSD64/128 | DSD64/128 |
| Lossless PCM Support | APE, ALAC, AIFF, FLAC, WAV, WMA | APE, ALAC, AIFF, FLAC, WAV, WMA |
| Lossy Support | MP3, AAC, WMA, OGG | MP3, AAC, WMA, OGG |
| Use as external DAC | Yes | Yes |
| Battery | 4800 mAh | 3400 mAh |
| Play time | ~11hr SE | ~10hr SE, 8hr bal |
| DAC Chip | AK4490 | AK4490x2 |
| Main amp chip | OPA1652+BUF634 | OPA426x2 |
| SNR (H/O) | ≥108 dB (A-weighted) | ≥115 dB (A-weighted) |
| THD+N (H/O) | <0.006% | <0.003% (32Ω/1kHz) |
| Balanced? | No | Yes 2.5mm |
| Output to 16ohm (SE/BAL) | Not stated | 480 mW / 400 mW |
| Output to 32ohm (SE/BAL) | 190 mW per channel | 250 mW / 240 mW |
| Output to 300ohm (SE/BAL) | Not stated | 28 mW / 26 mW |
| H/O Impedance (SE/Bal) | <1.0Ω | <1.0Ω / <3.0Ω |
| Line Out? | Yes | Yes |
| Digital Out? | Yes | Yes |
| Internal Storage | 32 Gb | 32 Gb |
| External Storage | 200 Gb stated, but suspect can go higher | 512 Gb (256x2) |
| Screen | 3.97in IPS TFT 480x800 | 3.97in IPS TFT 480x800 |
| OS | Android 4.4 | Android 5.1 |
| RAM | 1 Gb | 1 Gb |
| Wireless | Bluetooth and WiFi | Bluetooth and WiFi |
BUILD AND DESIGN
I really like the overall build of the i5. Because it is a touch interface, and also requires some hefty internal components to address both power and battery, a DAP of this sort is always going to need to be somewhat "slab" like in build, but Cayin have addressed this with their own style. The device is CNC'd from an aluminum alloy and the back plate looks to be gorilla glass over carbon fibre. It really is quite striking. In overall size and weight it sits pretty much between the FiiO X5iii and FiiO X7. The chassis has rounded corners and beveled edges, and somehow manages to feel reassuringly weighty, without feeling overly chunky.

The front is dominated by the 4inch TFT IPS capacitive touchscreen, with part of this being a touch "home" button. At the left hand side is a single on/off button, while on the right are the play/pause and forward/back buttons. Below these is the single micro sdxc slot. At the bottom is the USB-C slot for data transfer, DAC use, OTG use, digital out and charging. To be honest I'm not 100% sure of how I feel about the change to USB-C. At this point in time I don't have a lot of USB3 devices, and it has been a pain sometimes if the battery is out and I don't have the charging cable (I always carry a USB to micro-USB cable). I guess this format/standard is going to become more prevalent, so probably a smart (if bold) move on Cayin's part. At the top is the analog line-out and headphone out 3.5mm sockets, and the analog pot. The pot is resistive rather than stepped, so there is a reassuring firmness to the control. The downside is that it does take a little more effort to move the wheel than a stepped based design.
| | | |
| --- | --- | --- |
| | | |
| Left side – on/off button | Bottom – USB-C socket | Right side – play controls |
I do find that the actual design lends itself more to left than right handed use (one handed) using the hardware controls, and this frees up my right hand for the touch controls. The hardware buttons give nice tactile feedback, and my only complaint is that the case is a bit bulky (making the buttons quite recessed), so can be slightly difficult to use with the case intact.

The 4inch touch screen is vivid and clear. It has a wide viewing angle (almost 180 deg), and as far as on-screen smudging goes, actually seems better than the X5iii. Low light visibility is excellent, but with full sunlight (like most touch screen devices), you have to shade the device for any decent viewing legibility. For the most part the touch screen is reasonably responsive. However occasionally the older OS and 1 Gb of RAM do seem to combine (usually when there is a bit of background processing going on) to create some lag. Its not any better or worse than the X5iii in this regard though, and on the whole is quite responsive.

Internally the Cayin i5 sports a quad core Cortex A7 1.2 GHz processor along with a dual-core GPU, 1 Gb of on-board RAM and 32 Gb internal flash storage memory. DAC / decoding functionality is the job of the single 32 bit AK4490EQ DAC chip, allowing both DSD decoding up to DSD128, and PCM up to 32/384. Volume control comes via Burr-Brown PGA2311 analog volume chip, and the AD712 OP amp is used as a low pass filter, along with the OPA1652 for power. The OPA1652 then uses two BuF634 buffers to boost current.
| | | |
| --- | --- | --- |
| | | |
| Top – hp and line-out sockets + vol control | Rear – carbon fibre look | Classy looking DAP |
BATTERY
The i5 is powered by a 3.8V 4800 mAh Li-polymer battery which provides approximately 10-11 hours play time using the 3.5mm single-ended head-phone output with my LZ Big Dipper IEMs. In my tests this was achievable using IEMs with the screen mostly off, and the DAP set to play continuously. This obviously does not reflect real-world usage, so expect less if you're constantly using the screen, or using apps that may have a higher draw on the battery. For my personal use (single-ended) I can easily get 8-9 hours out of a fully charged battery with normal use, and this has been sufficient for day to day use.

Charging time typically is about 4 hours using a 2a charger, and considerably more if just using the USB port on my desktop, so considerably slower than the X5iii on both counts. You can also play and charge at the same time if using a portable battery pack.
POWER OUTPUT
Cayin's output specs show 190 mW per channel into 32 ohms, but unfortunately don't give a whole lot of data on their power output into other loads. I figured the best way was simply to test some real devices and measure the SPL, and also a subjective test. For each test, I used the excellently mastered new track "The Same Asylum As Before" from Steven Wilson's new album "To The Bone" - mainly because it was the same track as I used for the X5ii when I reviewed it, so it gave me some good comparative data. For each test, I aimed to get to my average preferred listening level of 65-75dB with peaks well under 85 dB. For this I used my trusty calibrated SPL meter.

First up was FiiO's own 28 ohm, 106 dB/mW sensitivity F9 IEM. It is an easy load to drive and reflects an average load for everyday use. 27/100 on the i5 was sitting me easily within my preferred sonic range on low gain – so plenty of head-room.

Next up was HiFiMan's flagship RE2000 IEM at 60ohm and 103 dB/mW sensitivity. This represents a load with higher impedance and lower sensitivity, and surprisingly only requires ~32/100 to reach the same listening volume. Again plenty of head-room, and the RE2000 on the i5 sounds wonderful.

This time a harder load and an ear-bud as well. VE's flagship Zen2 is an incredible sounding ear-bud which while relatively sensitive at 108 dB/mW, has a much higher impedance of 320 ohm. This was much harder to measure, and I don't know if I got this completely accurate, but 37-39/100 reached my ideal listening level and again I could detect no issues with the i5's amplification sounding weak.

Lets move to full sized headphones. This time I used the SPL meter again, and simply measured at the outer ear. First up was the Alessandro MS-Pro at a nominal impedance of 32 ohm and SPL of 98 dB (1V). Around 28/100 was a comfortable listening level and once again hitting my ideal volume level. The MS Pro and i5 was a really good match too.

Up next was Sennheisers HD630VB at 23 ohm and 114 dB SPL. Again the i5 had no issues with essentially what is a portable headphone, and 30/100 on the pot easily drove to my normal listening levels . Again the pairing was really good – but unfortunately the HD630VBs controls did not work with the i5 (they do with the X7, X7ii, X5iii and my I-devices).


Final test – and this time lets step beyond the likely and try something a lot will consider slightly ridiculous (I don't). The HD800S is 300 ohm and 108 dB/mW. Its my real test as I sometimes like to move around the house with these headphones so for me it is a realistic test. Again pleasantly surprised by the i5 because ~43/100 on low gain was hitting my preferred listening level, and this combo sounded really good.

So all in all the i5 appears to be quite a powerhouse with very good power output at higher impedances, and IMO actually performs better than the X5iii in this area. And to check that I wasn't simply deluding myself, I also checked the HD800S with FiiO's A5 headphone amp. It is quite neutral, and can output 150 mW into a 300 ohm load. I've used it before with the HD800S and it has very much impressed me as a portable device. So once I'd found my ideal listening level, I simply used test tones to replicate the same volume with the A5, then switched between the two. The HD800S did not sound superior with the A5 and I'd be quite happy simply using the i5 by itself.
WIRELESS CAPABILITY / PERFORMANCE
The Cayin i5 comes with both Bluetooth 4.0 and 2.4 kHz Wifi capability. Performance on both seems pretty good. The Wifi receiver is not as good as my iPhone. I'm sitting in my study, the router is around 8-10 meters away, but through two walls. My iPhone SE is showing full bars, the i5 is about 75-80%. Connection is solid and stable, and perfectly good for streaming or downloading apps or updates. The iPhone is slightly quicker. So the i5 is good – but not perfect.


The Bluetooth connectivity was excellent with my FiiL Diva Bluetooth headset. Connection was straight forward – easily recognised and paired. And I can actually install the Android FiiL+ app (by manually installing the downloaded apk), however the app ran like treacle, and I couldn't get it to properly pair or recognise the Diva. So access to the advanced features of the head-set curtailed (the X5iii and X7ii both manage it OK), however this could easily be simply the older Android version limitations. I can use all the headset's other features including volume and track control, and can easily get to 20m (it starts breaking up beyond that).

Next up was FiiO's BTR1 Bluetooth unit. Connection was easy, and the volume controls worked well and could be used for next and previous. Unfortunately the play/pause button did not work, and the range was only about 7m before it started cutting out. To be fair, the iPhone range wasn't much better, although at least all the controls worked.

So I think Bluetooth gets a good pass mark – not perfect, but definitely above average if you have the right device to pair.
UI AND USABILITY
The UI is standard Android and I'm not going to cover all the standard features (battery meters etc), and concentrate instead on Cayin's integration with their Hiby Music app.

Once you get past the opening animation, you arrive at the "home" screen which is essentially a single page with 4 visible blocks or sections for file locations and connectivity, and one hidden (scroll down). These include internal and external storage, Dropbox and LAN connectivity, and USB flash drive (OTG). Unfortunately I didn't get a chance to test other connectivity and pretty much stayed with music on the phone, and also a brief stint with Tidal when I had an account. Along the top third of the screen are the usual "folder", "music", "album", "artist", "genre" and "track" choices. Each take you to their respective areas – the album one gives you album art, but the artist choice just shows icons (X5iii uses the album art for these two which is quite nice). The "genre" choice is really weird giving 8 icons, but only showing singe word genre choices (eg if I have "Rock, Pop" as a genre choice it doesn't show up in either). It allows access all other genres in a separate hidden list you get to by scrolling up. Most other DAPs do something similar – so I've already resigned myself to the fact that I'm going to have to simplify my genre tags to actually have something useful. The track list is alphanumeric and based on song title (nice), and perfect for setting up a shuffled list.

Also at the top of the screen is a "list" section which gives access to play-lists, frequently played tracks, recently played tracks, and anything you've tagged as a favourite. The two other options at the top are a search bar and "person" icon which allows access to the Hiby settings, equaliser, library scanning and also 3rd party apps.

The now playing screen (tapping the now playing bar at the bottom) brings up large album art. Swiping this gives access to lyrics and also a VU meter. Below the album art are icons for play mode (slide to change), equaliser access (sort of), play-list access and adding to play-list or favoufavourites. Other than that you have the song title, and artist but no album info, and a touch play/pause and forward/back on-screen buttons. Around the play/pause button is an orange progress bar which can be used to scrub forward or back.

Hiding in the top corner is a 3 dot icon which when pressed gives you the option to delete the track, or list its properties.

The EQ options are a mixture of good and bad. Lets get the bad out of the way first. The button on the now playing screen gives me access to the presets, but nothing else. It doesn't bring up the actual EQ screen and doesn't give an option to turn it off once engaged. In order to actually get to the EQ you have to use 3 clicks to access it from the Hiby menu – someone wasn't thinking when they put this together. FiiO's is one click. When you get to the EQ screen, it is very similar to FiiO's 10 band EQ. There are presets, and a custom option (but you can customise all the presets, and there is a reset button to return them to their original state). There is a 24 dB swing (-12 / +12) which allows plenty of room for tweaking and 10 bands. The layout is the same as FiiO's with 5 sliders shown on screen at a time, so you have to slide left and right rather than having them all on the screen together. The good news is that the entire 20 Hz – 20 kHz frequency display is shown on the entire screen, so this does help when you've inadvertently hit the wrong slider. The thing I love with the Hiby implementation is that each band shows the adjustment (in dB) that you've used. No guess work. Nice!
| | | | | |
| --- | --- | --- | --- | --- |
| | | | | |
| Home screen | Album view | Artist view | Genre View | SongView |
| | | | | |
| --- | --- | --- | --- | --- |
| | | | | |
| Frequently played | Now playing | VU Meter | Access to settings | Equaliser |
| | | | | |
| --- | --- | --- | --- | --- |
| | | | | |
| 3rd party apps | Hiby Music settings | Hiby Music settings | Std Android settings | Std Android settings |
Third party apps are accessible from the Hiby type slide menu, and Google App store is installed. I originally had Tidal on here, but it had the same issues as FiiO's (stuttering). Neutron installed fine and works well, but I have noticed that using third party apps often makes the i5 very laggy and slow. Its obviously optimised for the Hiby interface, and you take your chances with anything else.
Rather than bore you silly with descriptions of all the screens and options, I've simply photographed them, and this should give you the main gist of some of the things which are available. So lets look a little closer at some of the features the i5 offers.[/SIZE]
OTHER FEATURES
The Good
EQ – while its difficult to get to, the EQ itself is pretty good with a +12/-15 dB range, and pretty easy to use with the actual adjustments shown on the graph.

Quick scanning – it's lightning fast compared to the FiiO devices I have. Less than a minute scan 6800 tracks. Slightly longer to write the index though. Impressive.

Boot time – it's generally pretty quick, about 40 secs from first screen light up to having access to the menu system. Thats not bad for an Android based DAP.

Connectivity – cloud or external connectivity (LAN, Dropbox, OTG) has been really well thought out. Although I don't use it, general feedback has been positive.

The digital out (with included HQ USB-C to coax cable) worked brilliantly with the iFi iDSD, and was a great pairing, especially with both the HD600 and HD800S.
The OK
Gapless – Its implemented reasonably well. Using FLAC files, there is the very faintest micro-gap. Using AAC files the gap is practically unnoticeable – although there is occasionally some truncation between two tracks. Good but not perfect.

DAC – in DAC mode you'll need a driver loaded for Windows use, but its OOTB for me with Linux. Works pretty well, although there is some lag with video – both in Windows and Linux. Playing around with sample rate can alleviate this.

Stability – although some of the features aren't as well thought out, and the UI isn't as intuitive as I'd prefer, the stability has generally been pretty good, and I've had less crashes than on the likes of the FiiO X5iii. The obvious counter to this is the X5iii is still being updated, features refined etc

USB digital out – I've had success with the Cozoy Takt (sounded pretty good too, I must admit), FiiO's Q1 and also their diminutive K1. But support is very much hit and miss – the FiiO Q1ii was a no-go, ans was my IMS HVA. Nice to know that some devices work well though – and for this, Neutron is a must.
The Issues
Battery drain – appears normal during use (especially with the default Cayin music app). But if you've stopped the music, and not switched it off, expect a similar sort of battery drain to actual use. I was charged at 100% last night, spent about 2 hours listening, then stopped the music. On waking this morning, the battery was at 30%. Yep – somehow 50% drain over the space of 6 hours. If you're not using it – switch it off. FiiO implements this a LOT better.

3rd party apps - I use Neutron a lot mainly because of its DSP functions and ability to use 3D spacialisation (widen the sound stage). 3rd party apps on the i5 tend to run much slower on the i5 than the likes of the X5iii, and they also seem to be quite battery intensive (shaving 2-3 hours off the normal battery life).

Update support – The i5 seems to be at the limit of its support (in terms of updates with Cayin). This isn't a conscious choice from Cayin – but more limitations of the older SoC and software system. It still means that we're stuck with the current firmware limitations.

Streaming – this doesn't affect me so much, and it seems to be typical of a lot of Android based DAPs. Apps like Tidal stutter. Its not a massive issue – but enough that it gets annoying. If you're a mostly Tidal user, I'd recommend using a phone and DAC/amp combo instead.

Standard external play-lists – not sure what is up with this, but I keep getting "I/O errors". The same list will play on any of the FiiO's – it is a simple m3u8 play-list file. I could probably work it out, and I suspect it might need to have absolute references – but it should work OOTB, and I don't have the time or inclination to work out a solution.

Replay-gain - there is none
SOUND QUALITY & COMPARISONS
The following is what I subjectively hear from the Cayin i5. Some of you may find this section a little limited, so I'll give you some insight into the way I've changed my opinion on how to describe the sound with any competently made DAC, DAP or amplifier. The problem with trying to break the sonics down to bass, mids and treble is that DAP / DAC / amp is designed (or should be designed) to be essentially flat across the frequency spectrum. If it has enhanced bass, then isn't it adding colouration that should come from the headphones or EQ or recording? Likewise, I won't comment a lot on sound-stage, as this is primarily a by-product of the actual recording, or the transducers you're using.

So how do I go about describing it? Well my gear isn't great for measuring DAPs – the SNR and THD readings will be below the noise floor of my cheap soundcard. So for now we'll assume that the i5 measures relatively flat – and I say relatively because most of the higher end DAPs do have an intentional roll-off in the DAC section to warm the overall tonality. So what I will do is comment on overall tonality and resolution, and also expand further when comparing the Cayin i5 to some of the other DAPs I have experience with.

For the record – on most tracks, the volume on i5 was adjusted to give me an average SPL around 65-75 dB. Tracks used were across a variety of genres – and can be viewed in this list https://www.head-fi.org/f/articles/brookos-test-tracks.17556/. When I tested side-by-side with other DAPs I used test tones, and an SPL meter to volume match. I used the same track, and had the players set up so I could rapid switch. Testing was performed with my Alclair Curve (being one of the most neutral monitors I have).
Cayin i5 General Tonality
This is actually an easy one – because the Cayin i5 is (for me anyway) very similar in overall tonality to the FiiO X5iii. It could be described as being a little on the warm side – but I'd prefer to refer to it as rich and smooth. Like the X5iii, the Cayin i5 has very good resolution, and like the X5iii there is a deepness and smoothness and fullness of overall tone which very much reminds me of my old Audio-gd NFB-12. Where the i5 differs from some other DAPs I own is that the tonality is silky smooth – no sign of harshness or glare. I've never really noticed the glare on other DAPs before, but when comparing side-by-side, the Cayin i5 (like the X5iii) just seems to have a smoothness which is perfect for easy listening. So what about something a little more neutral to double check my findings? For this, my other DAP to check was the X7ii with AM3A amp. In direct comparison the X7ii appears a little leaner, a little cleaner and a little more resolving.
Resolution / Detail / Clarity
Clarity and resolution is excellent on this DAP, its just not as brutally apparent as some of the other audio devices I have. I've gone over my test tracks many times with the i5 now, and it is not missing any of the detail or resolution of my other "more linear sounding" DAPs or DAC/amps. It just has a different presentation of that detail. When playing Floyd's "Money", all the nuances from the cash registers are present – they just don't have that edge to them. In "Sultans of Swing" I can still hear the clicks when Withers taps his drumsticks together, but there isn't that extra heat or emphasis. What I hear is more organic and perhaps more tonally pleasing.
Soundstage / Imaging
Why is this section even here? The perception of sound-stage in a DAP is a result of the music you listen to (the recording) and the transducers you use. The DAP has virtually nothing to do with it, as long as it has decent crosstalk measurements, and there is no DSP involved. For the record, I volume matched the Cayin i5 and X5iii (same DAC sections), and tested my binaural tracks. Both sounded pretty much the same. And whether you use the Alclair Curve or the UM ME.1 Planar IEM, the perceived sound-stage width/depth was the same on both devices, and only influenced by the actual transducer being used. The one good thing with the i5is that you can use Neutron's DSP settings to widen the perceived stage. The only issue is that Neutron is a little laggy with the i5.
Cayin i5 vs FiiO X5ii
The X5 2nd gen (X5ii) is very close in size physically to the Cayin i5. The i5 has a single SDXC slot, while the X5ii's is dual, but the i5 has the benefit of onboard memory while X5ii has none. Both can play most high-res formats (including DSD), and both have similar output options (coax, line and headphone outs). Both also have similar battery life.

The i5's advantages come with it's wireless connectivity options, touch screen, separate wheel for volume control, and more feature options via the Android interface (apps etc) along with a better screen resolution. Power output seems slightly in favour of the i5. The X5ii does have one advantage (feature wise) compared to the i5 and that is working replay gain (although again Neutron covers this). Both also have a reasonable search function.

Sonically these two are quite close in both tonality and resolution. The i5 is slightly smoother but its definitely not any warmer. The X5ii sounds slightly more vivid, and actually sounds a little cleaner (again its that very slight smoothing that the i5 brings).

As far as value goes, it is very hard to beat the X5ii as a straight music player – especially with the dual slots and the current price of around USD 250 (Amazon). It has very mature firmware now and is quite stable. Of course the advantages of the i5 still remain with its Android UI, features, and wireless connectivity. Those looking for a simple music player are possibly better considering an X5ii. If Bluetooth or wireless are a must though – especially for LAN or NAS connectivity, the i5 will deliver a richer and smoother tonality plus the connectivity features.
Cayin i5 vs FiiO X5iii
This is probably the natural comparison most will make. In terms of size, the two are very similar with the Cayin being slightly longer. The Cayin has more driving power, and can handle the HD800S quite well – where the FiiO X5iii is probably at its limits. The X5iii has balanced mode, but it really is power limited (does not offer extra voltage).

The i5 UI is slightly more stable (less prone to crash), and things like scanning are very fast (quicker than X5iii). The UI itself can be a bit easier at times to follow than FiiOs and other times more complex (getting to EQ requires more steps), but on the whole both are comparable. The i5 uses an older Android 4 version where the FiiO is Android 5. Wireless performance on both is comparable – however neither have as good wireless connectivity as my iPhone. Bluetooth range and stability is slightly better on the Cayin i5, but both are good for portable use with a headset. I am able to install 3rd party apps like Neutron and Tidal on both – but the X5iii seems slightly more stable with 3rd party apps. Both can be used as an external DAC, and I had no issues with either (after installing drivers) on a Windows 10 PC. For general ease of use and comparing the default Pure Music (X5iii) to Hiby (i5), my personal preference would be toward the X5iii – it is more feature rich. The i5 also has the tendency to drain the battery quicker (it really needs a decent sleep mode).

Sonically the two are extremely close and I guess this is the result of the same DAC hardware (AK 4490). I spent a lot of time going between the two and when volume matched, I'd say they sound practically identical – I can't tell them apart in a blind test. At first I thought that there might have been a little more extension with the i5, but when I got my wife to help me blind swap I was completely baffled over which was which (more evidence of sighted bias at play). Both sound fantastic with a rich and smooth tonality that I personally find really relaxing.

In terms of overall preference, its a bit of a tough one for me. The price now on both units is pretty close – you can pick up either for ~ USD$400. Both have their strong points. I don't tend to need 2 micro SDXC slots (I use aac256 on my portables anyway, so storage is never an issue). The X5iii balanced connection offers no obvious benefits. I do like the extra power of the Cayin i5, but equally like the versatility of the X5iii's slightly more modern OS. Both have their individual personalities, neither is perfect, but the comparison is really close – and I would really be happy with either.
Cayin i5 vs FiiOX7 (original)
This one should be interesting. The original X7 was FiiO's original flagship DAP. It used to retail at around the $650 mark but nowadays can be found at $360-450. The X7 is larger, mainly due to it's interchangeable amp section. You get button controls for volume rather than the i5's wheel (and I much prefer the i5 for this). Both have single sdxc slots, 32 Gb internal memory and similar features in terms of wireless connectivity. The biggest difference with the X7 is the Android version (slightly more modern 5 vs 4) and the ability to change amp modules. By doing this you have additional control over both tonality and also power (with the AM5 high power module being able to drive many high impedance cans including the HD800S.

Sonically the difference (in terns of resolution) is not huge, but the X7 with AM3 module is noticeably more linear, and appears cleaner because of the more neutral tonality. The i5 in comparison has that slightly smoother rich tonality which people will either love (find it musical) or dislike (citing it as warm). This is not a night and day, and really comes down to preference. While I prefer the slightly better volume control on the i5 and also the added power (without using amp modules), with the price between the two so close, again it is a difficult choice.
Cayin i5 vs FiiOX7ii
This one is more interesting. The X7ii is if course the update to FiiO's flagship DAP. Its only been out a few months, and already has a big following. The X7ii is again larger, mainly due to it's interchangeable amp section. But the design of the X7ii now borrows heavily from the X5iii, and includes dual expansion slots, the volume wheel, and the updated software (including Viper incorporated into the default player). The X7ii adds access to the 5GHz band for wireless, has access to balanced output (with the more traditional extra power output). It can also utilise not only the new (default) AM3A amp module, but also any of the previous ones. It also has 2 Gb onboard RAM and 64 Gb internal memory. The UI is a lot more stable and a lot smoother than the i5.

Sonically there are no large differences in resolution, but the tonality difference is noticeable, and its a repeat of past comparison with the X7. The Sabre DAC of the X7ii is noticeably more neutral and appears cleaner because of it. The Cayin i5 again has that slightly smoother rich tonality – but I can get that with the X7ii simply by adding a module like the AM5 or even AM2A. There is a big difference between the i5 and X7ii in price (and especially if you are going to have extra modules), but this time (for me anyway) the features justify the difference in price – and despite the extra cost the X7ii is the clear cut winner for me.
VALUE
So how do I see the overall value of the Cayin i5? Quite simply, it reaches that overall performance which still has me recommending it at its current price point. In the current $350-$450 range it sits as a solid performer, able to power both IEMs and most full sized headphones. It does have its issues, but they do not detract from what is a pretty good feature set for the price.
CAYIN i5 – SUMMARY
My thanks to Cayin (especially Andy) for allowing me time with the i5. I've really enjoyed getting to know this DAP, and spending a lot more time with it (at the end of the tour) has allowed me insights I don't think I would have had if I'd been trying to write a review over 7-10 days.

The Cayin i5 is a very well presented DAP with excellent build and some really good hardware design features (especially the volume wheel), and just a few minor (IMO) design fails (limited RAM, and at the limit of upgrade life). It feels great in the hand, has good implementation of both Bluetooth and Wireless, and the touchscreen seems quite responsive when in the Hiby app. Power output is more than sufficient for IEMs and portable devices, and also for higher impedance headphones such as my HD600 and HD800S.

In terms of UI and features, the Cayin i5 has many of the features of most modern DAPs, but is limited by both the RAM (apps outside the Cayin default app can be laggy), and is missing functionality like replay-gain. The UI is easy to follow and relatively stable, although like most Android devices I've seen, has its good days and bad. For my personal use, I've had the occasional crash – but overall the fw has been relatively stable (YMMV depending on usage). Probably the one major annoyance I have is the lack of a sleep mode (when not playing). The number of times I've gone to use it and had a battery warning of less than 5% has been frustrating. This is one DAP you want to turn off completely between uses.

Sonically (and this is subjective) the Cayin i5 has a rich and smooth tonality which I know many will call "warmish". It has no issues with resolution or clarity, and I personally really like the overall signature from the AK4490 DAC. So far it has ticked many of my personal boxes in what I look for in a DAP, and at the price of $400 I personally find that in terms of tonality, features, usability and performance – it is up there in terms of overall value.

I've tried to apply a more objective measurement table (rough attempt below) which I will try to refine over time. Using this new measurement, the Cayin i5 get a pretty sold 7/10 from me. Possible immediate improvements would include better case, more ram, better battery management, fully working features like reply-gain and gapless, and more internal and external storage.

Again – thanks to Cayin and Andy for providing me with the i5 for review. I'll be genuinely sad to see it go.
Scoring Chart
| | | | | |
| --- | --- | --- | --- | --- |
| DAP | Cayin i5 | | | (out of 10) |
| | My Score | Out Of | Weighting | Weighted Score |
| Accessories | 7 | 10 | 5.00% | 0.35 |
| Build | 9 | 10 | 5.00% | 0.45 |
| Design | 7 | 10 | 5.00% | 0.35 |
| UI (Default) | 7 | 10 | 15.00% | 1.05 |
| Output Power | 6 | 10 | 10.00% | 0.90 |
| Storage (Int & Ext) | 7 | 10 | 10.00% | 0.60 |
| Sound Quality | 8 | 10 | 15.00% | 1.20 |
| Battery Performance | 6 | 10 | 5.00% | 0.30 |
| | | | | |
| Other Features | | | | |
| Replay Gain | 0 | 10 | 2.50% | 0.00 |
| Equaliser | 8 | 10 | 5.00% | 0.40 |
| Supported Formats | 10 | 10 | 2.50% | 0.25 |
| Gapless | 6 | 10 | 5.00% | 0.30 |
| Connectivity | 8 | 10 | 2.50% | 0.20 |
| 3rd Party Apps | 4 | 10 | 2.50% | 0.10 |
| | | | | |
| Value | 8 | 10 | 10.00% | 0.8 |
| | | | | |
| TOTALS | 103 | 150 | 100.00% | 7.250 |