Cavali Audio Liquid Gold Review: 
Disclaimer:
i burned in the LAu for 200 hours before i start any serious session. then had few 2-3 hours sessions for my brain to get used to the sound sig before i intend to review it.
this review might see major changes on part 02. for this part i used TH900 alone to see the sound sig changes based on can and be able to spot it.
Equipment:
DAC: Chord Hugo TT.
Headphones: TH900 ,HE-6 Focal Utopia
Cables: Toxic Cable SW22 on TH900 and Toxic Cable BW on HE-6.  
Overall sound sig:
The LAu is a SS headphone amplifier which tend to have engaging dynamics yet without boosting anything and staying honest to the recording. The overall sound sig while staying dynamics it retains the Cavali Audio sound sig which tend to have a hint of tube-ish sound without going to the warm side or sacrificing details or dynamics. 
Hugo TT:
i find the Hugo TT to have a very nice synergy with LAu, since both tend to have nice dynamics and control while maintaining superb musicality. they complete each other big time.  
TH900 + LAu: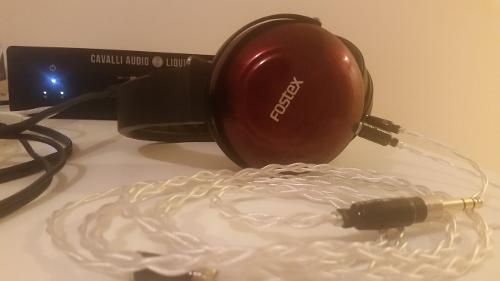 i bought the TH900 like four times, so i keep testing it with many setups, including WA7, WA7tp, WA5, Power Burson and Audio-GD Master 9. every amp had its up and down with TH900, 
there was always this one issue that made the combo less than a perfect. the closest to perfect (depend on preference wise, is the WA5.) 
With Cavali Audio i found that the TH900 to sound the best, its like when they build this amp they had TH900 on their minds or something. TH900's main issue are the mids, and tubes amps while they solve this issue they tend to lower the fun, specially on the Treble and the Bass won't be as controlled. WA5 solve that but you have to spend like 6000-7000$ in TOTL.
Sound stage:
i find the TH900 to have be so open with the LAu, bigger sound stage than what i got from fully upgraded WA5, the difference isn't huge between each but noticeable. it gave me a 3D like
sound sig which i never heard on any previous setup.
Bass:
The bass with TH900 and LAu is superb! the control is insane and i can pin point the bass notes in the sound, its sound so firm and controlled while staying fast. increasing the volume don't let the bass texture change or lose control.  
also while being as punchy (SS amp punchy) its never get that fatigue feeling i get from any other SS amp + TH900 like having Power Burson amp on slightly louder volume for sometime. i am still surprised how can the LAu be so dynamic on fun but with almost zero fatigue and i can tell you its sound as dynamic and punchy as any other good SS amp.
The bass doesn't bleed into the mids, and i can enjoy mid centeric / vocal songs with out worrying about the TH900's Bass to disturb the relaxing sound, and i want to point that this thing is also cable dependent, and i find the cable changes with this setup to be noticeable even further.
Mids:
so the mids is the point that a lot of TH900 keep changing their setups. i find the LAu to be the best SS amp that i used my TH900 on. the mids are not laid back, nor forward. its fleshed out big time and never sounded as dense or fleshed out on any other setup.  
i did consider warmer amps but i was always against losing Treble or Bass. LAu maintain both Fun and the mids have extra sweetness to it, the female vocals sound superb, and the best part i enjoyed the tube like mids and was able to listen to any song and not only fun bass/treble songs.  
i enjoyed these mids and didn't find myself in a need for a tube amp, thanks to the sweetness / hint of tube like sound sig AKA cavali sound sig, its not sweeter or as dense as tube amps mids but never lacking which is hard to achive on a dynamic SS amp when paired with TH900.    
Treble:
So many people go with wooden TH900's cups to lower the Treble brightness or make it mellow like. on the LAu this is not needed, you can plug your TH900 and enjoy a world class Treble. its extended, sparkly and with enough quantity to enjoy while never on the harsh side, this beast was able to tame the Bass so i expected the Treble to have a similar case.
LAu offered superb Treble quality as well, the shimmer is there and the Treble never roll off, i was able to enjoy it as much as i did on other SS amps, which was what i missed on many tube amps, so it offer a good Treble for anyone without worrying about switching to tubes.  
the Treble with LAu is honest to the recording, i notice that it won't have the sparkling on every song like how it is on a typical SS amp, like the bass the treble was sparkling if the recording tend to have it this way, and when called upon it will be sparkly but without getting harsh or bright.
HE-6:
The LAu is hands the down the best headphone SS amp i used with HE-6, it can drive it without failing, i find that it suit the HE-6 more than WA5 itself, not that WA5 can't drive it, but LAu does it better and the SS amp help to control the HE-6 bass and add the SS punch, which got this magnetic planer crazy epic bass.  
the mids on it is fleshed out and so smooth, the added sweetness of the LAu make it even more enjoyable, and the Treble is smoother although i am using open grill mod, so for people who like the fazor mod, worry not about the Treble of the open grill mod because its as fun but ten times smoother.  
value wise HE-6 is the way to go, and i find it hard to get a better sound than this unless you are willing to buy Focal Utopia which is as expensive as this amp itself, it wasn't falling behind Utopia big time.  
Focal Utopia:
Utopia wasn't hard to drive at all, which is impressive. the LAu + Utopia is a nice combo, the bass is punchier and more controlled than HE-6 and the Treble extended and sparkle even more while staying even smoother, the Utopia is a fast can yet the LAu is able to let Utopia fly into the space with authority.  
the mids on Utopia is like the best part of this can yet combined with LAu its feels like i am listening to a tube amp from the sweetness i am getting, nevertheless the bass, treble, dynamics and speed make is still SS amp like, the mids with this combo felt more tube like than HE-6 and TH900, the amp is capable of producing world class mids but Utopia was able to bring the full potential here.   
i would like to add that the micro details and micro dynamics is even more noticeable with this can, i was able to see what can the LAu do on its full potential, i was really shocked on few tracks when i was able to hear the small details but this time it was't vivid or overlapped by the song, it was present big time and more enjoyable.  
Comparisons: 
Audio GD Master 9:
The M9 is hands down my favorite Class A amp, Class A amps tend to be on the warmer side, but what make M9 stand more is its super lush mids and transparency, also its more dynamic than other SS Class A amps. while the mids are on par with Tube amps (i enjoyed it as much as WA7tp) the dynamics wasn't the best.  
LAu beats the M9 on Bass punch and control. also on Treble extension yet while it have sweet mids its never like the M9 nor as transparent.
WA5 (300B tubes):
i recently reviewed WA5 , and its hands down my favorite tube amp of all the time. the WA5 is a dynamic tube amp that tend to have different sound sigs depend on the tube sets used.  
while WA5 is superb with its relaxing sound sig and over all balance, it cannot control the Bass like the LAu and tend to have less punch, the Treble extend a lot for a tube amp on the WA5 but never as sparkly and extended like the LAu,   
still the WA5 wins in the Mids department and its Treble is not bad at all for a tube amp, and anyone (who isn't a treble head) will find WA5 to be a TOTL amp that they can live with for ever. but again this depend on the preference.   
i forgot to point out that LAu tend to drive HE-6 even better, and with superb control, i tend to like the HE-6 on LAu more than WA5 fully upgraded. so if you are an HE-6 user then LAu is the way to go. it also provide more power than WA5 to your HE-6. HE-6 sounded better because of the bass control and punch which is hard for the WA5 to pass LAu's level on HE-6.  
What to Expect from the LAu?
The LAu will provide you with superb SS amp dynamics, punchy controlled bass, with a very nice texture, the rumbling will be there.the Treble will sparkle and be extended to the max.  
yet both Bass and Treble will never be harsh. its more dynamic than any Class A amp or neutral amps that tend to be on the warm side.
the best part is the over all hint of tube like sound sig. so imagine having a superb dynamic SS amp yet its slightly dipped into Tube sound sig which result in eliminating any sigh of harshness while maintaining a similar fun to SS amp. and without losing any Treble or Bass fun.