Swing DAC/PreAmp with V6 vivid op-amp
Product information can be found @
Burson Audio Swing
Gears used
:
Source: PC Foobar2000
DAC: Burson Swing (with V6 Vivid Dual opamp)
Topping DX7s
LKS MH-DA003
Amp: iFi iCan Pro
headphone: Sony MDR-Z1R
Disclaimer
:
Burson Audio send me this Swing unit for my honest opinion, which I have posted my review on
Head-Fi @
here
After that, they sent me a pair of V6 Vivid dual op-amp to do further review.
This pair of V6 dual op-amp replaces two JRC5532D at IV stage on Swing basic model.
Swing comes with a tool for user to open the cover, and inner side of the top cover has a printed map to show
location of opamp, and their corresponding stage in the circuit.
There are two opamp for each stage, one type (JRC5534D) can be replaced with
single
version
opamp.
And the other (JRC5532D) can be replaced with
dual
version opamp, this is what I have in this review.
Replacing OP-Amp:
First thing – power off gears, all gears connected, not just Swing to be safe.
Open up the top cover by unscrew 4 screws, 2 on front panel and 2 on back.
Under the cover there is a picture showing location of opamp that can be replaced.
The V6 opamp comes with socket attached, if you place them in place of socket of current opamp IC, it will be too tall to close the top cover. So be sure to remove the socket from new opamp and put it into socket by aligning the side with notch to the side of on board socket with notch, place it wrong, you might burn it when you power on.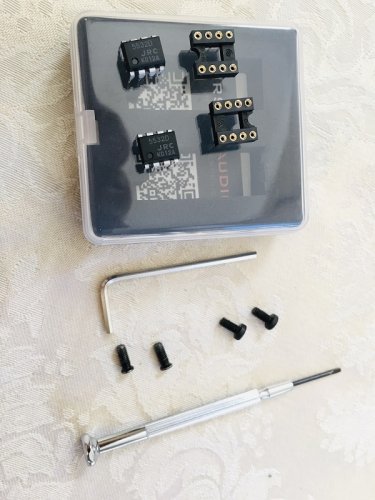 To remove IC or socket, you can use a small screw driver to ply it off a little bit on both side in turn, do not try to ply it off from one side, it might bend and damage the pins.
There is special tool to remove IC as shown by other reviewer, but it is not required.
I had been a circuit board designer for 4 years, I used to be able to un-solder and replace a 40 pins IC with no harm to it. But that was long time ago. Just want to say that replace an IC on socket is a piece of cake for people like myself. But it should not be too difficulty to any one either.

Setting
: PreAmp Mode
I use high level Preamp out, then adjust volume to around 80 to match my Topping DX7s which
has output fixed at 2V.
I think this is important feature in a DAC that has adjustable Preamp out like this, especially
Swing has two level which will allow it to fit in different system needs.
With this, I can set my amplifier volume at the sweet spot as I learned from others and adjust
volume from DAC.
Sound Quality
:
In my previous review of Swing basic model, it didn't win in all aspects comparing with DA003, and DX7s. All had its own strong sides.
With V6 Vivid Opamp in place of the I/V stage opamp, Swing sounds beautifully in all aspects.
Swing V6 has good feel of stage, width, depth are all improved.
It is easy to hear the improvement over DA-003.
Vocal is crystal clearer, high extends in good way, and mid sweeter and low is punchier with
good quality and quantity. And the best of all is the sound stage is better layering, low and mid don't affect each other and all music play together in harmonic.
Music sounds dynamic and energizing when listen to a track with only drums, when small and big ones play together, it is all clear in different location and full of punches, just amazing.
With instrument music, Swing V6 stage and layering makes it sounds like live concert.
DX7s is very close in, DX7s' bass is not as punchier as Swing V6, not as strong, but still good though. Layering is not as clear as Swing V6, at times, it feels a tad of concealed when doing A/B.
As you might have noticed, you listen to your gear with satisfaction all along until one day you got a chance to compare with other gears and then you start to swing back and forth about to upgrade or not to upgrade. Yeah, we are all on same boat on this.
Conclusion:
With V6 Vivid opamp, Swing has improved a lot over basic model, it is worth the money to upgrade your Swing with it. I am a bit surprised that replaces opam with V6 Vivid can hear such improvement on SQ. It sounds like a different DAC from basic model in better way.
I have not heard V6 classic, but some reviewers mentioned that it comes down personal preference on their signature and the music you listen.
If you have Swing basic model, I would encourage you to try V6 opamp, you won't be disappointed. I like Swing V6 a lot over basic model myself.