Video Review:
0:00 - Start
0:17 - Disclaimers
0:28 - LED indicator
0:55 - Front panel overview
1:58 - Back panel overview
2:41 - PC case rail mount system and usage
3:51 - Case cover removal
4:08 - Internal components of the amplifier
4:28 - Max Current Power Supply
4:56 - User-replaceable op-amps
5:53 - Types of op-amps the Fun uses
7:05 - Part 2 of the review
7:22 - Power output
8:06 - Headphones used for testing
8:28 - Amp-headphone pairings
9:06 - Output impedance and its effect on headphones
9:43 - Sound overview disclaimers
9:58 - Instrument separation
10:34 - Soundstage
11:17 - Tonality
11:39 - Bass
12:23 - Lower-midrange/midrange
12:37 - Upper-midrange
13:40 - Treble
13:52 - Fun versus RME ADI-2 DAC
14:16 - Overall sonic impressions
14:55 - Final recommendations
16:22 - Amp options in this price range
17:05 - Stay tuned for Part 2
Disclaimer:
Thank you to
Burson B
for contacting me about getting this demo unit to listen to! I previously have not been too interested in a Burson Audio product before, but I would say the Fun is definitely worth looking into!
EDIT (2020/01/29): Burson will be sending me the V6 Vivid op-amps to test out! Stay tuned for an updated impressions section!
Notable Features:
Dual mono Class A amp/pre-amp

Elna brand low-tolerance MELF (Metal Electrode Leadless Face) resistors


Code:

R (Ω) P (W) V (V) I (mA) SNR (dB)
8 1.2 3.10 387.30 91
16 1.9 5.51 344.60 92
32 2.1 8.20 256.17 95
100 1 10 100 94
150 0.66 9.95 66.33 96
300 0.33 9.95 33.17 94

User-changeable 8-pin operational amplifiers

Microphone input

Parallel RCA and microphone outputs
Summary:
The only reason for me to give this unit a 4/5 rating instead of a 5/5 one is because of the high output impedance, and the blue LED power indicator is too bright for my preferences. Everything else about this unit is rock solid though, and I would give it a strong recommendation for someone looking to get an affordable, customizable amplifier/pre-amplifier. Giving the user the option to change the Fun's sound with different op-amps is a really awesome concept.
Design:
Simple, compact, and flexible. That pretty much describes the design of the Fun.
The exterior is flexible in that it can be used as a desktop amplifier, a pre-amplifier, as well as being able to be installed into a PC bay (being powered by your PC's power supply via Molex connectors instead of the DC input). No other audio enthusiast-designed amplifier that I am aware has this kind of flexibility, and that makes the Fun really unique. Unfortunately my PC does not have external drive bays, so I was unable to test out its use case for that scenario.
Still on the topic of the Fun's exterior design, the large Alps volume knob is a nice inclusion: it has a very small channel imbalance region, and it feels very smooth to operate.
Two things about the exterior design that I am not fond of are the super bright blue LED indicator that basically shot a blue laser beam across my room at night, and the rough matte-black finish that makes cleaning it a bit difficult.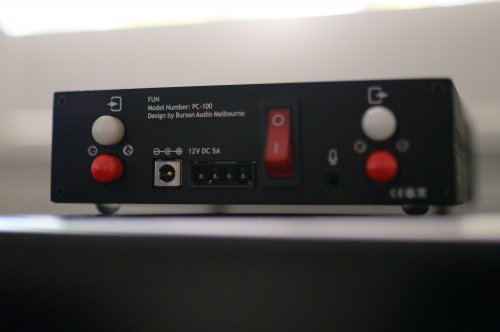 On to the interior of the Fun, it too is well-designed: using quality components, custom-made parts, and a dual-mono amplification stage. These all aid in the overall sound of the Fun.
What is also unique about the Fun's design is the addition of a microphone input, and output section. Although this is targeted to a small set of users, such as gamers, it can be useful for those who are looking for an amplifier with this feature.
The only issue I have with the Fun's design is the 6-ohm output impedance. This is quite high for low-impedance headphones and in-ear earphones, and the damping ratio does play a role in this case (see sound impressions below). However, the higher output impedance helps to protect short-circuiting when the headphones are unplugged while a signal is being played, so there are some safety precautions set in place given the Fun's high output power.
Sound:
Amplfiers are still somewhat of a mystery to me, to be perfectly honest. I mostly find sound differences between setups coming from the headphones, the DAC, the power supply, and not so much the amplifier (save for tube amps). I use the RME ADI-2 DAC as my primary DAC and amplifier, but in this case, I did hear a difference between the ADI-2 DAC and the Fun. The differences are more pronounced with my AKG K701 versus with the Focal Clear.
All of these impressions are with the default op-amps installed in the Fun. A hex wrench, and other op-amps were not included in this demo package.
Whether it is the actual amplifier design, or the discrete power supply built into the Fun, I find the Fun to have a very black background. Imaging is superb as a result of this, and is the easiest thing to distinguish between the Fun and the ADI-2 DAC. Instruments are well-separated from one another and this adds a sense of layering that I have not heard before with the K701.
Related to imaging, the sense of soundstage is presented in a more three-dimensional manner, making the K701 even more enjoyable to listen to. Usually, the K701 has a two-dimensional/flat-sounding presentation of with sounds mostly panning left and right, but on the Fun, instruments were presented in front of me as well; a nice change of pace to hear.
Again, I am not sure if these two aspects of the sound are attributed to the amplifier section of the Fun, or the well-designed power supply. Both of these qualities are what I hear when a better power supply is implemented into an audio chain, as well as going from single-ended outputs to balanced outputs (perhaps the dual-mono design aids in this as well).
As for the overall frequency response, the stock op-amps seems to make the Fun have a slightly emphasized mid-bass, upper-midrange, and a kind of grainy treble. These attributes give the Fun a slight coloration of sound, which may or may not be good depending on the headphones you use. For the Focal Clear, the emphasized upper-midrange is a bit much for me (becoming more fatiguing to listen to), but it is okay with the K701. The slightly emphasized mid-bass is great for both headphones on the other hand, and it makes the music listening experience more fun. I still find the stock op-amps' sound to be a bit rough, but I assume this will change once op-amp rolling is taken into consideration. Volume-matching the outputs of the Fun and ADI-2 DAC, the emphasized upper-midrange is apparent to me in comparison to the more neutral-sounding ADI-2 DAC.
Despite this, the Fun drive both the K701 and the Clear with ease thanks to its high output power capabilities. Additionally, the Fun's headphone output is clear of any background noise: I am able to use the Ultimate Ears Reference Remastered perfectly fine without any volume potentiometer channel imbalance issues, nor background hiss.
On that note however, the high output impedance of the Fun does affect headphones with a low impedance (minus planar magnetic headphones), as well as in-ear earphones with multiple drivers. For this purpose, I do not recommend the Fun if you plan to use it with such headphones. Listening to the UE RR on the Fun, it is evident that the bass is less controlled than when using an amplifier with a lower output impedance: the bass and lower-midrange frequencies almost sound slurred and less textured.
Conclusion:
Given the fact that the Fun can be used in many different scenarios, I think this is a terrific amplifier for what you pay for, even with the stock op-amps. The fact that you even swap out op-amps makes this amp fun in of itself. I might purchase a Fun just to try out different op-amps!
EDIT (2020/01/29): Burson will be sending me the V6 Vivid op-amps to test out! Stay tuned for an updated impressions section!