Hello fellow Head-Fi-ers,
This review will only cover the Virtuoso 2 headphones amplifier and not the Virtuoso 2+ DAC/headamp combo. If I'll be able to get the transport and DAC cards and test them, then I'll update this review later.
I purchased an "used-like new" V2 recently, about 5 months old, from a local seller. It was intact, barely used by the seller and only with his Fazor planars. I gave it a listen, of course...I liked the sound, so I paid the guy and picked up the V2.

PACKAGING:
Device was carefully packed into a double-case package, both cases having additional protective foam. It looks quite indestructible to me, nor my Yamaha & Pioneer speakers amplifier, nor my SVS active subwoofer and nor my 20-kilo-each CANTON floor-standing speakers were not packaged into two separately foam-isolated cases, so a big thumb-up for BURSON on how is dealing with packaging for a headphone amplifier!
Virtuoso 2 has four rubber feet on the bottom that minimize vibrations and makes the sturdy case non-slippery, even if kept on a glass table.
LOOK & FEEL:
Impressive appearance with shiny and massive body and weight.
It weights about 7 KG, more than my 2 x 60W Pioneer speakers amplifier, quite stunning! The volume in the middle combined with so many kilos of aluminium gives me the impression of a powerful speakers power amplifier instead of a headphones amp.

On the front plate two buttons is all I needed: the small round input button for input source select and the volume rotary knob that can be used as MUTE if presses gently, so no additional buttons for the inputs or for the gain (there's no adjustable gain anyway), I really like this simplistic attitude.
Volume in the middle of the front plate gives to V2 the aspect of a power amplifier made out for speakers and not for headphones. Besides the volume control, this also controls the mute-output if pressed during the playback. The power ON/OFF switch is positioned on the backside, along with the 120/230V selector.
There is a 6.3 mm stereo jack plug on front-left, so a dedicated 3.5 mm to 6.3 mm jack adapter plug will be needed to be able to drive all single-ended cans.
The original small display is showing the output volume level; given the high power output of this amplifier this level indicator is a must have indeed. I've seen that with my planars the max. output level needed was around 40-50%, depending on the music used as playback. Instead, for sensitive cans, dynamic or IEM, output level was somewhere between 15-30%.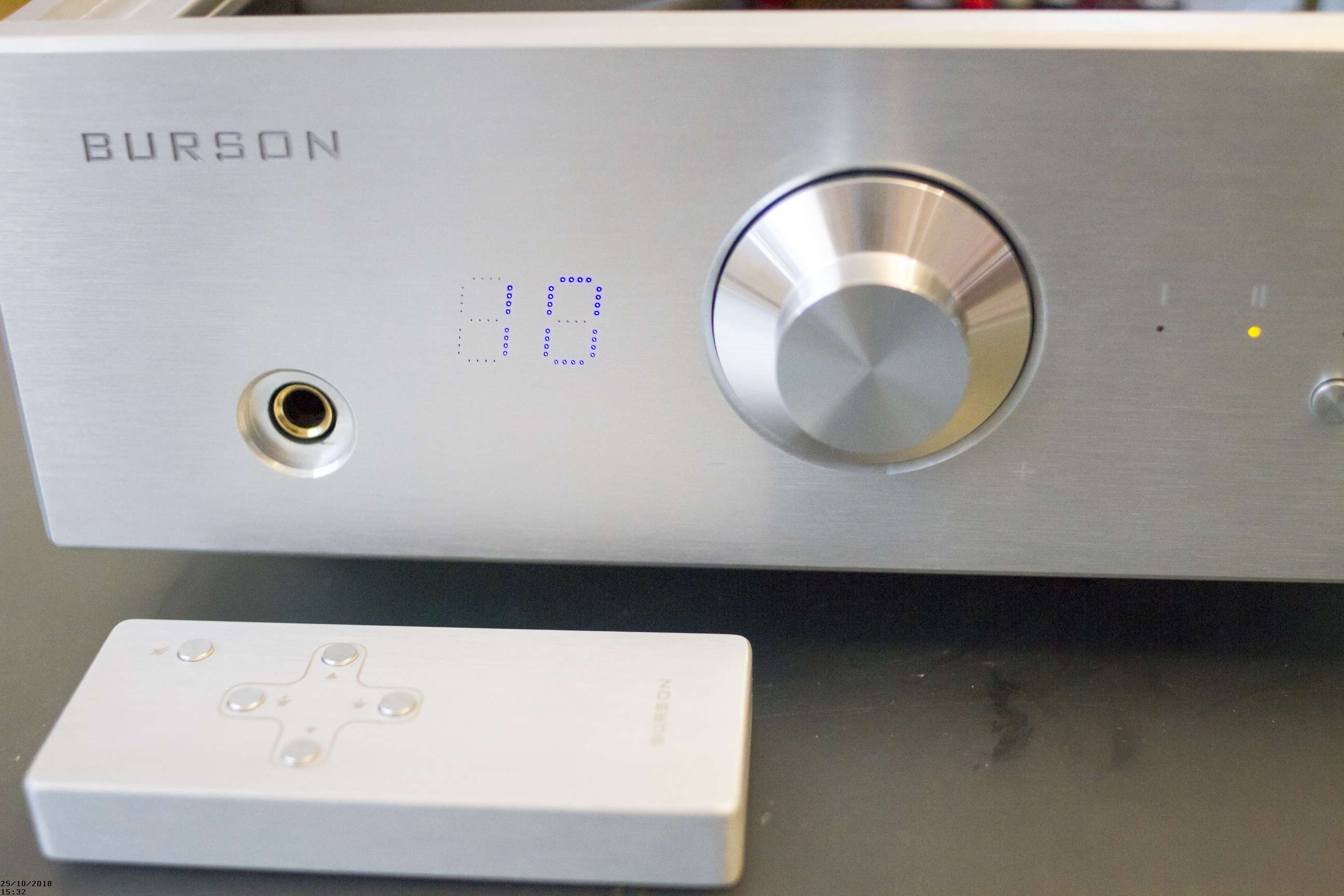 Remote control is made out of the same shiny polished aluminum and it has 5 buttons for volume, input source selection and mute.
Inside there's a Lithium battery that might be replaced after 5-6 years of service, perhaps faster if used daily.
Entire body is made out of polished aluminium, with
case thickness of no less than 6 mm
!
Six mm means a lot, I've seen speakers power amplifiers using such thickness for the output stage transistors, so really massive and lot of weight added. More weight means less vibrations, so this is a good thing, not mentioning the very fast heat dissipation from inside to outside.
Robust and built as a tank is all I can say, but being aluminium some care might be needed, otherwise scratches could appear, especially if metallic parts are placed on top, like headphones, house or car keys etc.
The "beast" has a power supply similar with speakers amplifiers, with big shielded transformers and 8200uF ELNA capacitors.
Back plate with the input source gold-plated RCA plugs and pre-amplifier DAC/PRE outputs. The 5-years warranty needs manual registration to manufacturer's website.
Input sources are selectable via the front button; there are two analogue inputs that can be chosen from, but for the Conductor V2+ it can also be selected the Coax/Tos/USB inputs as well. There are also DAC-Out and PRE-Out outputs on the back along with the inputs. Outputs are very useful for the V2+ when paing it with external amplifiers or with audio monitors.
After several hours of continuous listening to Conductor V2 paired with Hifiman HE-560, with moderate-to-high volume, V2 is barely warm on top (top case is 29.8 C inside a 22.4 C room), so now I understand how so many kilos of "aluminium heatsink" can lower amplifier's temperature.

INTERNAL PARTS, BUILD QUALITY
POWER SUPPLY:
Conductor V2 has linear-type power supplies created by two fully shielded 70 Watts high density toroidal transformers and linear regulators, one dedicated for the digital part and another one dedicated for the analog part.
Both transformers being fully shielded means that no electro-magnetical interferences (EMI field) will diffuse onto the electronics board and no mains hum will get to the headphones.
The transformer dedicated to the amplifier parts is delivering 2 x 24V AC, so quite a beefy output voltage for a headphones amplifier (not the perfect comparison, but my 2 x 60 Watts Pioneer speakers amplifier has a 2x32V AC transformer inside).
Separating digital and analogue power supplies will lower the background noise, increase the dynamics and minimize interferences from the digital parts, like volume control or relays coils.
Each transformer rail has dedicated powerful rectifiers, so a total of twenty diodes! Yes, 20 diodes, because Conductor V2 is regulating full-wave of the AC voltage, not only half-wave.
For the analogue parts, the amplifier itself, voltage is regulated by the two powerful MOSFET transistors
IRF610
, after ripple is much reduces by the 4 x 8200uF ELNA polaryzed capacitors.
There are also two yellow LED lights on the internal board that show if the power in ON and if no defects occur.
TRANSPORT AND DAC SECTION:
The transport is done via an well-known XMOS chip that takes care of the USB path. I've tested this transport on Windows 10, OS Sierra, OS High Sierra ans OS Mojave and everything worked like a charm. Several FLAC and DSD files were played without encountering any sound skips, not even while playing remotely via Wi-Fi network from my home Win10 NAS.
DAC card is using the "legendary" ESS 9018 PRO chip and a custom 1ppm TCXO and no opamps are used, everything is built with discrete high quality components. Also, there are no capacitors in signal path! Several power regulators are used to achieve a very low noise and also to minimize any possible ripple coming from nearby mains transformers.
AMPLIFIER SECTION:

BURSON Audio is well-known for their Class-A audio equipments and Conductor V2 is as well a pure Class-A and also a fully discrete headphones amplifier.
Silmic II capacitors are reducing the ripple across the powerful output stage complementary transistors
Volume control is fully digital and is controlled by the stereo audio volume chip
PGA2130
made by Texas Instruments.
This chip is having a dynamic range of 120 dB (from -95.5 dB to +31.5 dB) and noise free level transitions, so no additional noise will get added. Having such a big dynamic and a smooth +/-0.5 dB level between two adjacent transitions means that no additional gain controls are needed, like most headphones amplifiers do usually have. That means less control buttons to adjust and combined with the visual volume level LED display our ears will get more protection against high volume levels. I don't even remember for how many times I forgot the gain switch from the backside to HIGH-position and swapped the planars for IEMs on my Matrix HPA-3B headamp, so...really ears blowing!
The RCA plugs are very well soldered ontot the dedicated smaller PCB. There are two analogue inputs and for the Virtuoso 2+ there are additional three digital inputs too: USB, TOSLINK and COAXIAL. DAC-Out, PRE-Out along with the analogue and digital inputs and the volume control chip are actually creating an internal pre-amplifier able to control audio inputs and output level,
Bad news for op-amp rollers:
best op-amp is no op-amp
! Conductor V2/V2+ has no op-amps to swap inside and gain stage amplification, as well as Class-A biasing are both fully discrete, done with complementary bi-polar transistors
2SA970
/
2SC2240
.
Output stage is created around the powerful
2SA1930
/
2SC5171
complementary bi-polar transistors, two pairs for each channel, thermally connected to the bottom aluminium case.
These powerful transistors are having an absolute maximum operating power of
20 Watts
each for heatsink temperature lower than 25C! Not saying that these transistors will drive my floor-stand speakers, but are definitely driving all of the dynamic and planar headphones I have, with it's max. 11.5 V RMS / 8.2 W per channel. Actually, I was driving my Pioneer 8-Ohms speakers for few minutes at about 9W/channel, without overheating, but
seriously: don't you ever do that!
All the output transistors are connected to the bottom aluminium base via normal screws and thermal paste, so heat dissipation from the output stage is done on the bottom.
Audiophile quality Vishay metallized resistors and SILMIC II ELNA capacitors can be seen across the board, to further minimize the output noise on signal path, but also to further lower power AC ripple.
Headphones, but also the output stage transistors are protected by an output relay that gets activated only when headphones are connected. I can actually hear the relay working when I insert the cans into the 6.3 mm jack. Of course, if something gets defective inside, the relay will not let any DC-volage passing onto the headphones.
RMAA & ARTA tests (DAC section only):


Frequency response: +/-0.05dB linearity
​

THD: 0.0016%, lower than expected


THD vs. Frequency

Sharp roll-off digital filter



No visible "skirts" on jitter test
​
The DAC section measures very well, with very well controlled harmonics at -100dB, no mains hum and perfect linearity. The XMOS transport works flawless without the need of drivers in Win10 and Mac OS, but installing the original BURSON drivers will help in taking advantage of ASIO.
DAC is completely neutral and transparent, and could be paired with any external amplifiers, per your wish. Connecting the RCA DAC-Out to an external amplifier can be done via a regular cable with RCA plugs on its ends (any headphones and speakers amp will work just fine). The volume control of the DAC is adjusted via the internal ES9018S DAC chip and not from the PGA2310 chip (this is only used for the preamp section).

RMAA & ARTA tests (amplifier only):

For 5V RMS per channel I got very good numbers:
Frequency response (20-200000 Hz)
: +0.21, -0.09 dB
THD
: 0.008%
Noise (A-weighted)
: -102.5 dB
Dynamic range
: 102.6 dB
IMD + noise (A-weighted)
: 0.006%
Crosstalk (left/right)
: -67.8/-68.3 dB
RMAA - Frequency response (-0.5dB @40KHz is impressive)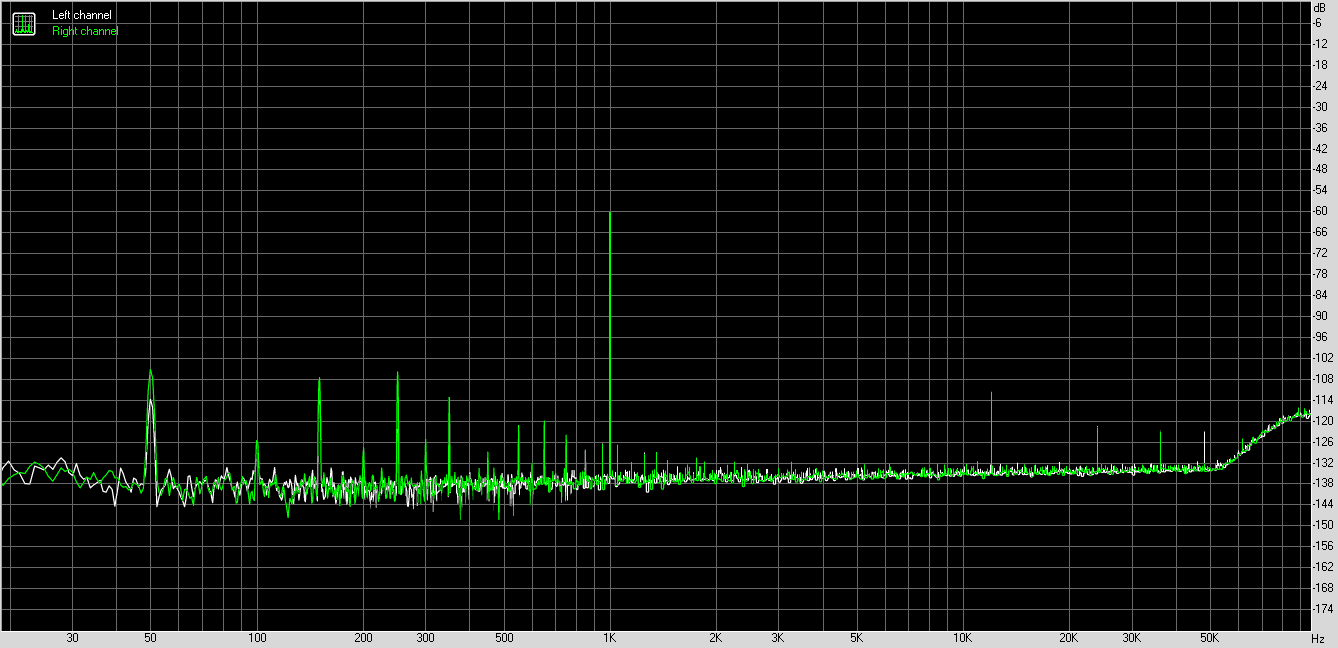 RMAA - dynamic range
​
ARTA -frequency response
​
HOW DOES IT SOUNDS?

Soundstage is very good with a great separation of instruments and voices. Women voices are not strident, but are very present and clear. Men voices are having a "larger" presentation, probably given V2's larger soundstage and this is helping a lot when listening to Classical music.
Nice and probably a little bit warmish sounding amplifier, so totally non fatiguing, not even after more than 4 hours of continuous listening. This is a headamp that combined with comfortable headphones will make you forget you're listening to headphones, instead you're only enjoying the sound. However, spending several hours, especially with loud music might affect our hearing on long term, so listen with care and do take some breaks after 1-2h of listening.
Not running hot Class-A amplifier which sounds so great will probably make it of a kind, hence
totally recommended as an audiophile powerful headphone amplifier
.
Subjective tests above were done with a
Burson PLAY DAC
connected to V2's analogue input source.
Headphones used were: Superlux HD381F, Beats Solo 2, Grado SR60i, AKG K550, AKG K701, Beyerdynamic DT880 600-Ohms, Fostex T-50RP mk3, Hifiman HE-560.
All these cans were sounding perfectly with Conductor V2, just the volume rotary controller was adjusted per can's sensitivity.
I've listened to Classics, Jazz (instrumental and vocal as well), Rock, Pop, Disco & Dance. I couldn't find a glitch, everything was sounding perfectly.
SCOPE tests:
Virtuoso 2 "passed" sine-waves and square-waves test as expected. Red is generator's input, blue is V2's output for about 2V RMS.
Not even a tiny difference between the 2 square-waves, indeed is DC-coupled without any capacitors in signal path!

1KHz square-wave vs. 20KHz square-wave




11.9V RMS just before starting to clip (about 0.24 Watts for 600 Ohms cans)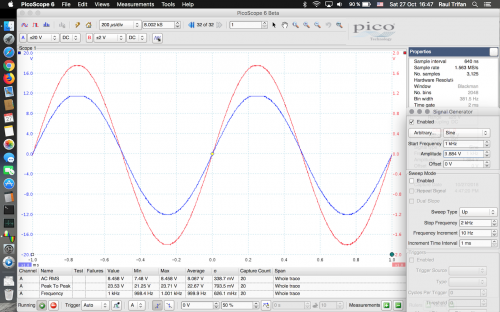 8.458V RMS @7.9Ohms (about 9.055W/ch., before starting to clip)

​
From my perspective, this amplifier measures virtually perfect, without any noticeable phase-shifts, time-delays nor attenuation of low or high frequencies!
PRO:
- Huge output power, I was able to drive 8-Ohms speakers up to 9W/channel (
please don't try this at home!
).
- Perfectly flat between 10 Hz and 30 KHz.
- Virtually perfect output representation of common sine-waves and square-waves (20 Hz, 1 KHz, 20 KHz).
- Very low THD + noise with great dynamic of > 102dB (a CompactDisc has
96dB of dynamic
).
- For a pure Class-A operation I was expecting it to be way much hotter (it's about 30C on top).
- DC-coupled with dedicated protection.
- No opamps & no caps in signal path.
- Separate shielded AC/AC transformers, for digital and analogue parts.
- Huge 8200uF/35V ELNA caps to lower AC ripple & noise.
- Five power rails, each one being regulated by a full-wave 4-diodes bridge rectifier (a total of 20 fast powerful diodes).
NEUTRAL:
- 3 Ohms output impedance might seem a bit higher for some purists, although it doesn't affects any of my cans, not even my 16-Ohms IEM's.
- Given its high power output might not be recommended for sensitive IEMs.
CON:
- No EMI/RFI filter inside (never happened to me, but some people might hear electrical buzz/noise); however, an external EMI/RFI and/or isolation transformer could get added later.
Bottom of line, this is a very well built & high quality headphone amplifier that might represent an "end-game" for many audiophiles and musicians.