Intro​
​
TL;DR
: It's a solid Bluetooth IEM that does the job, but its hyperactive, in-your-face sound signature leaves me reaching for its more laid-back predecessor.
Before I begin, I would like to sincerely thank Pandora at Brainwavz for providing a review sample of the Brainwavz BLU-200 in exchange for my honest opinion. I am neither affiliated with Brainwavz or any of its staff, nor was I paid to write this review. All opinions and photos shown in this review are my own unless otherwise specified. Finally, please take the opinions expressed here with a grain of salt. Thanks!
I've always disliked Bluetooth IEMs. It's a dislike that is almost pathological in nature and has stuck with me long before I even entered the audiophile world. The main reason why I would avoid Bluetooth IEMs in general was the fact that having them around would mean having to deal with another battery to keep track of during the day, and unless they're actually capable of lasting the whole day, one would still have to revert to a wired backup pair if the wireless ones die out. And, well, they die out not even halfway through the day – which, for a guy whose music is pumped into the ears a third of the day every day, sucks. That, and they didn't really sound that good. At least, not until recently.
Earphones like the Brainwavz BLU-100 changed my perspective and general opinion of Bluetooth earphones, and now that I have Brainwavz' new follow-up to that entry, it's time to cut the cord once more to hear this new installment to Brainwavz' collection.
== Aesthetics ==​
Packaging, Accessories​
​
The Brainwavz BLU-200 arrives in a minuscule box containing the hard case that contains the whole assembly – the earphones, two sets of silicone eartips, a pair of Comply foam eartips, a pair of sport hooks, a charging cable, and Brainwavz' standard 2-year manufacturer's warranty. The package is about identical to that found in the BLU-100, so not much else is worth pointing out. Moving on.
Design, Build, Microphonics​
​
Brainwavz took some feedback from the reviews of the BLU-100 concerning the fit and altered the design of its successor in response. Their housings are sleeker and more streamlined, with a more smoothly tapered shape as it enters the ear. How this improves the fit we will cover in the next section. The rest of the design remains unchanged, and carries most of the good and bad we have seen from its predecessor.
Build quality is also pretty good and remains unchanged from the BLU-100. Unless will be taking lots of hard impacts, they should otherwise hold up very well. As for the cable noise, The BLU-200 now includes a slider to adjust how much of the cable dangles and flies around behind your neck. There wasn't any slider in the BLU-100 I reviewed last year, and that became a bit of a nuisance at times, so having this now is a welcome addition.
However, I noted some slight driver flex when using them, which may cause slight discomfort. Using the included Comply foam eartips does, however, resolve the issue.
Fit, Comfort, Isolation​
The more tapered housings of the BLU-200 does help to give you a secure fit, although much like its predecessor getting the right fit is mostly tip-dependent. The included eartips, however, are notably better than the previous versions and make a more secure seal in the ears despite the rather hefty housings. If it doesn't help, however, Brainwavz did include some earfins which should help keep them in the ear. Comfort-wise I can't say if there has been any improvement from its predecessor, but they still feel comfortable in the ears nonetheless.
Specs​
Headphone Type

Closed-back Bluetooth in-ear monitor

Driver Type

6 mm dynamic

Operating Range

Up to 30 feet (10 meters)

Battery Life

60 mAh battery for:
·[size=7pt]         [/size]4 hours talk/music playback time
·[size=7pt]         [/size]180 hours standby time
·[size=7pt]         [/size]~2 hours charging time

Bluetooth Features

Bluetooth 4.0 with AptX support
Supports A2DP, HSP, HFP Bluetooth profiles
Can connect to 2 devices simultaneously
CVC Echo & Noise Cancellation
Voice/LED prompts

Accessories

3x sets grey silicone single-flange eartips (S/M/L)
1x set Comply S-400 foam eartips
Micro USB charging cable
Hard carry case
User manual
1 year manufacturer's warranty

Does this spec sheet look familiar? Well, it should – I copied most of it over from the BLU-100 spec sheet. And by looking at its predecessor, Brainwavz seems to have done the same in terms of internal BT tech. Then again, as they say, "if it ain't broke, don't fix it."
Connectivity​
 ​
Pairing the BLU-200 is about as easy as it gets – or as easy as your phone makes it. In real-world use, I've experienced very few hiccups while out and about, which leads me to believe the BT tech in the BLU-200 is….well, just as good as the last one. It does have this new feature when you can pair the device with two sources at the same time. Personally I fail to see what situations this feature can be used for, but right now, I find it as little more than a gimmick.
Also, you
cannot
pair it to two sources and have the BLU-200 play two different songs from the two sources, which is a bummer. Then again, who said gimmicks needed to be useful?
== Sound ==​
Equipment, Burn-in​
The BLU-200 was reviewed using a 5
th
-generation iPod Touch and an iPad Air 2, and the EQ Software used is TuneShell. As always, my test tracks are available
here
, although I will link specific songs in the assessment for a more direct point of reference.
The BLU-200 was listened to for about 50 hours prior to making the final assessments in this review. No changes have been noted.
Sound Quality​
​
Bass
:
To start off, let's first listen in on the lower frequencies. The bass of the BLU-200 seems most likely geared to make a big first impression. It's big, chunky, and noticeable – good for catching the listener's attention, but not much else. It has good punch and maintains its composure during heavy bass lines. However, its unimpressive sub-bass extension does not help it much to impress the more bass-inclined listeners (
Haywyre – Dichotomy
;
Daft Punk – Doin' It Right
). It also struggles with articulation, making speedy drum passages sound muddy and wanting in detail (
Megadeth – Holy Wars...The Punishment Due
).
Midrange
:
The midrange of the BLU-200 definitely comes across as sounding noticeably "shouty," in that it sounds accentuated in the upper midrange. This leads to the upper octaves sounding rather obnoxious and in-your-face (
Anna Yvette, Laura Brehm – Summer Never Ends
). Male vocals do not seem to have this problem, most likely due to the lower vocal range, but the level of midrange accentuation varies on a song-to-song basis (compare
The Weeknd – A Lonely Night
with above song). Unusually, they sound much more pleasing with guitars and other acoustic instruments (
Sungha Jung – Coming Home
;
Francisco Cerda – 'Round Gunpoint
), with a more natural presentation with little of the aforementioned "shouty" tonality. From a more technical standpoint, the BLU-200 struggles with conveying nuances in the music, especially in tracks where emotional expression comprises much of the appeal (
Yiruma – Kiss the Rain
). This doesn't do the BLU-200 much help, especially when its tonality seems more fitting for acoustic tracks.
​
Treble
:
The treble of the BLU-200 resembles its bass quality in many ways, most prominently that it does not do much to impress the listener. Its detail and prominence is decent at best, and lacks extension in the higher frequency ranges. Overall it does the job, but one should not expect too much from it.
Soundstage/Presentation
:
While listening to the BLU-200 before writing this review, its soundstage has been something of an oddity to me. I found my pair to somehow have a skewed soundstage, with sounds coming more from the left side that from the right. From testing with a tone generator, it did not turn out to be a channel imbalance, but this may be something else entirely. I even thought it to be simply my ears, but from testing other earphones, my hearing balance was fine. Nonetheless, I found nothing very noteworthy in the soundstage. Size is mediocre at best – far from spacious, but not too congested.
Genre Proficiency
:
From what I found, the BLU-200 sounds quite good with music that does not use too much of the upper midrange, where the BLU-200's emphasis turns tunes to torture. For this reason, I found them to sound better with acoustic rather than electronic tracks – unusual, considering its predecessor was less picky with genre choice.
Summary
:
I'll be honest – I did not expect the BLU-200 to sound so...off-putting. Its sharp upper midrange claws at my eardrums with a large chunk of my music library, while its skewed soundstage keeps me uneasy and on my figurative toes. I find it difficult to not take them off partway through a song.
Other Media​
​
Games
:
Lately I have been playing a lot of rhythm games, particularly on my iPad. These rhythm games involve tapping things on a screen in time to the music, so in order to play well, one needs minimal audio latency to play. Wired headphones and earphones do the job easily, but Bluetooth earphones definitely have a hard time keeping up. The lag between seeing the notes to be played in the game and hearing the music, even if that lag is a tenth of a second, is far too great to be able to play a music game without having some trouble. In fact, one can liken playing rhythm games with Bluetooth earphones to playing darts after fifteen twirls – in other words, it's a nuisance. Of course, that doesn't mean this is the case with
all
games – other games seem to sound quite fine with the BLU-200, although while gaming with Bluetooth earphones, one will need to be more mindful of their battery meters – both of the earphones and of their source devices.
Movies
:
For movies, a low audio latency also is required of wireless earphones for the audio and video to remain in sync. After all, nobody likes to watch a movie where your senses receive the events in the movie one after the other in a jumbled mess. For this purpose, the BLU-200 does its job well. The audio lag is still slightly noticeable, but unlike rhythm games, they do not retract too much from the overall experience. Sonically they still aren't completely impressive, but they're definitely good enough.
EQ Response​
When I have an issue with an earphone, oftentimes they can be fixed with a bit of tweaking with an EQ. But for this special case, I will make an exception. Yes, the BLU-200 responds to EQ – fairly well, in fact. The only problem with this particular case is that the BLU-200's problem – more specifically, its skewed soundstage – cannot simply be fixed with an EQ alone. For this I cannot give a definite score.
Value​
The BLU-200
retails for a price of $55 as of thiswriting
, which is $5 dollars more expensive than the BLU-100 before it. At this price you will be receiving a pretty solid Bluetooth IEM with all the features you need, along with one of Brainwavz' trademark accessory sets. Technically it's just about as good as its predecessor.
Comparison​
 ​
​
Versus Sport-Fi X7 (~$100)
:
The MEE X7, like the BLU-200, a Bluetooth IEM. However, their similarities end there; the X7 is in a league of its own with its higher price, better fit, better build, and better sound. From looking at the big picture, they simply knock the BLU-200 out of the park. However, the BLU-200 does manage to hold its own against the X7, pointing out their clearer midrange, laid-back bass, and most of all, much better Bluetooth circuitry which results in very little connectivity problems, if any.
Versus Brainwavz BLU-100 ($50)
:
Now, let us look at the father-and-son matchup – the BLU-200 up against its predecessor. Instead of starting out long-winded as I normally do, I'll just cut to the chase – I like the BLU-100 better. Yes, I like the old one better than the new one. The BLU-100 just does what it needs to without overdoing anything. The BLU-200, as an example, has an upper midrange that does more to annoy than to amaze. The BLU-100, in contrast, does neither, but it does not end up badly. It just performs, and that's makes the BLU-100 that much more appealing than its successor – it doesn't try too hard to impress.
== Conclusion ==​
​
The Brainwavz BLU-200 is a bit of an oddity in my opinion. Its an IEM that tries its best to sound good, but in doing so, it trips over itself and ends up sounding worse than it should. The harsh upper midrange, though painful to listen to, is negligible. At least, in the face of its unusually skewed soundstage.
But does that mean it's a bad IEM? No. In fact it's factually quite decent – it still manages to retain some of the characteristics of its predecessor and still sound good in some cases. However, it does not manage to inherit the do-everything quality that I liked so much from the BLU-100. It is because of that that I would be more likely to recommend the old IEM than the new.  
| | |
| --- | --- |
| Category | Score |
| Packaging, Accessories | 8.5/10 |
| Design, Build, Microphonics | 7/10 |
| Fit, Comfort, Isolation | 7/10 |
| Connectivity | 9/10 |
| Bass | 7/10 |
| Midrange | 6/10 |
| Treble | 7/10 |
| Presentation | 5/10 |
| EQ Response | 7/10 |
| Value | 7.5/10 |
| Total | 7.1/10 |
Suggestions for Improvement​
I'd probably suggest keeping the BLU-100 around for sale, but
since they've already done that
, there's none I can suggest improving beyond what I've already mentioned in the review.
Pros
:
Sounds good, Has good details, Sound stage is really nice.
Cons
:
Lacks top end extension, Decay is below average, Isnt sweat resistant.
INTRO:-
 Brainwavz is not a new name to us by any means, it's one of those brands which is open to experimentations, and are known for their bang for buck products. They have plenty of accessories under their belt, have some headphones and need to say many types of earphones too.  
 What i have here is their 2
nd
iteration of BT earphones named BLU-200 and it was lunched just a few months after their success with BLU-100 which was an awesome sounding BT earphone, back then it was a topic of wonderment, how can a BT earphone be priced as low as this? But they did it, now we have the BLU-200 with improved build and sound quality, lunched earlier this year, priced $54.50 which goes as low as $45 when on sale.  
 Its equipped with BT 4.0 aptX technology, aluminium body, three button remote/mic unit, and a 60mah battery which is capable of delivering 4 hours of usage and 100hrs of stand by and can be charged fully in less than 2 hrs.  
 I liked the BT-100, Let's see how this turns out.  
 Before that let me thank Pandora and Brainwavz for this review unit.  
ACCESSORIES ERGONOMICS AND MISCELLANEOUS:-
 Just like any other brainwavz earphone this too is equipped with enough accessories. Here is the list of accessories in the package.  
 Earphone Hardcase
3 sets of Silicone Ear Tips (S M L)
1 set of Comply™ Foam Tips S-400
1 pair of Ear Hooks
1 Micro USB Charging Cable
Velcro Cable Tie
Instruction Manual
Warranty Card
 
 Ergonomically these are comfortable but can fallout at times due to their larger and longer earpieces. I advice to use the provided comply tips for better traction and wings for more stable fitment. This time around there is a cable slider which is a welcome addition to this.  
 Build quality too is really good, there is some stress reliving, but its not of much help. Just put the earphone cable behind your back and it's good to go. No microphonics to talk about but you can use the wings for better fitment.  
 Isolation is average, nothing exceptional here.    
Remote And Mic:-
 This one has a 3 button MIC unit which works like any other 3 button MIC out there in the market. Middle button works for call/end and play pause. Other buttons work for volume controls.
 MIC quality is really nice for this price.  
Operation:-
 Now getting stared is really easy. All you have to do is to press the middle button for a second and it speaks out "power on", then it searches for devices and speaks out "searching for device" and the small led blinks rapidly, then turn your phone's BT on, select BLU-200 from pairing menu and you are ready to go. When paired the led light blinks with a slight pause.  
 When you are done just press the middle button for a few sec and it says power off, simple and easy.  
 Coming to battery life BLU-200 will last you less than 4 hours and it takes slightly more than 1hr to charge it with my 2A charger.  
SOUND QUALITY:-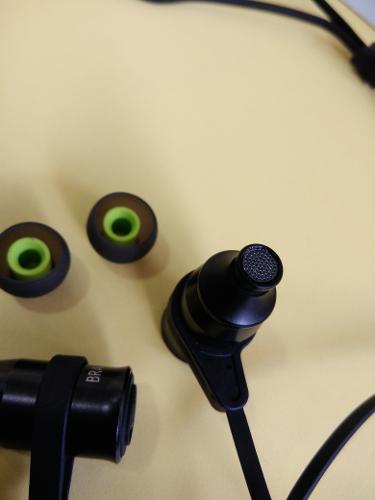 Before I start, I have burnt these for more than 30hrs and is using stock medium size tips for this review.  
 Now this is not a huge step up from the BLU-100, it's more like a slightly improved version with slight changes to it. Its presentation is more forward and fuller with a brighter sound signature when compared to BLU-100.  
 Its still is on the bassier side of the balance, in general it's bassy.    
BASS:-
 It slightly improved when compared to 100, has better texture and slightly better resolving details.  
 Its bass is elevated for sure, but not out of control. It doesn't mask anything like BLU-100.  
 Bass has good impact and goes deep, moves good amount of air too, sub bass is really good with more than enough extension and this time around mid bass hump is nicely rounded to be in line with rest of the spectrum. Mid bass is slightly bleeding, slightly, not much and really better than 100, the decay has improved and is better than 100 still its not a comparable with other in-ear earphones. Quality is good, precise and to the point where I thought It is comparable with to AD 2 or something like Brainwavz S0. But somewhere it is better than S0 and AD 2 and can be compared for resolution with S5, 200 has really nice clarity and details too, not as good as wired earphones like S5 or AD2 but better than S0.  
 All in all it has a good quality bass with nice details and resolution, lacks with speed and decay which is sacrifice-able given that its a BT earphone.  
 It's an improvement for sure and I'm loving it.  
MIDS:-
 Mid range is good, really good, not drowned at all in fact more forward than the 100. It's really nice and i think its comparable with something like a RE-400, nope, I am not saying its better but it has the openness and space like the RE-400. 200 don't pick up notes like the RE-400 for sure, neither does it has the clarity to compare but it keeps the presentation similar.  
 Let it be male of female vocal, everything sounds really soft and nice, yes it lacks depth but that is what make it useable for longer hours. Instruments are good but tend to sound slightly off and lacking resolution, clarity and transparency which is understandable, at the end of the day it's a BT device.  
 Its sound stage is on the bigger side for an earphone. It has average depth but has nice width and height.  
HIGHS:-
 Now as I said earlier it doesn't have much extension up to just like its predecessor BLU 100, it does have some shimmer and slight amount of spark and that's it. It doesn't have good resolution nor has clarity or transparency.  
Cymbals are okay, guitars are good, but when you get into some fast paced music with some serious instrument work, it its better than BLU-100 still falls kind of flat. It lacks speed for house and bite for rock music.  
 Highs are nothing you should write home about, but its gets the work done.  
WHAT I WOULD LIKE TO ADD NEXT:-
1. It will be nice of Brainwavz can add some more battery life, 3-4hrs operating time is okay but not good.
 2. They should add water and dust resistance with their next.
3. slightly better build quality.  
CONCLUSION:-
 BLU-200 is an awesome gym companion even if you don't sweat like hell, use comply for better traction. Its on the bigger side but not bothering by any means, weight is under control too. Running outdoor with this is a bad idea though.  
 For those who are looking for an earphone with good sound quality without breaking their bank, wants to get rid of those bothering cable while at work or are tired of holding the phone close to their ears.  
 One should not expect awesome details or anything that excites an audiophile. It's better than average and is fun and keeps one seated.  
 If you are looking for a wireless BT earphone for around $50 with good SQ and awesome customer support do have a look at BLU-200. It won't disappoint you.  
 I hope you liked my Review. Thanks for reading.  
 Have a nice day, enjoy.  
---
Formerly known as Res-Reviews
Pros
:
Energetic sound signature, solid construction, good charge time, decent resolution and articulation
Cons
:
Mediocre playback time
​
-Introduction-​
[color=rgba(0, 0, 0, 0.8)]Brainwavz has been making some really well-priced earphones recently. As a new edition to their lineup, the BLU-200 is no exception. Aimed squarely at active folk, the BLU-200 brings a decent sounding pair of Bluetooth earphones to the table, with a durable aluminum body, all for $54. However, is it a worthwhile addition to the active audiophile's collection? I think so.[/color]
[color=rgba(0, 0, 0, 0.8)]You can find the BLU-200 for sale 
here
 on Brainwavz's official website.[/color]
[color=rgba(0, 0, 0, 0.8)]
Disclaimer:
 This review is based upon a sample unit provided to me by a manufacturer in exchange for my 
honest opinion and un-edited words
. I do not profit 
in any way 
from the writing of the review. I would like to thank Pandora at Brainwavz for providing me with this unit.[/color]
[color=rgba(0, 0, 0, 0.8)]
Preference and Bias:
 Before reading a review, it is worth mentioning that there is no way for a reviewer to objectively pass judgment on the enjoy-ability of a product: such a thing is inherently subjective. Therefore, I find it necessary for you to read and understand what I take a natural liking to and how that might affect my rating of a product.[/color]
[color=rgba(0, 0, 0, 0.8)]My ideal sound signature would be an extended sub-bass with a leveled, but textured, bass. The mids should be slightly less pronounced than the treble, but still ahead of the bass. I prefer a more bright upper range.[/color]
[color=rgba(0, 0, 0, 0.8)]
Source: 
The BLU-200 was paired to a Nexus 6P. All music was served as FLAC, ALAC, or as 320Kbps Mp3 via aptX.[/color]
[color=rgba(0, 0, 0, 0.8)]
Tech Specs​

[/color]

[color=rgba(0, 0, 0, 0.8)]
Transducers/Drivers: Dynamic, 9.2 mm​

Rated Impedance: 16 Ω Closed Dynamic​

Sensitivity: 96 dB at 1 mW​

Frequency range: 20 ~ 20000 Hz​

Bluetooth 4.0 (CSRBC8645) with aptX​

Operation max distance: 30 ft (10 m)​

Battery: 60 mAh — 4 hrs playtime, 100 hrs standby, 2 hrs for full charge (Micro USB charging)​

CVC echo and noise cancellation​

Supports voice prompt for MMI: Power on / Paring / Connecting / Battery low / Power off​

Supports HFP, HSP and A2DP​

Supports pairing with two devices at the same time​

3 button remote, works with Apple iOS products, Android & Windows phones & PC​
[/color] [color=rgba(0, 0, 0, 0.8)]
The above tech specs were taken directly from the Brainwavz official website.​
[/color]
[color=rgba(0, 0, 0, 0.8)][/color]
[color=rgba(0, 0, 0, 0.8)]
Initial Impressions: 
These impressions were taken 
before
 I'd seen any FR response graphs or measurements.[/color]
[color=rgba(0, 0, 0, 0.8)]The BLU-200 is V-shaped. Definitely. However, for the BLU-200's intended uses, I don't think that's a bad thing. Music is very energetic when played through the BLU-200, with engaging treble and a rumbling bass. I don't notice any particular looseness, but at the same time don't sense an specific shaping.[/color]
[color=rgba(0, 0, 0, 0.8)]
Treble: 
Songs used: 
White Flag
, 
Midnight City
, 
Outlands
[/color]
[color=rgba(0, 0, 0, 0.8)]There is definitely some roll-off in the upper treble. In White Flag, this manifested itself by making the artificial vocal echos very quite, and almost inaudible. However, there is still good articulation and some decent retrieval for the mid and lower-treble.[/color]
[color=rgba(0, 0, 0, 0.8)]In Midnight City, it is apparent that treble is not a main focus of the BLU-200. It's not bright, and tends to sit further back in the mix.[/color]
[color=rgba(0, 0, 0, 0.8)]Outlands did perform quite well for a pair of Bluetooth earphones. The violins were layered fairly well, and barely bled together, if at all. Furthermore, there is a certain amount of air, allowing the song to take on a slightly symphonic feel. It's not quite as good as some similarly priced wired earphones, but does come close.[/color]
[color=rgba(0, 0, 0, 0.8)]
Mids: 
Songs used: 
The Drift
, 
Jars
, 
I Am The Highway
[/color]
[color=rgba(0, 0, 0, 0.8)]The lower-mids of The Drift seem to be less emphasized than the mid-bass, but are never drowned out by them. The mids seem to be recessed, but are still articulate. However, they aren't too engaging, and take a more relaxed feel to them.[/color]
[color=rgba(0, 0, 0, 0.8)]The story continues into Jars. The guitars which normally have a harder and more electric edge to them come across as slightly soft on the BLU-200. The lower-mids are still separated from the bass and mids, letting the bass guitar come through and resolve fairly well. The vocals are also slightly recessed behind the guitars, hinting at a more emphasized lower-mids frequency response.[/color]
[color=rgba(0, 0, 0, 0.8)]At least the BLU-200 is consistent. I Am The Highway's vocals were also slightly pushed backwards into the song, and had a certain softness to them. The guitars were present, and had some good detail, but were missing the edge I usually look for. That being said, I don't see it as all doom and gloom. The BLU-200 isn't designed for audiophile grade critical listening. It's designed to give an immersive listening experience to people on the go, and in I Am The Highway, it does so.[/color]
[color=rgba(0, 0, 0, 0.8)]
Bass: 
Songs used: 
Lights
, 
Kyoto
, 
99 Problems (Hugo Cover)
, 
Leave Me
[/color]
[color=rgba(0, 0, 0, 0.8)]Mid-bass and sub-bass response is good. However, I find that despite the bass having the appropriate quantity, it is rather unshapen and formless. This doesn't cause the bass to be boomy, but does make kick-drums and other acoustics lack definition.[/color]
[color=rgba(0, 0, 0, 0.8)]In 99 Problems I found bass placement to be fairly good. It didn't overpower the song, as it easily could have, and remained at the right level of rumbliness. However, it did lack definition, taking on a rather undefined and soft shape.[/color]
[color=rgba(0, 0, 0, 0.8)]Leave Me was a good listening experience, as I do not think it ever demands too much shaping, instead asking for lots of sub-bass. However, I did notice the "rattling sound" Taska Black mixes into their bass drops did come across as fuzzy — something that did bother me a bit. The basshead in me wishes that there was more sub-bass.[/color]
[color=rgba(0, 0, 0, 0.8)]
Clarity: 
Songs used: 
Throne
, 
Map of The Problimatique
, 
I'm Not Alright
[/color]
[color=rgba(0, 0, 0, 0.8)]Throne performed better than I had expected. The vocal harmonies during the chorus remained well defined. In fact, the only point of distortion was the high-hats during the chorus — something many other more expensive IEMs can't say for themselves.[/color]
[color=rgba(0, 0, 0, 0.8)]Map of The Problimatique performed well, and had no distortion. The mids were resolved well, as was the bass. However, as I mentioned earlier, the BLU-200 has some upper-treble roll-off. Therefore, some background details that would have normally been present were very quite or inaudible.[/color]
[color=rgba(0, 0, 0, 0.8)]I'm Not Alright performed very well, with no distortion and minimal loss of detail. Even during the chorus, the violins remained separate from the guitars, and weren't drowned out. In fact, the BLU-200's performance in this song is among the best I've tested in terms of clarity and transparency.[/color]
[color=rgba(0, 0, 0, 0.8)]
Male Vocals: 
Song used: 
Hotel California
, 
Ashes of Eden
, 
Sunday Bloody Sunday
[/color]
[color=rgba(0, 0, 0, 0.8)]Male vocals are satisfactory. As I mentioned earlier, they tend to be moved slightly backwards into the song. They do sound full and bodied, and have no noticeable coloring. The BLU-200 is able to resolve the high-pitches vocals from Sunday Bloody Sunday just as well as the deep and more sonorous vocals from Ashes of Eden.[/color]
[color=rgba(0, 0, 0, 0.8)]
Female Vocals: 
Songs used: 
Stupid Girl
, 
Need Your Heart
, 
CrushCrushCrush
[/color]
[color=rgba(0, 0, 0, 0.8)]In some instances, the Kai's vocals in Need Your Heart came across as slightly too thin, and bordered on sibilant. Thankfully, the rest of the time I had no issues and enjoyed the song without hearing any notable flaws.[/color]
[color=rgba(0, 0, 0, 0.8)]CrushCrushCrush and Stupid Girl both performed decently, and had very little coloring. I noticed that the vocals were a tad dark, and had the same softness I had encountered in earlier test songs.[/color]
[color=rgba(0, 0, 0, 0.8)]
Sound Stage
[/color]
[color=rgba(0, 0, 0, 0.8)]The sound stage is 3D, but takes the form of a small box. It's an intimate listening experience, benefiting of an IEM intended to be used in the gym. There is a moderate amount of width, some depth, and a moderate amount of height, though some songs do not make use of the space available.[/color]
[color=rgba(0, 0, 0, 0.8)]Packaging / Unboxing[/color]
[color=rgba(0, 0, 0, 0.8)]There's not much to see here, as the BLU-200 came in very basic packaging. I'm glad the Brainwavz decided to skimp on the luxurious boxes some other IEMs come in, and allocate those funds to actual construction of the IEM.[/color]
[color=rgba(0, 0, 0, 0.8)]Inside the box you will find the BLU-200 and its accessories nestled inside its case, along with an information handout.[/color]​
 ​
 ​
[color=rgba(0, 0, 0, 0.8)][/color]
[color=rgba(0, 0, 0, 0.8)]
Construction Quality
[/color]
[color=rgba(0, 0, 0, 0.8)]The construction quality of the BLU-200 is very high, and does not appear to be compromised on. The driver-housings are made from aluminum, and are attached to the cable via a thick plastic brace. The cable itself is a tangle-resistant flat cable, that appears to be durable. The inline controls are also made from soft-touch plastic, and have a very solid feeling to them. The buttons depress with a satisfying click.[/color]
[color=rgba(0, 0, 0, 0.8)]
Charging and Connectivity
[/color]
[color=rgba(0, 0, 0, 0.8)]Brainwavz quotes the BLU-200 to have enough battery life for four hours of continual playback, and up to 100 hours of standby time. I've been able to confirm the playback quote, and have gotten up to 4 hours and 10 minutes in one session, and never having gotten less than 3 hours and 52 minutes.[/color]
[color=rgba(0, 0, 0, 0.8)]Brainwavz also states the BLU-200 can charge fully in under 2 hours. This estimate is a little conservative — after draining the BLU-200 completely, it took me roughly 105 minutes to charge over the included micro USB cable.[/color]
[color=rgba(0, 0, 0, 0.8)]
[color=rgba(0, 0, 0, 0.8)]The BLU-200 makes uses of the Bluetooth 4.0 aptX standard, allowing it to stream up to CD quality audio from your preferred source. As with most Bluetooth devices, the BLU-200 has a range of 30 feet (10 meters) unobstructed. Unfortunately, I was not able to get a full 30 feet out of the BLU-200 in my house, with the audio cutting out at about 24 feet. Your mileage may vary.[/color]
[color=rgba(0, 0, 0, 0.8)]
Comfort
[/color]
[color=rgba(0, 0, 0, 0.8)]The BLU-200 is reasonably comfortable, especially when using the included Comply eartips. I had expected the large metallic driver housings to be heavy enough to pull the BLU-200 out of my ears when running, but to my surprise, they held fast. However, even with the ear-hooks, I was unable to keep the BLU-200 secure during my BMX sessions; I never really did expect it to be able to hold in the first place, considering my friends' Jaybird Freedoms and X2s don't stay in that well either.[/color]
[color=rgba(0, 0, 0, 0.8)]
[color=rgba(0, 0, 0, 0.8)]
Controls
[/color]
[color=rgba(0, 0, 0, 0.8)]Brainwavz equipped the BLU-200 with a fairly competent set of inline controls. Compatible with iOS, Android, and Windows, the BLU-200 has full rich-control functionality including volume control, fast forward, rewind, and voice control launch.[/color]
[color=rgba(0, 0, 0, 0.8)][/color]
[color=rgba(0, 0, 0, 0.8)]While not filled to the brim with them, the BLU-200 does have a fair selection of accessories. Brainwavz stocked it with one set of Comply eartips, 2 extra sets of silicone eartips, rubber earhooks, a micro-USB charging cable, a hard carrying case, and a 24 month warranty card (not pictured).[/color]
[color=rgba(0, 0, 0, 0.8)]
[color=rgba(0, 0, 0, 0.8)][/color]
[color=rgba(0, 0, 0, 0.8)]The BLU-200 is a solid choice for anyone looking for a pair of workout earphones with solid sound quality, and not wanting to break the bank. For $54 the BLU-200 is a great deal.[/color]
Pros
:
Solid build, easy pairing, great bass and smooth full sound.
Cons
:
Housings on the large side vs comfort for some, v-shape sound with strong bass
Here is my review for the Brainwavz BLU-200 Bluetooth earphones. I must say that I really like and respect the Brainwavz brand and that they deserve attention with their high quality/budget products (from headphones to earphones to headphone stands to earphone carrying cases, and so on...).
Personally, I had the pleasure to use the Brainwavz M2, R3, M5 and lately the (imho) budget killer Brainwavz Jive.
I am now having the chance to try and review their BLU-200 model. Thanks to Pandora at Brainwavz for the offer.  These are the first Bluetooth earphones that I try.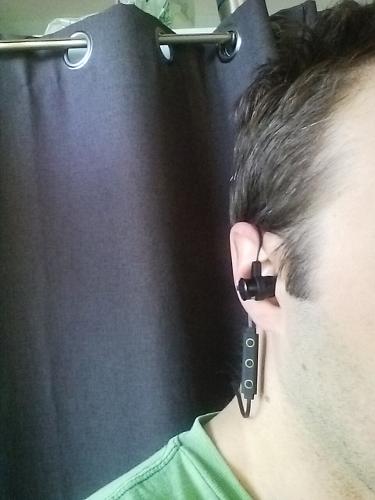 Features:
- Wireless bluetooth (4.0 with aptX)
- Designed to sit securely in ears (ear hooks / fins provided to help)
- Durable + fairly lightweight (for the size they have) matt CNC aluminium
- 3 sets of (S, M, L) silicone eartips + 1 set of Comply foam tips S-400
- Classic Brainwavz earphone hard case (solid and nice quality for protection)
- Velcro cable tie
- Micro USB charging cable
Construction: Solid aluminium housings that should not break anytime soon. Short flat cable (no tangle there for sure). The remote is easy to use and it feels sturdy enough (with the three buttons included).
Comfort: They sit easily in ears. I have not tried them yet with the fins or to exercise or run, but I would say they will stay in place. They are a bit on the large side, so comfort may vary (not for sleep unless you sleep on your back...), but they provide a good comfort to me even without the fins. They are lightweight so this helps. Personally, I prefer to wear them over the ear with the cable on the back of my neck.
Isolation: I use them with the medium silicone stock tips and the isolation is great. You don't hear anything around you when you have them on.
Pairing: Pairing was easy enough with my phone (LG Nexus 5). It's a matter of seconds. I get a good reception with the phone close to me, no problem at all. The sounds seem to cut when you are about 15 feet away and more and walls may cut this distance.
Note: Battery is supposed to charge in about 2 hours, and offers 3 to 4 hours of playback and potentially close to 100 hours standby.
Sound: These definitely packs some big bass punch. If you are looking for an analytical sound, or smooth balanced sound, you may want to look somewhere else, but they are definitely delivering a very good bassy / v-shaped sound. As mentioned, I use them with my Nexus 5, listening to some Google Music streaming and some mp3 records (Florence & the Machine and Royal Blood).
Bass: Bass is big and present. Sub bass is dominant, and mid bass is there but not overwhelming. It's clear enough, not distorted.
Mids: Mids are a bit recessed, but still offer nice detail and a smooth approach, being surrounded by the dominating bass. Vocals have a nice warmth.
Treble: A bit laid back but still offer good clarity and detail. Not audiophile level, of course, but enough to keep it out of the dark and allow to enjoy the music without ear fatigue.
These should perform well with more modern pop music and some hard hitting rock (bassheads apply).  If you want to simply enjoy unsophisticated music, while moving around and not having to bother with long cables, and you like plenty of bass but with smooth full sound, these may be for you.
I was provided this product for an honest a unbiased review. Thank you Brainwavz and keep rockin'!
Pros
:
Deep bass, Strong Build Quality, Clarity
Cons
:
Driver Flex, Bluetooth Audio Drops, Thin Treble
Let me start off by saying, this is my very first review (Special thanks to Pandora @ Brainwavz for the Free Sample for a review) and also this is my very first Bluetooth IEM. 
About Me: I prefer IEMs over full size b/c of portability and comfort. I listen to all genres from R&B to Rap, to Rock/Heavy Metal, to Jazz, Oldies, Country, Blues, etc.    
I tested the BLU-200 using my Asus Q550LF, iPod Touch 4th Gen, LG V10 and my girlfriend iPhone 6. There are tons of reviews on this IEM so I'm going to keep this short and to the point, giving my personal opinions.     
Connectivity: 
Easy to connect, just turn on the BT on your device and hold down the middle button on the Blu-200 and you will get an audible message saying "Power On...Pairing/Connecting". Usually its very fast to connect. My issue is with audio cutting out. I was just listening to Spotify on my V10, while charging and the phone in my face and I started getting audio cut outs for about 1-2 minutes then it went back to being perfectly fine. My girlfriend experiences similar audio issues when she is using it.  
BUILD: 
These are large and hefty but they do not feel heavy in the ears. They definitely appear to be durable considering they are for an active lifestyle.   
Sound: 
The sound is very, erm, strange to me. I tried my trusty Auvio tips but they didn't make much difference so I stuck to either Med or Large stock tips. No matter what, I almost always got driver flex, these need a port hole on the next model. I think this will also help out the bass to breathe a bit.   
Bass: The bass is strong and deep, almost to point of bloat but it holds off. Walks a thin line but it is a straight line. I think a port hole to help the bass gain some definition will help.
Mids: Recessed but still have good detail and clarity
Treble: The treble at first I thought was bright but upon more listening it is actually quite smooth, decent extension, enough energy to help with workouts
The overall sound though is where it gets kind of strange to me. The bass is heavy but the overall treble sounds very thin, almost like a coherency issue between drivers but it is a single 9.2mm driver. I guess I would describe it to me as having a 2.1 speakers in your ear drums. A bit less bass , pull the mids forward enough to create a more forward, thick sound, then I believe I'd have a winner considering the sound stage is pretty wide and the clarity is above average. FWIW my girlfriend absolutely loves these so they are now hers.   
In conclusion, these are solidly built Sport BT IEM. May not be for me since I don't use BT,
BUT
I can definitely see the appeal in these. You are using these for on the go/working out. You aren't using these for an audiophile experience. You want something portable and lightweight with no cables, with a sound that will provide you with energy to push through whatever you are doing.   
Pros
:
Non-fatiguing sound, phone conversation clarity (both ends), accessories, build quality, ease of use
Cons
:
IEMs protrude out of ears, some may have fit issues, not much time to wrap up conversation after low battery warning, music can cut out in airports
I would like to thank Pandora and Brainwavz for the opportunity to review the BLU-200 in ear monitor headphones. When they approached me, I knew I would be reviewing a quality product based on past experience with the Jive model. These did not dissappoint.
The specs and accessories info below was taken from
www.brainwavzaudio.com
:  
Specs:
Transducers/Drivers: Dynamic, 9.2 mm
Rated Impedance: 16 Ω Closed Dynamic
Sensitivity: 96 dB at 1 mW
Frequency range: 20 ~ 20000 Hz
Bluetooth 4.0 (CSRBC8645) with aptX
Operation max distance: 30 ft (10 m)
Battery: 60 mAh - 4 hrs playtime, 100 hrs standby, 2 hrs for full charge (Micro USB charging)
CVC echo and noise cancellation
Supports voice prompt for MMI: Power on / Paring / Connecting / Battery low / Power off
Supports HFP, HSP and A2DP
Supports pairing with two devices at the same time
3 button remote, works with Apple iOS products, Android & Windows phones & PC
 Included Accessories: 
Earphone Hardcase
3 sets of Silicone Ear Tips (S M L)
1 set of Comply™ Foam Tips S-400
1 pair of Ear Hooks
1 Micro USB Charging Cable
Velcro Cable Tie
Instruction Manual
Warranty Card (24 month warranty)
Build Quality and General Usage Observations:
Like the Jive, the BLU-200 seems to be a very high quality product. The ear pieces and cable seem like they are built to last. The case is very nice. Plenty of room for the included cable and ear tips as well as the IEMs themselves. The colors (red & black) stand out and are a nice touch. The case is also quite rigid so you shouldn't have to worry about any damage in a backpack or coat pocket.  
At first, I thought the L/R markings were going to be hard to distinguish since I first saw them on the black ear piece connectors. However, Brainwavz must have realized this and placed additional markings on top of the ear pieces in white. Definitely a lot easier to see.  
The ear hooks were pretty much useless for me. Guess it's due to the angle of my ear canals. They stay in place fine without them. The S/M/L ear tips are of decent quality. However, they jutst didn't work for me. Ended up using Sony hybrids to get the best isolation and fit.  
Sound Quality:
Can you say BASS! It's definitely the star of the show. The bass does overshadow the mids and vocals somewhat. It's also not as defined (tight) as I would like. Some might consider it somewhat bloated. Perfectly excusable for this type and price range IMHO.  
The BLU-200 is a v-shaped signature to my ear. The treble rolls off before it becomes fatiguing though. This combination leads to what I would call a warm signature. Very fun and relaxing. I feel like I could listen to these for hours. Details aren't up there with what you would get with a wired set of hybrids or BA's. But, definitely acceptable for BT.  
Bluetooth Functionality:
 Fortunately, the BLU-200s come with an easy to read manual. Pairing with my phone (Galaxy S6) was effortless. Call quality is very good for both parties. Sometimes I get complaints from people I talk to if I'm using a wired headset with an inline mic. Not so, with the BLU-200.  
I did have an issue while walking through an airport while listening to music. Occasionally, the headphones would "cut out" and stutter. I reported this to Brainwavz and they stated that this can happen in airports because there is so much BT going on in them.  Guessing that most BT headphones might suffer from this.  
Lastly, something that I think could be improved upon is the amount of warning you get for a low battery. I estimate that there is only about 5 minutes (or less) from the first warning until the headset shuts down. At least 15 minutes would have been nice. Five minutes isn't much time to wrap up a conversation (for me anyway).  
Conclusion:
Would definitely recommend these for EDM, Rap and Hip Hop. Marginally recommend for rock and country. Would not recommend for classical, opera or critical listening.  
Note: phone call and music evaluations were done with a Samsung Galaxy S6 using Poweramp (flat EQ) with 320 kbps MP3s and FLAC files.  
Thanks for reading!
Pros
:
Solid build, excellent case, lively sound signature, 24-month warranty, value for money
Cons
:
Limited ear-tip size options, housing may be large for some
Disclaimer
The BLU-200 was provided to me for an honest review and I am in no way affiliated with the company. I'll make my best effort to express my real experience and opinion of them. This is the first time I have tried a Brainwavz product.  
I'd like to thank Pandora from Brainwavz for the opportunity to test the BLU-200.
Link to the company website:  
http://www.brainwavzaudio.com
Link to the BLU-200 webpage:  
http://www.brainwavzaudio.com/products/blu-200-bluetooth-4-0-aptx-earphones
These can be bought from the
company website
or on Amazon.
Features:
·        
Wireless Bluetooth earphones
·         Stylish matt black aluminum design
·         Full bodied sound signature
Specifications:
·        
Transducers/Drivers: Dynamic, 9.2 mm
·         Rated Impedance: 16 Ω Closed Dynamic
·         Sensitivity: 96 dB at 1 mW
·         Frequency range: 20 ~ 20000 Hz
·         Bluetooth 4.0 (CSRBC8645) with aptX
·         Operation max distance: 30 ft (10 m)
·         Battery: 60 mAh - 4 hrs playtime, 100 hrs standby, 2 hrs for full charge (Micro USB charging)
·         CVC echo and noise cancellation
·         Supports voice prompt for MMI: Power on / Paring / Connecting / Battery low / Power off
·         Supports HFP, HSP and A2DP
·         Supports pairing with two devices at the same time
·         3 button remote, works with Apple iOS products, Android & Windows phones & PC  
Sources used during this review: 
•    Samsung Galaxy Note 5
•    iPhone 4S  
I've always loved music but only recently got caught up in the endless chase for better audio gear. As a result, I only have a very humble collection of iems, mostly in the budget range but am slowly trying to make my way up the ladder.
I listen to a wide variety of music genres including classical, hip-hop, jazz, EDM, pop, j-pop and orchestral soundtracks and tried all of the above for the purpose of this review to see how the earphones sound with many types of material.
Accessories and packaging
The iem comes in a very compact white box with a clear image of the earphones on the front and details of the contents and accessories on the back, along with a picture of the in-line remote.
Included Accessories:
·        
Earphone Hard case
·         3 sets of Silicone Ear Tips (S M L)
·         1 set of Comply™ Foam Tips S-400
·         1 pair of Ear Hooks
·         1 Micro USB Charging Cable
·         Velcro Cable Tie
·         Instruction Manual
·         Warranty Card (24-month warranty)  
​
​
Unfortunately, all the supplied tips are too small for my ears so I'm using stock ROCK Zircon tips which are my main go to when I can't get a proper seal. The ear hooks are easy to apply, soft rubber and comfortable. I only use the hooks when I'm moving around a lot - If I'm just lounging at home or the office the earphones stay in my ears well without them.  
​
Note the size difference. Such a shame because the black tips with green cores look fantastic.​
 ​
​
The BLU-200 comes with a concise and easy to understand booklet.​
 ​
Bluetooth pairing, signal, battery, controls
Pairing is stupidly easy to do and near idiot proof (Hey
I
did it!) Once you learn the basic controls of the in-line remote they're very logical and work well.  
The range of the signal seems around what is stated in the specs (30ft) and I had no trouble or dropped signal unless I went into another room behind a thick wall where it would sometimes cut out. I did have some problems while I was at a large shopping mall on a particularly busy day. At certain locations the signal would cut out very badly making them near unusable. Note this was only in areas surrounded by many stores all with their own Wi-Fi and thousands of people around all using their mobiles and I'm guessing that was the cause. I didn't have any such issues anywhere else.  
The included microphone seems to work well. Whilst talking to my wife during a call she said my voice was coming through clearly even though I was standing beside a very busy road at the time. Answering calls can be done by simply pressing the middle button on the remote and calls can be ended using the same method.  
 Battery life is also as stated and should last about 4 hours even using at loud volume. The earphones give you an audible message telling such information as: Power on, Power off, Pairing, Connecting and Battery low. There's also an audible beep when skipping tracks forwards and backwards. All very intuitive.  
​
The LED on the in-line remote can be very hard to see as its partially hidden by the controller​
Build, fit and comfort
These are obviously pretty big earphones but the size is actually pretty standard for a Bluetooth set. Despite the bulk they are not all that heavy and I can easily forget that they're in my ears. This might not be the same experience for those with smaller ears but I can wear these for hours on end with no discomfort.  
The BLU-200 build quality is excellent and feels like a premium product. Brainwavz also gives a very generous 24-month warranty. The cable is of the flat ribbon type and comes with a handy chin slider. I prefer to wear them with the cable down but you can also put it over the ears and on the back of your neck. Microphonics are average and didn't cause any concerns.  
​
​
​
​
​
Note these are not the stock ear-tips but some from my own collection (stock tips are much prettier!)​
The sound
I was quite shocked at the level of detail coming through the BLU-200. In fact, they put many iems in my collection to shame for detail retrieval. That was really unexpected. They even trump some of my other iems (in the same price range) in overall sound quality. (My experience may vary from others due to the fact that I use these with different tips). For a single dynamic driver these do a fantastic job of covering all the bases and more than once I caught myself dancing in my living room.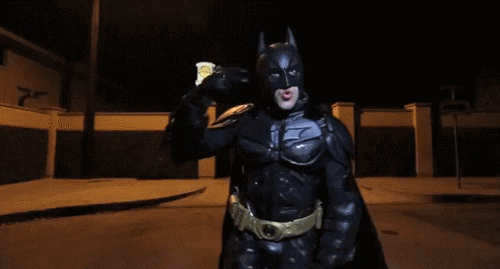 ​
Bass
Has a strong presence in the music but it doesn't dominate.  I find it to be at a good level, although admittedly I tend to like a bass heavy signature and it suits my preferred music genres well. I couldn't determine any major bleeding into the mids. There's some nice sub bass rumble that stays hidden in the basement until called upon and then it sneaks up on you and growls in your ears in a pretty satisfying manner although I would have liked it to be a bit more forward.    
Mid-range
The mids are slightly recessed which is the norm with V-shaped signatures but they sound natural and have enough presence so it feels that the artist is singing for you and isn't someone passing by outside the back fence. String instruments have a nice resonant tone that projects warmth like a nice pair of furry slippers in winter. The bass detracts from the mids a little but hey, these are a $50 Bluetooth kit so I don't expect them to be perfect.
Treble
The treble in these suits my taste very well, allowing good detail and a bit of sparkle, sometimes bordering on being harsh but only at high volume (higher than my normal listening levels). They help to provide a clean sound and balance out the low end nicely.      
Conclusion
The BLU-200 caught me unawares with their competent and compelling sound. Because they're wireless I was expecting signal problems or a much lower sound quality in general but these don't hold back and can easily compete with many of the similarly priced wired earphones in my collection.  
It's very refreshing to be able to get up and move about without having to worry about wires getting tangled or accidently pulling my music source off the table if I forget to pick it up when I get out of the chair. The earphones maintain a stable signal when moving about and sound only cuts out if you're near the maximum range or behind a solid wall.  
When considering the intended use and cost of the BLU-200 (sweating it out at the gym, doing chores at home, walking the dog etc.) I believe these perform above their price point and I wouldn't hesitate to recommend them to anyone looking for a Bluetooth earphone.  
Pros
:
Build quality, battery life, good mids and treble, fun signature, fantastic case, excellent value.
Cons
:
Large housings might not fit everyone, loose and flabby bass, bass bleed, splashy treble at times, cable microphonics.
Introduction
Bluetooth audio has come a long way. It used to be the playground of niche audio brands like Jabra and Plantronics, but when the big boys like Sennheiser got into the mix, things got serious and priorities were shifted. Today, build quality, battery life and form factors are a given, now the focus is on sound quality. Once exiled from audio heaven for inferior SQ, they come roaring back with better signal transfers, Bluetooth 4.0 and aptX technology that promises CD quality sound. It's heartening to see more audiophile brands like Brainwavz getting serious about Bluetooth IEMs as well. This review is made possible courtesy of a review sample sent by Pandora of Brainwavz.
Equipment Used:
Brainwavz BLU-200
Jabra Rox
Honor 6  
Songs Listened:
A selection of 320kbps MP3s and lossless FLACs from my cellphone, including:
Katherine McPhee – Terrified (female vocals)
Fall Out Boy – The Phoenix (bass speed, slam)
James Bay – Hold Back the River (male vocals)
Sheppard – Geronimo (soundstage)
Nirvana – About a Girl (imaging, immersion)
Radiohead – Creep (treble, balance)
Adele – When We Were Young (female vocals, mids)
Smashing Pumpkins – Tonight, Tonight (midbass, separation)
Pink Floyd – High Hopes (treble, soundstage)
Red Hot Chili Peppers – Road Trippin' (male vocals, mids)
And many others.    
Packaging and Accessories
I straight-up love the case! In striking red/black with two pouches, you can even store a small DAP like the Sansa Clip Zip inside. Accessories include 3 silicon eartips in S/M/L, a pair of Complys, charge cable and two earfins for better fit. A simple and functional accessory set, but man it's one of the best cases I've seen regardless of price. True story, someone in the local garage sale forums actually tried to sell a Brainwavz IEM case separately for about USD13. That should tell you about the quality of a Brainwavz case.
Design, Build Quality and Cables
The housings are large, containing both the driver and the battery inside. They are roughly similar in size to the upper 1/3rd of the adult pinky finger. Now stick that in your ear, I'll wait. Comfortable? No question about the build quality though, they matte aluminum housings look and feel rock solid, and are a joy to hold. A flat cable connects both the housings, with a chin slider for a more precise fit. The Bluetooth controls have good tactile feedback, and the matte plastic feels refined and looks classy. All in all a well-built unit.
Fit, Isolation and Comfort
I imagine many people needing the earfins for a precise fit due to the large housings. I'm lucky that they fit me just fine with medium stock tips, didn't even need the earfins. They're comfortable, but I'm saying this from the perspective of someone with regular-sized and regular-shaped ears. Smaller ears might suffer. I did some housework and cycling with them on, and the flat cables do introduce some annoying microphonics. The chin slider helps eliminate them somewhat, but I doubt anyone can run with these. I would say they are more for indoor use because the large housings would discourage any vigorous activity. Isolation is adequate, on-par with regular wired IEMs.
Pairing and Battery Life
Pairing is fast, easy and painless. No issues of dropped sound when my cellphone is in the pocket, and the signal suffers no drop in quality for up to 30 feet. That's as far as I could test anyway. Battery life does as advertised. Nearly 4 hours of continuous music, after which the low battery reminder gets irritating really fast.    
Overall Signature
The BLU-200 follows a mainstream-oriented tuning, with boomy, boosted bass, and slightly elevated treble for excitement. To my ears it's a V-shaped signature with more weight on the bass side, sort of like an L. The mids are slightly recessed and interrupted by the bass bleed, but thankfully doesn't have a too in-your-head feel. When allowed to shine, the mids are actually the most consistent part of the spectrum. The treble is thin with average detail but has some excitement to it. Some poor recordings are revealed, making the treble splashy at times. Speed and separation suffer quite a lot. The thick and slow bass makes the BLU-200 sound congested, leaving you gasping for air. However in slower, non-bassy tracks it sounds balanced and enjoyable.
Bass
They are bassy all right. Big notes, thick and proud, from subbass to upper bass. There is no question about quantity. The bass goes down pretty deep and you feel it, the slam, rumble and impact, dictating the pace of many songs. The problem is it has more quantity over quality, way more. The bass is flabby, loose and lacks detail. Slow attack with slower decay. It can sound unnatural and downright muddy in some tracks, inconsistent with the rest of the spectrum. Eager to please, it sometimes outstays its welcome too, as there are ample amounts of bass bleed into the lower mids. The normal attributes for me that constitute good bass; a tight, quick attack with natural decay and some detail, are painfully missing here. I asked for a spear and got a sledgehammer. Get the picture?
Mids
The mids are better-tuned than the bass. Like Shawshank Redemption's Andy Dufresne taking his first breath after climbing out the sewage, the mids escape the muddiness of the bass and is a class above in separation and detail. Objectively there is still a veil across the lower mids (Andy was still covered in shat when he climbed out after all), male vocalists sound indifferent and uninvolved at times. But otherwise, the mids do quite a fine job. Timbre and speed sounds natural, and female vocals sound especially good. Towards the upper mids, finally free of the bass bleed, you hear the detail of each individual note and it starts singing to you. The most accomplished of the spectrum.
Treble
The emphasis on detail continues. The BLU-200 treble can detect bad recordings and confidently say "Hah gotcha!" whether you like it or not. So, poorly recorded songs get the chop first, and you hear splashy treble. Add that with thinner notation and it can get fatiguing especially if you've been hitting the rock and metal too long. Feed it better-mastered recordings, and you get a smoother treble with a bit of sparkle that's easy on the ears. Treble extension is fair, some micro-detail can even be heard because of the thin notes (and a smaller soundstage than I'm used to). On the whole the treble is not blunted nor coloured much, and it does its job. GIGO as they say. I do wish for slightly more refinement, so it can accommodate even the bad recordings.  
Soundstage and Imaging
Well, they're wireless, and meant for use with activity. With that in mind, I would expect a tiny soundstage with an almost total in-your-head sound. The BLU-200 surprised me however. There is a small but consistent headspace, sort of shaped like a motorcycle helmet, if you will. The stage has average width with just a bit of much-appreciated depth. The mids are ever-so-slightly forward without sounding like someone attempting to possess you, that one I'm most thankful of. Imaging cues are present, mostly in the left-to-right plane. The bass bleed congests the soundstage somewhat, affecting the imaging as well, but I doubt you'll be doing much critical listening while doing your chores. So while the soundstage won't wow anyone, it avoids the in-your-head trap, and gives a satisfying impression of space around the head.
Comparison:
Jabra Rox
The Rox are the only other Bluetooth IEMs that I've heard, and I got a buddy to loan it for the purposes of this review. Sound signature-wise, the Rox is tuned warm and smooth, with mids and vocal forwardness to the degree of attempted possession. The tuning and tonality I can dig, with ample bass, prominent mids and tame, smoothed-out treble. Bass hits harder, tighter and decays faster than the BLU-200, it's actually very enjoyable! There is bass bleed (it's almost unavoidable for bassy IEMs with tiny soundstages anyway), but the frontal assault of the mids do make a fight of it, reaching to the listener for attention. Notes are thick and lush, it sounds kind of nice, but it's so in-my-head I couldn't get used to the mids. I can feel the singers' teeth chomping at my grey matter. I love the gentler and more euphonic mids of the BLU-200 much more. Treble is probably a matter of preference. If you like yours sparkly, don't look at the Rox. It's too smoothed out and blunted, rather unexciting but makes for very safe, fatigue-free listening. BLU-200 is brighter and more prone to splashy treble. Soundstage for the Rox is virtually non-existant, with very little width and a near-total in-your-head sound. While I prefer the Rox bass by a large margin, overall the winner is BLU-200, which costs about half the Rox. Brainwavz strikes again as a value brand!    
Conclusion:
The promise of better sound quality in Bluetooth IEMs are here. The BLU-200 is a good, fun-sounding all-rounder let down only by the flabby bass. Couple that with a fantastic build quality, good accessory pack and bargain price, it's still a quality purchase. If this is the direction headed for Bluetooth IEMs, we are in for exciting times in the portable audio sphere. It's only a matter of time before more audiophile brands jump into the wireless bandwagon, which likely has more mass-market appeal than multi-driver IEMs that cost an arm. Brainwavz has already shown the way.
Pros
:
aptX and other high fidelity bluetooth protocols, Accessories, Ease of operation, Price
Cons
:
Large shell (potential discomfort), Driver Flex, Battery Life, Microphone quality
 ​
 ​
Brainwavz BLU-200​
 ​
 ​
 ​
                                                                                              ​
I'm blue Da Ba Dee Da Ba Dye
​
Disclaimer
​
The BLU-200 was a review unit provided in exchange for my honest and unbiased opinion. I have tried my best to record my thoughts and impressions on how I found the BLU-200 to sound. These thoughts and opinions are mine and mine alone and I reserve the right to change my opinion as time goes on. These are my personal findings and should be taken as such. YMMV
I want to take this opportunity to thank Pandora from Brainwavz for giving me a chance to check out the BLU-200, their follow up effort to BLU-100, their previous bluetooth offering. Brainwavz is a brand that is well known at head-fi, and deservedly so. They provide a wide variety of products at affordable prices, from portable amplifiers to headphones to even headphone stands. Their brand is practically synonymous with bang for buck and so it is always exciting to see a new Brainwavz product on the market.
To be honest I have never really paid much attention to bluetooth headphones, as my first experiences with them were quite disappointing. Clearly technology has improved since then, and the advent of bluetooth headphones is upon us. Don't believe me? Just go to amazon and search for bluetooth headphones. As you can see there are a plethora of options available, and at very affordable prices no less. Inn this sea of bluetooth headphones, does the BLU-200 have what it takes to stand out? Is it worth your heard earned dollars/yen/crayons? Read on to find out.
---
"Brainwavz provides high-end earphones specifically designed for high-quality sound and tailor-made to provide the user with a solution that can be used across a wide range of audio genres and styles at affordable prices. Brainwavz believes in the idea that sound is a deeply personal experience, and strives to provide users with earphones that match their personal inclinations, to inspire with intensity. The Brainwavz name is known in many countries across the globe, and the company is continually committed to providing the best products at the best value.
At Brainwavz we have a simple mission, to produce innovative, high quality audio products with a dedicated focus on high-end sound. Our strength, success and product range is built on the unique relationship with our customers. A relationship that has produced a simple and obvious result, we give real users real sound quality." - Brainwavz 
---
About me​
 ​
 ​
Before I get into the nitty gritty of things, I want to provide a little background information in the hopes that it can help put my views in perspective and provide some context for the content of this review.
​
 ​
 ​
Music has always been a huge part of my life, whether it was performing music on stage with my band or more recently, involving myself in this masochistic wonderful hobby of ours.  I have always enjoyed listening to music but I haven't always paid attention to the quality of headphones because I was perfectly content with included cellphone earphones or cheap earbuds from department stores.  Ignorance is bliss right? This however all changed when I came across head-fi one day, and that's when things started to go downhill (for my wallet that is
). It is all too easy to underestimate how large an impact a good pair of headphones can have in the enjoyment of your favorite songs.
​
After getting my first pair of good headphones, I had felt as if an entirely new world has opened up to me musically and I found myself rediscovering music that I have listened to for many years.
​
When it comes to musical taste, I can't say that I have any specific genre that is my absolute favorite, as I like a little bit of everything. But if I had to be specify, I would say that I love mainstream and Pop music and I consider myself to be an average joe in that regard. That is the approach I will be taking in reviewing gear, for people like me who aren't all that technical and are not audiophiles in the classical sense.
​
I mostly stream music from the Internet using services such as Spotify and Youtube and like millions of other people, my laptop and cellphone serves as my main media players.
​
So with that out of the way, lets get on with the review!
​
 ​
Build quality, Design and Accessories
​
The headphone comes packaged in a petite cardboard box adorned with pictures and specs. Nothing too fancy, but stylish nonetheless. Unboxing it reveals a very sturdy carrying case, housing the iem itself along with all its accessories. I absolutely adore the carrying case and I can see myself buying a few of these cases for use with my other earphones, but I digress.
 ​
 ​
It's good to see Brainwavz including a variety of accessories for the BLU-200, as I am sure customers are sure to be happy getting more for their money.
I ended up using the foam tips, as it was the most comfortable for me, produced the least amount driver flex, and also kept the treble in check, which I will touch upon again later. Perhaps its a case of mismatch with my ear anatomy but I experienced massive driver flex with the included stock tips and even with my personal collection of tips.
While Texans might like you to believe that bigger is always better, the size of the BLU-200 shell demonstrates otherwise.

 I would like to think that I have average sized ear canals, and even so I found the shells to be rather uncomfortable after 10-15 minutes of listening. I can't find a reason for why the shells are so large, if you consider the subpar battery life it sure as heck isn't being put towards a bigger battery. You will definitely be aware of their presence during your workout, as I found out myself, they never really disappear as some headphones tend to do.
The housings have a rugged and durable construction with easily discernible Right and Left markings. The cable is tangle resistant, doesn't kink or hold memory and is easy to deal with on a daily basis. The strain reliefs are solid and I am confident they will hold up to daily abuse at the gym or otherwise. The included cable management clip makes it easy to adjust the cable length to your desired length, which is especially helpful when wearing the BLU-200 cable up. Thanks to its flat cable design, it is easy to fold up and shove in your pock and not have to worry about tangle fairies having a field day.
While the remote is adequately large, I found it difficult to navigate the buttons by tactile sensation alone, for example when I wear the BLU-200 cable up and I have to reach behind my heard to use the remove, be it changing the volume or answer a call. It would have been nice to have the buttons be more distinct from the remote body, but the buttons are responsive and durable. One feature I was surprised and happy to see was that the BLU-200 volume control is 

independent

 of the paired device, as in they are not linked to each other. The BLU-200 employs smaller and more numerous more volume steps than something like my iPhone, so it allowed me to fine control the volume to get it exactly where I like it. The LED indicator is also a nice touch, letting you know things like when its turning on or off, or when its fully charged. 
The included fins will be sure to please those who are accustomed to iems falling out of their ears, especially during vigorous exercises. The fins are easy to install and remove, and it does a good job of securing the earphones. I didnt have to keep putting them back in while doing my daily 20 mile jog (HAH can't believe they bought that one) because they stayed anchored thanks to the fins.
What's it like to use?​
Charging the BLU-200 is a simple affair, just left up the back cover of the right housing to reveal a microUSB port. Its as easy as plugging it in and forgetting. The battery life however wasn't as long as I would have liked, topping out around 3.5 hours for me, which is close to the manufacturer quoted 4 hours. Given the housing size, it would have been nice if they increased the battery size as well. So expect to charge the BLU-200 frequently, especially if you plan to use them daily outside the gym.
In terms of tracking battery life, its as easy as checking the pulldown menu or  top right of your screen if using an iPhone. This is pretty handy if you wanted to check how much juice was left.
The BLU-200 is easy to use, taking a no nonsense approach: Holding down the middle button turns it on, and by keeping it held down, device pairing mode is activated. Then its a matter of pairing it with your chosen device. Fun fact: the BLU-200 can be paired up to 2 devices. After you are done using it, holding down the middle button will also turn it off. Additional functions can be seen in the pictures before, which were taken from the manual.
 ​
Pairing the BLU-200 was a surprisingly quick and painless process. Furthermore I didn't experience any dropped connections, unless I strayed too far from the paired device. Speaking of which, I found the connection range to be average, going to an adjacent room was okay, but any further than that the signal degraded and I noticed stutters.
The microphone is serviceable for phone calls but callers commented that my voice sounded a bit muffled and not that clear. Same story when used for skype calls. If microphone quality is high on your list of priorities, then the BLU 200 is not for you. 
What does it sound like?​
Sources used: 
Macbook Pro

BlackBerry Z30

iPhone 5S

My toaster 
So now we come to the meat of the review, how does the darn thing sound? In one word: competent.
The BLU-200 has an enjoyable V-shaped sound with serviceable resolution throughout the range. The treble can be edgy at times, especially if you are listening to top 40 music at loud volumes. Fortunately, using the included foam tips easily alleviates this, while at the same time affording a better seal. The treble is decently detailed but not very extended, which is again fine given its intended use and bluetooth nature.  I experienced no ear fatigue from the treble after long workout sessions, save for fatigue and discomfort from the earphone shell. All things considered, you can definitely to a lot worse in this department.
The BLU-200 isn't very detailed overall, which is a good thing considering you want to use them while working out and the like. It has an engaging sound that is sure to get you in the mood in the gym, keeping you motivated during your last benchpress set for example.
Soundstage is average, sounding best with foam tips. The sounds feel like they are coming from inside your head, with serviceable separation and layering. Again this is a budget bluetooth iem meant for working out and commuting etc, and so in that context it is adequate.
The midrange is recessed, sounding  warm, dry and engaging. It sounds full, thanksthe bass bleed into the lower midrange. It maintains a respectable amount of coherency and detail, keeping in line with the rest of the sound range.
The bass is definitely the star of the show, with great impact, weight and energy. The focus is squarely on mid bass vs sub bass, and EDM tracks are just too fun to listen to with the bass putting on a great show. Like I said before, there is a noticeable bleed into the lower midrange, but I feel it adds to the sound presentation rather than take away from it.
Remember at the beginning when I asked if the BLU-200 has what it takes to stand out from the sea of bluetooth headphones? Thanks to something called aptX I think it does. If you were to check other bluetooth offerings at the same price point, there are few, if any at all, that provide aptX capability. So why should you care? Please allow my good buddy wikipedia to better enlighten you:
 

The aptX audio codec is available for consumer and automotive wireless audio applications, notably the real-time streaming of high quality stereo audio over the Bluetooth 

A2DP

 connection/pairing between a "source" device (such as a smartphone, tablet or laptop) and a "sink" accessory (namely a Bluetooth stereo speaker, headset or headphones) …
As you can see aptX allows for streaming of higher quality audio, which in turn allows for higher fidelity listening, in theory anyway. Kudos to Brainwavz for including it in the BLU-200.
How does it compare?​
The only other bluetooth iem I have in my possession is the MEE X7 Plus, which retails at twice the price of Brainwavz BLU-200. Being in different price triers, this might not be the most fair comparison but given my lack of options I will compare them anyway. But please do keep the price differential in mind when reading the comparison. Having said that, lets see how the two bluetooth headphones compare
Brainwavz BLU-200 vs MEE X7 Plus
The X7 Plus comes in an elaborate packaging with a decidedly more premium experience versus the simpler packaging of the BLU-200. You really feel like you got your money's worth with the X7 Plus when unboxing it.
 ​
The X7P has a more attractive, durable and comfortable design when compared to the BLU200. The X7 Plus employs a more ergonomic design that sits flush in the ear, which I found to be comfortable for longer listening sessions.
I must say that the BLU-200 comes ahead when considering the included accessories. The X7 Plus comes with a set of silicon tips, an extra cable management clip and a charging cable. The BLU-200 carrying case is simply perfect, with an eye catching design that is sure to provide plenty of protection. It has ample room to store the iem and accessories, whereas the MEE case feels more cramped.
While Both are equally easy to use on a daily basis, the longer battery life on the X7 Plus means that its useful both in and out of gym, as its the one I always reach for when leaving the house. With the BLU-200 that is not the case because I have to charge it more frequently thanks to the shorter battery life, so its not really ideal for taking out with me while out and about.
They both pair easily and function very similarly. The X7 Plus has a better built remote with a more raised profile for the buttons, making tactile navigation much easier. I also found the the X7 Plus to possess a larger reception range compared to the bLU-200, allowing me to venture further away from my paired device.
Sonically speaking, the X7 Plus has a more even sound compared to the BLU-200, even sounding better than many wired iems in the <$100 category. The X7 Plus sports (

hah see what I did there?

) an increased resolution along with a balanced sound that flies in the face of many of its competitor's consumer oriented tuning.
​
BASS 4 LYFE​
Compared to the bass heavy tuning of the BLU-200, the X7 Plus has a slight bass emphasis, demonstrating both quality mid bass and sub bass that integrates nicely into the sound without bleeding into the midrange. The midrange is superbly detailed, full sounding and  engaging. When using the X7 Plus during my workouts I would sometimes pause in middle of my workout to listen closely to the music because the X7 Plus sounds so damn good. The X7 Plus is a fantastic sounding iem, not just for a bluetooth iem but overall. And what's more it can even be used in the shower, so no need to remove them in the bathroom, just jump in!
So why make this comparison at all? Because I said so thats why! Seriously though, its the only other bluetooth headphone in my collection and I thought it might be interesting to point out how much of a gap there is between the two, when taking the respective prices into consideration.
Seeing as how the MEE X7 Plus costs twice as much as the BLU-200, is it twice as good? The answer is an emphatic yes.
 ​
Conclusion​
If you are looking for an affordable yet easy to operate bluetooth headphone, the Brainwavz BLU-200 is certainly worth checking out. It comes with a great set of accessories and an impressive 24 month warranty that is sure to give customers peace of mind about their investment. 
It is however not without its faults: the Microphone isn't that great for calls, the battery life is relatively short and the larger shell size might lead to user discomfort. However if microphone quality is not a priority, and primarily plan on using it for exercising and such, then I can happily recommend this as it can be easily recharged between workout and sparse listening sessions, provided your ears aren't small. If that is the case, then the BLU-200 won't be a good fit for you (I made a punny lol).
Brainwavz, as a company, is not one to rest on their laurels as they continually improve upon their products. I am definitely keen on seeing what they have up their sleeves for the next iteration. The BLU-200 bluetooth iem is a solid offering from Brainwavz and with a few adjustment it is sure to stand out as a strong contender.
Thanks for checking out my long (winded) review and not falling asleep in the process! YMMV as well all have different preferences and ear anatomy but I hope I was able to get across what the BLU-200 offers and whether it's a good fit for you. The only way to figure out whats best for you is to ultimately hear it for yourself.
​Happy listening 
Pros
:
Punchy, warm, bass heavy sound, relaxed sound signature, good accessories, great build quality.
Cons
:
Some occasional Bluetooth stuttering, annoying audible low battery warnings.
Brainwavz BLU-200 Review:
With wireless headphones becoming increasingly popular and rumours that the next Apple iPhone will do away with the trusty 3.5mm headphone port, Bluetooth headphones have never been more relevant than they are now.  So when I was recently offered a pair of Brainwavz BLU-200 in-ear Bluetooth headphones to review, I jumped at the chance to try out these chunky little earbuds that promised to feed music into my ears without the tangle of wires.  With an expected price tag of US$54.50 (around £40) they're certainly well priced, but are they any good?  
What do you get for your money?
Well, as ever Brainwavz don't leave you feeling short changed with their packaging and included accessories.  The tiny box is absolutely crammed with bits and pieces that you probably wouldn't expect to get at this price point.  You get the BLU-200's themselves, a zipped hard case to keep them in when not in use, a USB cable to charge the headphones, and a selection of different tips in various styles and sizes, including a set of Comply foam tips.  You also get a pair of funky looking ear hooks, although I didn't find these to be necessary for my ears.  
OK, so you get a lot of stuff, but are the headphones any good?
The first thing you'll notice about the BLU-200's is that they're pretty chunky, but then again they have to be.  These little buds contain the drivers themselves, plus the battery to power them, the charging port, the Bluetooth receiver and an in-line remote with built-in microphone for making calls via Bluetooth.  That's a lot to cram into a pair of earbuds and a short, flat cable and left me feeling a bit like Frankenstein's monster with the two bolt-like buds hanging out of either side of my head.  
The BLU-200's are pretty neat headphones, housed in an attractive matt black aluminium body, with dark grey rubbery tips that have contrasting lime green centres (except for the Comply tips which are entirely grey/black).  Each side is clearly marked with L/R so you don't get them in the wrong ear and both buds also have the Brainwavz logo printed on them.  The left bud also has a rubbery Brainwavz logo on the back, whereas the right bud houses the USB charging port, which is protected by a little plastic cover when not in use. (This cover is anchored to the bud itself to stop it getting lost.)  
The Brainwavz BLU-200's utilise a
60mAh battery that can deliver 4 hours of continuous audio playback, 100 hours of standby time and can be fully charged in under 2hrs.  This should be plenty for most people's daily commutes, but may mean that some with longer commutes are charging the headphones on a daily basis to ensure they don't run out of juice.  Once the battery gets low the headphones repeatedly warn you with an audible "battery low" warning, which completely mutes the music each time and becomes annoying very fast, as it does it multiple times throughout each song until the power runs out.  Personally, I've been using them around the house when I don't want to be tied down with wires or worried about catching my headphone cable on something as I walk around.  With a range of 30ft (10m), I've been able to leave my phone either in my pocket or on the sofa whilst I stroll about doing chores without any disruption to audio quality or performance.
What are they like in use?
The BLU-200's use Bluetooth 4.0 with aptX to provide high quality Bluetooth audio, and I found this to mostly work very well during my testing, but as with many Bluetooth headphones, it wasn't without its flaws.  Each time I began using the headphones I found the audio stuttered occasionally for a while, but after a few minutes this always settled down and the listening experience was very good once the Bluetooth connection stabilised.  Initial pairing was quick and easy with my Android smartphone and the BLU-200's connected straight away every time I used them afterwards.
Despite their heft, the BLU-200's stayed in my ears very well, and didn't come out unless I removed them intentionally.  After a while I could almost forget they were there, though if moving around I found that the connecting cable could irritate me a bit, and tended to get pulled over to the right due to the weight of the in-line remote.  This was a small issue though, and required nothing more than a quick flick back into place.
The in-line remote has just 3 buttons and a pin-hole for the microphone.  The microphone worked well and picked up voices fine.  You long press the remote's middle button to switch the headphones on, and do the same again to switch them off.  In each instance the headphones will actually say "Power on" and "Power off" to confirm what's happening and a tiny white light will flash to confirm that something is going on, but don't rely on the light to confirm, as in daylight it was nearly impossible to see.
As with switching the headphones on and off, they will also speak to you to let you know when they are in pairing mode, and when they are in the process of connecting.  Pairing mode is accessed by a longer press of the middle button, which also functions as the play/pause button and the button for answering and ending calls, as well as redialling the last dialed number.
The top and bottom buttons on the remote are for increasing/decreasing the volume, and can also be used to skip backwards and forwards through your music by long pressing them.  Either button can also be used to initiate voice dialling by long pressing for slightly longer.
What do they sound like?
First up, if you care about specs, here's the important numbers for the Brainwavz BLU-200 headphones:
Drivers: Dynamic, 9.2 mm
Rated Impedance: 16 Ω
Frequency Range: 20 Hz ~ 20 kHz
Sensitivity: 96 dB at 1 mW
Maximum Input Power: 3 mW  
Numbers only tell half the story though, so read on for my impressions on how the BLU-200's actually sound.  
The lows:
The Brainwavz BLU-200's have surprisingly good bass, helped further by the good sound isolation that is achievable with the right tips.  I hadn't expected a pair of Bluetooth earbuds to be able to kick like these little babies can.  Even without any equalization added they kicked out the bass in spades and dropped far lower than I had expected.  Listening to some extremely bass heavy subwoofer test songs the BLU-200's shrugged them off with ease, belting my eardrums with heaps of tight, deep bass with little sign of giving up.  These are a very fun and entertaining headphone!  
The mids:
As with other Brainwavz headphones that I've tried the BLU-200's offered a smooth midrange with no real harshness or sibilance to speak of.  The midrange is fairly prominent, but not distractingly so, allowing it to compliment the low end nicely.  As such, the BLU-200's are a great headphone for long periods of listening, such as at work or whilst going for a long walk or run, without fatiguing the listener.  Whilst the soundstage is never going to be as wide as an open-backed headphone, the BLU-200's still managed to sound very spacious and offered good separation between vocals and instruments.  
The highs:
In keeping with Brainwavz usual relaxed sound signature the highs are quite recessed, offering an easy listening experience that really pleased my ears.  With no annoying harshness to sour the experience I could just enjoy these 'phones for hours on end without needing a break.  There were still decent levels of detail on offer, so the overall experience was very enjoyable for my tastes.  
Conclusion:
As usual for a Brainwavz headphone, the BLU-200's don't offer a natural sound, but instead a warm and relaxing one that packs more punch than I had expected from an in-ear headphone.  Overall I found them very entertaining and fun to listen to, and despite their heft they were comfortable in my ears and somehow managed to stay put.  
In summary…
With the expected phasing-out of the trusty 3.5mm headphone port, Bluetooth headphones like the BLU-200 may soon become far more popular.  With their warm and fun sound signature, decent battery life, and quick and easy Bluetooth connectivity, the Brainwavz BLU-200 are a great choice that I suspect would be very well received by the average music lover.  They also represent great value for money with their solid construction and good selection of tips, as well as the included protective hard case to keep them safe whilst travelling.  Other than looking slightly odd sticking out either side of your head, there's little to dislike about these fun earbuds.  
Overall I'd highly recommend the Brainwavz BLU-200 Bluetooth 4.0 in-ear headphones.  
Big thanks to Brainwavz for providing these headphones for me to review.

Pros
:
Affordable Price/Value with Great Accessories, Solid Build Quality and Basshead Approved
Cons
:
Comfort & Fitting & Battery Life
Brainwavz Intro
ABOUT US
Brainwavz provides high-end earphones specifically designed for high-quality sound and tailor-made to provide the user with a solution that can be used across a wide range of audio genres and styles at affordable prices. Brainwavz believes in the idea that sound is a deeply personal experience, and strives to provide users with earphones that match their personal inclinations, to inspire with intensity. The Brainwavz name is known in many countries across the globe, and the company is continually committed to providing the best products at the best value.
At Brainwavz we have a simple mission, to produce innovative, high quality audio products with a dedicated focus on high-end sound. Our strength, success and product range is built on the unique relationship with our customers. A relationship that has produced a simple and obvious result, we give real users real sound quality.
BRAINWAVZ brand is owned and manufactured by GPGS.
FYI
 - taken from Brainwavz company webpage
http://www.brainwavzaudio.com/
GET THEM HERE
 - 
Brainwavz
 or Amazon
Thank you very much to Brainwavz and Pandora for providing me with Brainwavz BLU-200 for review.
Packaging
The BLU-200 comes in very compact white cardboard box with picture of the bluetooth earphone and the inline controls while the back of the box specifying the contents of what is included :-
BLU-200 Bluetooth Earphones
Earphone Hard Case 
Ear Hooks
Velcro Cable Tie
Micro USB Charging Cable
3 Sets Silicone Ear Tips (S M L)
1 Set Comply Foam Tips S-400
Instruction Manual and 24 month Warranty Card 
Features
Pairing is easy and two devices can be paired at one time
Volume Control
Play & Pause
Next & Previous Song
Voice Dialing
Answering & Ending Phone Calls
Rejecting Phone Calls 
Last Number Redialling
Here is the specifications copied from Brainwavz webpage for BLU-200  
Specifications:
Transducers/Drivers: Dynamic, 9.2mm
Rated Impedance: 16ohms Closed Dynamic
Sensitivity: 96dB at 1mW
Frequency range: 20 ~ 20000Hz
Bluetooth 4.0 (CSRBC8645) with aptX
Operation max distance: 30ft (10m)
Battery: 60mAh - 4hrs playtime, 100hrs standby, 2hrs for full charge (Micro USB charging)
CVC echo and noise cancellation
Supports voice prompt for MMI: Power on / Paring / Connecting / Battery low / Power off
Supports HFP, HSP and A2DP
Supports pairing with two devices at the same time
3 button remote, works with Apple iOS products, Android & Windows phones & PC
Design & Built Quality
Straight barrel design and IMHO wee too big (it's HUGE)

Fitting & Comfort might be a problem for some as BLU-200 are huge and its like sticking a bottle cork into your ear canal 

Built quality is excellent and short flat cable with inline control mic

Strain relief that can be adjusted and stays very secured - no messy long cable and tangling issue

Comfort wise will depend on getting the right ear tip and my fit issues solution is with included Earhook FIN
Connectivity
Will be using my Samsung SII phone with V4A installed.
Pairing was a breeze and good strong connection ( 30 ft operation max distance and slightly more im my case)
Background hiss as mentioned by other reviewer is non-existent for me ...maybe some phones YMMV 
Pictures
It has been a very enlightening and life changing experience since using BLU-200 for these simple reasons below :-  
decided to make full use of very functional bluetooth BLU-200 and start exercising again but made playlist of me favourite songs to provide stimulus for me workout but sad to say - it never went pass the 5th song and took me few days to recover from the body ache ....LOL                                          
 ​
at a very young age auditioned for the school choir and was told to never attempt to sing at all but perseverance paid off when me managed to join the church choir but was told to just move me mouth and pretend to sing and always put at the back row. Lesson for the day ..NEVER GIVE UP...AWKWARD....ROCK ON 
​
​
​
was driving one day with BLU-200 on and was singing loudly to the song " Sex on Fire - King of Leon" and at the traffic light stop - this old lady say to me " Happy huh? " . Music is such a powerful force and who cares if you are not the best singer but it makes you feel that you are on top of the world . Start from 1.28 into the video and this is how me feel ..LOL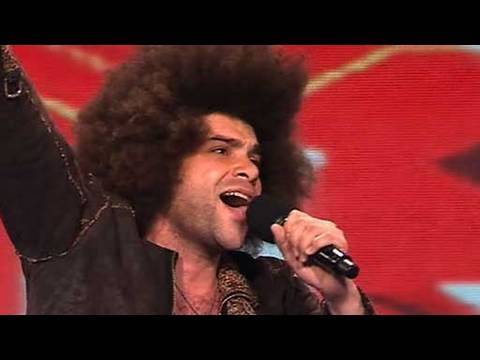 Sound
FYI - BLU-200 is not for critical listening and imho tuned for active lifestyle usage like working out or doing chores with no wires restricting movement .  
Bass
The bass is impactful, smack of power (imho basshead level) and should be right at home for its intended purpose especially going to the gym with punchy deep bass genre of songs. It work very well for me during my failed attempt at working out but the bass is not the tightest and wee bit slow on fast complicated tracks. Warm/bassy and sub bass can be overpowering and bleed into the mid which affect the mid especially the vocal and clarity.  
Mid
Recessed due to thumping bass and sub bass bleeding into the mid and could do with more forward sonic quality especially the vocal part. Music just feel bit withdrawn and distance but me supposed its's too V shaped for me taste.  
Treble
Treble quality is just enough to make it bearable for me but lack sparkle and shine -YMMV. Would be very good to those who are sensitive to high and no sibilance at all. All in all very relaxed and good for long listening session.  
Redeeming Factor
Respond well to EQ - in my case V4A in my Samsung SII - sounding excellent when used with chosen Listening Device (Grado SR80)
Good bluetooth connection
Relaxed sound signature
Value for money 
WHY NOT !
Conclusion  
It never warm up to me with its stock sound signature and finding the right ear tip took me a few good days but at the end if the day ---would highly recommend this BLU-200 for those looking for affordable bluetooth IEM. EQ is a must and with V4A on my phone has transformed it into my go-to daily IEM which can be used for music and calls purposes with really decent sound quality to boost. My only criticism is the housing barrel is wee too big and future Brainwavz bluetooth IEM would make the housing more ear friendly.   
Thank you for reading.
 ​
Sponsor: Trinity Audio Engineering
Pros
:
Great Price, Okay comfort, Slamming bass, Brilliant Case
Cons
:
Shortish battery life, biggish earphones, refinement
Disclaimer
Before I start this review I just want to thank Pandora from Brainwavz for approaching me to review the newest edition of their Bluetooth earphones in trade for my honest opinion, meet the BLU-200.   
History
So without wasting too much time here a little background about me, I started my audiophile addiction about 4 years ago and as we all know the urge to splurge out more and more money for that 1% increase in sound quality forever increases. I have heard of Brainwavz Audio and dabbled a little with the Delta model nothing to write home about but fairly impressive in terms of price performance. If I ever wrote anything about Brainwavz Audio, it would be they care about keeping costs down without sacrificing too much sound. My biggest interest to be produced by the company happened to be their R3 earphone, something I haven't had the pleasure to listen to yet but probably will one day. So that's that we are all caught up let us get into this review already!   
The concept, the reason
Well as many of us audio fans know there will probably never be a full replacement for hard wired earphones when it comes to sound. Well what about the pain staking niggles that come with hard wired sets, I'm talking about portability ease of use and general convenience. Whilst I hardly ever workout anymore, thus the pot belly, I do enjoy a light jog now and then and when manual work is required I tend to stick my earphones in. Unfortunately, there has been many a time where I've caught the wire and snagged my earphones from my ears and it is more than frustrating, especially when you in the middle of a good jog or work flow. I honestly could talk about the irritation and red fog that appears over me for days but I shan't.   
Instead I want to discuss the solution for this pain staking mishap. Enter in Bluetooth earphones, less wires, more portability and with a damn good fit no fiddling about when you are on a jog or working. Heck the BLU-200 even allow you pause, play and adjust volume without pulling your device out. It's not perfect but we will get to that bit later.   
These earphones clearly designed more for the on the go listener gym junkies please apply here!  
Inside the box.
Accessories:
Earphone Hardcase (Just beautiful imo I'd prefer to use this hard case over many of the supplied pouches that have come with my earphones prior to this.) 
Here are some glamour shots of this beauty, black with accents of red and a neat little pouch to carry around extra tips and enough space to fit your earphones and charging wire, neat!  
You will also get;
3 sets of Silicone Ear Tips (S M L), 1 set of Comply™ Foam Tips S-400, 1 pair of Ear Hooks, 1 Micro USB Charging Cable, Velcro Cable Tie (which comes in very handy I might add), an instruction Manual and a 24-month Warranty Card.      
Specifications 
Transducers/Drivers: Dynamic, 9.2mm
Rated Impedance: 16ohms Closed Dynamic
Sensitivity: 96dB at 1mW
Frequency range: 20 ~ 20000Hz
Bluetooth 4.0 (CSRBC8645) with aptX
Operation max distance: 30ft (10m)
Battery: 60mAh - 4hrs playtime, 100hrs standby, 2hrs for full charge (Micro USB charging)
CVC echo and noise cancellation
Supports voice prompt for MMI: Power on / Paring / Connecting / Battery low / Power off
Supports HFP, HSP and A2DP
Supports pairing with two devices at the same time
3 button remote, works with Apple iOS products, Android & Windows phones & PC  
Build Quality, Design and Fit 
The first thing that came to mind when I looked at these was oh my gosh I am sticking a mini coke bottle inside my ear! Thankfully due to the ergonomic design of the earphone, despite the rather large housing, they fit flush within my ear canal and are rather secure I might add. You will have an arrayish of tips to make sure you can get a good fit. If all else fails try the comply, I didn't end up needing them in the end as the provide stock silicon ear tips did the trick just fine.  
The BLU-200 is jackless that's right I said it, no jack. Poor jack, joking aside there is a short flat cable that connects from the right driver to the left. There is an inline remote and mic and Bluetooth control unit which allows you to power up the earphones, connect them to your device of choice, press play, pause, track selection, voice dialing, answering and rejecting phone calls, even a last number redialing option and of course the ability to adjust the volume. The design in itself give a lot of freedom and stops that messy tangling you sometimes get from hardwired earphones. There is a strain relief that is wrapped around the earphones themselves giving a sleek appearance and confidence to boot that these will hold up even if snagged a few times.   
The BLU-200 is a little on the large side and as I mentioned look kind of like mini Coke bottles, yes they do stick out a bit however, there is some neat gear inside such as, the USB charging port and battery under rubber flap marked clearly for charging. It houses a micro 60mAh battery that will deliver 4 hours of continuous audio playback, 100 hours of standby and can be fully charged in under 2hrs. With a range of 30ft (10m), you can comfortably be away from your audio source with no disruption to audio quality or performance.  
Personal usage
Pairing was easy as pie just press and hold the play/pause button for about 3 seconds to power up and if you are pairing a new device keep it held down 5 seconds to boot up into its pairing mode. A tiny LED light at the top of the inline starts blinking and you should see it on your phone. Pairing doesn't require a pass code so just select it from your pairing list and get them matched up. When you connect you will get a seductive(kidding) robot style female voice stating the following "power on" and "connecting" to authenticate the connection. That's it, bam Bob is now your uncle and all is good with the world.   
In terms of connectivity and signal strength I was able to get a solid connection up to about 7m when walking around my house so take from that what you will. Also as pictured below if you are a lucky apple user if you scroll down on your screen you will be able to view the battery life of your phone and earphones, which is quite handy also worth mentioning these don't really chew up any extra battery at all maybe an extra 3% an hour in normal use.   
Sound Quality 
Usually this is the part I like to throw in some emotion unfortunately it's difficult to do this with such an earphone. It's not that these sound terrible at all in fact the best I've heard from an earphone in the Bluetooth range but.... I wouldn't ever be convinced that this would replace my hard wired sets regardless of convenience. Anyways without further ado let's break the sound down from these puppies!   
Highs 
Still trying to find the words to put in this section mainly because it's a section I know is there but is being overshadowed by a bloated mid bass! When there is a chance for a vocal to pop or a symbol to shine they will only raise their shiny metallic voice when you are indulging in a track without a meaty type of musicality or banging bass line. I've almost concluded I could only listen with these for a certain amount of time as they lack too much refinement and are either overshadowed or too sharp. This isn't the earphones strong point but hey it's not all bad there is a sufficient amount of detail there to not have you feeling like you've been left out of the loop entirely.    
Before I move on to the next section of sound I will elaborate a bit the highs on the BLU-200. They hold a really light tinge that leaves them sounding thin and very dry, please don't be put off by this believe me I've listened to worse but it's hard coming down from steps above like the Delta or R2Pro but then look at the price difference and the hardwire design plays a big part in this. Anyways moving on...  
Midrange 
Anorexia, perhaps my ears are just too used to being spoiled by lush enveloping vocals and seductive levels of refinement. Well there is actually an upside to this V shape sound signature and that come with space I'll talk about that later in the soundstage section. So more on the midrange..... Well let's take a clinical look at this by picking a few adjectives! Sibilant, withdrawn, hard- working, unskilled but surgical. Now this might sound like I am being harsh and I am but please do not take this lightly when I say this, these still kick out musicality regardless of the critique I am giving them.   
Bass
Hello big boy! Ooo okay well if you like hitting the gym hard with a bit of Hip Hop or Rock this is the time for the BLU-200 to shine. I am not saying these do bass maturely but hell they do produce a juicy amount, yes it bleeds, yes it could be moved a little further south and diverted away from the midrange but hey I am not complaining here. The BLU-200 bass is dominant but does have some good extension, you end up with this quite full sound that actually handles complexity quite well. For its intended use this is one area I wouldn't be quite to jump the gun and say change it now.   
Soundstage 
Okay so the review is starting to lighten up a bit I did say these weren't bad not my cup of tea but hey I'm not here to like everything I hear. Well despite these not being created for a discerning audiophile's ear there is still an airiness about these earphones that are quite good indeed. There is room to breathe and you will hear a respectable amount of detail and separation. Instruments from left to right are easily enough discernable and with that V shaped signature there is space enough for detailing and spatial cues to pan themselves out quite nicely. I do apologize for not writing more here but I am at a lack for words these are some great earphones in terms of what they were built for so I hope you have stuck with me this far.     
Bonus points
There are a lot of redeeming factors to consider when thinking about these earphones though! One be the price, secondly is the comfort fit and the functionality that you get with the earphones not to mention that bad ass case. Possibility one of the few earphones I would still pick up regardless of its shortcomings I'd still take them on a jog with me for sheer convenience alone. With some heavy beats and a sweaty workout or tedious work load these earphones do kick some serious ass for the price.   
Conclusion and improvements
The BLU-200 is and was designed for exactly what it does, is it going to please the diehard audiophile fan no, but it will satisfy those in hunt of a damn good Bluetooth set of earphone for a great price. The bass response and soundstage alone is enough to make up for that lack of refinement and slightly sharp sound and at the end of the day that's really what you need when you are blasting your body pushing it through its paces and just need some good vibes to carry you through. For $54.50 you get a lot for your money a concrete performance and almost unbeatable at this price point. I haven't heard another Bluetooth set of earphones this good I know that doesn't speak volumes because I've only tried a few some branded some unbranded but the point is these are a damn good shot if you are in need of a set of solid Bluetooth earphones.  
I would love to see a hybrid design with a little refinement, more forward midrange and maybe even detachable cables as an upgrade option for those who'd be willing to spend a little more and squeeze out a little more performance. Who knows maybe a BLU-300 could offer such genius? I'd be happy to purchase these myself despite the harshness I have written about with the midrange and treble. Good job Brainwavz is all I have to say and I look forward to an even more impressive set next time!  
Pros
:
Strong bass, Solid build, Bluetooth, Great mic tactility, Light and durable cable
Cons
:
Strong bass, Recessed mids, Short battery life
First off, thanks to Brainwavz for reaching out and offering the opportunity to look at their BLU-200 model of bluetooth IEMs. 
Intro:
Still trying to get this "intro" part right, but basically I love music and headphones/IEMs. Definitely not an audiophile in any means, but I don't think that disqualifies me from being able to tell whether or not I like a headphone or not (I mean I hope not haha).  
I listen to a little bit of everything, but my playlist consists mostly of Pop, Punk, J-Pop/J-Rock, Electronic, and Hip-Hop.  
Onto the review!
_________________________________________________________________
Specifications:
Transducers/Drivers: Dynamic, 9.2mm
Rated Impedance: 16ohms Closed Dynamic
Sensitivity: 96dB at 1mW
Frequency range: 20 ~ 20000Hz
Bluetooth 4.0 (CSRBC8645) with aptX
Operation max distance: 30ft (10m)
Battery: 60mAh - 4hrs playtime, 100hrs standby, 2hrs for full charge (Micro USB charging)
CVC echo and noise cancellation
Supports voice prompt for MMI: Power on / Paring / Connecting / Battery low / Power off
Supports HFP, HSP and A2DP
Supports pairing with two devices at the same time
3 button remote, works with Apple iOS products, Android & Windows phones & PC
_________________________________________________________________
Accessories:
Good amount of accessories. Awesome case by the way! I bought one just for one of my other IEMs!  
They included:
A hard-shell case
3 sets of silicone eartips (S, M, L)
1 set of medium Comply Foam Tips S-400
1 pair of ear hooks
Micro USB charging cable
Instruction Manual
Warranty Card
_________________________________________________________________
Build/Design:
The housings feel solid and the cable is rubberized and flat. I didn't notice any cable noise when wearing them with the cable in front.
As for design, the housings are quite big and they do stick out of your ears quite a bit. Actually more than quite a bit, you look like frankenstein. Though they do stick out of your ears a lot, they haven't fallen out of my ears once when walking around and about. 
The cable cinch is a nice touch to prevent the cable from bouncing around. The strain relief between the cable and the housings is kind of lackluster though.   
For the mic, the buttons are nice and clicky. There's 3 buttons for volume up and down, and for playing and pausing. The play and pause button also works to hang and end calls. I had someone on the other side when testing the mic. The other person said that they could hear me fine even when moving the cable to simulate the bouncing of the cable when you walk. The other person didn't note any cable noise. They also weren't weighing down my ears either (although you're asking someone who has no problem with the ATH-CKR10 hanging from the side of his ears so... YMMV).
You can charge the IEM with the included cable on the right earpiece. There's a flap to open the back of the right side with the bluetooth symbol. I can verify that any (and by any I mean the cable that came with my tablet) micro usb charger will charge them too although I don't know if I would do so. I don't want to accidentally fry them with my tablet charger.   
_________________________________________________________________
Isolation/Fit:
They block out noise very well. Probably a little too well if you want to be aware of your surroundings. I used spinfit tips as the provided tips took a bit of effort to have the sound actually shoot into my ear canals and not be muffled up against my ears. It seems like the provided tips are good for shallow fit but since I like a deeper fit, the spinfit tips help me with that (not a sponsor of Spinfit). With spinfit tips, I got a good seal and fit. I could get a good seal and fit with the provided tips as well but they take a bit more adjusting in my experience.
_________________________________________________________________
Connectivity:
Bluetooth. Claims of a range of 30 feet. I don't know if it was thirty feet but I did walk out of my room with them connected to my phone and across the kitchen and living room into another room and finally had some cut outs then. I would estimate it to be over 30 feet.   
_________________________________________________________________
Battery Life:
Brainwavz claim a battery life of 4 hours. I found this to be spot on. I had them playing on 50% on my Sony Xperia Z3V and a bit over 25% when having them in my ears (2 hours with each listening levels). Oh, did I mention they get pretty loud? Cause they do. I get a comfortable listening level around 25-40%. But uhh, battery life is kind of low so be sure to charge them each time you use them. Brainwavz claim charging time is 2 hours. I haven't tested that as uhh it's kind of tedious to look at the LED light that lets you know whether they're still charging or not. The LED light is above the + button on the mic piece. Honestly it took me a while to find it.  
_________________________________________________________________
Sound:
These are bass heavy. Surprisingly enough, vocals still come through clearly possibly with the help of a slight boost in the lower treble/upper mids which helps voices be intelligible. Definitely a v-shaped sound signature.
-----------------------------------------------------
Bass
I believe this is main reason why I couldn't listen to them very loudly as the bass literally thump your eardrums. I found the subbass to be a bit lacking. I didn't really feel the rumble I get out of my ATH-CKR10. The bass is a bit loose and boomy as well. All that said, I could do with the bass toned down a bit but I think a bass head will appreciate them a lot more than I do.
-----------------------------------------------------
Mids
Male vocals sound recessed and a bit overshadowed because of the stronger bass. Guitars sound a bit muffled and lack a bit of clarity and sound a bit compressed. Female vocals sound decent though. Because of that little boost in the lower treble/upper mids, female vocals sound a lot less recessed compared to male vocals. 
-----------------------------------------------------
Treble
Surprisingly smooth but maybe even recessed after the slight boost in the upper mids/lower treble. I didn't experience any harshness although it's probably because I don't have the volume high enough to experience such because of the strong bass response. Perfect for an easy-going listen (except for the strong bass of course) but not-so-perfect if you want clear and realistic cymbal crashes.
-----------------------------------------------------
Soundstage
Not very wide and kind of below average for an IEM. Definitely an "in-your-head" kind of experience.
_________________________________________________________________
Conclusion: 
They're good, but not amazingly so. I really like the build, fit, mic, cable, and the accessories package on the BLU-200. The sound while ok, isn't completely terrible at all especially considering that they're bluetooth and they're going for 55 bucks. Some things that I would like to see in possible updated models include a longer battery life, possibly a thicker strain relief, and a much more controlled and tight bass.  
Sources:
Sony Xperia Z3V
320kbps mp3 and FLAC files
Pros
:
Bluetooth. Cheap. Personal trainer like encouragement.
Cons
:
Battery life is a handful of hours. Acoustically a little too much for me.
[size=12pt]
Brainwavz BLU-200 Quick Review by mark2410
[/size]
[size=12pt]
[/size]
[size=12pt]
Thanks to Brainwavz for the sample.
[/size]
[size=12pt]
Full review here  http://www.head-fi.org/t/804729/brainwavz-blu-200-review-by-mark2410
[/size]
[size=12pt]
[/size]
[size=12pt]
Brief:  Uhura's earphones 2.0.
[/size]
[size=12pt]
[/size]
[size=12pt]
Price:  US$54.50 or £39.50
[/size]
[size=12pt]
[/size]
[size=12pt]
Specifications:  Transducers/Drivers: Dynamic, 9.2mm, Rated Impedance: 16ohms Closed Dynamic, Sensitivity: 96dB at 1mW, Frequency range: 20 ~ 20000Hz, Bluetooth 4.0 (CSRBC8645) with aptX, Operation max distance: 30ft (10m), Battery: 60mAh - 4hrs playtime, 100hrs standby, 2hrs for full charge (Micro USB charging), CVC echo and noise cancellation, Supports voice prompt for MMI: Power on / Paring / Connecting / Battery low / Power off, Supports HFP, HSP and A2DP, Supports pairing with two devices at the same time, 3 button remote, works with Apple iOS products, Android & Windows phones & PC
[/size]
[size=12pt]
[/size]
[size=12pt]
Accessories:  Earphone Hardcase, 3 sets of Silicone Ear Tips (S M L), 1 set of Comply™ Foam Tips S-400, 1 pair of Ear Hooks, 1 Micro USB Charging Cable, Velcro Cable Tie, Instruction Manual, Warranty Card (24 month warranty)
[/size]
[size=12pt]
[/size]
[size=12pt]
Build Quality:  Nice, they feel comfortably put together and while some may find them "plasticky" to which I say, duh!  Actually I'm pretty sure the enclosures are aluminium painted black but still, they are very light.  You want something wireless to be nicely light
[/size]
[size=12pt]
[/size]
[size=12pt]
Isolation:  Not bad, they a are a step up on the 100's and so I think these you could pretty much get away with anywhere.  Out and about or bus traveling.  Though Tube or flights you'd be pushing it but could do in a pinch.  For most people they would do a grand job of blocking out random gym noise.  As ever though, do remember that you must use your eyes and not ears to check for traffic or get yourself a donor card.
[/size]
[size=12pt]
[/size]
[size=12pt]
Comfort/Fit:  They are rather sizable but they were very light, plus I wore them over my ears and so were easily fine for wearing till the battery died.  More secure than you'd think too so I'd be fine bouncing about or jogging with.  There was a tiny bit of driver flex but nothing that was issue causing.
[/size]
[size=12pt]
[/size]
[size=12pt]
Aesthetics:  They look just like the 100 and well, they are fine.  Nothing special, eye catching but then they didn't visually bother me either.  Meh, they look fine and looks don't really matter anyway.
[/size]
[size=12pt]
[/size]
[size=12pt]
Sound:  They take the sound of the 100 and butch it up.  They may not be entirely my cup of tea but are a rhythmic thumper to get you through that last 10 minutes on the treadmill.  Big beefy bottom, not the world's most taught but it wants to thump, big humpy thumpy oomf.  You know, subtle like a smack in the face and while my own sensibilities may want a little more sonic purity, it's not for audiophile listening.  It's for activity inducing vigour and there it shines.   Big raucous bass dragging you along for the ride.  The mids, well a little so so.  I love mids and these are moderately passable but again they aren't for Nora, they are for "Now That's What I Call Running."  The highs are I think tuned with the likes of "Now That's What I Call Running" content in mind.  It's a bit of a light glazing to things, enough to let you know where things ought to be and fill in the spaces.  Though it's never going to dominate it never has the hard, edged brutality that can so often appear in that musical style, with its mastering levels and the bit rates that it often appears at.  They are built and tuned with bouncy rhythmic, drag you round that last stretch, music.  It's a great pairing if that's what you want them for.
[/size]
[size=12pt]
[/size]
[size=12pt]
Value:  As ever, it's a Brainwavz and they always offer great value for money.
[/size]
[size=12pt]
[/size]
[size=12pt]
Pro's:  Bluetooth.  Cheap.  Personal trainer like encouragement.
[/size]
[size=12pt]
[/size]
[size=12pt]
Con's:  Battery life is a handful of hours.  Acoustically a little too much for me.
[/size]
Pros
:
Build Quality - Features - Deep Bass
Cons
:
Comfort - Driver Flex - Background Hiss
Greetings Head-fi!
Today we're going to be looking at the BLU-200 Bluetooth headset from Brainwavz. This is their third new release of the year, and a follow up to their well-received BLU-100 model released in 2015.  
Outside of listening to the excellent Ausdom M05 on-ear headset and using the g.k. DS3, my experience with Bluetooth products is admittedly pretty limited. This made having the opportunity to try out the BLU-200 all that much more appealing. The technology inherent in making a good sounding wireless earphone is intriguing and with the more widespread use of aptX technology, things have never sounded so good. Luckily most of the Bluetooth products I've tried use aptX, and my HTC One M8 supports it so life is good!  
The Brainwavz Blu-200 can be picked up from
their website
at the time of this review for 54.50 USD, but I've seen it drop as low as 35.00 USD.  
Disclaimer:
The BLU-200 was provided in exchange for a fair and impartial review. The comments and thoughts within this review are my opinions and not representative of Brainwavz or any other physical or spiritual entity on this or any other plain of existence. I am not receiving any monetary or residual compensation for this review.  
A little about me:
As with many who include this section, I'm not claiming to be an audiophile with golden ears. I don't base my opinions on numbers or graphs, though I have to admit that those things are always nice to have around. I still like to think of myself as fairly new to this hobby; green you might say. My gear is basic and my musical tastes somewhat funneled or biased towards EDM, hip hop, classic rock, and various combinations of the three. For the most part I am a very low volume listener (at least compared to my friends, family, and colleagues), only cranking the volume for that special song now and then. In the end, I just love music, earphones, and writing about them.  
Enough of this preamble business. Let's take a look at the BLU-200!  
---
---
Packaging, Accessories, and Features:
The BLU-200 comes in a fairly compact cardboard box, white, with images of the earphones and incline controls on the front and back. On the rear the contents and accessories are outlined:  
- BLU-200 earphones
- hard case (yes, the same excellent case that Brainwavz offers with many of their products)
- ear hooks
- Velcro cable tie
- micro USB charging cable
- 3 pairs of silicone eartips (s/m/l)
- a set of S-400 Comply eartips
- instruction manual and 24 month warranty card (which is just part of the final pages of the manual)
- cable cinch (not actually on the box, but it should be)  
Opening up the box you are immediately greeted by the hard case which contains the BLU-200 and all of it's accessories. The silicone eartips look nice with their yellow core and are of good quality, though they feel a little stiff.  
The joint BLU-100/BLU-200 instructions are particularly handy as the BLU-200 can do a pretty wide variety of things during the 4 hours of playback time you get. For example, you can pair with two devices at once. Cool. Pairing is as easy as you would expect having to do nothing more than turn on the headset and your devices, locate the BLU-200 in the list, and select it. Painless and quick.  
This headset has it's own volume controls which work well with great variability in the available volume levels. You can skip and go back a track but I found this a little cumbersome since you are required to hold down the buttons for three seconds. Doesn't sound like much of an issue but it does get tedious. I found I would bounce between using the in-line controls and just pulling out my phone since neither ended up being more convenient than the other.  
The BLU-200 can also be used for phone calls. You can answer and hang up, reject incoming calls, and redial the last number called. Voice dialing can also be accessed without ever touching your phone. When it comes to microphone performance and quality my benchmark is the setup used on JVC's HA-FRD60/80. They enabled me to carry on a full conversation while walking around in a windstorm without my caller even realizing I was outside. Impressive! While the BLU-200 did a good job, it still fell short of my benchmark. Callers said I sounded reasonably clear, but there was a noticeable hollowing effect that was distracting. On the plus side, the BLU-200 did a good job of blocking outside noises (cars and other annoyances), something I find many inline mics fail to do well.  
Charging is reasonably quick at only two hours. Brainwavz claims 30ft/10m of range which I found to be accurate. I was able to walk around my apartment with the phone in my bedroom without any connection issues, and only if I left my apartment would I start to run into connection issues.  
While the depth of the accessory kit of the BLU-200 isn't anything too unusual, the addition of Comply tips and such a well-rounded feature set is great.  
---
 ​
---
Design, Build Quality, and Comfort:
The BLU-200 features a straightforward barrel-shaped housing. Given this common shape they are easy to slip in without having to worry about cable placement or finagling with finding the proper fit. I had no problems getting a good seal with the stock silicone tips but they quickly became uncomfortable. Whether this was due to the slightly stiff silicone, significant weight of the housings, or both, I don't know. Swapping to some soft JVC or UE600 tips helped out quite a bit.  
The included stabilizing fins, or ear hooks, are a great idea. Unfortunately I wasn't actually able to get a deep enough seal to make them of much use, regardless of the tip size used. If I placed the fins right on the tip of the housing (covering the L/R markings) they could somewhat tuck onto my outer ear but usually ended up slipping out of place. I suspect most people will not have an issue with this but it's worth keeping in the back of you mind if your ears work best with shallow fit earphones.  
Build quality overall I found to be excellent. All of the accessories have a quality feel to them, and the solid metal housings seem bulletproof! The flat cable is very manageable and inclusion of a cinch for cable management is appreciated. Tighten it up and the BLU-200 won't be going anywhere.  
Connection Quality:
The Blu-200 connected strongly and without drops or interruptions. I tested connection strength with the HTC One M8, Motorola Moto G (1st gen), and ol' reliable, the Samsung Nexus S. Background hiss on the other hand was very noticeable on my M8 and Moto G, much less so on ye ol' Nexus. Your mileage may vary.  
---
---
Sound Quality:
So far the BLU-200 has been an enjoyable experience with great build quality and acceptable comfort. How do they sound? Let's just say I'm glad I spent a few extra weeks listening to these before finally deciding to settle down and write my final review. While I didn't keep track of how many hours I've put through them, it's definitely more than 20.  
The BLU-200 makes no effort at trying to be an audiophile-oriented product. They are unabashedly warm and bassy, putting a smile on your face, a bounce in your step, and a few extra beats in your heart-box. To me, this is exactly what a bassy earphone should strive towards.  
I was actually pretty shocked at just how bassy the BLU-200 was, and how deep into the sub-bass regions it could dive. I was expecting them to be very mid-bassy and punchy, rolling off before getting to my favorite part of the sound spectrum. Nope, not the case. Mid-bass is ever-present but not uncomfortably so, and with some much appreciated emphasis placed on that deep, visceral rumble these things can kick!  
Mids are about what I've come to expect from Brainwavz, just a touch more recessed and occasionally interfered with by that delicious bassy goodness. Nothing overly noteworthy here, either good nor bad. Just competent.  
Treble is where the BLU-200 falls short in my opinion. It is well-controlled and not at all splashy which I appreciate, but with the stock tuning is completely overshadowed by the mids and bass, lacking sparkle or any real emphasis. It feels empty and dull. Luckily, this earphone takes equalization pretty well so you can raise the treble or dial back everything else to bring some life to the BLU-200's top end. This was a saving grace because otherwise, I found them very difficult to enjoy for any real length of time, unless I was listening to vocal free music with bass dripping from every corner.  
Normally I find earphones with recessed treble to have a confined soundstage. Not so much with the BLU-200. They won't give you that out-of-head 3D experience, but they sound way more spacious than you would expect. Nicely done Brainwavz!  
---
---
Overall:
The BLU-200 is a well-built, reasonably comfortable, decent sounding earphone with some great features, quality accessories, and solid Bluetooth functionality. They won't win any prizes for outstanding sound quality and could definitely benefit from a more ergonomic redesign, buuuut, for what they are they are a solid pick.  
If Brainwavz were to change anything going forward, I would love to see them move away from a common barrel-shaped housing and try to make something significantly more ergonomic, ala. VSonic VSD2. Surely they could cram those electronics into something wide and flat and work on dispersing that weight more comfortably within your ear.  
Thank you again Pandora and Brainwavz for giving me the chance to review this earphone. I hope you enjoyed this review and thanks for reading!  
- B9Scrambler  
 ​
**Just in case**​
Pros
:
Comfort, Audio Quality, Design, Build Quality
BrainWavz BLU 200 is an Amazing Pair of Bluetooth Earphones for the Price. 
CHECKOUT MY YOUTUBE REVIEW VIDEO TO GET A BETTER IDEA !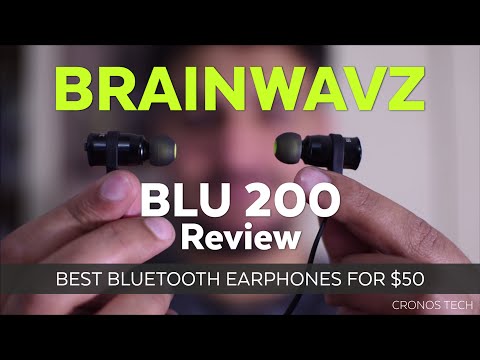 BUILD & DESIGN
They have a Really Great Build Quality, premium Construction. 
The Earphones have a Significant Weight Although It doesn't bother much.   
SOUND QUALITY:
The Sound of the Earphones is good. They are more On the Bassy Side and have a really good base Response. The Mids and Lows are Pretty Clear and the Vocals sound really Good. The bass is Rich and deep and the earphones really perform great in Dubstep, Hip Hop, EDM kind of Music. Overall the Sound Quality Is pretty Impressive  
BATTERY
The Battery is the only minus point i saw, apart from that they're the perfect buy at $50. They will last you around 4+ hours on a charge of an hour.  
PROS :
Comfort
Build Quality
Design
Audio Quality  
Cons:
Battery Life
Overall a Really Good Value For Money Earphones !
Pros
:
Ear 'Fins', BT Connection, Accessories, Value
The BLU-200 from Brainwavz is an update to their first foray into Bluetooth listening, the BLU-100. The 200 features a new tuning, some welcome ergonomic upgrades, and as per usual, a healthy accessory package.
The Breakdown 
Test Songs:
"Light Up the Sky" - The Afters - Light Up the Sky
"Attaboy" - Yo Yo Ma, Stuart Duncan, Edgar Meyer, & Chris Thile - The Goat Rodeo Sessions
"Love Yourself" - Justin Bieber - Purpose
"Washed by the Water" - NEEDTOBREATHE - The Heat
"A Good Name" - Shad - TSOL
Source:
iPhone 5C running Spotify Premium (Streaming 320)
Build/Accessories: From my review of the BLU-100: "Solid. Just like every other piece of Brainwavz gear I've reviewed, there are no obvious shortcomings here. Sturdy housings, cable, and inline control box. The case is the hardside Brainwavz case that has worked really well for all their IEMs and well, that's all I've got to say about that."

Bass: Boom! The low end is quite filled out on these guys. If I remember from the 100, they were a little bass light, so the extra thump is welcome here. I also think that the heavier bass will appeal to most consumers who will use these for low-quaity mp3's at the gym. I will say that from an audiophile's standard though, the bass is very round, and often it bleeds into the midrange. If you want taut bass with excellent midrange clarity, look elsewhere! My boy Shad actually sounds pretty good thanks the junk in the trunk!


Mids: As mentioned previously, the midrange can be drowned out by the low end if you're not careful. When I back the bass off with a little EQ however, the mids reveal themselves to be very clear and slightly recessed. If memory serves, the midrange on the BLU-100 was a little more forward and present, so if you're less of a basshead, that may be the better option for you. Check out my jam from J-Bieb: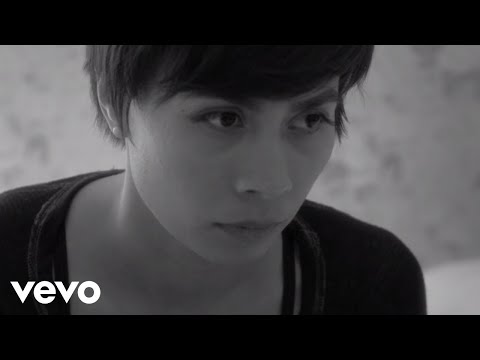 Treble: Very clean and relaxed! A suprising amount of clarity is afforded hear, given the price tag and the fact that these are a wireless headset. Usually details are the first to go when wires are given up. Glad to hear that the upper end from the BLU-100 was retained in this model.

Soundstage/Separation: Nothing to write home about. At this price, one shouldn't expect to have divine instrument placement or separation. It's not bad, but it would be dishonest of me to sing all kinds of praises here.
Design: Also from my BLU-100 experience: "Excellent. Yes the housings are Frankenstein big, but here's the catch: no long cable to run to my DAP! The included tips seal well enough that the housings aren't tempted to fall out, so then all I've got left is roughly a foot of cable hanging down like a necklace and that's all there is to worry about. Inline controls are thoughtfully placed and easy to use. To charge, all I have to do is open the right housings and charging port is inside! An excellent thoughtful design really goes a long way in this case. Using these for the gym or active use is a no-brainer. You'll not have to worry about cable wear again! Oh and BTW, the battery life is pretty dang good. You'd get several workouts in before you'd have to worry about recharging." I also need to mention that there are three small, but meaningful and well thought-out ergonomic improvements:
1. The Velcro cable cinch. Yes I know that's a small thing, but it's appreciated nonetheless.
2. Fins. The 200 comes with a pair of removable rubber ear fins that improve stability for the largish housing. They're very comfortable and easy to position. Well done.
3. Behind-the-neck cinch. Another small fix that is quite helpful. The cable has a small run-through that will let you adjust the cable to be looser or tighter against the neck. Now it doesn't bounce around when I run! 

Conclusion: Overall, the Brainwavz BLU-200 is a very ergonomically engineered Bluetooth headset that should certainly be considered for the active, budget-minded basshead. I wouldn't call it an upgrade over it's predecessor, but more of a side-grade. The 100 had a more balanced signature, while the newer 200 has a deep V-shape with gobs of rumble! Check it out!
***This review unit was provide free of charge by Brainwavz. I'm in no way affiliated with the company or any of it's vendors.***
Pros
:
Easy to setup, Laid back sound, 10 meter range, Ear hooks included
Cons
:
Protrude outside of the ear a ton, Standards tips may not properly seal, Treble roll-off
BRAINWAVZ BLU-200: LONG LASTING WIRELESS COMFORT
SPECS:
http://www.brainwavzaudio.com/products/blu-200-bluetooth-4-0-aptx-earphones
Driver Type                      9.2mm Dynamic
Wireless Range              10 meters   
Cord Length                    N/A
Frequency Response       20 Hz – 20 kHz
Impedance                      16 Ohms
Sensitivity                       96dB / mW @ 1kHz  
WHERE TO BUY / COST:
http://www.brainwavzaudio.com/products/blu-200-bluetooth-4-0-aptx-earphones
$54.50 new  
OVERVIEW
After reviewing the Brainwavz BLU-100 I thought it natural to review the BLU-200 and do a direct comparison. Both utilize a dynamic driver, have a 10 meter wireless range, and come with a slew of tips for added comfort and for obtaining the best seal. "The BLU-200 is designed for mobility, tangle free listening, taking listening to an all new exciting level."
AESTHETICS
Following the design of the BLU-100 the updated 200 alters both the sound signature and physical design. There is now a chamfered driver body and flange-style ear hooks. Also included are an in-line mic and 3-button remote, USB to USB mini charging cable, and carrying case. Everything you need to get listening.
One of my favorite things about the tips are the green inner cores. The added color sets it apart from other IEMs on the market. Brainwavz includes a set of Comply foam tips which I found to be absolutely necessary as the other tips did not supply an adequate seal. The tips are very easy to swap out and the ear hooks add extra support for on-the-move listeners. Three tip sizes should cover just about all listeners so be sure to try a few out to optimize the fit and seal as both will drastically alter the sound quality. You should hear the background noise go to almost complete silence if you have the proper seal.
The ear hooks made the fit more robust when I went running or lifting, but I did find the BLU-200 to stay put without them. Taking a closer look at the driver body you can see the new chamfer which adds comfort over the BLU-100 which has a cylindrical body.
BLU-200 ( top ) , BLU-100 ( bottom )​
 ​
The 200's body  is also longer making it protrude outside the ear more than the 100. They look a little like the neck bolts of Frankenstein's monster, but the extra space houses the batteries and Bluetooth electronics. I found the 10 meter range of the Bluetooth to be accurate and roamed around all rooms of my house with the player in the office and never lost connection. This makes the BLU-200 a great IEM for work because it strips away the cords and provides enough range to actually move around and work.
ACOUSTICS
The BLU-200 keeps the slightly bassy, up-front midrange, and rolled off treble of most of their IEMs. It adds a more laid back sound compared to the sometimes bright BLU-100. For long listening sessions I found the BLU-200 easier on the ears and more even from bass to treble. The BLU-100 has more detail in the midrange so if you enjoy the upper frequencies more than bass go with those instead of the 200.
The sound signature of the 200 is fun and dynamic and kept me in beat while working out. The tinny nature of the 100 is gone and there is plenty of bass rumble in the 200 to wake up a basshead or two.
Tracks like Lindsay Stirling's Elements ( Orchestral Version ) were fun, but due to the lack of detail in the treble made me want a brighter IEM for critical listening. Other tracks like Michael Jackson's The Girl Is Mine from The Essential Michael Jackson album were punchy on the low end, soft throughout as to not cause fatigue or sibilance, and up-front enough to be able to really groove to the vocals and guitar. The laid back sound of the BLU-200 makes it very listenable and I think if there are listeners out there sensitive to treble this IEM is an excellent choice.
The soundstage is excellent for lacking some treble. Neal Davis' track next to You from the Rendezvous album reveals excellent instrument separation and space. Sure the 200 is not going to move all music outside of your head, but if the track adds space the 200 will provide an adequate soundstage and not drown out the special details with bass.
As with all IEMs that come with an in-line mic I ran the 200 through the paces. For this I moved the cables to the front rather than behind my back. This moves the mic much closer to the mouth for added clarity. The mic is clear and up-front sounding without being harsh or too distant and muddy. It is one of the best mics I have tested in any IEM perhaps only bested by the Telos Acoustics Fujisan which is $250. If you need a mic the BLU-200 has you covered!
CONCLUSION
Finding a great exercise IEM is difficult because of the needs of an extra secure fit, awesome seal, and dynamic enough sound signature to get you moving. The BLU-200 by Brainwavz brings excellence into this market without sacrificing build quality or sound clarity. With its ease to connect via Bluetooth, its 10 meter wireless range, and up-front sound signature the 200 is one of the most listener friendly wireless IEMs I have reviewed. I do think that achieving an excellent seal is critical in making the BLU-200 sounds its best so extra time should be taken finding the correct tips. The soft-natured sound signature makes it easy on the ears for hours on end and due to its lack of sibilance and brightness there are no worries about treble fatigue.