At the time this review was written, the Brainwavz BLU-100 was on a pre-order sale for $34.50 USD on MP4Nation. Here is a link to a listing of their product at the time of the review.
http://www.mp4nation.net/brainwavz-blu-100-bluetooth-4-0-aptx-earphones    
Introduction
The opportunity to review the Brainwavz SO IEM was a great experience. I ended the review by contacting their product rep, stating that I would like to work with them again and that if they were happy with my review to please contact me for future opportunities. Tonight I have the privilege of covering Brainwavz' first bluetooth headphone, the BLU-100.    
Disclaimer
I was given an opportunity to demo the Brainwavs BLU-100 in exchange for my honest review and opinion. I am in no way directly affiliated with their company or brand.    
My Background
Please allow me to share a little bit about myself so you can better understand my observations. I AM NOT a numbers and graphs audiophile or sound engineer. Personal audio enthusiast? Absolutely. Headphone junkie? Possibly…  
There's something about quality DAPs, DACs, amplifiers and earphones that intrigues me, ESPECIALLY if they can be had for low prices. I'm a fan of products that give the buyer their money's worth and more. I will buy the $5 to $500 earphone that looks promising, hoping that I can discover models that can compete with the big names in this industry. If you look at my Head-Fi profile you will see that I have purchased MANY different headphones and earphones ranging from from dirt cheap, to hundreds of dollars. I'm on a mission to find gear with a great price to performance ratio, report these findings back to the Head-Fi community, and also help those looking for their next piece of audio gear.  
With this hobby we often times pay a lot of for minor upgrades. One thing I've learned is that price DOES NOT necessarily indicate good build and sound quality. While everyone's tastes are different, I hope to share a depiction of what to expect.  
I can appreciate different builds and sound signatures as long as they have good ergonomics, and their sound is pleasing to the ear. It is my pleasure to share my experiences with audio products and make recommendations based gear I have and use.    
The Package
NOTE:
Because this is a demo unit, the BLU-100 did not come in any retail packaging. I do not have any specific information on what to expect for packaging.    
The BLU-100 came in their customary black and red rectangular clamshell zipper case. The material is a firm molded mesh fabric. The case is exquisite. No complaints in this area.    
Here are the official specs:
Transducers/Drivers: Dynamic, 8mm

Rated Impedance: 30ohms Closed Dynamic

Sensitivity: 110dB at 1mW

Frequency range: 20 ~ 20000Hz

Bluetooth 4.0 (CSRBC8645) with aptX

Operation max distance: 30ft (10m)

Battery: 60mAh - 4hrs playtime, 100hrs standby, 2hrs for full charge (Micro USB charging)

CVC echo and noise cancellation

Supports voice prompt for MMI: Power on - Paring - Connecting - Battery low - Power off

Supports HFP, HSP and A2DP

Supports pairing with two devices at the same time

3 button remote, works with Apple iOS products, Android & Windows phones & PC

1 year warranty


The demo unit came with the following accessories:
1 x Comply foam tips

3 x Pairs of ear tips (S/M/L)

1 x Silicone ear clip

1 x Micro USB cable for charging

1 x Hard carrying case


Housings
The housings of the BLU-100 are made of a painted metal material and silicone/rubber. The housings are on the larger side, but not overly heavy, and I did get a good seal.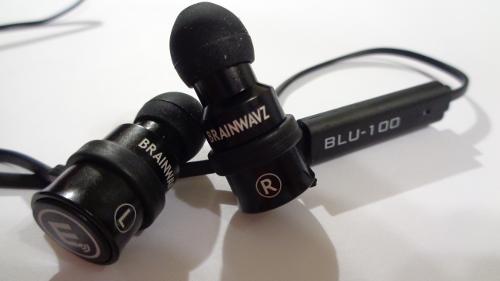 Cable & Strain Reliefs
The cable is flat and approximately 18 inches long. On the right side about 5 inches down from the right channel is a three button remote. The cable is made of a smooth rubber coating and seems plenty durable. Strain reliefs seem adequate for daily use.  
Ergonomics, Fit and Microphonics
The fit on these are a mixed bag in my opinion. I had no problem getting them to fit initially, but due to the large housings I had trouble keeping a seal while moving around. The silicone fins helped secure the housing into place, but even then the silicone would get uncomfortable for me. I also found the cable to be a little bit too long for a wireless device.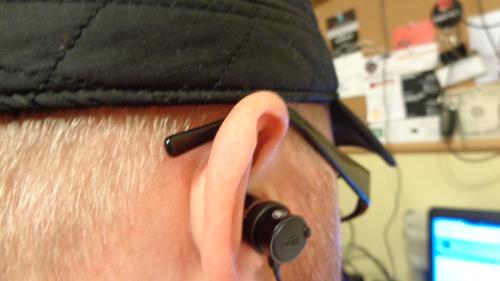 NOTE:
I was able to get them fit securly by using aftermarket ear guides (not included in the package). Using these gave me a great seal and secure fit,  that allowed me to use them while moving around and exercising. The guides counterbalanced the size and clunkiness of the BLU-100 housing.    
Functionality
This device works effectively and efficiently. There were no major hiccups or bugs to report while using it.  
The unit charges via USB. It has a tab on the right housing that opens up to the charging port. The provided USB charging cable plugs into any computer USB port, or be plugged into a USB wall charger. Normal charging time was around 1 1/2 to 2 hours. When testing, the battery on the BLU-100 died after a little over 4 hours of continuous streaming music. The charging indicator is a single white light that emits from the inline remote. It will shine while charging, and shut off when charging is complete.  
The device powers on when holding the center button on the inline remote. Continuing to hold the button after the device powers on will put the device in pairing mode. The connection is made by finding it in the settings menu of bluetooth device you are going to use as a source. Holding the center button after the power has been turned on will turn the power off. Double tapping the center button while connected to my LG-G3 phone, they would call the last number on my phone log. I wasn't a fan of this and accidently called people a few times when I thought I was turning the earphones off. When using it with music applications I could play and pause tracks by single clicking the center button.  
The "+" and "-" buttons controlled volume in both phone and music mode. In music mode, I could skip tracks by holding the "+" button and restart a track by holding the "-" button. The buttons responded great and without any glitches.  
NOTE:
All buttons and functions are acknowledged with audio that is either a spoken command or audio tone (beeping noise) that plays through the earphones themselves. Wearing them while using the remote makes the earphones easier and more enjoyable to
use.  
The range on these for me were apporximately 25 feet from the souce. After that distance the headset began to break up. The microphone worked well, and people I asked in conversation said that they initially couldn't tell I was on a headset when we were chatting, and on a scale from 1-5 in terms of how clear I sounded on the phone, most gave it a 4 rating. Pretty good for a bluetooth headset!    
Sound Review & Materials
I primarily did my demo with my LG-G3 smartphone with the latest firmware. For desktop use I used my Toshiba chromebook. I used Google Music downloaded in its highest download quality (320 KBPS) and I also streamed FLAC via Tidal streaming service. I make sure that anything I demo I have had enough time with to feel confident in my impressions and opinions.  
I used my usual same songs for testing gear:
"Limit to your love" by James Blake
"Madness" by Muse
"Get lucky" by Daft Punk
"Some nights" by Fun
"The soundmaker" by Rodrigo y Gabriela
"Bassically" by Tei Shi
"Skinny Love" performed by Birdie
"One" by Ed Sheeran
"Outlands" from the Tron Legacy Soundtrack
"Sultans of swing" by Dire Straits
"Ten thousand fists" by Disturbed  
Note: Other tracks were used, but the listed songs were primarily used to asses and break down the gear's response.    
Sound Signature
The BLU-100 sounded very good to my ears for the most part. The sound would be neutral to my ear if not for what appeared to be a mid-bass hump that made things sound a bit unnatural in male vocals, bass guitars, and some electric and acoustic guitars. I really enjoy them with female vocals, pop, acoustic, hip-hop and EDM, Theu seem to struggle with rock and alternative music. I got a slight hiss when playing music, and the occasional digital hiccup also occurred.  
Bass
Bass on these peaks at around 200Hz to my ears, and rolls off to around 20Hz. It does work well with the earphone's overall signature. I would like a little more sub layer and less mid-bass, but with the tuning as it is, I find it tolerable and enjoyable.    
Midrange
Lower midrange takes the center stage on the BLU-100. It has nice texture at this range, at the expense of things sounding slightly unnatural to my ears. The upper mids seem polite and I really like the air between sounds in upper midrange frequencies. This probably the part of the sound I like the best. They are really well done here, and has a lot to do with why I like them with female vocals.    
Treble
Treble is not extended and what is there is crisp. During complex musical passages the driver did begin to smear sounds in treble frequencies. With acoustic music, hip hop, pop, and EDM the treble response was pretty spot on for these genres.    
Soundstage and Imaging
The soundstage takes a hit from the mid-bump and rolled off sub-bass. It does display adequate depth with bassy tracks, but tracks without a large amount of bass sound like they could use a low end bump. I would say though for a bluetooth IEM they are really good on a whole! At the price they are selling for, this has got to be about as good of an IEM as you can get at the current asking price.    
Comparisons
Meelectronics Sport-Fi X7 ($80 to $100 USD on many sites)
The Sport-Fi X7 was one of the best fitting IEMs I have ever had, so they get an advantage over the BLU-100 in this aspect. I will say, the aftermarket ear guides application really improved initial fit issues I experienced. Please also note that the X7 is nearly twice as expensive.  
Both models had about the same battery life. Charge times were also similar. The mic on the BLU-100 seemed to work better based on my testing.  
Both models basically operated the same in terms of the remote.  
Sound wise, the bass response was the opposite on these. The X7 had a very boosted sub bass layer that could get "boomy" sounding with some tracks. However, vocals sounded more natural all around. Male vocals were better with the X7, while female vocals sounded better and more holographic on the BLU-100. Bass heavy tracks suffered from too much boom with the X7, and just the opposite the BLU-100 sounded slightly thin with bass light stuff. It really is a toss up with these in term of what one you would like more, and comes down to signature preference. I prefer the X7 in terms of ergonomics and sound signature, but when you weigh in the price into it you can't go wrong with these. They are definitely a better deal in terms of price.    
Conclusion
The BLU-100 is a great first bluetooth earphone from Brainwavs that offers a phenomenal amount of technology at an extraordinary price. Nobody who buys these will feel like they didn't get their money's worth that's for sure! The BLU-100 takes the budget-fi world to another level with a package that will turn heads, and not empty your wallets.  
Thanks for reading and happy listening!