There's no doubt about it, the Bluetooth TWS headphone market is exploding - just about every company that's even slightly involved with audio is now selling at least one set of true wireless headphones. Axloie have several different models on the market. The AXLOIE Goin are designed for sports use thanks to their water resistance and the soft ear hooks which help keep the headphones in place whilst you're wallowing around like an epileptic doing your keep fit stuff.
These types of headphones do offer a number of advantages over conventional ones though. Firstly, they're not too expensive - this is ideal for use during activities which could potentially destroy your headphones. Secondly, the additional bass boost can be very useful when using them in noisy environments. Lastly, the water resistance is definitely useful if your a bit of a sweaty person. I can't help thinking that the more expensive wireless sports earbuds such as the PowerBeats Pro are simply too expensive for this type of use.
Design
The soft earhooks really do help maintain a secure connection. Putting them on is easy - for reasons of ergonomics and practicability, the earbuds are actually mirrored when stored in the charging case - left does to the right and the right goes to the left. You quickly get used to it though and it's not a problem. The buds fit quite nicely in the case with a magnetic snap and indicator lights clearly show you when the earbuds are charging. There shouldn't be any danger of them working loose whilst in the case and failing to charge Axloie headphones are apparently designed by an Industrial Design Master who has won multiple awards including the Red Dot Design Award and the Japan Good Design Award.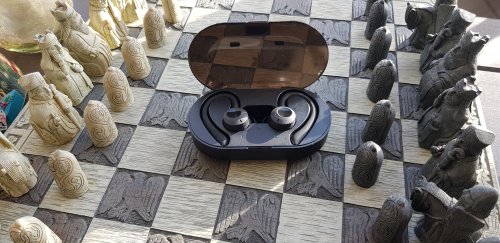 The case is somewhat larger than those used on other true wireless headphones however this has to be this way in order to accommodate the earhooks. Whilst the case is still pocketable, it does feel slightly flimsy - ideally Axloie could have used slightly thicker plastics here. The case is designed to recharge the buds up to 4 times which should easily give you more than 20 hours overall usage before you have to think about charging them up again. Unfortunately the connector on the case is USB Type B but I've personally never really found that to be a problem. I suspect it's going to be many years before all my items that charge are USB Type C.
The Axloie Goin come supplied with an additional two pairs of tips - small and large so you shouldn't have any problems getting the right fit and the perfect seal. The nozzles are fairly narrow so you can get a fairly deep insertion depth - this is something I always welcome in true wireless earbuds as you tend to move around a lot more when wearing them. One really nice touch is that you have access to all necessary controls from the earbuds themselves - including volume. There's no audible indication of volume change (apart from the obvious change in volume) which can make you make them louder than you meant to - this isn't too bad though and it's always a welcome feature anyway. The buttons require a degree of pressure but I would still prefer them to touch sensitive controls myself. I think the only touch-sensitive wireless headphones that work really well for this are the Sony WF1000XM3's, the Apple Airpods Pro (which did take some getting used to) and Axloie's own Magic TWS.
Bluetooth/Phone Performance
Callers reported 8 out of 10 for call quality. I certainly could hear them without any problems and the callers came through both ears (which is always welcome). Range wasn't too bad - the Goin's just about passed the upstairs toilet test (just a couple of dropouts) and you certainly shouldn't experience any problems during normal usage. Although they couldn't match the Airpods for wireless performance, in all fairness they only cost a fraction of the price of the Airpods.
Using the Galaxy Note 8, the headphones connected using the AAC bluetooth codec - whilst I would have preferred APTX it's certainly better than plain old SBC. Like with many of the TWS headphones out there now, the Goin's went into pairing mode automatically when first powered on and paired very quickly to the phone afterwards.
Audio Performance
At all points in this review you have to keep in mind their price - these are not expensive headphones and it's certainly not fair to compare them with models which cost considerably more.
Do they sound better than Apple's Airpods? Well….. Yes! In all fairness, Apple's Airpods do sound great in my opinion. The Axloie's definitely offer a deeper bass and better isolation. Whilst they might not be quite as 'clever' as the Airpods, the controls are certainly more positive - Apple's touch controls only work if you don't put foam on them and tend to work best with IOS devices.
Bass
Bass is definitely boosted. Whilst I don't particularly like this sound characteristic when I'm listening at home, it's advantageous when out and about as bass tends to suffer when subjected to loud ambient noise. The bass works out really quite nicely when it comes to listening at lower volumes though.
Mids
Recessed slightly. Not the most detailed but also not fatiguing. Unfortunately this lack of detail does hinder the listening experience when it comes to listening at lower volumes.
Highs
Again, slightly recessed but not tiring. Again, like with the mids, the top end tends to lack detail. Again, as with the mids, this lack of fine detail effects the music when listening at lower volumes.
Conclusion
I personally found that when listening at lower volumes, the enhanced bass works more appropriately and, as an added bonus, these headphones don't stick out and you can easily wear them whilst lying on your side in bed. With this in mind I think these make excellent bedtime headphones. Not the finest sounding headphones on the market but a solid set nonetheless. The ear hooks definitely help maintain a nice stable fit when moving around and I had no problems getting them in and out of the case - this isn't something I can say about the new Apple Airpod Pros.
Although lacking in fine detail I personally found these headphones to be quite enjoyable. They have a couple of things which I really to see in a portable headphone. Stable fit, acceptable battery life, nice positive controls - including remote volume which is always welcome and a sound characteristic which is utterly non-fatiguing. For their price you could certainly do worse.
For more information, please visit:
Official website:
https://www.axloie.com/
AXLOIE Amazon store:
https://www.amazon.com/axloie
Facebook:
https://www.facebook.com/Axloie/
Instagram:
https://www.instagram.com/axloie/
Twitter:
https://twitter.com/AxloieOfficial
Youtube:
https://www.youtube.com/channel/UCHNXPsMV16pXGr-1zwYaF2A
1) AXLOIE Goin Earhook headphones:
https://www.axloie.com/GoinSeries/index.html
2) AXLOIE Goin Earhook headphones Amazon US:
https://www.amazon.com/dp/B07Y7SPHLB/
3) AXLOIE Goin Earhook headphones Amazon UK:
https://www.amazon.co.uk/dp/B07Y7SPHLB/
4) AXLOIE Goin Earhook headphones Amazon DE:
https://www.amazon.de/dp/B07Y7SPHLB/