In the past the gym tends to be the graveyard for many of my earphones. Its usually due to the cable being tugged, getting snagged onto gym equipments or the headphone jack getting bent in all kinds of different directions.
Needless to say, I would like to have more freedom with my movements in the gym, and not worry about my yanking earphones or my smartphone on the treadmill (and falling to its death)  =(  
So to my surprise, the Axgio Sprints has become my faithful companion when I'm out for run, pumping some iron in the gym or at my local park doing some shoot drills.  It also helps that their affordable, so replacing them doesn't become as sob-fest.  
Prior to this review, I had not heard of Axgio before, so needless to say, I sought the help of the internet and this was what I was able find out about them.
Axgio is a company stationed at ShenZhen, in China, that specialize in making Bluetooth Accessories. As far as I know this was their first attempt at the making a Bluetooth sport earphone.  Without giving too much away, I think Axgio has done a fantastic job with their first effort!  
Disclaimer #1
– I would like to thank Michael for sending a pair of the Axgio Sprint out for review. I am not affiliated with Axigio in anyway, so below is my unedited honest review.
Disclaimer #2
- Bear in mind the score given, is with the price of the earphones in mind ($39.99) as with all my other previous reviews.
If you would like to watch a video review instead click below: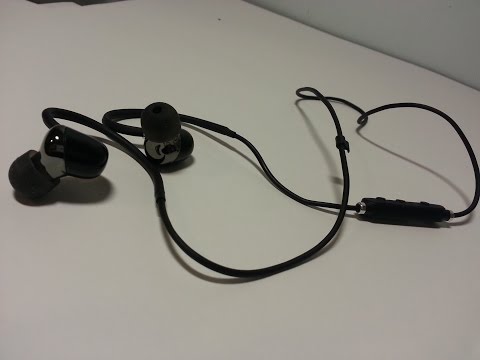 Accessories
:  Quite sparse in some cases, but nice in terms of eartip selections:
3 sets of silicone eartips varying sizes
3 sets of Foam eartips of varying sizes
Micro USB charging cable
I would wish there was a small carrying pouch to store them in. But I think that might be asking a bit much for a $39.99 bluetooth earphone
Overall: 6/10
Features: 
1) Well, it's a Bluetooth earphone to begin with, so you don't need to be tethered to your device or risk tugging or snagging the cable on furniture and such. Movements around  the house is a lot more fluid with the Sprints, as they have Bluetooth range of about 10m. I was able to use to the Sprints with my smartphone in my room upstairs with the door closed, while being downstairs vacuuming my carpet after my brother's husky's daily shed-fest I did notice a occasional dropouts when outside, but not glaring by any means)
2) Pairing is a breeze as you just hold the Circular button until a red light flashes intermittently.
3) Good Battery life:  Via micro USB in the remote
Charging Time: 2 Hrs
Music time: 8 Hr
Talk Time: 8 Hr
4) Remote function (for skip, play, volume controls) and accepting and rejecting calls. The remote layout is a bit odd, so it does require a bit getting use to but otherwise no complaints
5) IPX4 sweat-resistant- perfect for gym workouts or for those with heavy daily perspiration.
Overall: 10/10 
Build Quality:
As a pair of sport earphones, they need to be lightweight especially when making drastic changes in direction, and vigorous movement. However, they also need to be durable enough, especially when your busy focusing on making that last rep, and not worrying about them crumbling under pressure.  Given these reasons, the Sprints are well made despite their all plastic construction. They are also ipx4, which makes the Sprint water and sweat resistant, that can withstand getting drenched in the gym.  The cable is short enough to be easily wrapped around  the neck, along with a cable cinch to help further manage the cable.
Overall: 7/10
Comfort:
The housing is quite large, its comparable with the Audio Technica IM70.  Its quite smooth and ergonomic, but its rather shallow fitting, due to the large housing and the short nozzle. However I think this can benefit the Sprint, so they don't feel uncomfortable, without causing irritation to your ear canal.
Overall: 8/10
Isolation:  It's a completely sealed design, making the Sprint a great option the average consumer, for using on the subway and in transit.
Overall: 8.5/10
Sound Quality:
I was expecting a massively bass sound given that general stereotype surrounding Bluetooth and sport head/earphones.  
That notion certainly went out the window!  The Sprint is surprisingly fairly balanced. They do a small emphasis in the mid to upper bass, but nothing overblown but I actually found them slightly mid-centric.  
Bass:
The bass moderately warm with a good punch without sounding bloated or loose.  The bass here is well versed with many different genres, so the Sprint's can also be a good all arounder, as a dynamic sounding everyday earphone. The bass here isn't the most detailed or have the greatest extension (its good).  Given the low price for being a Bluetooth earphone, I'm quite pleased.  
Midrange:
Quite smooth and surprisingly clear. I was expecting a very scooped midrange, but I quite like the depth in vocals for both male and female vocals. The lower mid emphasis, gives male vocals some nice added thickness. The upper mids is reduced with some veiling to female vocals but nothing distracting, and this tuning prevents any annoyance from thinner female vocals.  
Treble:
Good but not great extension, but very smooth. Cymbals have a nice energy to them without sound exaggerated.  It suffers only very mildly from a slightly artificial treble, nicely refined for the price.    
In terms of sound, the Sprint is nothing ground breaking, it's a pleasing, yet balanced sound that took me by surprise.  I was expecting an overly blown mess, instead i found myself quite gravitated towards  the Sprint. It definitely punches above its budget as a sport Bluetooth earphone.  
Overall: 9/10 
* relative to the price and being a Bluetooth earphone* In my opinion, the Sprints has overachieve for their price, compared to both wireless and WIRED peers  
In summary…..  
I find myself using the Axgio Sprints outside of the gym as well, because they are very comfortable when sleeping on my side, and they are lightweight enough to be an easy-grab and go option when I'm in a hurry. Of course having a nicely balanced and coherent sound is just icing on the cake! Highly Recommended!  
Final Rating:  48.5/60= 81%