"Knight in Not-so-Shiny Ultra High-Strength Polypropylene Copolymer Resin"
Pros
:
* Included Omega headphone stand
* IP67 Rated Protection
* Airplane/TSA-friendly design
* Security features
* Ergonomics
* Ability to accommodate most headphones
Cons
:
* May need to remove Omega headphone stand to fit some headphones
* Incompatible with Abyss AB-1266 (but what is)
Intro / CanJam
In the headphone hobby, we are always seeking to try the next best thing in order to find the Goldilocks sound we perpetually search. In this pursuit, we are required to take our personal headphones out into the community either to try them with new source gear or compare to other headphones. This was my exact predicament this year at CanJam SoCal 2021. I wanted to bring my Arya V2 to compare the new V3. The only problem was, in it's manufactured configuration, the Arya does not come with a case for travel. I would have to take my headphone around exposed and unprotected to any potential harm. Enter Dekoni Audio.
For transparency, Dekoni Audio provided this unit for review. I am not being paid or coached to provide a favorable review. All thoughts and opinions in this review are my own.
Dekoni / SKB
Dekoni Audio is a purveyor of fine audio products, most-notably their wide selection of high-quality earpads designed to fit several different headphones. Among their products are two headphone case products, the Savior V2 and Hero. This review will focus on the Hero; their heavy-duty travel case created in collaboration with SKB Cases.
Based out of Orange, CA, SKB Cases is an industry veteran in the making of transport cases. They specialize in transport cases for pro audio, sports (bow/rifling), and even military applications. Suffice to say, they have the experience to craft a product effective in protection. SKB's offices are are located only 11 mi from Irvine, where CanJam SoCal was held. I definitely have a local pride in SKB Cases as products, like their Hero, were conceptualized here in SoCal.
Features and Specs
TSA approved latches
Trigger release latch system
Automatic pressure valve
Snap-down rubber grip handle
IP67 water resistance
Reinforced holes for padlocks (x2)
High-density foam padding for protection inside
Soft eggshell foam padding inside case lid
Removable Omega stand
Dimensions 14 9/16 x 11 9/16 x 7 5/16 in.
Weight 5.2 lbs
Hero is based on SKB's 3i 1309-6, which typically comes with cubed foam lining, but the Dekoni collaboration comes with a killer feature exclusive to Hero, a removable Omega headphone stand. This is a perfect addition that any headphone hobbyist would truly enjoy, especially in environments that don't offer any soft surfaces to place your headphone on. For example, the desk in my hotel room at the Marriott had a granite surface that I wouldn't want to place my headphones on. Thankfully the Omega stand comes in clutch for this type of scenario.
A notable feature among those listed above, are the TSA approved latches and automatic pressure valve, which make it safe for airplane travel. No longer would you be required to place the case in a suitcase or luggage due to the latches. You could simply stow it overhead or under your seat. The automatic pressure valve will regulate the ambient pressure in the case. This should alleviate any concern about any pressure-related damage to your headphones.
Living with Hero
Returning back to CanJam, it was now the moment of truth to see if Hero could accommodate the taller stature of the Arya. Thankfully, it works! The case had
just
enough headband space. No cuts to the foam are necessary to accommodate the Arya.
Lugging the Hero around for the weekend, I could get a sense for the ergonomics. With the handle disengaged from the locked position, the handle has some play which help reduce arm fatigue when walking with it. The comfort is helped by the rubberized material on the handle and it's rounded shape. Hero touts fantastic ergonomics.
ZMF Verite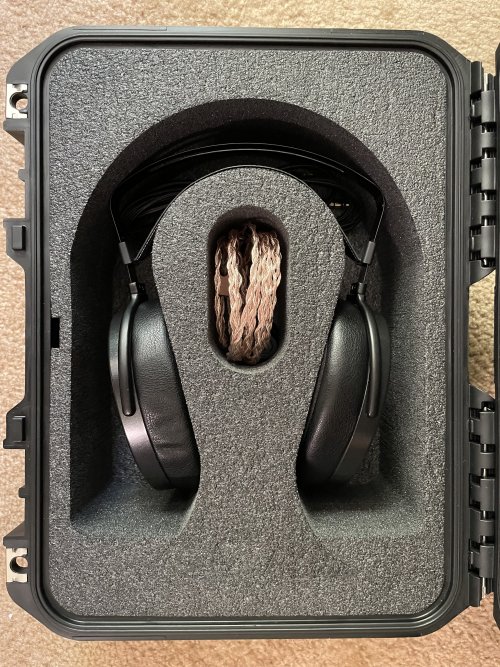 Hifiman Arya with two cables
At home, I was able to try fitting different headphones in the case. All of my large headphones fit, but with a caveat for one. The LCD-GX was only able to fit if the omega stand was removed. Although the space inside the Hero is larger than Audeze's Premium case, the omega stand required the GX's cups to be pulled apart, thus making the GX's overall profile wider. This extra wide profile just barely prevented the headphone from fitting in the case. In order to fit the GX and the omega stand together, one may be able to cut out a small space from the foam in order to fit that last bit of the yokes that's causing the obstruction. Of note are pictures in a user review on Dekoni's website that shows an LCD-XC with the old Audeze-style headband that seems to fit perfectly in the case with the stand.
LCD-GX with extended rods at mid height adjustment
LCD-GX with extended rods at max height adjustment
LCD-GX without Omega Headphone Stand
Save for an Abyss AB-1266, Hero can fit virtually any headphone.
Comparisons
I got to make better comparisons with all the cases I own once I was home. For comparison to Hero are the
Audeze LCD Premium Travel Case
and
ZMF Seahorse Headphone Case
. I've obtained the following measurements using the only measurement device available to me, my Fibit Aria bathroom scale. I took measurements of myself, then myself holding each case, repeated measurements three times over, then calculated the averages for each.
Measurement Averages
Me: 169.5, 169.4, 169.2 = 169.4 lbs
ZMF: 173.5, 173.4, 173.3 = 173.4 lbs
Audeze: 174.0, 173.9, 173.7 = 173.9 lbs
Hero: 174.6, 174.5, 174.8 = 174.6 lbs
Weight (Approximate)
ZMF: 4.0 lbs
Audeze: 4.5 lbs
Hero: 5.2 lbs
Dimensions (L x W x H)
ZMF: 13 9/16 x 10 6/16 x 6 4/16 in.
Audeze: 14 4/16 x 11 15/16 x 6 10/16 in.
Hero: 14 9/16 x 11 9/16 x 7 5/16 in.
From heaviest to lightest, Hero is definitely the heaviest of the three cases for comparison at about 5.2 lbs. It's followed by Audeze's case at roughly 4.5 lbs, then ZMF's Seahorse case at about 4 lbs. There's about a 1.2 lb difference between Hero and ZMF, but the Hero was perceptually more comfortable for travel due to the more ergonomic handle. It's larger overall size might make it slightly more difficult to stow away. I personally didn't have any issues placing Hero with my luggage and ZMF case in my trunk with its measly 25.7 ft³ of space.
Latches are a notable topic to examine as well. The following ranking is in order of most secure to least secure for latches: ZMF, Hero, then Audeze. ZMF have latches that require a turn of the locking mechanism in order to lift the latches. Hero comes with a trigger mechanism that
needs
to be engaged to lift the latches, otherwise the latches will not budge. Audeze's latches, on the other hand, can easily be lifted as it's trigger mechanism encompasses the entire lower part of the latch. This latch has the greatest potential to snag onto something and open easily, not that there's really a great possibility of it happening in the first place. With that being said, all the cases compared here all seem secure overall and I would feel comfortable traveling with any of them.
Summary
In collaboration with industry veterans SKB, Dekoni has created a winning product in their Hero as it offers optimal protection and it's exclusive creature-comfort feature, the Omega headphone stand. Normal retail price of $199.99, but can currently be found on Dekoni's website for $149.99. It may be found for $139.99 on Drop. This package offers an excellent value for the headphone enthusiast seeking the utmost protection and convenience.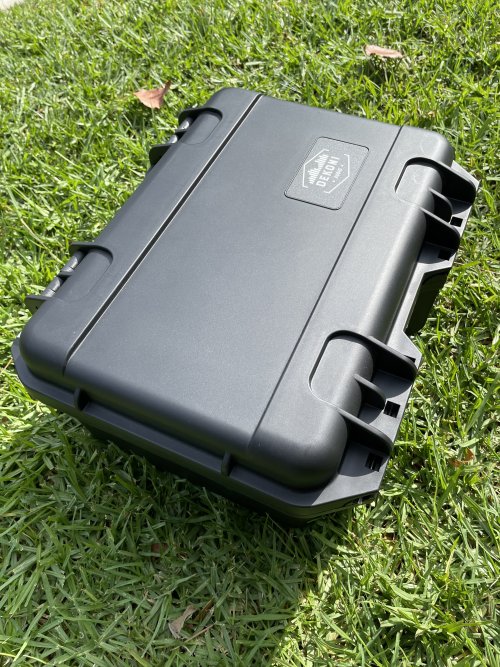 Links
https://dekoniaudio.com/product/dekoni-audio-x-skb-headphone-hero-heavy-duty-travel-case/
https://drop.com/talk/94213/dekoni-hero-case
SKBcases.com
Last edited: