Ausdom wouldn't be the first company that would come into my mind when I'm looking for a Bluetooth headphone.  However, lets put it out there that Ausdom has been in the Bluetooth business for quite a while now, and it was just a matter of time until they finally churned out a pair of headphones.
Enter the M06, Ausdom's answer to bringing Bluetooth connectivity to the larger general public.  One of the attractive aspects is the fact that its on sale now for $30 , which is very affordable for a full size headphone, period. However, The M06 is advertised as Bluetooth headphone first and foremost. That's some solid value right there!  
View attachment
View attachment
View attachment
View attachment
I want to thank Ausdom and Top Gears for sending a pair of these Ausdom M06 Bluetooth Headphones out for review. Below is a link to my full review, please like, comment, share and subscribe to my video and channel for more reviews and updates.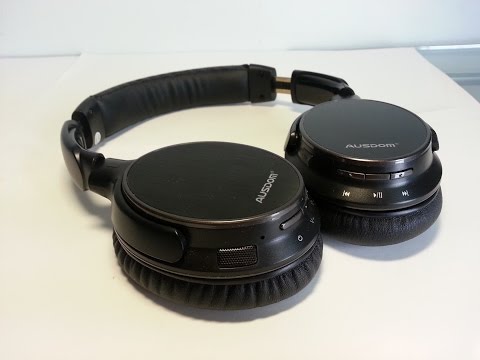 Accessories:
Rather Sparse:
Micro USB Charging cable
3.5mm Cable (for wired listening) (i would have liked two right angled ends due to the odd placement where the cable goes into the left earcup)
Overall:
 6/10 (a small carrying pouch would've been nice)  
View attachment
View attachment
Features:
First and foremost, the M06s are a pair of Bluetooth headphones, with numerous buttons along the underside of each earcup (power on/ff/pairing, play/pause, rewind, fast forward, volume up, down), with call functionalities as well. They utilize Bluetooth 3.0. It also boasts a range of 10m or about 30feet, which I found to be a bit of an understatement. I was able to use them well over 15m or so away from my device, and this was through walls and from one side of the house to another.  It's Bluetooth connectivity was impressive to say the least, especially given the price, and I rarely experienced any drop-outs during my time with the M06s.  Pairing them with either my macbook, Samsung s3, ipod touch was a breeze, though I did notice a slight typo in the instruction manual (as you have to hold the power button for about 3 second after the intitial voice prompt telling you the headphones were on.  
A nice added addition that Ausdom had equipped is wired functionality, providing a good backup (or intended usage) for when the battery is exhausted. The battery was rated to have about 20 hours of talk/play time and about 250 hours on standby via micro usb.   
Also, the headphones fold down flat for easy storage and transport.
Overall:
10/10 (my only point of feedback would be to include a dual L shape 3.5mm aux cable, given the slightly awkward placement on the left earcup.  
View attachment
View attachment
View attachment
View attachment
View attachment
Build Quality:
Now lets start off by saying, this the M06 feels about right as a $50 or so headphone.  The headphone is mostly an entirely plastic affair, with some metal parts (the headband) along with the faceplate of the earcups for added reinforcement.  
However, because of the use of plastic, the build quality doesn't convey the same premium feeling as other more expensive Bluetooth headphones from larger companies,  so I can see some sacrifices being made.  
View attachment
View attachment
View attachment
View attachment
Overall:
 7/10  
Comfort:
I found the M06s to be a very comfortable pair of headphones.  First off, the M06s are very lightweight applying very light pressure on my headphone, providing a nice comfortable fit.  The swivel of the earcups is a bit stiff and requires some manual adjustment, for optimal fit.  
The oval earpads envelope my ears. However, they are bit small for a full size headphone, those with especially large ears should take a note of this when purchasing the M06s.  
The headbands and earpads, have ample padding and provide a good enough depth so that my ears don't touch the baffle of the drivers.  
View attachment
View attachment
View attachment
View attachment
Overall:
 8/10  
Isolation:
I found the isolation to be a bit subpar for a full size headphone. I wouldn't recommend them for someone requiring the isolation needed for commuting and traveling purposes. Rather, I felt the isolation to be adequate for general walking/ biking around, or when taking calls around the home office.  
View attachment
View attachment
Overall:
 6/10  
Sound quality:
  I will separate this section based on its performance wired and wireless/ bluetooth
The M06s have a warm, smooth signature. Its not going to impress you with the plentiful details, a sparkly treble or a chest thumping bass.  
Bass:
The M06s have a rich abeit soft and a bit boomy bass, which makes the M06 a smooth and relaxing, listen.  It' missing a bit of extension in the subbass though, so its lacking the visceral slam needed for bassier tracks. However, I wouldn't consider the bass sloppy, just an easy listening tuning.  
Midrange:
The midrange is warm but slightly recessed and abeit lacking in detail. This makes the tuning devoid of sharp or piercing vocals. This makes the M06s, an easy choice for someone that will be streaming or listening to lower quality recordings (phone video recordings etc).  
Treble:
Its rolled off in the treble, making the M06s a somewhat veiled sounding, however this was done to soften the blow of harsh recordings, making the M06s a very safe choice and probably a fan favorite in the general consumer market.  
Difference between wired and wireless:
I found the wireless to take a greater bump in the bass providing for even richer sound. I found the bass be a bit bloated (for my preferences anyway), and preferred the sound, wired. However, I felt more liberated without the wire, so there are arguments to be had in when using in either configuration.
Overall:
 7/10  
In conclusion
The M06 is not for the detail freak, or someone craving a neutral balance, but its intended to be a comfortable easy to use Bluetooth headphone. In that aspect, I think the M06 has succeeded in accomplishing that goal, especially at the current affordable price.  
Overall: 44/60= 73%
Possible areas of improvement:
The inclusion of a dual right angle jack (on both ends) to compensate for the placement of the headphone jack on the left earcup
The smoother swivel of the earcups (when laying them flat).