About the Company
1. About aune
aune, as Wuhan Ao Lai Er Technology Co, Ltd.'s Hi-Fi brand, has been devoted to developing desktop and portable audio products such as DACs, digital transports, music players, headphone amplifiers, etc.
Founded in 2004, Wuhan Ao Lai Er Technology Co, Ltd. has amassed a wealth of experience from extensive research and development, all of which has resulted in products that have been well received globally.
The six co-founders, in addition to being diehard audio fans, are also experts in various audio related fields, such as hardware design, electro-acoustics design, programming, speaker design and tuning.
With our pursuit of superb sound and great user experience, we are striving to make aune a world-class brand.
2. Appearance & Hardware Design
Wuhan Ao Lai Er Technology CO., LTD. is a technology-focused company with a strong commitment to innovation and quality. It is with that vision that we have invested in a domestic first-class laboratory, as well as a great number of professional audio instruments.
We hold ourselves to a very high standard when designing each and every product and it is driven by an absolutely scientific and rigorous attitude.
We have our own industrial design team and have established our own design style. The appearance is designed with a focus on technical aesthetics and the user experience; the hardware design is performance & specs-oriented.
3. Mass Production Consistency
To maintain a high level of consistency in mass production, after finalizing the hardware design with a strong focus on sound quality and tuning, we conduct the trial production and then determine and finalize each component (such as PCB, solder paste, etc.) Therefore, each product leaving the factory is certain to meet our rigorous requirements of specifications and tuning. We want to make our users feel our devotion and truly enjoy our products.
4. Logo Design Concept
The logo of aune was inspired by the concept of Yin-Yang – the Chinese philosophy of balance. The rounded design of the letters conveys a message of peace and gentleness. The openings on four sides indicate inclusiveness.
Prelude
I would like to thank aune audio for sending us the X8 for review. Rest assured that this review is written as honestly and objectively as possible.
Equipments Used
aune X8
Sennheiser HD 800S
Etymotic ER3Xr
IFI Ican SE
JDS Labs Atom
Recordings
Nobuo Uematsu – Final Fantasy: Distant Worlds
Dave Matthews Band – Under the Table and Dreaming (Expanded Version)
The Beatles – Love
Maroon 5 – 1.22.03 Acoustic
Reese Lansangan – Arigato Internet
Hale – This is Hale
Apartel – Full Flood
Packaging


The aune X8 is enclosed in a box that feels and looks premium. Definitely a good start. Inside we have the X8 itself, covered by a white sheath of plastic. Alongside it is a cardboard box containing the power adaptor, the USB cable, manuals, allen wrench, a small plastic case which contains the op amps (NJM5532, OPA2604, LME49720, MUSES01) and an op-amp extractor.
Specification
Input
Maximum bit depth
USB: 32bit
COAX: 24bit
OPT: 24bit
Line Output
RCA
Output level: 2.0 Vrms
Frequency response (20Hz-20kHz): ±0.2 dB
SNR: 117 dB
THD+N: 0.0006 %
Design and Build Quality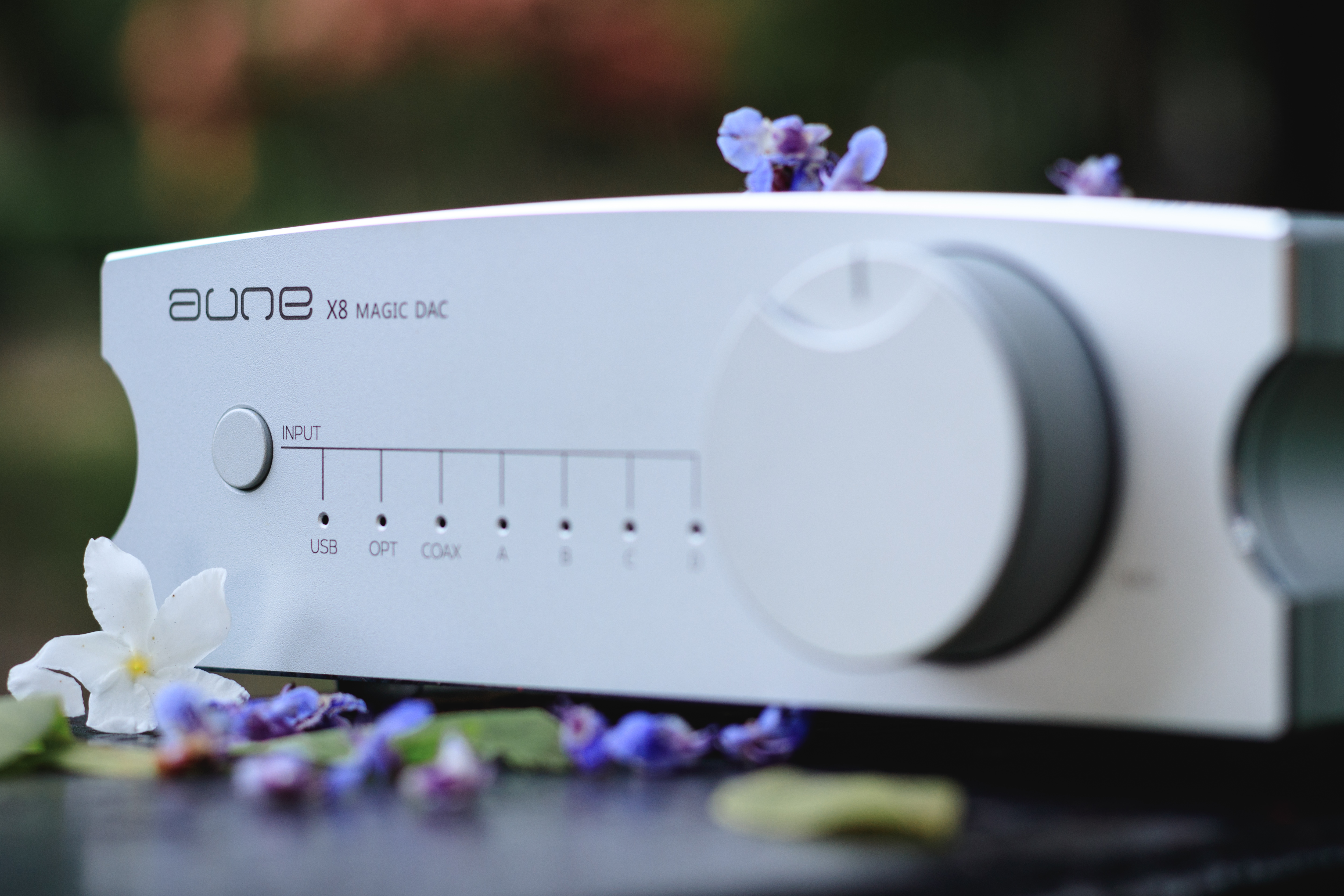 The X8 is a marvel to look at. A far cry from the pedestrian and industrial design of DACs we've been accustomed to. It is housed in a metal chassis, which is gently arched, with flawless curves on the sides. It measures 171mm x 45mm x 141mm and weights approximately at 3 kilograms. It is coated in matte silver (a black variant is also available) with a subtle gloss around the edges, that adds to a more distinctive look. The craftsmanship is excellent, it feels solid and sturdy, exuding a feeling that the product is thoroughly planned and is not rushed into the market.
Connectivity
At front we have the selection button, the indicator lights and the volume knob which rolls out smoothly. Going to the back, we have the pre-amp output and line output RCAs, Coaxial and Optical input, USB input, power input and the power switch. At the bottom we have the op-amp slot, in case you want to flavor up the sound into your liking. It is secured by two allen screws; which can be accessed by the allen wrench provided.
DAC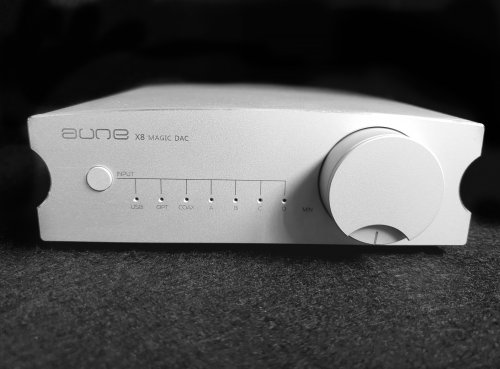 The X8 uses aune's own self developed FPGA, which is a rather different DAC technology, as only a handful of manufacturers utilize FPGA. (for reference, FPGA is also the same tech that is utilized by Chord from the Mojo up to the DAVE). This is an interesting approach compared to the usual AK and ESS DACs, which aren't bad by any means. But this is a breath of fresh air. The X8 also has a good range of support (32/768k) it plays up to DSD512 and PCM 768k.
Sound
Aside from the FPGA tech which gives the X8 a unique sound, it's also op-amp interchangeable, a feature which allows the user to spice up the sound into his/her preference. One more thing that I would like to point out, is how convenient it is to change the op-amp; it is easily accessible unlike the DACs and amplifiers that I've tried before, in which I need to open up the whole thing. With the X8, I just need to unscrew a small portion of the back panel, and bingo! I find aune's design to be simple and less cumbersome. Lastly, the X8 is compatible with all kinds of dual op-amps.
Testing is done primarily with the HD 800 S, the infamously flat Etymotic ER3XR and JDS Labs Atom, which are all known to be transparent and revealing, so definitely these are good equipments for dissecting how the X8 really sounds like.
So how does it sound?
Simply put, the X8 is musical. It is a little mellower and laidback compared with the usual ESS DACs at this price range, which sounds more aggressive. It pairs well with the analytical tone of my HD 800 S, delivering a balanced and less fatiguing experience. Using the ER3XR, there is a little bit of color and warmth added with a good sense of space. But it doesn't sway too far from the neutrality of the Etys, and I find it quite pleasing.
Turning up the pre-amp into very loud levels, there is no major distortion or noise. So I can attest that this DAC is indeed very clean. The x8 uses the OPA2134 by default, which provides a smooth and laid-back sound which is easy on the ears. It delivers a good amount of detail without being fatiguing, and I also liked how precise the imaging is. Resolution overall is great.
Op-amp rolling
(The op-amps below are not included in the standard package, it is provided for the purposes of this review)
Muses 01: The sound has wider sense of space and there is more detail. Midrange is slightly more forward.
NJM5532: This has a more V-shaped sound. Treble is noticeably more extended, bass has slightly more impact. Staging is just about average.
OPA2604: Bass is smooth and well extended, and the mids is slightly forward. It's also a touch more airy than the OPA2134, thought they are quite similar because both exhibit an analog tone.
LME49720: It sounded more digital and aggressive than the OPAs, albeit it is slightly cleaner. Though I prefer the more analog sound coming from the OPAs.
Comparison
(Testing is done with the JDS Labs Atom and the HD 800 S)
Burson Swing (Basic configuration)
The X8 has a more musical tone in contrast with the Swing, which has a more neutral approach. Bass is tighter and faster on the Swing, while it is softer and more organic on the X8. The midrange is linear on the Swing, but on the X8 it has slightly more warmth, which I personally find engaging on the 800 S. The difference on the treble is subtle, though I would say that it is a bit more pronounced on the Swing compared to the more laidback treble of the X8. Staging and separation is similar between the two.
Chord Mojo
The two DACs share a similar tonality. But I find the X8 to be an improvement in staging and resolution. It is simply cleaner and more expansive than the Mojo, it also has better imaging. Though hands down, the Mojo wins in versatility and portability for it can be used as it is. If you are, however, looking for a dedicated desktop DAC, the X8 is the better choice in terms of overall sound quality.
Conclusion
If you are looking for a DAC that not only sounds good, but is pleasing to the eye as well, look no further than the aune X8. It has a pleasing tonality, user-customizable sound, and amazing craftsmanship that will give you a run for your money.
You can purchase the X8 here:
https://mall.auneaudio.com/index.php?route=product/product&product_id=64