Aune M2 Pro Review​
​
Intro :
Since the past few years I had kept myself away from trying out any new DAPs or audio gear since I was pretty satisfied with my Fiio X5 (1
st
gen) and Sansa Clip /Cowon D2+ that I had been using and secondly it kept my wallet happier.The X5's jog wheel conked off long time ago and I had stopped using it so a new DAP is definitely on my mind now. That's when my friend @toxicdrift informed about all these new DAPs (Shozy Alien Gold,Aune M2 Pro and Opus #1 ) he had just bought and offered to loan them out to me for testing .Just few weeks back I had posted the Bit Opus #1 review and  today I will be reviewing something from one of my favorite VFM brands – Aune (having tried their B1 amp earlier I've already been in love with their no-nonsense design and sound quality). Here's my review for their mid tier version of the high end M2 dap series of M2 -  The Aune M2 Pro.   
I will be adding extended comparisons with other players once I've spent enough time with all of them and done some comparisons.  
Packaging and Design : 
The M2 Pro comes in simple dark black cardboard box, pretty much like the one of their B1 amps. Since the model I was trying out was a M2 Pro it comes in silver (also available in black I guess). The Blue model which is reserved for more expensive and flagship model M2S looks very unique IMO and my personal favorite.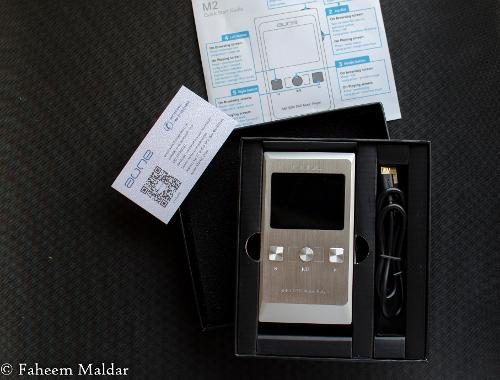 The additions in the box are the warranty card, Usb charging cable and a manual.  A basic case and some screen protectors etc could be great,  atleast a silicon or protective case needs to be the standard accessory for all high end players in this price range along with the option to purchase  a leather or better cases.  
In terms of design is extremely bold yet understated with that straight lines inspired industrial look and a body which is clean solid piece of aluminum chassis with no visible joints or gaps . The brushed metal matte texture finish and laser engraved text give the unit a very premium feel when you look at it or hold it in your hands.  
The front panel has the 2.4" IPS LCD screen and the Aune logo engraved above the screen . At the bottom 32 Bit DSD player is etched. The logo and other engraving doesn't stand out much in the silver colour player as compared to the black and blue versions (M2S).  
In the lower half there are 3 simple buttons for Back-Play and Pause (Select in Menu)- and Forward. The buttons are pretty solid and have good feedback. I could easily operate them without having too look at the player.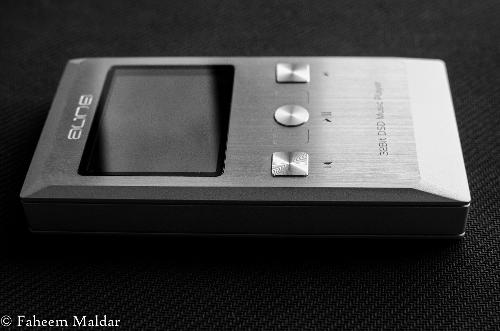 The back of the player has the branding , model number , serial number and assembly details etc in English as well as some Chinese text.  
The top side of the player has the power button on the left , a long press is for turning the player on and off whereas a normal short press toggles the screen on/off when using the player.  
The bottom side  has the 3.5mm headphone out ,  a line out (3.5mm) and the charging + sync port in the form of micro USB .  
On the right hand side we have a small pin hole for reset function (using a pin or paperclip) , micro SD slot which supports upto 128 GB and a jog dial wheel for controlling the volume as well as back and fast-forward function when screen is locked. The wheel has a nice pattern texture which provides for better control and grip . There's  a multi-function port as well covered with rubber protection .* not sure about its functions currently but I guess Aune plans to add extra functionality in the future using this port*.  
Sound Quality :
Out of the box trying out the M2 pro  I was very impressed by the sound quality .Coming from a Fiio X5 , there was a good amount of difference in detailing and texture as well as background noise which was easily noticeable. I could say a good 25-30% of upgrade from what I was used to in terms of portability. The overall sound is lot cleaner and and revealing whereas the sound signature is a lot more balanced and neutral in comparison. The black backgrounds was one of the most impressive sound improvement that I noticed instantly.  
Using the Sennheiser IE80s  , I had a smile on my face from the improved
bass
I was hearing . The speed and control was better, better texture and layering in bass . Perfect slam and reverb along with micro-detailing in some bass tracks which were not easily audible before. The IE80 no more sounded like a mid bassy IEMs which it does with many other DAPs even at the lowest bass setting.
 Even when using the Sennheiser HD598 which doesn't have a very good sub bass , the overall output in the lower spectrum was a lot more controlled and clean .  
The
midrange
is again extremely detailed and clear with good layering and no sign of any sibilance . Didn't find any forwardness or warmth in the mid presentation nor does it sound recessed. I would say pretty much neutral , a tad bit of warmth might make it more fun sounding but it doesn't sound dry or boring at all .Pretty much hits the right spot in terms of being perfectly neutral and not boring.
Listening to vocals tracks is pure bliss , very accurate representation and texture when listening to female vocals . Even the male vocals sound pretty good.In comparison the Opus #1 is slightly more warm /fun even though it maintains a neutral signature as well.  
The
highs
are extremely detailed without being sharp or piercing. Again good amount of micro-detailing and clarity which shines through in the highs.  
The
soundstage
is by far one of the best Ive heard in the below 500-600$ range. The soundstage and imaging along with the detailing almost makes you forget you are listening to a portable device.  It rather sounds like a good desktop I would say .Ive heard of people comparing the sound quality and soundstage to the Chord Mojo and even though I haven't yet compared or tried them together I can't comment on the same.  
Filter settings :
The M2 Pro has some DAC level filter settings - Sharp SD (short decay), Sharp LD (long decay), Slow SD, and Slow LD. I couldn't exactly understand the function or changes in each of them but they did alter the sound signature to certain extent where in the Sharp SD sounded the most neutral and sharper treble whereas the Slow LD seemed to have slightly more bass and warmer sound.  
Even the power handling capacities are very good. It could drive my HD598 , Grado  325, AKG K702 etc with great authority but I did end up pushing the volume to the higher limit . It doesn't have any gain settings to increase the power output so I am not sure if it will drive the more difficult headphones like the HD 650 or higher impedance can to their best but it should drive them fairly well and maybe adding the Aune B1 amp would make it the ideal setup.  
UI,Features , battery life etc.
The UI and controls are a little odd or different compared to what I am used to on the FiiO or Opus but it doesn't take more than 1-2 days for getting used to . Since the play / pause buttons also act as navigation button and each button has multiple functions as you can see in this quick guide below.  
The M2 has a really quick boot time , barely a few seconds . I couldn't find any sleep or standby mode feature as such but with such quick boot and playback from the last played track it's probably not needed.  
The custom software is very simple ,basic  and easy to use overall . It has a very old school 2D feel to it without any animations or much efforts put into the UI design .
The UI menu has 4 basic options on the home screen, Songs-Folders-Playlists-Settings. The menu can be controlled using the buttons below the screen as well as the volume wheel on the right side. You can find the detailed options in settings etc in the photos below.   
The software on the device at the time of my testing *almost 1.5 months back* was pretty basic with the play screen not showing album art for some songs and also the volume wheel only works when you are on the play screen , incase you are on the song list or main menu etc it acts as the navigation wheel which can be a little frustrating if you wish to suddenly change the volume in between.
Some other major features like gapless playback , Equaliser etc are missing .  
Overall there is no lag /crashes or such issues with the firmware but still it seems somewhat half baked and could do with a lot of improvements overall . Hopefully Aune is working in better firmware in the future and will fix the minor issues soon.    
Battery Life
I could get about 7 hours , give and take 20-30 minutes of  juice out of the M2 Pro in each charge. Not that great but not too bad either for a high end DAP which comes with a class A amplifier which are known to be heavy on the battery . This also probably the reason the device gets tad bit warm at the back panel after few hours of usage. Even with regular 2-3 hours of listening, you probably would need to charge the M2 Pro twice a week.  
Conclusion :
Ideally if you are someone like me who just need a high end DAP to play your high quality DSD, lossless music etc and do not care much about the UI etc and other fancy features , the M2 pro would be perfect for you.  For others looking for a complete player it might be a good idea to wait for Aune to fix the smaller issues . The beauty of the player lies in something a lot of great DAC's don't get it perfectly – pushing the sound quality to perfection at a VFM price point  , something which usually can not be fixed or scaled by software or firmware upgrades.  Either the best sounding one's without any major flaws will be extremely expensive *1000$+ or the other fully packaged player at the 500-600$ price point would be lacking in sound compared to the the M2 pro.  
If you were to purchase the Aune M2 pro purely for its unmatched sound quality under 500$ it would definitely be a very a great experience and you will definitely love it but for some folks it could be difficult to ignore some of its basic shortcomings like limited playback , single memory card slot ,  limited play list support , lack of digital out . So you could wait and watch if Aune improves upon the M2 pro to make it the perfect player.