---
Me:
 I am a 21 year old student living in a small town in India. I would like to call myself a music enthusiast, rather than an audiophile. I was inspired by music since childhood, and as the time passed, the passion of music grew in me, and that subsequently led me to join Head-Fi. Eventually, I found the pleasure of listening to music mainly by the HD600 and recently, by the seductive LCD2 headphones, and realized the true components of recorded music. I usually like to listen to Indian Classical Music along with Bollywood songs. My main listening genres include classical, vocal, instrumental, jazz and sometimes pop.
---
Intro:  Audiotrak is a comparatively lesser known Korean brand specializing in the area of Headphone Amplifiers & Sound Cards. Audiotrak is counterpart amp manufacturer of popular Audinst, they both have offices next door in same building in Incheon, Seoul. 
Their Prodigy Cube is aimed at beginners for a all-in-one solution without the need for a separate power supply, easy to use and well performing.
Specifications of Cube:
USB Interface: 1.1/2.0
Support: 24 bits/96 KHZ
Headphone Impedance: 16-150 ohms
Op-Amp: LME49860
D/A Converter: WM8776
USB DAC: Tenor TE7022L
Dynamic Range: 108dB
Input: USB, Mic
Output: Headphone, Line, Digital, Coaxial
---
​  

Let us see what the Cube has got for us,

  Packaging and Accessories: The Cube arrives packed inside a large colourful cardboard box (typical Audiotrak  Style), on which features and other information have been mentioned upon. Once the box is opened, the main unit and all accessories are stuffed inside.  Foam protection is not present. Nothing special to mention about either; all accessories have a good quality, build and feel to them.   List of accessories in the box, which include the following:    USB Cable: Standard black coloured USB A to B cable, 1.5 metres long.   RCA Cable:  Audio cable for Line out function, about 1.5 metres long.   Rubber Feet: For attaching to bottom surface of Cube, thus making it scratch and skid resistant.   User Manual: Detailed and informative Instructions about operation, also contains warranty information.
---
​   Design and Build: The Cube has a very good overall build quality. 

The outer case is made up of aluminium, and is painted in matt black; volume knob is rubberized, and has a grippy feel to it.  The Cube is quite in compact in size.

 
On the front side, we have Volume control knob, an output push button switch (between headphone out and Line out) and an output headphone jack is present in both 6.5mm & 3.5mm format. A Mic input in 3.5mm is present too. An active colour changing LED indicator shows the status of operation.  The LED turns green once songs/signal start playing from the source, and stays orange incase there is no signal incoming. On the rear side, we have USB input port, RCA Line-out jacks, Coaxial socket & Optical output port.
 Speaking of Internals, Cube has a double sided PCB with no wirings. All components used are of premium brands; including all dale resistors, Alps pot, premium caps. The Cube employs a 24/96 Tenor Chip. There is only one user replaceable part on board the Cube: The DAC output Op-Amp (which is by default LME49860 in DIP8 format) other op-amp is AD8397 but it is permanently mounted on PCB. Both Audiotrak and Audisnt has always been a strong contender in the field of Build, interiors, components and PCB. The Cube stays & operates very cool no matter what.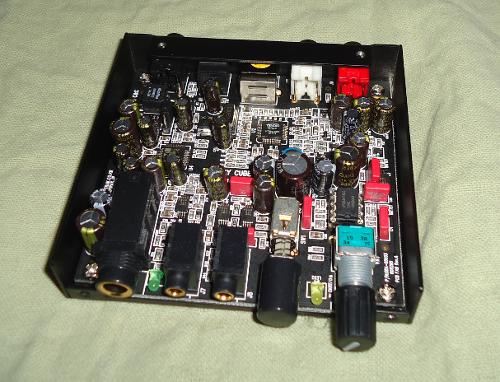 The Cube is powered solely off the 5V USB line. This makes it also to work straight off an android smartphone, which is a definite advantage for travellers. The Cube also has Line out for speakers or external amps, which again works quite well with crisp and clear output. The volume control is functional in this stage too.
---
Sound:  I feel the Cube is neutral, detailed and accurate in sonic presentation. Sound-stage width is moderate. Depth is pretty good. Absolutely zero audible hiss/noise. No channel imbalance, and zero EMI pickup & pops.
Lows are strong and accurate and go fairly deep. Infact, Mids natural and clear, slightly intimate if I must say; Highs are clean, airy and non grainy, just right amount of sparkle to keep the music alive.
As per my observations & comparisons, The Cube is going to be the most 'clear & neutral' sounding amp/dac from Audiotrak. Its higher end counterpart, the DR.DAC series did not quite please me, owing to their dark-sound character.
Soundstage on Cube is very good, and realistic and to some extent, lacking in width. Depth is fair. The Cube does not give a fully circular imaging, instead gives out an elliptical stage (with comparatively more depth and lesser width) Detail retrieval, and dynamics are decent enough. Overall the sonic presentation is very much neutral. Also, the final sound impressions of Cube can be manipulated by using different op-amps.  I have changed to Op-Amps and I could observe that the current op-amp (LME49860) does a very fine job, and I feel there is no need for op-amp rolling to increase sound quality. But the Cube scales very well with any op-amp installed.
Comparison: The only competitor for the Cube is its fellow Koran amp/dac: Audinst's HUD-Mini (120$), which too has very similar functions, features and circuit design. But the Cube will have slight edge & advantage over the HUD-Mini in terms of features (Coaxial and microphone support) but in terms of sound quality, both are neck-to-neck, with Cube providing a slightly smooth and laidback sound character, and HUD-Mini providing a little more upfront and clear signature.
---
Conclusion:  Cube is a good sounding portable amp/dac in its price point. Infact, the sonic performance is the best one can get in sub 150$ portable amp/dac's. This device is actually pretty great on features and practical aspects. At the price point of 00$ shipped, Cube stands as best option for travellers with smartphones or laptops.  I can recommend Cube for any music enthusiast who wants a compact portable USB amp/dac to drive low impedance easy to drive headphones & IEM's.
The Pros:
1) Design and Build: Cube has very well designed and implemented build. It can run off 5V source, eliminating the use for a separate power supply. The Cube can also run directly on android smartphones. It is also very compact, with practical features.
2) Sound quality: The sonic presentation on this little unit is neutral and vastly uncoloured. Default op-amps LME49860 & AD8397 perform very well, I can imagine it would pair well with almost any headphones.
3) Value: The Cube unit carries a great price to performance factor, which is hard to beat in this price range. Perhaps the Cube along with HUD-Mini are the best compact portable amp/dac in this price range.
The Cons:
None at this price point.
---
---
---