Item information
Added by
Views

2,858
Watchers

3
Comments

2
Reviews

5
Last update
Rating

4.80 star(s)

5 ratings
AUDIOSENSE Insight AQ7 PRO
General Information
Latest reviews
Audiosense AQ7 Pro: Worthy of the name "Pro", A Detail Monster
Pros
:
• Durable, well-designed resin shell and case.
• Very detailed yet still has that fun factor.
• Versatile on both the aesthetics and the sound performance.
Cons
:
• The shell is too bulky for my preference.
• The mmcx connector sometimes has that angle that causes occasional loose connection
Here is my review/impression for the Audiosense AQ7 Pro:

🎧 Disclaimers:
• I don't consider myself as an audiophile nor a professional reviewer, I just do this for leisure.
• My impressions will be short, but i will try my best to describe how an iem sounds with simpler terms so even regular consumers/casual listeners can keep up.
• This is a review/tour unit, no rewards of any kind was or will be involved. Rest assured, I will provide my insights based from what i hear.
• Your preference and mileage may and/or will always vary from mine, so take my findings with a grain of salt, but not too much that you'll be salty. 🙊 It all boils down to your preference anyway. So, trust your ears.
• As this hobby is subjective whether we admit it or not, this is my personal take and review, based on my actual auditioning. Therefore, testing/auditioning a product should always be your deciding factor.

🎧A massive shoutout to my cousin and fellow audio enthusiast, Loo Law for touring his personal unit, check out his page Brionced Reviews on FB and IG.

🎧 Box/Package Inclusions:
• Earbuds and MMCX cable enclosed in a very cool and sturdy looking storage case.
• No eartips were provided, so I've used my own pair of Azla Sedna Earfits ™ Xelastec eartips.

🎧 Source/setup:
• Sony NW-A55 (MrWalkman's Walkman One FW mod: WM1Z stock tuning on normal mode and direct source on)
• My personal pair of Azla Sedna Earfits ™ Xelastec eartips, which, may cause an altered perception or minimal difference on the output it was intended to with its full stock setup.
• Volume level normal listening level on IEMs ranging at around 40-60/120 (38-50%)

🎧 Staple tracks used for testing per my preference (tracks after were all at random/shuffle):
• Leave the door open - Silk Sonic
• Wonderful tonight - Babyface
• Broken heart of gold (acoustic) - One OK Rock
• Gravity - Jason Chen
• Provide - G-eazy ft. Chris Brown
• Talk Shows on Mute - Incubus
• (There's Gotta Be) More To Life - Stacie Orrico

🎧 Impressions/comments:
• Packaging - The packaging is somewhat basic consisting of its box, IEM/cable and its carrying case, maybe because this is only a loaned/tour unit, but the carrying case is one of the sturdiest structure I've handled so far.
• Lows/bass - The lows packs a sufficient yet well controlled amount of punch and rumble. It reminds me of how I love my lows with my bravery, mature yet fun, but AQ7 Pro has a more controlled sub and mid bass, which compliments to its balanced sound profile.
• Mids/vocals - AQ7 Pro's mids are lit. This earbud's vocals are really on point and both the male and female vocals really sound good to me, very smooth, detailed and clear. Another time away from my usual warmish/U-shaped/balanced preference. No shoutiness but may reveal flaws from poorly mastered/recorded tracks.
• Highs/treble - The cymbals sounded really natural for me. Other instruments sounded more pronounced and clear as compared to IEM's I've tried and owned. Hard to admit but this easily beat my very own SeeAudio Bravery as the top 1 on my list when it comes to details and overall balance.
• Other details (tonality, staging, etc.) - Overall tonality upon my testing is somewhere between being neutral, midcentric and balanced. Can't really stick to one due to its very versatile sound profile. Soundstage is also, fairly wide, but not too wide.

🎧 Pros:
• Durable, well-designed resin shell and case.
• Very detailed yet still has that fun factor.
• Versatile on both the aesthetics and the sound performance.

🎧 Cons (not really cons, but nitpicks):
• The shell is too bulky for my preference.
• The mmcx connector sometimes has that angle that causes occasional loose connection

🎧 Comparisons:
This is my first time trying Audiosense products and first time to try a 6BA1DD setup, so it might be unfair if I would directly compare it to my See Audio Bravery which houses full 4BA configuration.

🎧 Conclusions:
• Overall, this IEM is worth every penny, very detailed, clear and fun. Can be used either for musical enjoyment and monitoring purposes for musicians out there.
• The bulkiness and occasional loss of sound are the main nitpicks I have regarding this set.
• Synergizes very well on my source/setup, and a very versatile IEM which can rock any genre you're into.
Audiosense AQ7 Pro Insight Review!
Pros
:
- One of the best IEM you can get for 400-500 USD in terms of technical performance.
- Neutral-reference sound signature that never lacked in any genre tested.
- Controlled, speedy lows.
- Clear, hyper detailed mids.
- Crisp, non-fatiguing treble.
- Excellent technical performance for its price.
- Very minimal sound coloration without sounding too boring.
- Excellent resolution.
- Above average fit, comfort and isolation.
- Easy to drive.
- Very good and practical amount of accessories, particularly on the Pelican-esque hard case.
Cons
:
- This IEM will reveal any flaws or inconsistencies on tracks you played with it (subjective).
- This IEM may sound a bit "bright" for some people.
- Fit may be bulky for medium sized ears since this IEM has a snug fit in my large ear.
- Cable is more than enough, but can be better for its asking price (my nitpick).
- The design could've been at least refreshed to minimize the confusion between this version and the older (AQ7 2020) version (also my nitpick).
Audiosense AQ7 Pro Insight Review!
Good day! After 3 days of casual and critical listening, here's my written review for the Audiosense AQ7 Pro Insight! A mid-fi technical virtuoso!
​
Disclaimer:
This unit is a tour unit by Audiosense, and organized by Sir Law Loo. Rest assured that this review will be free from any bias/es as much as possible.
I have used my own eartips (Whizzer Easytips) for this review. This may or may not affect the sound quality of the IEM.
The following remarks and observations shall be made and owned only by me.
No monetary compensation is/was involved before, during, and after the period of creation of this review.
Your mileage may (and always, will) vary.
Burn-in time:
4-8 hours per day, 3 days.
Source/s used:
Hiby R3 Pro Saber
Whizzer DA1
Tempotec Sonata HD V
Cyberdrive Feather DAC
Non-HiFi smartphone (Infinix Note 12 G96 Samsung Galaxy A6 (2018))
Local Files via Foobar and Roon, YouTube Music, Deezer, and Qobuz with UAPP.
IEM/Earbud/Setup configuration:
Small Whizzer Easytips, stock cable, any form of EQ or MSEB off, 40-60% volume, low gain, without extra amplification.
=========================================================
Sound signature:
The Audiosense AQ7 Pro Insight is the latest flagship by Audiosense, and is well deserved in terms of its neutral-reference sound quality. Unlike most Audiosense IEMs that feature a thick, boosted or elevated lower end, this IEM chose to keep things precise and accurate, and will reveal any flaws or variances of tracks transparently.
Lows:
The lows presented by the AQ7 Pro insight isn't really elevated the majority of the time - it is only elevated when the track needs it. Despite having a somewhat balanced (or neutral, if you may) Its presence never lacked during my tests, even on bass heavy tracks. The midbass and sub bass seem to have the same amount, controlled, punchy, and are fast in terms of attack and decay.
Mids:
While not being emphasized, I would say that this is the AQ7 Pro Insight's highlight along with its technical performance. It is very clean, open, detailed, without any form of bloat and bleed. Lower mids exhibit very good thickness and texture. Sam Smith and Ed Sheeran's voices here have that good texture and emotion. Upper mids are almost the same in characteristics with the lower mids, but with an additional amount of sparkle and air. It never sounded sibilant, peaky or harsh, but it never tries to "fix" flaws exist in a track either, making things really transparent.
Highs:
The treble is presented here in a slightly elevated, well-extended, airy manner. Cymbal crashes and hi-hats exhibit very good definition and keep their presence in any track. Detail retrieval here is excellent and will pick up any microdetails present in any track.
Soundstage, Imaging, and separation:
As a fan of technical performance, I am very impressed by how the AQ7 Pro Insight presented everything in this section. Everything feels "correct" for me albeit being subjective. The soundstage here is immersive and does not try to make things artificial like some IEMs do just to be called "that IEM with a large soundstage". Separation here is excellent for its price and is somewhat better than the QDC Anole V3 I personally tried before as it handles the busiest of my test tracks with ease. Imaging in return is also top-notch here in its price category as I can determine air between spaces of the vocals and instruments, particularly with live tracks.
Pros:
One of the best IEM you can get for 400-500 USD in terms of technical performance.

Neutral-reference sound signature that never lacked in any genre tested.

Controlled, speedy lows.

Clear, hyper detailed mids.

Crisp, non-fatiguing treble.

Excellent technical performance for its price.

Very minimal sound coloration without sounding too boring.

Excellent resolution.

Above average fit, comfort and isolation.

Easy to drive.

Very good and practical amount of accessories, particularly on the Pelican-esque hard case.
Cons:
This IEM will reveal any flaws or inconsistencies on tracks you played with it (subjective).

This IEM may sound a bit "bright" for some people.

Fit may be bulky for medium sized ears since this IEM has a snug fit in my large ear.

Cable is more than enough, but can be better for its asking price (my nitpick).

The design could've been at least refreshed to minimize the confusion between this version and the older (AQ7 2020) version (also my nitpick).
=========================================================
Verdict​
The Audiosense AQ7 Pro insight proved itself to be a well-deserved brand's current flagship as it has the technical prowess that every 400-500 IEM should have, in my opinion. Its clean, resolving, relatively neutral sound signature really got me hooked as I really am looking for a very technically competent IEM. I wholeheartedly recommend this to anyone who wants a 400-500USD IEM and wants their listening experience to have the transparency and detail it deserves.
Pairing recommendation/s:
Source: The Audiosense AQ7 Pro Insight is very easy to drive. However, a decent dongle would be very good for pairing with this IEM. I recommend a neutral or warm sounding source for this one.
Eartips: It all has the eartips you need included but an aftermarket ear tip of your choice wouldn't hurt.
Thank you for reading!

Additional Photos here:

​
One step further to neutrality
Pros
:
Stupendous instruments and vocals placement
Bright-neutral sound signature (subjective)
Brilliant speed and transients
Clarity, transparency, and detail retrieval
Precision
Sound stage and imaging
Very easy to drive that even mobile phones can give justice
Cons
:
Huge shells might not be for everyone
BA timbre
Might be too dry for the casual listener (subjective)
Less organic and natural sound presentation (nitpick)
Price point not for everyone
INTRODUCTION:
Audiosense is one of the companies I have high regard for at the same level as I adore Seeaudio, Tangzu, BQEYZ, and Kinera. I recently purchased one of their IEMs the DT300. I have not reviewed it yet and I don't want to spoil what I intend to say on that gear. But what I can say is that Audiosense really knows how to tune and make exquisite gears. Their DT and AQ series received much love from the audio community a few months ago.
And what I have for you today is a mid-range installment of roughly 500$ give or take, the AQ7 Insight. Will this set be worthy of its price tag? Let us get a move on and find out.
DISCLAIMER:​
My opinions here are completely my own. I am NOT in any way influenced by any form of incentive. This is purely my honest, subjective impressions and experience with the gear on hand. I cannot stress more that you should take this as a grain of salt for we have different perception to sound and what we hear. I always try my best to stick with the stock accessories that come with the gear by default. You are free to try other methods such as tip rolling or cable rolling. Below are worth noting before concluding on what I say here:
DAP (digital audio player, be it phone, laptop, mobile, or stationary setup)
DAC or dongle or any external amp
Ear Tips
Cables
Source of audio file be it offline FLACS or streaming services like Deezer, Apple music, Tidal, Qobuz, Spotify and the likes..
Your playlist. It matters and is worth to be considered when reading from a reviewer's perspective. It is apparent that you get to know your favorite reviewer and what they are listening to leisurely and critically.
Somewhere in this review, my impressions will be biased against my personal preference. Your mileage will most likely vary.
My reviews are more on how music sounds in my ears. The technical stuff like frequency graphs and the physics behind the tech and drivers used, I leave to other reviewers.
I would like to personally thank a friend Loo Law, for lending his personal unit for me to test and assess. Thank you for your trust! Having something this valuable in my hands is an honor and at the same time, makes me tremble in fear as something like this needs extra caring, or else… it could be the end of a friendship or a marriage. LOL
SPECIFICATIONS:​
Configuration: 1x Dynamic drive, 6x Balanced armature drivers
Impedance: 13ohms
Sensitivity: 110db
Freq response: 20hz - 22khz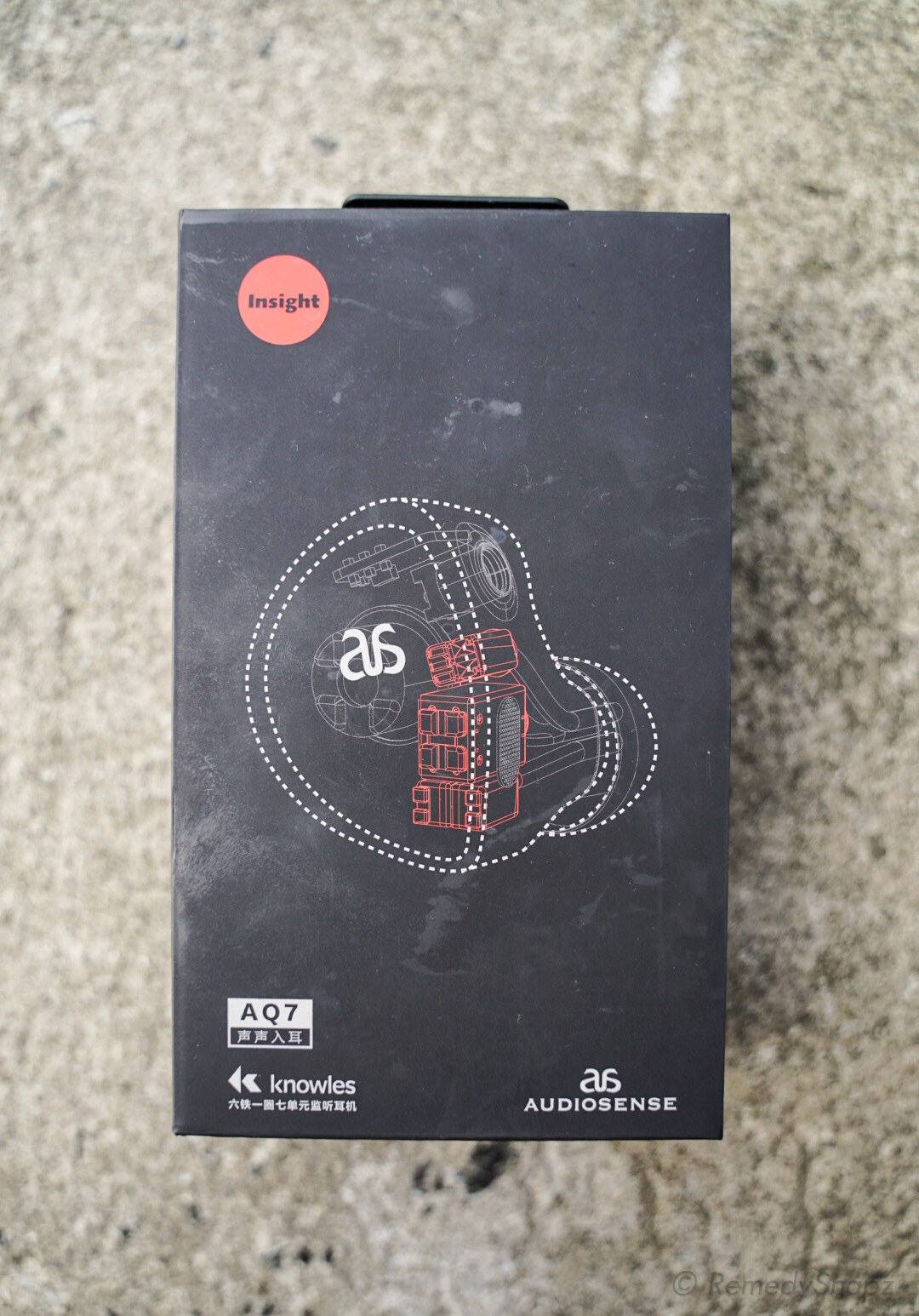 PACKAGING:​
I did not receive the full packaging for this review. But if you are familiar with Audiosense's packaging, they are quite generous when it comes to inclusions. Especially on ear tips. What I received are:
a pair of AQ7 Insight IEMs
a sturdy pelican case for storing the IEMs
the stock cable
and that's it! For the entirety of this review, I used my personal ear tips, my favorite, the JVC Spiral Dots, M in size. I will lay down my setups later and I would like to remind whoever reads this to take it with a grain of salt. The differences in our setups are valid enough that what we hear, will most likely not be the same.
Sound Impressions:​
From the get-go, out of the box, the AQ7 has a very neutral sound signature. It is by far the most neutral set I have heard since Kinera Idun Golden which in many ways sounded very close and similar. Comparisons will be later on. I have stated that I'm in pursuit of neutrality and this set just took that journey a step further.
Tight, fast, and clean are the words if I'm going to describe the lows. Perhaps the cleanest and quickest execution by far in my experience. Sub bass is very quick to decay which makes this set a basshead's nightmare. Lean is also one word to describe how lows are presented. Even leaner than my beloved Idun. Mid-bass is prominent and the focus of the lows. It gives a well-textured sound reproduction. Bass guitars are snappy and detailed. Drum kicks are well controlled and have a slam that is never overbearing and congested. Jazz tracks are well-rounded on the lows while rock tracks are punchy and beautifully thuddy. Modern tracks are still enjoyable as long as you keep a mindset that this is a neutral tuned IEM. Another one bites the Dust by Queen intro of bass guitar and drum kicks is proof enough to claim that the lows here are 98% flat in presentation.
Vocals and instruments are also on the lean side of things. Not thin sounding but rather details is the name of the game. Again, neutrality is the focus here. Upper mids never felt piercing nor hot to listen to. Male and female vocals have good balance and both genders are favored equally. Guitars are very favored and the same goes for pianos and any instrument with a key bed. Orchestral instruments have a good and engaging character to it despite the mids having less density and weight. I cannot say that the mids are lush and rich in sound though. I think this is neutrality welcome party on my part. It is as faithful and accurate as the lows I described above without sacrificing engagement and emotion. The details on the elements of your music, be it any genre, will be the one mesmerizing you and giving you that engagement to your music.
Here at the top, trebles, are quite on the thin side. But I guess that is a price to pay when we are talking about neutrality. Grit and bite of cymbals are well executed. Brass sections are very energetic and impactful. The transition of upper mids to the trebles is very impressive and entertaining to listen. I would like to set another track from Queen namely Bicycle Race. As the track unfolds, I never heard the dynamics and change in mood this accurate before. There are parts in the song that it will sound thin then boom! Elements will become more bodied which portrays the uneven and inconsistent recording of the track. It is not a bad thing, but recording a song is not made in a day. There are times that a change in venue studios is inevitable and those changes did not escape AQ7. Sibilance is nowhere to be found with AQ7 and even with my sibilance test tracks, the trebles maintained to be warm and never too hot to be piercing. Trebles never became a chore.
Conclusively, this is neutrality at its finest! Playing around being enjoyable and flat is very hard to achieve. And AQ7 just nailed that! Imperfection in recordings is frequently encountered which makes music more realistic. As a musician, there is no perfect recording. AQ7 just reminded and made me realize that those imperfections and irregularities are what give soul to our music reminding me that recording by real musicians, is still the betterment over machine-made tracks that became a trend in this modern times.
Fit & Isolation:​
Fitting is one thing that will be average in this set. I hate to say this too soon, but everything I will say here is above decent. But fitting is not one of those. AQ7 is quite large in build. This might be no problem for big people from the west but for us Asians, this will not be for everyone. Isolation is also average and I find myself bringing up the volume just a bit than my normal listening level to isolate myself from outside noise. This is not a dealbreaker to me and everything is still manageable and highly acceptable.
Technicalities:​
Before we move on, AQ7 is already a very very capable neutral set paired with the best technicalities I've heard so far from an IEM! Oh let just get it on!
Sound stage is very huge here. Ok ok.. we are talking about IEM here. There is no natural sound stage as we are putting the speakers as close to our brain. But the huge chamber and vent hole (with filter) of AQ7 gives that amazing headroom hence portraying a decent sense of stage in our heads. Elements from my tracks have that extra space and by no means, a very desirable treat that is commonly achieved only on earbuds and headphones.
Imaging or instrument placement is as good as it gets! This is the most accurate positioning of instruments I've heard so far! I only wish to keep this intact in my memory so I could compare it to my future reviews. Instruments are very very easy to follow and individual space that is just too commendable! Separation and layering are stupendously brilliant and just pure awesomeness! As a musician, I just can't help it to analyze elements in my music as it comes second nature. I can hear with excellent clarity all that is going on in my music, especially those well mastered tracks.
Speed is one of the best I've heard by far! Busy and complex tracks never felt sluggish and muddy. Always keeping me on my toes and excited to hear AQ7 keeping up with all instruments and vocals. A track from Russian Circles namely Harper Lewis was executed very well without struggle. So do not fear brethren! If you have a lot of complex tracks on your playlist, just keep them coming! AQ7 will have your back.
Conclusively, AQ7 is by far the most effective implementation of technicalities I've tested. So effective that it rivals TOTL level. And yes, I have tested some TOTL IEMs a while back and though I don't have them with me anymore, I can safely say by memory, that AQ7 is more than capable in terms of technicalities.

COMPARISONS:​
For this review, I have decided to compare AQ7 with my most neutral set in possession, the Kinera Idun Golden. And my oh my, I'm blown and was enlightened in many ways. As always, let us do this in bullet-style format.
AQ7 is a step more neutral than Idun.
Both have very similar sound signature.
AQ7 blows Idun out of the water in technicalities.
Fitting and comfortability goes to Idun.
AQ7 at times, is less natural and organic than Idun.
AQ7 is easier to drive than Idun.
AQ7 on rare occasions, has more of that BA timbre than Idun.
Idun is not yet truly neutral. AQ7 is almost there. (yet to be revealed when I get my hands on Etymotics)
Idun's lows are just a tad shy more textured than AQ7.
Speed performance of drivers are both almost the same.
Separation and imaging goes to AQ7.
And that's about it! Both are very competitive. The only thing that separates them, is the price. Let move on to the verdict.
SOURCES AND GEARS:​
LG V30 hifi dac (high impedance mode)
Hiby Music player
UAPP app (USB Audio Player Pro)
Tidal Masters subscription
offline FLACS
Hidizs AP80 pro
Deezer Hifi subscription
Here are some tracks I usually listen to when reviewing:
That's the way of the World by EWF
Africa by TOTO
The Girl in the Other Room by Diana Kral
Balmorhea album All is wild, All is Silent
Sila by Sud
Smooth Escape by D'Sound
Never too Much by Luther Vandross
P.Y.T by Michael Jackson
Ain't no Sunshine by Eva Cassidy
Shoot to Thrill by AC/DC
Another one bites the Dust by Queen
Good times bad times by Edie Brickell
Alice in Wonderland by Bill Evans
Ain't it Fun by Paramore
Redefine by Incubus
Far Away by Nickelback
Lovesong by Adele
Lingus by Snarky Puppy
Harvest for the World by Vanessa Williams
Love Bites by Def Leppard
No Such Thing by John Mayer
As by Stevie Wonder
Whip Appeal by Babyface
Ain't Nobody by Chaka Khan
Futures by Prep
Landslide by Fleetwood Mac
Every Summertime by NIKI
SADE tracks
AC/DC tracks
Queen tracks
And many more… I always listen to High resolution format, being the least quality 16bit/44khz FLACS be it offline or online.
VERDICT:​
Ok ok… before we proceed to the million-dollar question, below are those who I will recommend this for:
To those who loves flat response and neutrality.
To those who are willing to overlook tonality and focus more on technicalities.
To the analytical and critical listener.
To musicians and vocalists alike.
For monitoring purposes. Studio or on stage.
Definitely not for bassheads.
For neutral heads, treble heads, and mid-centrics.
Detail freaks like me.
The AQ7 is really something. Being with me for a week, I must say that it fills almost all of my needs as a musician. If I must nitpick, I wish that it had just a hint more of being organic and natural. It is already good as it is and never had I encountered a track or passage of music that is synthetic or unrealistic. But It could have been more organic at some point. Now I'm being purely subjective here. If I have to specify how nitpick I am right now, that little thing I'm looking for is 2% out of 100. All bets placed, I think AQ7 has a spot earned to be a contender at the price bracket of 500$.
Now is it worth the penny? If you want to get a feel of the sound of AQ7, the Kinera Idun Golden is a good cheap alternative. But if you want the real thing, get the AQ7. Again is it worth its price tag? Well, I will leave that decision to your wallet.
That's a wrap and catch you on the next one!
Comments