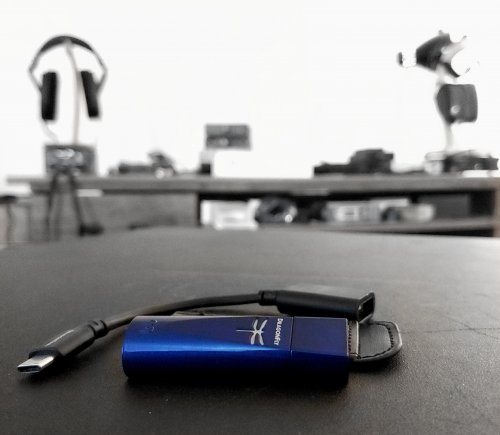 Cobalt is the latest flagship from from the Audioquest Dragonfly series of portable dongle style digital audio converter with built in amplification products.
Price new is currently at $299
, the unit I've gotten in for review is a temporary loan from Todd of TTVJ and I was not compensated for my thoughts.
Just to set the tone, I don't feel at this time the Cobalt is competitive given the iFi xDSD is on the market and even at the xDSD's full $399 asking price I feel it's overall just a better product given all factors.
So that said here's what I like about Cobalt
Size
Aesthetics
Included Accessories
An what I wasn't a fan of was it's performance. Starting with my all stock HE 4XX I experienced the following technical drawbacks
Slow to start - literally took about 10 seconds before my V20 and G8 recognized the device and were listening ready
Volume often reset to MAX - Neutron was the worse but uDAPP had it happen to. After a pause and resume the volume would sometimes be at MAX output
Music wise I listened to all of the 1995 Chesky Demonstration Disc before moving into one of my usual track sets consisting of
System of a Down - Mind Vinyl RIP from the 2018 Reissue
The Eagles - Hotel California Hell Freeze's Over Simply Vinyl 180g RIP
Precious Fathers - Brad Quin, Medicine Man
I'll also add I don't necessarily like bright sounding systems and headphones but have a higher tolerance for it or I'm less offended/distracted or fatigued by them. Bright it usually not as offensive to my ears as others, so for me when something is TO bright or leaves me fatigued it's indicative of what I'd considered not really "worthwhile" performance.
And yes I volume match with pink noise and these days my average listening is right around about 79 dbs, peaks of 87 an dips as low as 71.
Overall sound wise I felt the unit was
A bit exaggerated sounding and often congested
Kinda bright with evident top end emphasis
Presentation and envelope were a touch aggressive
Emphasized macro detail or "noise"

So breathing, fret work, foot steps the occasional air conditioner and any other incidental noise captured during the recording process
Dare I say noisy?
Drum kits often had obvious overlap to my ears and with a lot of instruments it presentation makes it not as easy to really discern a clear position and sense of space between everything.
Really a lot of top end spectra was just overly aggressive and it was hard to discern as much as I would have liked.
As a heads up I had some technical issues with it namely my subjective impression may have been a result of poor amplification among other things. I also had issues with my V20 maxing out it's volume into the Cobalt and again when I switched between Neutron, Tidal and Amazon HD Music and the steps were not as precise as I would have liked. I did volume match as close as possible but it could be that the device simply did not behave as it should have with my V20. It could be possible those sudden jumps to max volume left my ears more sensitive and my brain with a stronger impression of how cacophonous it sounds at MAX Output.
Where as the xDSD was both more natural on it's "listening" filter and presented less overall congestion. And for what it's worth I also feel that xDSD can be a touch bright
Still starting with the envelope I felt the xDSD presented;
A more vivid release or reverb trail
Tactile without excess emphasis on the attack
Dynamics were also more vivid as well so the difference between quiet and soft sounds were more discernible an there was more evident micro detail with xDSD as well, an to be clear I also feel the xDSD is kinda bright an sometimes aggressive but it's not so overdone!!!!
I will say it Cobalt was more detailed than my Shanling M2S and both had issues with congestion though the M2S presents more of an overlap of "reverb" or the body of different instruments. So it sounds kinda smoothed over, VS Cobalt which presents congestion more so as an overlap between the initial attack of sounds.
Frankly I'd rather experience congestion as a smoothing over rather than a cacophony of noise. An despite being technically more detailed I again wasn't a fan of Cobalt at all. I also didn't really feel compelled to listen to Cobalt with any of my other headphones as I'd have to pair it with something dark like my E-MU Purpleheart to get a nice "pairing" though again you can enjoy the Purpleheart more with other ultimately more resolving devices with a"bright" presentation.
Now I did take a moment to switch over to a different playback solution this time I used USB Android Player pro with exclusively MQA featuring the following tracks
Beck - Guess I'm Doing Fine
Schubert Piano Quintet - A Major D667 "The Trout"
Headphones used here where the HD 600 and a WabiSabi MapleSleeved BlackLimba Magvnum V7 Build which sounds like a more refined/detailed Grado RS2E.
As mentioned subjectively the Cobalt has a rich organic tone due in part to it's heavy top end roll off. Overall with these dynamics I found Cobalt to have;
Soft but full bass response

More quantity but with a loss of texture and impact

Tonally rich presentation of Vocals

This helped mask a lot of coarseness or excessively forward breathing
An honestly I felt Cobalt's tuning really reproduced a more natural presentation to vocals

Heavy Unevenness in the mid to upper mid transition

Stringed instruments sounded off just simply wrong
Lacked detail and was overly "romantic"
Literally slowed some faster more complex string passages

Fairly closed staging with what was often congested imaging

Lacked air and precision when presenting passages with multiple instruments and musicians within a shared space
An to make matters worse I often had the volume output maxed with my HD600 to achieve a meager 81 dB peak with more dynamic/quite classical pieces.
While it wasn't as "noisy" it still lacked detail and presented a congested image, overall I still feel it's not a worthwhile purchase. xDSD sounds more tonally even and presents better detail, interestingly enough Bluetooth with xDSD was tonally flatter and about as detailed as cable'd listening with Cobalt. An from time to time I often use xDSD in such a manner, tucked away in my pocket connected wireless to my cell.
In conclusion I just don't find any value in Cobalt unless you listen with easier to drive headphones and enjoy mostly vocal heavy music. Big thanks of course to Todd for sending the unit my way!