Item information
Added by
Views

4,015
Reviews

3
Last update
Rating

4.83 star(s)

3 ratings
Audio-Technica In-Ear Headphones ATH-CKR9 (Japan Import)
General Information
5~35,000Hz
Latest reviews
Pros
:
Crisp and lively highs, forward and clear mid-range, best bass response I have heard in an IEM to date
Cons
:
Poor accessories package, god-awful cable, sound signature may be altered by break-in
Please note: this review isn't finalized and I plan on adding additional images and refining some sections shortly. However, my overall impressions are certainly final.
​
Introduction
First, a disclaimer: I purchased the CKR9 ($150USD) with my own money after conducting my own research, and thus this is my unbiased (and highly subjective) opinion. A special thank you to
@peter123
 for his initial review and personal recommendation of these to me, as well as Stereo Electronics over in Singapore for excellent customer service.
With only one review prior to this one under my belt, I still have a lot to learn and as such any and all advice on how to improve this review or future others will be highly appreciated. I'll try to keep things simple, practical, and relate what I'm hearing to music that I hope others can recognize in order to put my impressions into context.
A little bit about me and my music tastes: 
I only got into this hobby in late 2014, slowly working my way up from budget and entry-level cans in an attempt to find my "holy grail" like many aspiring victims of this rabbit hole tend to long for. I was going through a pair of full-sized cans every week or two and always finding something that I couldn't live with or found wanting after. It wasn't until January of this year I was blessed enough to stumble upon MrSpeakers and his very popular Fostex T50RP modification and pet project, the Mad Dogs ($279USD, discontinued). This headphone simultaneously addressed issues I had with comfort, build, and sound quality from the first time I listened to them until this day and hopefully for years to come. Needless to say, I dropped all interest in looking for other equipment and have been enjoying them since. 
While I am still on the search for an in-ear headphone that can take what I love about the full-sized Mad Dogs into a portable solution, I am very happy I stumbled upon the CKR9 as a stepping stone on this path. 
My music tastes vary widely, but I would describe myself first and foremost as a mid-head and female vocal lover. Thus any headphones that are known to showcase the mid-range in music and offer it up front and center pique my interest. Without further ado, on to the review!
 ​
Accessories
Starting with the un-boxing experience things are unfortunately off to a lackluster start. While the packaging itself gives a hint towards the premium Audio-Technica
tm
 listening experience you are in for, the included accessories leave much to be desired. The included leather carrying pouch is neither aesthetically pleasing (at least to me) nor pocket friendly. Matters go from bad to worse as you realize your tip selection is four sizes of generic silicone tips (XS/S/M/L) aaand... that's it. If you dislike silicone tips (there is not much to like about these tips even if you don't) then hopefully you have built up a small armada of different brands and styles of tips over your years of collecting and curating IEMs. No, but seriously, at this price point there should be a few more options especially with a consumer oriented product such as this one.
While these do fit standard T-400 Comply foam tips which are usually my go-to, I did not really enjoy the pairing as I felt it resulted in a bit of dampening in the high frequencies (a big no thank you for this earphone). However, throwing on some SpinFits not only allowed me to get a better seal which I will touch on later, but the sound was great.
 ​
Build / Comfort / Isolation
As far as the body of the earpieces goes, everything about them from the minimalistic black-on-machined-aluminum Audio-Technica logo to the slightly nostalgic looking L and R indicators scream Made in Japan. The bore itself is quite long but otherwise standard fare, although a little trickier to fit tips on and off than most I found. While I am a big fan of the overall aesthetic of this earphone that really do look like they cost more than they do, the positive things I have to say about the build end here.
The cable on this IEM is bar-none the worst I have ever seen. Seriously, the old Apple earbuds that came included with first generation iPods had a better cable than this, and those things would find a way to tangle the second you looked away. Where do I begin? The cable is extremely microphonic, to the point where the slightest bumping will cause unpleasant vibrations. It is also very susceptible to wind noise when outdoors, prone to tangling, doesn't have a chin slider (seriously?), and is made of cheap rubber that feels pretty awful in the hand. A cable of this quality would be excusable on a a pair of $10 earphones you'd find AliExpress, but not a $150 product. At the very least the silver lining is that they got the termination mostly right, it's a glossy right-angle affair with good strain relief and phone case friendly.
 ​
While I had pretty bad comfort issues with the stock silicone tips that caused my ears to sweat about halfway through an LP, this was not an issue with SpinFit tips. I also found that the large circular nature of the earphones body was causing hotspots on my antihelix, the SpinFits allowed me to angle the earphones correctly to prevent this without breaking seal. Isolation is pretty non-existant with the stock tips but slightly improved with the SpinFits.
Due to issues with the cable and tips I cannot in good faith recommend these earphones for those on-the-go, and they are more suited for a sit down at home listen.
Sonic Impressions
If you've followed along this far you've probably noted that I haven't had too many positive things to talk about. This review is about to do a 180 however as it's all smooth sailing from here on out. If I had to describe these in two grammatically inappropriate words it would have to be "Sound Reality". Yes, Audio-Technica's own tagline here is more than just marketing speak as these are easily the most natural and lively sounding earphones, and perhaps even headphones in general, I have ever heard. Let me clarify for a second, since the word natural to some people conjures images of the soft-spoken HD600 or laid-back NAD HP50. The CKR9 is easily anything but, as a lively and accurate low end complements an even livelier treble both supported by a strikingly clear mid-range.
The benefits of the dual phase push-pull driver system in these is apparent from the first minute you listen to them. Reader beware however that I found a noticeable sound difference between these fresh out of the box and after they had been broken in a decent amount. While I don't normally believe in any form of burn-in past the often necessary mental type, the changes were mostly positive as the higher registers mellowed and evened out a bit, though still very much upfront and vivid.
I am confident at the time of this review that the CKR9 sports the best bass presentation of any IEM I have heard to date, with just the right amount of quantity and quality to satisfy all but the most extreme of bassheads. If I had to pick a word to describe the bass response it would be punchy. Two words: punchy & tight. Okay how about a whole list of wonderful adjectives everyone wants to hear: punchy, articulate, controlled, tight, well-extended, textured, fast. Forgive the superlatives, but sometimes the listener could feel as though they were behind the helm of the drum set themselves with each snap of the snare and kick of the, well, kick-drum.
​
"I told you 'bout the Seether before..."​
 ​
While Chicago-based alt-rock production Veruca Salt didn't get the same critical reception to 1997's 
Eight Arms To Hold You
 as their freshman offering 
American Thighs
 it still holds some memorable takeaway tracks, and for our purposes an excellent demonstrations of the CKR9s low-end capabilities. Not the most well-recorded album in the world, I find drummer Jim Shapiro can sound if he's getting carried away on the set on anything but the most controlled bass presentations. Thankfully, the CKR9 suits this album wonderfully with every resonation of the toms and staccato snap of the snare on
Straight 
and
Volcano Girls
 being felt and heard while never overstepping their bounds. We also begin to get a taste of the crystal clear mid range on these bad boys as Nina and Louise compliment each other on tracks like 
Shutterbug
 and 
Venus Man Trap
. I particularly love how the edge in Nina's voice is captured by this earphone as she tells tales of ex-boyfriends and the morning after without ever being unpleasant or harsh.
Regarding the highs, while I did say this was the best bass response I had heard in an earphone to date, I actually feel like the highs are the main strength of the CKR9 and make this earphone so special. Reminiscent of it's big poppa in the Sound Reality line-up, the ATH-MSR7($249USD) as well as it's twice-removed studio-capable cousin the Sony MDR-7506($79USD), this little fighter retains all the crystalline clarity and details present in those full-sized offerings with none of the often associated harshness or fatigue. The treble comes through loud and clear, lending many higher-pitched singers an ethereal or lively quality. Despite this I wouldn't call the CKR9 bright but rather balanced and tuned to the advertised slogan adorned on the box.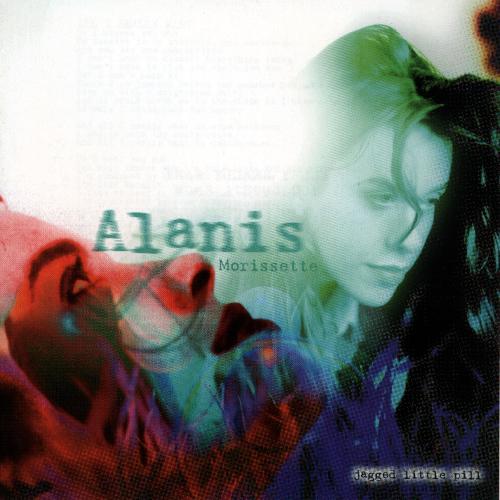 ​
"Isn't it ironic, don't you think?"​
Jagged Little Pill
 (1995) was the third studio album released by Canadian sweetheart Alanis Morissette, and is most likely the one she will be forever remembered for. A 12-track feature showcasing some of the slightly R-rated sides of show business and life taught us Alanis wasn't afraid to get her hands dirty, a formula that many an upstart singer songwriter would try to emulate for the rest of the late 90s. In 
Perfect
, a point of view piece where Alanis takes on the depressing role of the parent of a child star to treble levels that border on ear-piercing, the CKR9 keeps things tasteful and stops in what feels like just in time. Three tracks down on 
Forgiven
, another narrative about the prejudices of religion where the high notes can reach the imaginary ceiling of a Roman Catholic cathedral the CKR9 never gets unpleasant but instead stays eerily real as a head-bobbing 1-2-3-1-2-3-4 drum line carrys her confessions to our ears.
Well that just leaves us the mid range to talk about, and a self-professed mid-head you're probably wondering why I didn't talk about that first. It's not that I wanted to necessarily save the best for last, but rather I find the CKR9 so masterfully balanced it doesn't feel like the mid-range and treble are separate entities, but rather forces working as one in a seamless transition to deliver an excellent vocal experience. What the mid-range may lack in resolution versus earphones costing twice as much such as the Campfire Audio Orion ($349USD) it more than makes up for in tone and timbre. You can fancy this vocal lover as thoroughly impressed.
​
"Who made up all the rules,​
we follow them like fools..."​
 ​
Jemma Griffiths AKA Jem first wowed me with her wonderfully mastered debut album 
Finally Woken 
(2004) nearly ten years ago, and it has remained a steady favorite of mine to this day. This LP plays like a groove-riddled mixtape of chill-hop, electronica, lilting reggae and britpop. It's diversity and ability to switch between tracks as serious as 
24,
 a ballad about the discoveries one may experience with only a day left to live, to more carefree but equally well-written tracks like
Wish I 
and 
Just A Ride 
lands it a very special spot in my library. On well known opener
They,
 a conspiracy-fueled introspective about the powers that be; a prominent and deeply satisfying bassline is played back with equal parts accuracy and fun by the CKR9, while Jemma's distinct voice effortlessly lets off the questions that keep us up at night. Gears are immediately shifted to a nearly-seductive but equally low-end dependent 
Come On Closer, 
and all that is really left for me to say is despite having heard this album more times than I can count I have never been so engrossed or engaged with it as I have with the CKR9. I guess you could say I was finally woken.    
Summary
I wish this IEM did not have the physical shortcomings that it did, so that I could effortlessly recommend it to absolutely anyone and everyone seeking after a well-balanced and clear sound in the $150-$200 price bracket. Unfortunately while the sound reality may very well be there you will also have to live with the reality of a downright shameful cable and poor accessories package. If you can get over these drawbacks however, I believe the CKR9 is a great all-rounder and pretty much a no-brainer.
I would especially recommend these earphones to any aspiring audio lover who may not quite understand enough about their own personal preference yet to know exactly what to ask for, as that sudden euphoria when listening to them for the first time may drive anyone who has been living with inferior gear to ask "where have you been all my life?". A brief word of warning however, once you are accustomed to the CKR9 you may interpret some of your other gear as veiled or lifeless. Don't say I didn't warn you.

Pros
:
Amazing bass quality and great comfort
Cons
:
Not enough tips included
The ATH-CK9's were purchased by me and I'm not in any way affiliated with Audio-Technica.
Built and accessories:
The ATH-CKR9 is a dual dynamic IEM featuring two 13mm drivers. The drivers are mounted to face each other and are wired out of phase, Audio-Technica calls this "dual phase push-pull driver system".
Housing is made of aluminum and overall build quality feels very good. The design looks as if it was made for detachable cables but unfortunately that's not the case. The housings are fairly large but the design with a pretty shallow fit still makes them very comfortable to wear. I've got small ear canals but these stay well in my ears and I also use them in bed while going to sleep without any problem.
The cable doesn't look or feel like anything special but in use I find it to be excellent with very little tangling, low on microphonics, soft and flexible. The plug is L-shaped and feels very solid.  
The accessories are not much to write home about featuring four different silicon tips and a carrying/storage pouch. I'd have liked to see a lot more tip options included at this price point. None of the included tips worked well for me since I prefer this with wide bore tips, more about this in the sound description later.  
The CKR9's are very easy to drive and works great out of every source I've tried them with. Isolation is average with silicon trips but I've used them with Comply tips on a couple of flights and that works very well.  
The specs:
| | |
| --- | --- |
| Type | Dynamic |
| Driver Diameter | 13 mm x2 |
| Frequency Response | 5-35,000 Hz |
| Maximum Input Power | 200 mW |
| Sensitivity | 109 dB/mW |
| Impedance | 12 ohms |
| Weight | 12 g |
| Cable | 1.2 m, Y-type |
| Connector | 3.5 mm gold-plated stereo mini plug, L-shaped |
| Accessories Included | silicone eartips (XS/S/M/L) and protective carrying case |
Sound:
I've used these as my main IEM's over the last months and they've played for well over 200 hours. I've used them at home, while travelling and when going to sleep.  
I've used them with my Sony Xperia Z3 Compact phone, FiiO X3/Bluebird 6.0 combo and the Geek Out 720/Cayin C5 combo.  
Demo list:
Mark Knopfler – Sailing to Philadelphia
Røyksopp (Feat.Susanne Sundfør) – Save Me
Ane Brun – These Days
Michael Jackson – Dirty Diana
Alice in Chains – Them Bones
The Peter Malick Group – Immigrant
Eva Cassidy – Songbird
Thomas Dybdahl – A Lovestory
Norah Jones – Don't Know Why
Celldweller – Unshakeable
Jack Johnson – Better Together
Seinabo Sey – Younger (Kygo remix)
Dire Straits- So Far Away
Passenger – Let Her Go
Morrissey – Earth Is the Loneliest Planet  
I really like these most with wide bore tips and my favorites are the JVC Spiral dot, the red/grey wide bore tips from Lunashop and the very strange stock ear tips from the LG Quadbeats. Using wide bore tips makes soundstage slightly wider and treble more pronounced to my ears.  
The overall sound signature is well balanced, lively and very entertaining
.
The lows have great depth, texture and speed. The bass reproduction on the ATH-CKR9's is by far the best I've heard in an IEM. The bass is very well controlled with no bleed into the lower midrange. These are by no means bass light IEM's but the bass is focused in the lower bass regions and digs really deep with great impact and an amazing layering. I'd say that you need to be at least a semi bass-head to feel that they lack bass.  
The midrange is slightly forward with more focus on the higher mids than the lower. This in combination with not even a hint of boomy mid bass but great clarity, details and voice reproduction makes a very enjoyble midrange in total.  
The treble feels detailed and has a very good extension without any sibilance. I really enjoy these with female voices and they're very non-fatiguing.  
Soundstage width is good and soundstage depth is excellent. Clarity is also good while micro details and separation are amazing.  
So all together we've got great sub bass impact and speed, zero bass bloom into the lower mids, a slight forwardness in the higher mids and a very good treble extension without any sibilance. All this combined makes a very natural presentation that really hit the sweet spot for my preferences.  
Comparison:
CKR9 vs CKR10:
Compared to the CKR9 the CKR10 has a warmer, thicker sound with more intimate presentation. The CKR10's has a lift in the lower midrange (while the CKR9's has a lift in the higher midrange) that makes mid-bass more prominent but also makes male voices sounding more realistic. The CKR9 is brighter compared to the CKR10's (but they're NOT a bright IEM ) which also gives them greater clarity. They both share the non-fatiguing treble and excellent bass layering.  
The design on the CKR 9 and 10's is identical so I find them equally comfortable. They're also equally easy to drive.  
CKR9 vs DUNU Titan 1:
Compared to the CKR9 the Titan 1 has an overall brighter presentation that gives a feeling of more air and better clarity but also makes them a bit more fatiguing in the treble reproduction. Bass impact is very good on both but the CKR9 reach lower and has better layering in the bass. The Titan 1 also loses out in soundstage depth and micro details.  
The Titan 1 is one of the most comfortable IEM that I own so I'd rate them slightly above than the CKR9 in ergonomics. The Titan is also a bit harder to drive.  
CKR9 vs Havi B3 Pro1:
The B3's still remains one of my favorite IEM's to this day. Compared to the CKR9's they've got a larger soundstage width and an overall more neutral presentation. The B3's are also more relaxed while the CKR9's are more forward in its presentation. The voice reproduction on the B3's are the best I've heard in a IEM so far but the CKR9's really pushes them and the difference in realism between the two is minimal. The CKR9's has an overall fuller sound and significantly more bass impact and as a result of this better layering in the sub bass. The higher mids on the CKR9's is also a bit brighter and treble has better extension than on the B3's.   
The B3's are over ear design and although I usually like that the best I'd say that ergonomics on these two are pretty similar. The B3's are significantly harder to drive compared to the CKR9's.  
Summary:
I'd guess that by now there shouldn't come as any surprise that I really, really like the ATH-CKR9's. I'd even go as far as saying that it's the best sounding IEM I've ever heard for my preferences. If I should describe the CKR9 in as few words as possible it'd be non-fatiguing and natural sounding.   
If there's something I'd like to change on these it wouldn't really be anything regarding sound but the variety of included tips should be much better at this price point and I really would have liked the cable to be detachable.
Pros
:
Remarkably realistic sound reproduction, beautiful depth, clean and crisp across the frequency range, fun and lively
Cons
:
Must be imported for best prices, would expect a little more from the cable of an IEM of this quality, slightly microphonic.
 ​
I've had my eye on the Audio Technica CKR series for a good while now. Reading reviews from Head-fiers earfonia and vlenbo had me as excited to hear them as I've been about any headphone. Since I've been exploring other AT products in recent months, including the excellent value IM50 and IM70, it only made sense for me to buy a pair of their higher end budget headphones and the CKR9 was just what I was looking for. 
Build/Design/Accessories
Audio Technica touts the CKR9 as having the world's first dual phase "push-pull" driver system. This means that rather than having the drivers in sequence like the "symphonic" drivers of the IM50 and IM70, the CKR9's massive 13mm drivers face each other and are wired out of phase with each other. This way, the drivers move in the same direction, while facing in different ones. As a result, Audio Technica claims, distortion is reduced and sound reproduction takes on a more natural and realistic quality. 
I'd like to first point out to US and European based Head-fiers that the CKR9 will need to be imported from Japan in order to get the best prices. I believe this IEM will soon be or is currently available in North America and Europe, but at a higher price.
The CKR9 is packaged in a very nice box with multiple compartments and cutouts for the 4 sets of standard Audio Technica silicone tips, the sleek and professional looking snap leather carrying case, and the CKR9 themselves. 
The design of the large shells CKR9 is plastic, but they look and feel sturdy enough for the price paid. It isn't as hard and indestructible feeling as the IM50 and 70, but I can't say it feels low quality in any way. The milled aluminum part of the housing feels reminiscent of a MacBook. It's got a bit of a thin feeling, but you'd have to hit it pretty hard to actually damage it. The cable is very simple and unremarkable. Two wires meet at an incredibly tiny Y split and terminate in a sturdy, very well relieved 90° plug. The cable is, again, very unremarkable, and while it doesn't bother me, some may be bothered by the fact that it doesn't have a chin slider. 
The CKR9 is intended to be worn cable down, though some have said they can be worn over the ear. I can get a decent fit over ear, but the long strain reliefs make it difficult for the cables to sit properly. As such, I'd recommend them being worn in the intended configuration. The fit is great for me and I have no problem using them for hours on end. Smaller eared folk may find the large housings more fiddly, but I don't have any such issue. As a final note, there is some very mild driver flex, likely as a result of the large push-pull drivers. It's not as noticeable as with cheaper IEMs, but I did find it necessary to mention it. 
 ​
 ​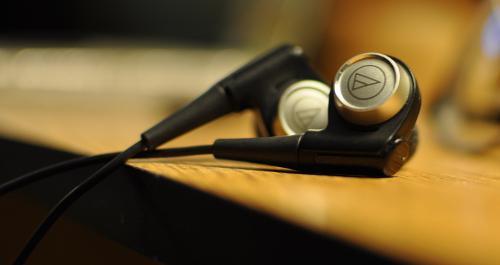 ​
 ​
 ​
Sound
Audio Technica has given the CKR series the tagline of "Sound Reality." If reality was their intention, I have to say they've got it pretty much nailed. The sound is warm and rich where it needs to be and transparent and sparkly where it doesn't. Everything sounds exactly as you would expect it to sound were you in a studio or live venue listening to it. The low end is fast and accurate, with beautiful texture and layering in drums and basses. The midrange is forward and features crystal clear vocals and instruments. The highs are sparkly and detailed with great extension and resolution. Unlike the IM series, the stock tips work perfectly on the CKR9 and I haven't seen a real need to change them. Finally, like other AT dynamic drivers, the CKR9 requires no amping and can be driven easily from any source. 
Bass
The CKR9's low end is very tight and controlled. The attack and decay of drums are spot on, whether bass drums booming, toms resonating, or snares popping. Nothing is wasted and nothing bleeds or echoes where it shouldn't. The sound is reminiscent of and  the GR07's papery, crisp textured drum sounds. Listening to the fastest metal beats and the boomiest EDM tracks are no sweat at all for these IEMs. At times, the listener will feel as though they're sitting behind the drum kit themselves. Basses and Bass guitars are full, rich, and detailed. Again, nothing bleeds into the midrange further than it needs to and basses never com across as too forward, but rather, complimentary. Reverberations and resonances from symphonic instruments like contrabassoons, double basses, pianos, et al are well replicated and give a great impression of the halls and chambers they are recorded in. 
Mids
This seems to be an area where several of the newer Audio Technica IEMs are focusing their efforts and the CKR9 is no exception. The midrange once again pays respect to the moniker of sound reality with ethereal vocals, pianos, and guitars that put the listener right in the midsts of the performances. Female vocals are angelic, otherworldly and crystalline in texture. Male vocals don't take a backseat as they often can, instead sounding full and weighty. Guitars sing with the sense that you could almost pick out sound traveling up the strings. Pianos resonate in such a way that one could almost identify the type of wood they're made from. Those descriptions may seem idyllic and full of hyperbole, but the instruments and sounds in this register leave me feeling positively charmed by them. The naturalness and timbre of the middle registers has me grinning from ear to ear every time I put these in.
Another note on the mids; I've heard a few people mention that the mids are too forward and detailed for them, almost to the point of fatigue. I did find the mids particularly forward and intense, but got used to them quite quickly and haven't had any such issues aside from a few shouty J-Pop tracks. Having said that, if you find yourself sensitive to such things, take note.
Treble
The CKR9 features a very detailed treble with plenty of clarity and sparkle. I've heard some compare the CKR9 to a hybrid IEM given its rich realistic low end coupled with a detailed treble and I can definitely see where those people are coming from. Again, nothing sounds artificial or wasted. I'm particularly sensitive to how cymbals and rim noise resonate from drums and don't have a single complaint about how the treble handles itself. Whispers, breaths, and instrument noise are readily apparent in classical pieces and vocal-centric songs. This treble, for me, strikes the perfect balance between the smooth and relaxed IM70 and the energetic and detailed GR07. I only very rarely detect sibilance or offensive percussion and this is more often than not a mastering or file quality issue rather than a fault of the IEM. 
Soundstage and Image
In terms of width, the CKR9 is on the intimate side of things. It's not a particularly wide soundstage though it can definitely reach out of one's head if the recording is so inclined. Depth is wonderful. Notes and resonances seem to travel forever in front or behind. Height is very realistic and it's easy to pick out the ceilings and floors of venues or studio rooms. Overall the soundstage is intimate but very three dimensional with as many layers as your favorite cake. Imaging is very good to my ears, with placement of instruments being easy to pick out down to their height and depth. 
EDIT: Using Auvio Hybrids or JVC Spiral Dot tips opens these up quite a bit. Quite a bit more spacious than the stock tips. 
Test tracks 
(The usual disclaimer here that YouTube often isn't the best option for hi-fi sound, but these are mainly for reference.)
ZZ Top - La Grange
This song is all about realism, from drumsticks tapping on the rims to the fingers against the guitar strings to Billy Gibbons' voice sounding as though he were standing right behind you. The texture and impact of the drum fill when the full band comes in reinforces the feeling that you're sitting in a small room listening to the band play. This entire album is wonderful, but this tune in particular give me that feeling of realism that the CKR9 so wonderfully replicates. 
Kimiko Kasai w/ Yuji Ohno Trio
A live number that can put you right on stage at the club Kimiko is performing at. The image of the piano, bass, and drums in different spots can be disorienting, but showcases how the CKR9 handles placement of instruments. Female vocals also showcase very nicely on this track. This kind of thing is where the CKR9 can really shine.
A
rch Enemy - Nemesis
This is one of my go to tracks for a test of speed, control, and separation. Machine gun bass drums, chugging guitars, and growling female vocals. It can get very bloated and details get lost easily on many headphones. The CKR9's midrange can almost make Angela Gossow's death growls sound pretty. Almost. 
OceanLab - Come Home/If I Could Fly
A double feature of one of my favorite Vocal Trance groups. The CKR9 shows that it can do electronic music as well. This track demonstrates how low the bass reaches and how big it can get when needed. A display of both the bass dynamics and midrange. The treble extends well and gives the extra energy up top that's needed with EDM. 
Sergei 
R
achmaninoff - Cziffra - Piano Concerto No. 2 Mvt I
Youtube doesn't really do this recording justice, but with a good file this is beautifully replayed on the CKR9. It loses some of the raw width you'd get from an open back headphone or a higher end IEM, but makes up for it with hearing cues based on the hall's reverberation. It ticks all the boxes in terms of dynamics, room size, texture, and so on.
​
Conclusion
To sum it up, Audio Technica has succeeded in developing an IEM that can deliver wonderfully realistic sound reproduction and which can be had currently for under $200. At its price point the CKR9 is a very compelling option for those seeking realism in their music. There may be a few faults or missteps in the design of the cable, but with deep and detailed bass that shines in any genre of music and an emotional and life-like midrange, it should be on anyone's shortlist for a sub-$200 IEM. It may not be the endgame IEM, but it certainly might be for many budget conscious audiophiles. 
 ​
 ​