---
The product was loaned to me for the review purpose in exchange for my honest opinion. The review was originally published on my
site
, and now I would like to share it with my my readers on Head-fi!
Manufacturer website:
Astell & Kern
. Available for sale directly or other on-line stores like
Audio46
.
---
Intro.
When I had a chance to review
SP1000
(SPK), I expressed how Astell & Kern have come a long way since my review of their AK120ii. In my follow up
SP1000M
(SPKM) review, I noted how its new updated software paved the way to enable many popular streaming apps on A&K DAPs with introduction of Open APP Service. Now, two years since SPK introduction, A&K unveiled their new flagship model, SP2000 (SP2k) which is available again in either Stainless Steel (SS) or Copper (CU) versions. And to my big surprise, the price of SP2k remained the same as SPK SS/CU.
A new flagship release from A&K, one of the companies that pioneered the concept of high-end DAPs, is guaranteed to get the attention of audiophiles around the world. But in today's saturated market of portable audio players, you never know what to expect. A few years ago, new flagship releases from different manufacturers had a more noticeable incremental improvements in both the design and the sound. Today, many are already at the top of their game. So, where do you go from there? You go for a Refinement! And that's exactly what I found while spending the last 2 weeks with SP2000 SS. Here is more about it.
Unboxing and Accessories.
SP2k unboxing experience is identical to SPK. No big surprises here, though the sight of a large premium wooden storage box emerging from an all-black paper outer box was still very impressive. That outer box cover had A&K signature "A" on the top and a detailed small print spec in 10 languages on the back, but my focus went straight to the wooden giftbox.
Everything was packed inside of it with Astell & Kern name on the top cover. Still, there is no latches or hinges for the cover to be securely attached, thus make sure to hold it from the bottom when opening the top. Inside you have a foam cutout under the cover where you will find a leather case, 2 sets of front/back film screen protectors, quick start card, and a warranty card. The foam cutout inside the main part of the box holds SP2000 and USB-C cable.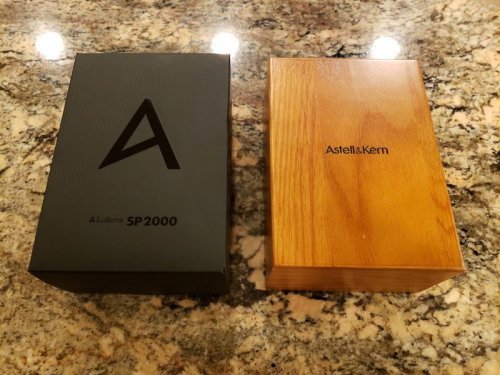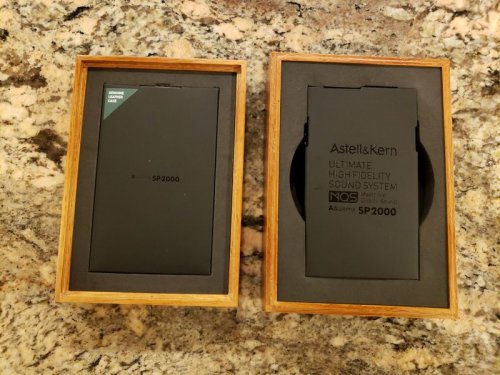 Right away I noticed the absence of A-logo micro-SD tray pin (found in SPK) – SP2k uses spring loaded mechanism for its flash card. Multiple sets of screen protectors were thoughtful to have in case if you mess up during installation. The included standard USB-C high speed cable for charging, data transfer, and usb DAC functionality is high quality, thick, with a durable shielding, and adequate gauge wires. With a fast charge mode support, it's important to use a quality cable for high speed charging at higher voltage.
Just like with SPK, A&K included a quality premium leather case with SP2k model. This one was green color. The case fits like a glove, with a generous opening for usb-C connector at the bottom, covered play/pause/skip buttons on the left, a fully open top (where you slide the DAP in), and uncovered upper right corner going from the volume/power wheel and all the way up. Inside the case you have a soft suede material to protect DAP from scratches. The case looks rich and gives this large size dap a more secure grip when handling it. The only concern is micro SD card slot being covered at the bottom, so you have to remove the case to access it.
Design.
A&K new SP2k flagship has a very similar exterior design and size when compared to its SPK predecessor. With dimensions of 76.3mm x 132mm x 15.7mm, on par with some of the large screen smartphones and a few of my other big size DAPs, I still consider it to be portable, but it might not be as pocket friendly for everyone due to its 411g (Stainless Steel) or 433g (Copper) weight. This is just part of a tradeoff for having a large 5" high definition touch screen and additional weight associated with either SS or CU chassis.
The focus of the design is still around the large 5" touch screen occupying the front view, with a touch home button below the visible display area - a great feature to get back to the main Playback screen from any other screen. The front view of the DAP is slightly asymmetric due to uneven sculptured bevel sides, and a crown-patterned volume wheel on the right which also functions as a power button when you press it. As a power button it has a typical functionality of short press to turn the screen on/off or a long press to turn the power on/off, with confirmation to shutdown which requires touch screen acknowledgement.
The volume wheel is easy to turn using one finger, though it's not loose and has some resistance with a click action felt with every rotation turn of 150 volume steps. You don't have to take your hand/finger off the volume wheel after the adjustment if you want to turn on/off the display. The design of the volume wheel has a detailed crown pattern, typical of a wrist watch. It certainly adds to the appeal of the DAP, since even inside of a leather case the wheel is still visible. The design pattern of the SP2k wheel is slightly different from SPK model, but there are still many other similarities.
On the left side you have Play/Pause and Skip controls, three identical rectangular buttons located in the upper part of the left side. They do have a nice tactile response and spaced evenly with enough room in between to avoid pressing an adjacent button by mistake. Since majority of users will have SP2k in a leather case anyway, buttons will be covered, and stock leather case has their imprinted functionality label for easier ID. And as many would expect, Dignis already released some aftermarket leather cases if you would like to upgrade.
The top of the DAP has fully open access to 3.5mm headphone port which also used for Line Out and Optical out, and 2.5mm balanced headphone port. The only thing, top also has a black glass cover which blends in with headphones ports, and I had to look closer before inserting the plug. In SPK, the top had corresponding color chassis material, so it was easier to see black headphone ports. Also, unlike SPK, you will not find micro SD card slot at the top of SP2k.
The micro SD port (spring loaded) is now on the bottom, to the right of USB-C port which is used for charging (including Fast Charging), data transfer, USB DAC connection, and USB OTG external device connection. If you are using stock leather case, as already mentioned, you will have to remove it to access micro SD card. The back of the DAP has an asymmetric design with chassis material (SS in my case) and a carbon fiber inlay triangle at the top. If you wondering where are the pins for a docking AMP module (like in SPK), it is no longer there since SP2k doesn't support this option anymore.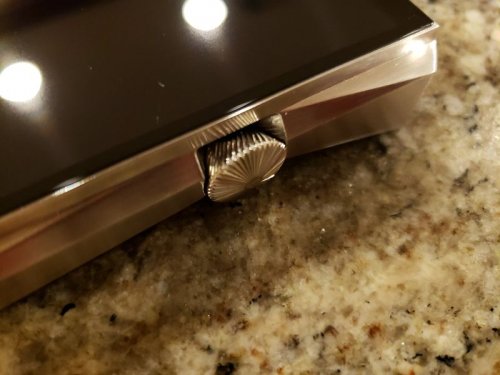 Under the hood.
While we do know that it's not the chipset but how you implement it that makes a difference, similar to SPK being one of the first to use AK4497 DAC, SP2k moves forward with introduction of AKM latest AK4499 flagship DAC. SP2k has 2 of these DACs, using them separately in each independent audio channel between the Unbalanced and Balanced outputs. A&K didn't share any further details about the design and the components of the internal headphone amp section, but from the spec the output power was increased with Unbalanced 3Vrms (up from previous 2.2Vrms) and Balanced 6Vrms (up from previous 3.9Vrms). Also, SNR spec was improved by at least 3dB, with Unbalanced 124dB (up from previous 120dB) and Balanced 125dB (up from previous 122dB). These number don't just improve on paper, but you can hear a more powerful dynamic output with blacker background when comparing SP2k to SPK.
The touch display is the same responsive 5" high definition (720 x 1280 resolution) screen. By smartphone standards this resolution is average, but considering this is audio only playback device, it's more than adequate. The interface is relatively fast, thanks to octa-core CPU. I didn't notice any lag when navigating or browsing, though there is always a small delay when you press Play. Looks like SP2k has plenty of processing power to do flawless audio decoding while supporting all the popular lossy and lossless formats, such as WAV, FLAC, WMA, MP3, OGG, APE, AAC, ALAC, AIFF, DFF, and DSF, with PCM rates up to 32bit/786kHz and DSD rates up to 22.58MHz (DSD512). And MQA playback support was added, covering Tidal Masters, Local files, External USB, and MQA-CD (ripped).
And for high resolution files you have plenty of storage with internal 512GB of NAND flash storage and microSD external memory expansion up to the latest largest capacity card (A&K tested with 1TB). Furthermore, USB-C OTG supports external hard drive storage or usb stick expansion. The battery life is OK, but with new DACs and higher output power, even increase in battery capacity to 3,700mAh (up from previous 3,400), the playback time drops from 12hrs (SPK) to 8hrs (SP2k), FLAC loop playback with display off. Going to DSD, it will be reduced even further just like with any other DAP. Also, SP2k still supports Fast Charging which takes about 2.5hrs from empty to 100%. You can either use a regular 5V/2A charger or a Fast 9V/1.67A charger.
To support fast charging and to speed up data transfer, SP2k also features USB 3.0 Type-C interface for charging, data transfer, and USB DAC functionality. WiFi was updated to dual band now, supporting both 2.4GHz and 5GHz bands. Along with that you have OTA firmware update support and of course streaming of many popular apps. Furthermore, Bluetooth v4.1 Wireless supporting A2DP and AVRCP profiles, and aptX and aptX HD protocols. Also, in addition to 2.5mm BAL output, 3.5mm SE port is multifunctional for headphone out, line out, and optical digital out.
GUI.
I'm often being asked why I go into so much details describing the GUI. I review a lot of products, including many DAPs, and often asked numerous questions after the review, days, weeks, and many months later. Sometimes I don't have DAP in front of me at that moment, and it's easier to "reach out" to my review if I don't remember the answer off top of my head. Also, you can think of this GUI section as a user guide, to make sure you didn't miss any hidden gems.
Once you press the Power-crown and after waiting for about 20sec as you are greeted with "A" symbol, you arrive at the Main Playback screen of the SP2k, also accessible by pressing a touch Home button at the bottom of the screen. Thanks to a large 5" display, there is plenty of room for a clear view of the interface with all the controls out in the open. The embedded artwork (with cover art) window occupies top half of the screen, tapping on it expands the view and shows lyrics if one is available. Swiping artwork window left/right skips to prev/next song in your playlist. Above it you get a summary of song format (file type, bit depth, and sampling rate), with a link to Now Playing (where you can edit/modify from within) in the upper right corner and a link to Navigation Menu in the upper left corner.
Right under the artwork window there is a thin strip of transport control to fast forward/back by swiping through the song. Of course, you can also do that by holding Next/Prev touch buttons or physical playback control buttons, but I have a feeling majority of users will probably prefer to take advantage of touch-swiping through the song. While this control strip is narrow and requires user to be careful where you tap, A&K came up with a clever way for you to see the current song position as you swipe by turning the whole artwork window into semi-transparent transport control and literally expanding the swipe area to the entire screen when you touch and hold it.
In the lower half of the screen you have a row of controls with a left arrow (taking you back to the current folder you are in, along with a storage info), '+' to add to the playlist, '…' with a link to a detailed ID tag song info, and two right-most icons to control the playback by selecting play all, repeat, repeat one, play through and random. The playback section also gets reflected in notification bar area of the DAP, all the way at the top. Below this row of controls, you have a song name with an artist and album name, and 3 playback touch buttons with Play/Pause in the middle and Skip Next/Prev on the sides. The buttons are large and adequately spaced so it's easier to tap them.
The Navigation menu, accessible by pressing "A" in the upper left corner, takes you to a list with various Sorting option (song, album, artist, genre), Playlist, Folder view, MQS, CD library, Services, and Settings. You can also access this screen by swiping display to the right from the main Playback screen, where you can also swipe to the left and get into Now Playing screen. Under every sorting option you have other options to add songs to playback queue, different layout to view album (single, double, or triple columns), view artist with every album under each name, genres according to id tags, and my favorite Folder browsing which also gives you extra info about internal storage.
Settings menu is very important, but you can also access some of the shortcuts by swiping the screen down to see what's available in Notification area where you can toggle Wi-Fi, Bluetooth, EQ, USB mode, external usb, AK connect, Line Out, Car Mode, Gapless, Wheel lock, and shortcut to the main Settings menu. Many of these toggle options don't just enable the functionality, but if you long press on it – will take you to the menu of that functionality. In the main Settings screen you have Wi-fi, Bluetooth, AK Connect, then Equalizer, Gapless, Line Out, L/R Balance, Playback setting (location where you add the songs in now playing and other options to add a song), Notification Panel (to customize shortcuts in notification bar), CD ripping (for external AK unit), usb mode (MTP or USB DAC input), usb audio (DSD converted to PCM or DoP), S/PDIF conversion (upon connection, enabling selection of bit depth and sample rate), and Car Mode (enabling). Other options are DAP related, like brightness setting, date & time, device name, language, keyboard, Power settings (power, screen, sleep setting). And of course, Update, System Info, and Default settings reset.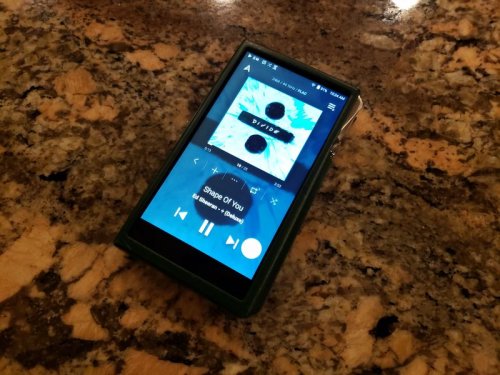 Despite AK4499EQ DAC support, access to DAC filters is not enabled. Would have been nice, but A&K is very specific about sound tuning of their DAPs. Another thing is EQ. One Normal EQ preset is available and no other genre specific presets, but you can create your own ones. EQ interface is very polished and has two modes, Main and Advance. In the main mode you have standard Paragraphic EQ sliders covering 20 bands (30, 45, 60, 90, 120, 180, 250, 380, 500, 750, 1k, 1.5k, 2k, 3k, 4k, 6k, 8k, 12k, 14k, and 18k) where you can either slide the bar or use a more precise 0.1 adjustment of the gain, as well as scrolling through available frequencies. And as you adjust, it gets reflected in the lower right corner, showing you overall shape of the EQ. Switching to Advance, turns EQ adjustment into Parametric EQ with a full GUI view of the EQ shape where underneath you have FREQ band selection (a choice of 20), Gain selection in 0.1 and even 0.01 micro adjustments, and Q bandwidth selection in 0.1 increment adjustments.
This PEQ interface looks great and has a perfect layout, but the actual adjustment has a very subtle effect on the sound. I was a little puzzled by this, because +/- 5dB adjustment of any band (the slider range) should be more audible, but not in this case. I personally don't use EQ, so it's not a big deal for me, but if you are a frequent EQ user – please be aware.
The whole interface is very intuitive, has a very logical layout, and very easy to read and to navigate. I like the big display with its big control touch buttons and easy to read menus. I like Home touch screen button which always takes you back to the main playback screen, and I like the notification bar at the top with all the available info (volume setting, playback setting, enabled controls, battery icon with percentage indicator and time display), and I like shortcuts to the main controls once you swipe the notification bar down.
And of course, the Floating Back button is another plus, though it can be easily disabled by dragging it to the middle of the display or enabled/disabled in the Settings menu under Input Method. The button itself is floating and could be moved to anywhere along the left/right sides of the screen. You still have a Home touch button in the center under the visible part of the display, and when browsing A&K menus and settings you will find Back button at the top to go to the previous screen.
Open APP Service.
Earlier when SP1000M was introduced, along with a new firmware, A&K added Open APP Service which later was implemented in all of their Android 6.0 based DAPs, such as SP1000 SS/CU, SP1000M, SE100, and SR15, and SP2000 SS/CU as well. More info could be found
here
where Astell & Kern goes into details about how to install and to use it.
When you start dealing with Android apps, in many cases you do need a Back button for navigation, and now you have one which going to come in handy when dealing with streaming apps. While Astell & Kern offers a built-in Tidal service (without off-line storage support), for a long time their customers been asking to add Spotify, Qobuz and other streaming services. A&K latest DAPs do run on Android, but it's a heavily modified closed OS without access to Google Play. In a way, it's a blessing for a manufacturer to keep DAP performance optimized since you don't have to worry about customers installing and running other unstable apps.
Now with Open APP Service you have more freedom, but the list of allowed apps is reasonably limited to about 21 apps now. And when you decide to install a non-blacklisted app, you need to download APK file (use a site like
https://apkpure.com/
), copy it to Open Service Folder located on internal storage, go to Services on the DAP, and when you see the app being recognized and listed in there - click to install it. Keep in mind, for example, you will have to install Tidal apk if you want off-line downloads. Also, installed apps will not be updated automatically since you are not running Google Play. You will have to keep track of app updates and manually download and install new versions.
I installed and used without a problem Spotify and Qobuz streaming apps and was able to download off-line content in Qobuz just like I would on my smartphone.

Sound Analysis.
The sound analysis of SP2k was done using 64 Audio U18t, playing a selection of the test tracks, such as Agnes Obel "The curse", Sandro Cavazza "So much better" (Avicii remix), C-Bool "Never go away", Ed Sheeran "Shape of you", Counting Crows "Big yellow taxi", Galantis "Hunter", Alan Walker "Darkside", Iggy Azalea "Black widow", Indila "Boite en argent", Robin Schultz "Oh child", David Elias "Vision of her", and Michael Jackson "Dirty Diana".
Since I only had a chance to test Stainless Steel model, I won't be able to offer any comparison to Copper model. Please keep in mind, all the sound description is based on listening to SP2000 SS.
I already hinted in the intro of this review that we are looking at the refined version of SP1000. What I found very interesting is that a level of this refinement varied depending on which earphone or headphone I was pairing SP2k with. Because of that, I spent extra time and included more details in Pair Up section of this review to give you a better idea of SP2k sound. So, you can consider this section of the review as a summary of my finding, but for more in-depth analysis please refer to follow up Comparison and Pair Up review sections.
The first thing you notice when start listening to SP2k SS is the width of the soundstage. Sounds like deja vu from my SPK review, but in their previous flagship the soundstage always had a good depth with a sound being more out of your head. When it comes to width, the original SPK changed between early fw updates. A few people did argue with me about fw changes, I guess we all hear things differently, and it will depend on headphones and your hearing level. But the original fw version of SPK (1.06) was super wide, then it shrunk a bit with follow up updates. SP2k width captures that original L/R spread I remember from SPK (1.06). As a result, the soundstage of SP2k SS is very spacious, on 3D holographic level, which also leads to an imaging with a very precise placement of instruments and vocals. The limiting factor here will only be your IEMs or headphones and how wide they are tuned to deliver the sound.
The tonality of SP2k is neutral with a sound being quite transparent and very resolving. When it comes to bass, the original SPK felt more neutral in comparison to SP2k which has more emphasis (in both sub-bass rumble and mid-bass punch) and more articulation where bass is faster and tighter. The quantity of the bass in SP2k is not over-emphasized or boosted, but you can hear a nice tight well controlled punch with many IEMs and headphones. Mids are very clear, layered, transparent, without adding any coloring to your IEMs/headphones outside of their own "stock" tonality. The mids of SP2k SS are not too cold or analytical, and at the same time don't contribute too much of extra body to the sound. To my ears both SPK and SP2k have a little smoother treble which gives the sound a more natural tone without compromising extension and airiness.
I know that for some SNR spec numbers are meaningless, but I can correlate it with an improvement in dynamics of the vertical sound expansion due to a lower noise floor. And after spending a long time listening closer to SPK vs SP2k, I can hear the latter one having a blacker background. With blacker background, I also hear an improvement in faster transient response where details pop up with more clarity, especially in the mids of SP2k. Though the difference is subtle, it is noticeable to my ears with more revealing IEMs.
I hate to speculate about SP2k CU and will certainly update this section of the review when I get a chance to hear it, but I would expect Copper version to have more body in the mids like it did with SPK.
2.5mm vs 3.5mm
With U18t, to match my regular listening sound level, I had volume at 62 (3.5mm) vs volume at 52 (2.5mm). Quite often people ask me about the difference in sound between single ended and balanced outputs of the DAP. Here, I definitely noticed a more powerful output of balanced HO which you can see in volume setting difference. In terms of sound difference, balanced output is just a touch wider and with a little blacker background. Not exactly night'n'day, but noticeable when using more resolving earphones. Otherwise, these ports were close in sound when compared to SPK ports.
Comparison.
In every comparison I used U18t IEMs, volume matched while listening to the same test track between DAPs.
SP2k vs SPK
– not just with U18t, but across many different earphones and full-size headphones I found a common difference of SP2k having a wider soundstage, and also a bass with a little more emphasis and articulation and faster speed due to faster attack and shorter decay. A more subtle difference was noticeable in SP2k having a blacker background and some improvements in layering and separation of the sounds as a result of more clarity in mids/vocals. But the most noticeable change was in soundstage width and speed and punch of the bass.
SP2k vs HiFiMAN R2R2000 Red
w/iEMatch - relative to U18t, I had to use iEMatch with R2R2k, otherwise tonality would have been completely off. Comparing SP2k to R2R2k I hear a lot of similarities in terms of sound signature, resolution, layering and separation of the sounds, and even soundstage expansion. The only sound difference I hear is in tonality with mids being a little more revealing and slightly brighter in Red vs a little smoother and more organic in SP2k. Of course, got to keep in mind this is relative to U18t.
SP2k vs Sony WM1Z
- a lot of similarities in technical performance between these two as well, both having a dynamic layered sound with excellent retrieval of details and great layering and separation of sounds. When it comes to soundstage, they are similar as well, but I hear SP2k having a little wider soundstage expansion. Also, usually WM1Z has more bass impact, but here the SP2k was able to match it. But when it comes to treble sparkle/brightness, WM1Z was crisper while SP2k was smoother, more organic.
SP2k vs Lotoo PAW Gold Touch LPGT
- in this comparison a found a few subtle differences in technical performance of each DAP. Both have a wide soundstage expansion, but SP2k pushes the width just a touch wider, making it more holographic, but the difference is not exactly night'n'day. Also, LPGT bass is a little more neutral in comparison to SP2k having a slightly tighter punch. In terms of tonality, mids/vocals are very similar revealing, neutral, but LPGT has more air and sparkle in treble while SP2k is a little smoother in comparison.
SP2k vs iBasso DX220 w/AMP8
- a lot of similarities in this comparison as well, but also a few differences. The soundstage is wider in SP2k, expanding a little more between Left and Right sides. Technical performance has a lot of similarities, the same dynamic layered sound with a good separation of instruments, but I do hear DX220 w/amp8 to have a stronger bass impact and a touch more sparkle in treble. Punchier bass is a typical signature of AMP8, but everything else is not too far off.
SP2k vs Cayin N6ii
- Some difference in this comparison, with SP2k soundstage being wider, while N6ii having a little smoother tonality. Both have a nice and strong mid-bass punch, perhaps with N6ii being a little tighter, but it's close enough. N6ii smoother tonality is more noticeable when comparing mids where I hear more body in N6ii while SP2k is a little brighter and more transparent (in relative comparison). Treble is very similar between these two.
Pair up.
I decided to make Pair Up section a little different in this review. For every pair of earphones or headphones I compared the sound performance between SP2k and SPK and indicated the volume level in ().
Beyerdynamic T5p 2nd
(Tesla, full size, BAL)
SP2k (70) vs SPK (76)
- in both pair ups the sound has a balanced sig with a smoother, warmer, more natural tonality. With SP2k the soundstage is wider, bass is tighter and punchier, and I hear a little more clarity in mids/vocals, especially upper mids. Treble is the same. Except for a noticeable difference in soundstage and bass, the rest is just finetuning.
Audio-Technica ATH-R70x
(470 ohm, open back, SE)
SP2k (110) vs SPK (115)
- in both pair ups the sound has a balanced sig with a more neutral smoother tonality. With SP2k the soundstage expansion is wider, bass is punchier and faster, mids and treble sounds nearly identical in tonality, but overall SP2k has a tighter sound with a blacker background where details popping up faster and with a little more clarity. Again, a lot of this is finetuning, while soundstage and bass difference are more noticeable.
MEZE Empyrean
(planar magnetic, BAL)
SP2k (83) vs SPK (90)
- in both pair ups the sound has a balanced sig with a more natural organic tonality. With SP2k the soundstage is wider and more holographic, and the bass is faster as well. Not necessary with more punch, but the speed is faster due to faster attack and shorter decay. Also, I noticed more clarity in vocals when paired up with SP2k, which makes SPK sound a bit congested in comparison, especially when it comes to vocals.
VE Zen ZOE
(320 ohm, earbuds, BAL)
SP2k (85) vs SPK (90)
- balanced signature, and thicker sound with a warm smooth tonality. With SP2k the soundstage is just a little bit wider, while bass and treble are nearly the same as with SPK. The biggest difference here is in mids, where paired up with SP2k I hear ZOE mids/vocals having more clarity and better retrieval of details.
64 Audio U18t
(18BA, BAL)
SP2k (51) vs SPK (60)
- a balanced signature with a slightly more forward mids presentation, more revealing natural tonality. I do hear soundstage to be wider with SP2k, and also bass being just a little tighter, faster, and more articulate. Also, mids have a little more clarity, and faster and tighter, I can actually hear a blacker background with SP2k. With U18t the difference is more subtle, where SP2k finetunes rather than drastically changes the sound.
64 Audio Fourte Noir
(DD/3BA, BAL)
SP2k (55) vs SPK (61)
- a balanced signature with a little extra emphasis on lows and overall more natural revealing tonality. The sound difference here is less drastic as well, similar to U18t. The soundstage is wider with SP2k, and the sound is a little tighter, sharper, and I can hear blacker background with SP2k, but it's a subtle change with a more noticeable difference in soundstage and detail retrieval which are improved with SP2k.
FIR Audio M5
(DD/3BA/ESTAT, BAL)
SP2k (54) vs SPK (61)
- a balanced signature with a little extra emphasis on lows, and more natural revealing tonality. The difference here is more noticeable between SP2k where the soundstage is wider, bass is tighter and faster, and retrieval of details and separation of sounds is noticeably better, making pair up with SPK sound more congested in comparison. Especially the difference in mids is quite noticeable.
Campfire Audio Andromeda
(5BA, BAL)
SP2k (37) vs SPK (44)
- interestingly enough, with SPK the sound sig is leaning more toward being slightly v-shaped, while with SP2k the sounds sig is more balanced where mids/vocals being more forward relative to SPK. Soundstage is a little bit wider with SP2k, and also bass has more rumble and a little faster/tighter with SP2k. Mids/vocals clarify is improved, and I hear blacker background. I was a little surprised here since the difference was more noticeable. Also, a slight waterfall hissing when idling with both DAPs.
Campfire Audio Solaris
(DD/3BA, BAL)
SP2k (36) vs SPK (43)
- in this comparison with Solaris, both DAPs have a balanced signature with a more vibrant natural revealing tonality. The soundstage width difference is more noticeable here, with SP2k being wider. I also can hear more sub-bass rumble and overall bass being tighter and faster with SP2k, but it's not a night and day difference. SP2k mids have a slightly more forward mids/vocals and I hear slight improvement in retrieval of details. But overall, the differences are more subtle in this comparison. And also, I can hear waterfall hissing when idling.
Empire Ears Wraith
(7BA/4ESTAT, BAL)
SP2k (37) vs SPK (46)
- the sound signature here is more balanced with a neutral natural tonality. The difference in soundstage width is quite noticeable with SP2k being wider and more holographic. Also, SP2k has more sub-bass rumble and slightly more punch in mid-bass. Mids have more clarity in SP2k as well, but still the tuning of Wraith calls for a smoother, more natural tonality. Both have a similar slightly rolled of treble. And in both cases, Wraith has a noticeable hissing which you can hear not only when idling but also during lower volume listening.
Empire Ears Legend X
(2DD/5BA, BAL)
SP2k (59) vs SPK (67)
- in this comparison the sound sig is not exactly the same. While the bass is lifted in both pair ups, the sound sig with SPK is more L-shaped with duller upper mids/treble while with SP2k the sound sig is closer to being balanced with more bass emphasis, more clarity in mids, and a touch more sparkle in treble. The changes in mids/treble with SP2k is most likely due to bass being slightly less overwhelming which gives mids/vocals and treble some room to breathe. No hissing with this pair up.
Wired and wireless connections.
Besides being a portable DAP, you can expand SP2k functionality as a transport to drive external DAC/amp, to use external AMP, or to turn the DAP into usb DAC. And of course, you don't have to be limited to wired headphones, and can take advantage of Wireless Bluetooth connection. And, while you have plenty of internal storage and micro SD expansion, you can also connect other external storage or use A&K own Connect server app to stream from your computer. Let's take a closer look at some of these options.
Wireless/Bluetooth.
Bluetooth Wireless with
B&W P7 Wireless
- SP2k paired up with P7W within seconds and had the acknowledgement message on the screen that it was connected using aptX codec. I was able to change volume from SP2k and from P7W, as well as control the playback and skip tracks remotely. Wireless connection worked about 55ft away from SP2k in open area. The sound was typical of P7W with L-shaped signature where bass is dominating the sound while you can still hear clearly mids and treble. I also compared it to pair up with my Galaxy S9, and surprisingly under the same aptX codec the sound had a little stronger bass that was a bit overwhelming. This always makes me wonder since in theory digital wireless protocol should be the same, but I still find some variations in sound, maybe due to different BT chipsets. Either way, the bass was strong in both pair ups (SP2k and S9), but I found it more tolerable with SP2k.
Line Out.
Connected to
FiiO E12A
, I had to select Line Out from notification bar and was able to control the volume from both external amp and SP2k. The sound was a little more on a warmer/smoother side and soundstage was not as wide as the original output of SP2k, suggesting how much SP2k internal amp contributes to its sound quality. Taking the opportunity to compare SP2k vs SPK line out (DAC outputs), with the same E12A external neutral amp and the same pair of IEMs, I found SP2k to have a slightly wider soundstage and the tonality to be a little warmer with a fuller body while SPK was a little thinner and more transparent.
USB Audio Out.
Connected to micro
iDSD BL
using USB-C OTG adapter cable. In notification bar of SP2k have to tap on External USB to select USB Audio mode. Volume was fixed on SP2k at 150, and I can adjust it from iDSD. Very clean and transparent sound based on sound characteristics of iDSD BL DAC/amp while using SP2k as a digital transport.
Optical Out.
Everything worked as is once I connected
iDSD BL
optical SPDIF input to SP2k 3.5mm port output using optical cable. SP2k was set to a fixed max volume (150) and I was able to control output from iDSD BL. The sound was a little richer in tonality when compared to SP2k/iDSD connection using USB Audio out.
USB DAC.
Recognized right away by my ThinkPad T480s (Win10Pro). In notification bar of SP2k have to tap USB Mode to select DAC. Volume can be adjusted from Laptop or SP2k. Playing the same song directly from SP2k or using it as USB DAC connected to my laptop, the sound was nearly identical, perhaps with a touch more warmth using it connected to laptop. But the difference was very minor.
Conclusion.
Without a second thought, the latest SP2000 flagship is A&K best DAP to date. And why wouldn't it be? They finetuned and perfected the sound and updated some of the features from their previous flagship which was already at the top of its game. The internal storage is doubled to 512GB, the support of lossless hi-res formats went up to 32bit/786kHz and DSD512, more streaming apps supported, new flagship AK4499 DAC is implemented, the output power is increased, and even the SNR performance is improved. So, when it comes to choosing between SP1000 and SP2000, it's a no-brainer which one to get, especially since the price is the same. And, you can't complain anymore about A&K being the most expensive DAP because in the last few years a number of other flagship releases from competitors caught up and even surpassed A&K in price.
But I think a question still remains if you should upgrade from SP1000. When I received SP2k and posted a few teaser shots on Head-fi and FB, the #1 question I received was from the current SPK users who are trying to decide if they should sell it and upgrade to a new model. It's not an easy question to answer because everybody has different requirements. For example, some might want to stick with SPK if they need more power and want to use docking AMP module (which no longer supported in SP2k), or if you prefer a longer battery life. The sound has improved, but more on a level of refinement. But overall, if you are diehard A&K fan and would like their latest and greatest, SP2000 with its holographic soundstage expansion and layered resolving sound will be the way to go!