Link to my review and measurement index thread where one can also find a full review overview, more information about myself as well as my general-ish audio and review manifesto:
https://www.head-fi.org/threads/956208/
---
I only give full stars. My ranking/scoring system does not necessarily follow the norm and is about as follows:
5 stars:
The product is
very good
and
received the "
highly recommended
" award from me.
4 stars:
The product is
very good
and
received the "
recommended
" award from me.
3 stars:
The product is
good/very good
, but not outstanding/special enough to get any of my two awards. ["Thumbs Up"]
2 stars:
The product is
only about average or even somewhat below that
and
somewhat flawed/flawed in some areas
. [neither "Thumbs Up" nor "Thumbs Down"]
1 star:
The product is
bad/severely flawed
to
outright bad
. ["Thumbs Down"]
---
Apple USB-C to Headphone Jack Adapter (A2155)


Source:
Personal unit.
Miscellaneous:
Nicely inexpensive.
Contrary to its name, the A2155 is much more than just an "adapter", as despite its pretty tiny form factor, it houses a fairly smart sound card with a built-in DAC, ADC, automatic detection of whether anything is plugged into it, and even supports in-line remote control commands.
Rather decent unboxing experience (for the price); very nicely and cleanly designed packaging that can also be used as a carrying case (since there is no other included pouch or case other than the cardboard packaging itself).
Small.
Clean design.
White.
No Apple logo on it – the only sign that it's made by Apple (aside from its design, but other companies have subsequently manufactured comparable-looking small DACs) is the faint grey text on the cable.
While the USB-C plug (that most likely contains all of the active electronics) and multi-purpose 3.5 mm socket appear to be well-made, the cable between them, while fairly soft and nicely flexible, doesn't appear sturdy or durable at all but pretty fragile instead, as it is unfortunately the case with most of Apple's cables.
Surprisingly, the A2155 supports three-button in-line remote control commands (volume up, play/pause, volume down) when used with my Windows 10 computer.
What's definitely nice: it can be basically left plugged in all the time, as it automatically senses if anything is plugged into it and accordingly adjusts its features. If nothing is plugged in, the output is disabled automatically and it doesn't even show up in the Windows sound menu anymore but will show up again and is selected automatically once something is plugged into it, and the setting options change accordingly to the type of plugged in headphones (e.g. with/without built-in microphone).
Sound:
My ZOTAC ZBOX CI547 nano running Windows 10 Pro 64 Bit is the only source that I'm using.
I'm only using my Apple USB-C DAC purely as a DAC for in-ears and headphones, and haven't tested its ADC capabilities yet.
Volume Control:
Logically, the volume is controlled by Windows' system-wide standard 100 attenuation steps (plus mute). Unfortunately, even the quietest possible volume setting above mute (≙"1") is
much
too loud for me personally, so I need to further lower the volume in foobar2000 and YouTube drastically. Therefore, listening very quietly just above the audible threshold is not directly possible without any further software tweaks.
Hiss Performance:
Using my near-extremely sensitive Shure SE846, there is only the
tiniest
bit of barely perceptible hiss when no music is playing or when an empty audio file is played.
When used with my Ostry KC06A that are even a bit more sensitive to picking up hiss, the amount of audible hiss in quiet passages and empty audio files or when nothing is played is very little and close to being inaudible.
Using my extremely sensitive Campfire Audio Andromeda that are the most sensitive out of the three, the audible hiss is still very little, which makes the Apple USB-C DAC an amazing performer in terms of hiss performance with very and/or extremely sensitive in-ears.
As for comparisons, it even slightly surpasses my iBasso DX90, is only beat by my RME ADI-2 DAC and Leckerton Audio UHA-6S.MkII, and audibly outperforms the FiiO Q5 with attached AM1 module or my Chord Electronics Mojo.
Frequency Response (no Load):
FR unloaded
There is no real surprise here; the unloaded frequency response is just as flat as it is supposed to be.
Output Impedance (Ultimate Ears Triple.Fi 10 as Load):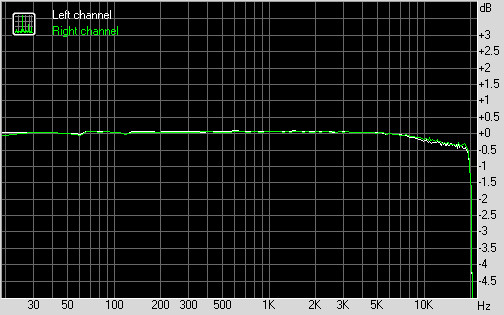 FR loaded – Ultimate Ears Triple.Fi 10
Based on the frequency response deviation, the Apple DAC's output impedance is calculated to be around only 0.3 Ohms, which is truly excellent and therefore perfectly suitable for all low impedance multi-BA in-ears.
Subjective Listening Impressions:
Neutral, clear, clean and very precise. Basically as audibly transparent, good-sounding and clean-sounding to my ears as a device could be, and therefore clearly "not broken", which again is no real surprise but the standard for most modern audio devices.
Precise and tight bass reproduction with sensitive multi-BA in-ears.
Subjectively large (i.e. normally sized) and very accurate soundstage; slightly on the oval side.
Seriously, there's absolutely no subjective sonic fault that I could find, and this is no real surprise either since the A2155 has shown to surpass surpass the CD Red Book standard when it comes to objectively measured audio performance.
In other words, excellent transparent performance regardless of price. There is absolutely no reason at all to pay more for a USB DAC, at least when it comes to pure sound quality with headphones.
Conclusion:
Recommended
.
The Apple A2155 USB-C to Headphone Jack Adapter is, despite its very low and extremely competitive price, packed with many features, surpasses CD Red Book standards, has got an excellently low output impedance, comes extremely close to being ideally hiss-free with the most sensitive in-ears (wherefore it is
just
a shy bit below absolute perfection/"Highly Recommended" but still surpasses even many of the better devices in this regard; in addition, unfortunately the lowest possible volume setting (in Windows 10) is too loud for me personally (without further reducing the software gain in the music player interface)) and sounds audibly transparent.
Aside from some people probably wishing for "more power" for their respective listening levels with the headphones they use, and probably for more features (such as dedicated volume control buttons or more inputs and outputs), just based alone on pure sound quality or a more luxurious appearance and/or better build quality (the cable could indeed appear more durable), there is absolutely no reason to pay any more for a DAC.
Photos: