Preface:
The Alpha headphones I reviewed were kindly sent to me by ADVSOUND, Inc. for review purposes. I have no affiliation with Advanced (ADVSOUND, Inc.) and my opinion's are unbiased and my own. I also would like to make it known that I have not previously heard any of Advanced's products to date.
Build Quality/Comfort/Presentation:
Over the last several years it seems like quite a few $500+ headphones fall short in build quality and design. Advanced appears to have done their homework, because they didn't cut corners out on their first full sized pair of headphones. The Alpha's build is excellent, with a mix of high quality metals, plastics and synthetic materials used. It's really what you should expect at the $499 price point. The overall design isn't breaking any new ground, but instead puts tried-and-true elements together in a solid, robust package. Like many current planar magnetic headphones, the Alpha's have a spring steel support headband, with a suspension pad for the top of your head. The metal yokes swivel inside 90 degrees so you can lay them flat, while also having slight play turning outward. The cups are made of high quality plastic and I personally find the slatted grill design to be quite attractive. The Alpha uses 2.5mm sockets, which are slightly recessed on both cups. Also very reassuring is how solid everything feels. Nothing feels loose and there isn't any squeaking or unpleasant sounds emanating from it (minus your choice of music of course). The Alpha's feel like they were built to last and even survive an unfortunate drop or two.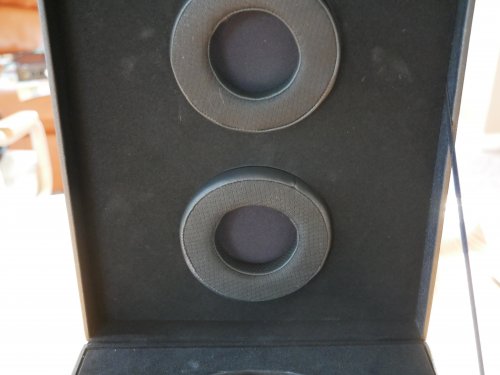 I found the Alpha's exceedingly comfortable to wear for extended periods of time. I consider myself having a fairly average sized head and the clamp force was just right. Individuals with larger heads might have an issue with this, but slightly bending the steel headband should loosen them up. The Alpha's come in at a respectable weight of 388 grams. This puts them on the low end of the scale compared to many of their competitors. The suspension headband is nicely padded with memory foam, just like in the pads. The two included sets of pads ("deep" and "shallow") are respectably pleather and hybrid (velour/pleather). I found both quite comfortable, but preferred the pleather pads for sound quality and comfort. I found their differences to be mostly minor however. The pads also have a very easy removable locking/mounting system. It's a tabbed, twist and remove system that's one of the better takes I've seen on that design. The supplied silver plated copper cable is a thin braided design that's very flexible. It's fairly short however and ideal for portable use. My only real complaint is the lack of an included longer, more robust cable. The Alpha's are touted "Designed for Musicians", so a lengthier cable would be more suited for studio (and home) use. Even on a desktop setup, you don't have much play with that lenght of a cable. Finally the Alpha's come packaged in an attractive black storage/presentation case. Conveniently inside the upper section of the case is storage for the extra set of pads.
Sound and Technicalities:
The Alpha's 98mm silicon composite planar magnetic drivers have a single sided magnet array. This design choice helps to reduce the overall weight of the headphones. I'd put the Alpha's as being slightly bright, or rather just north of neutral territory with a natural temperament. Tonally they are very cohesive sounding, but can also come across as a little too "polite" sounding. This is especially the case if they aren't amped properly. I can't stress enough how much the Alpha's LOVE power. Once I hooked the Alpha's up to some beefier amps, they started to come alive. Let's delve more in depth into their sound:
Lows
: The bass response of the Alpha is linear with good extension. Sub bass isn't rolled off, but lacks some substance and fine texture. I'd consider it overall in the neutral/natural range, which fits in nicely with the overall sound signature. Mids are left unscathed by the upper bass transition. The Alpha's bass also displays a good amount of speed and attack/decay. I personally would have liked slightly more overall bass presence and impact from the Alpha's.
Mids
: The midrange is certainly one of the strong points of the Alpha. It's very clear, balanced and natural sounding. Instruments sound well placed and retain a realistic timbre. Female vocals in particular are spectacular and come across effortless and lucid. Male vocals also sound excellent, but suffer slightly with a lack of body/fullness. The lower midrange is solid, but could have a little more bite and meatiness from guitars.
Highs
: The treble is very hit and miss on the Alpha's. The extension is impressive and there is a good sense of air and detail. However, there is also quite a bit of unevenness present in the upper frequencies. Some tracks come off etchy and harsh sounding. There also is a fairly nasty peak that can be quite jarring. The good news is this sibilance only seems to occur if the Alpha's aren't properly amped. Still, this could be concerning to more treble sensitive users.
Soundstage/Imaging
: The Alpha has an average vertical soundstage compared to most similar sized planars. The width is more than adequate and conveys a good sense of space and depth. More importantly it feels very natural, not artificial sounding. Imaging is outstanding, with a constant presence of cohesiveness. Instrument separation is very good, but suffers slightly in the lower frequencies due to lack of definition and emphasis.
Gear pairing
: Despite being fairly easy to drive, I found the Advanced Alpha's to be rather power hungry and reminiscent of several earlier planar headphones. You really need to push the drivers to get them to preform optimally. No surprise that they didn't fare well with some of the portable gear I tried them on. They felt rather thin on the Chord Mojo and rather lethargic on a Ibasso DX80 DAP. Like I mentioned earlier, the Alpha's also got rather rough in the high's when under-powered. Moving onto desktop gear, the Massdrop/Cavalli Tube Hybrid amp sounded quite good with the Alpha's and was a favorable pairing. Despite lacking in the power department, the extra warmth of the MCTH gave the Alpha's some extra body and low end heft. I also thought the Schiit Lyr 3 and Schiit Jotunheim (revised model) both sounded excellent with the Alpha's. Both amps had plenty of power to drive the Alpha's, while the Jot provided a nice firm boost to the bass/impact. The Lyr 3 is almost as dynamic as the Jot, but is more revealing and extended up top. Even more proof on how well they scale, the Alpha's seemed to reach their full potential on a Cavalli Liquid Gold and Audio Gd Master 11. Both amps seemed to bring forth extra control and precision out of the Alpha's.
Final Thoughts:
It can be quite challenging for a company to branch out and introduce a completely new product. Even more so in the highly competitive and scrutinized field of high end audio. Advanced Sound's first full sized planar magnetic headphone is in many ways, a success. The Alpha's design, build quality and price point are all outstanding. However, there are some missteps in the overall sound presentation of the Alpha. Most notably the problematic treble issues mar a solid midrange and good technical abilities. Also they really need good amplification to sound at their best. The mid-tier full sized open planar magnetic headphone market has grown in the last few years and will only continue to do so. The Alpha's are a respectable entry into that field and I look forward to what full sized headphones Advanced brings next to the market.