This is a review of the Advanced AcousticWerkes Nebula 2 IEM's.
The Advanced AcousticWerkes (AAW) Nebula 2 was sent to me from MusicTeck who is the authorized dealer in the US for AWW. A big THANK YOU to Andrew for contacting me and offer me free review sample for the Nebula 2. The retail price for the Nebula 2 is said to be $149 and it should soon be available on Amazon US as well as on the MusicTeck website :  
http://www.musicteck.com/aaw
For more information about the Nebula 2 you can also visit the product page for them on AAW website:  
https://www.aaw.me/collections/universal-in-ear/products/aaw-nebula-two-universal-in-ear-monitor
I'm not in any way affiliated with AAW or Music Teck nor do I gain financially by doing this review.  
About Advanced AcousticWerkes:
AAW is a Singapore based company that has been doing custom made IEM's for some time now.  
This is what they say about themselves on their website:
"Advanced AcousticWerkes (AAW) is a Singapore based electric-acoustic company specialised in in-ear monitoring technology. AAW is recognised by the audiophile and professional community for our exquisite hybrid drive technology and bespoke custom in-ear monitor products, during which course we have successfully attracted a diverse clientele consists of pro-musicians, audio engineers as well as serious audiophiles. We have accumulated vast experience and expertise in sound engineering and human ergonomics by working closely with several otolaryngologists as well as professional musicians. 
Now we have also applied our knowledge in developing the best in-ear monitors available today. Investments have been made to build a dedicated production facility for our universal range so that we have absolute control in quality assurance and engineering precision. 
We surely hope the AAW products will deliver an unforgettable experience for your listening pleasure and we shall remain committed to develop more exciting audio products for the years to come."
The AAW Nebula One is their first universal IEM's they release and it's also my first experience with the brand so let's find out more about them.
About me:
I'm a 44 year old music and sound lover that changed my focus from speakers to headphones and IEM's about five years ago. At that time I realized that it wasn't realistic for me to have all the different setups that I wanted and still house a family of four children and a wife so my interest turned first to full sized headphones and later also IEM's.
 
My preferences are towards full sized open headphones and I believe that also says something about what kind of sound signature I prefer (large soundstage in all directions, balanced and organic sound).
 
My music preferences are pretty much all over the place (only excluding classical music, jazz and really heavy metal). My all-time favorite band is Depeche Mode although I also listen to a lot of grunge/indie, singer/songwriter/acoustical stuff as well as the typical top 40 music.
 
I do not use EQ, ever.
 
I tend to value function over form within reasonable limits.
 
I'm a sucker for value for money on most things in life Head-Fi related stuff is no exception.
Built and accessories:
The
AAW Nebula 2
is a hybrid IEM featuring one 10mm dynamic driver in addition to one balanced armature driver.  
AFAIK it comes only in one flavor with a microphone.  
I've recently reviewed the Nebula One as well (
http://www.head-fi.org/products/aaw-nebula-one-titanium-diaphragm-in-ear-monitor/reviews/16756
) and since their physical appearance is more or less identical those of you who's read that review will find a lot the same between the two in the build and accessories section as well as in the fit and ergonomics section.  
The cable has a 90 degree angled 3.5 mm connector and which I personally tend to prefer.  
The cable is round and flexible but still feels a bit on the cheap side. The over the ears wearing style makes microphonics pretty much non-existing. The chin slider is also in place the way I like it. Unfortunately the Nebula One also has fixed memory wire for a more secure over the ear fit, I really don't like memory wire as I never seem to get the perfect fit with IEM's that has it. I much prefer a regular cable and a pair of included ear-hooks or even better a detachable one.  
The build in general seem very solid. The housings are all metal and feel well made. Strain relief is in place on all the crucial points and the Y-split is also solid without being overly large.  
Left/Right markings are black on black and not very easy to spot but the over ear wearing style makes it pretty much impossible to reverse the channels.  
One more thing that might be worth mentioning and that I actually did forget in my review of the Nebula One is that the jack is a TRRS type. This may make it difficult to work with some sources. The only device I've run across any problem with is the iBasso D14 amp/dac where I need to make sure that the jack is not pushed all the way in since dong so result in a really weird sound.   
The retail package is plain and simple but still looks very nice.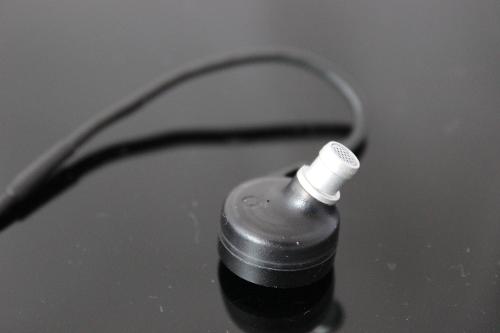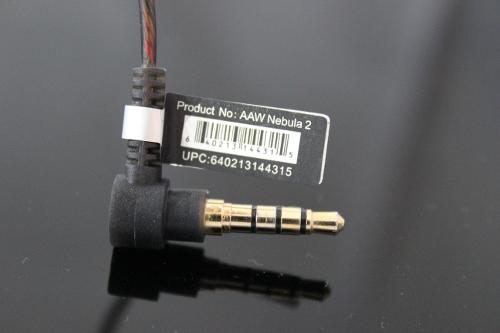 The accessories pack is ok at the price and includes the following:
6 pairs silicon tips in two different deigns (S,M,L)
1 6.3mm adapter
1 Airplane adapter
1 zippered case to store them in when not in use
1 Warranty card
1 Manual  
The
AAW Nebula 2 is
easy to drive and worked very well with all the sources I've tried it with including cellphones. I don't find them to benefit significantly from a more powerful amplifier but they do benefit from a good quality source.  
The specs:
| | |
| --- | --- |
| Housing | Zinc Alloy |
| Driver Unit | 10mm dynamic driver + 1 BA driver |
| Frequenzy range | 10Hz-40KHz |
| Sensitivity | 101dB |
| Impedance | 12Ohm |
| Weight | 25 g |
| Cable lenght | 1.2m |
Fit and ergonomics:
Despite some issues with the memory wire I find the
AAW Nebula 2
to be very comfortable and I've got no problem wearing them for several hours. As a matter of fact they're the most comfortable IEM's with memory wire that I've ever tried.  After reviewing the Nebula One I started to play around with some foam tips as well as the Sony hybrid isolation tips and found these to be even more comfortable than the dual flanges I've been using with the One's. In general I'm not very fond of the sound from foam tips and although it's ok with the Nebula 2 I've ended up with the Sony hybrid isolation tips as my preferred tips with them.  
Isolation is definitely below average and if blocking out external noise is of great concern other offerings might be better. That being said they're still work pretty well with music playing.  
Sound:
OK, so far the Nebula 2 has been very similar to the Nebula one (build, accessories etc.) so let's see if things change when it comes to sound.  
I've used them back and forward in the last couple of months and they've played for well over 100 hours. I've used them both around the house and when out and about and I haven't really found any significant weaknesses in the way they're designed.  
I've used them with my LG G3 phone and FiiO X3 combined with the iBasso D14 as well as the bit Opus #11 and although they've worked very well with all of them I find their performance to be greatly influenced by the source. As already mentioned they're quite easy to drive but they're revealing enough to change quite a bit with different sources. They're also very sensitive to fit and tips used so I've got to admit that it's taken me a long time to figure them out and that's also the reason that this review is the IEM review that has taken the longest time for me to finish.    
As already mentioned I enjoy the
AAW Nebula 2
the Sony hybrid isolation tips and that's what I've used on them in this review.  
Demo list:
Mark Knopfler – Sailing to Philadelphia
Røyksopp (Feat.Susanne Sundfør) – Save Me
Ane Brun – These Days
Michael Jackson – Dirty Diana
Metallica – Die Die My Darling
The Peter Malick Group – Immigrant
Eva Cassidy – Songbird
Thomas Dybdahl – A Lovestory
Norah Jones – Don't Know Why
Celldweller – Unshakeable
Jack Johnson – Better Together
Seinabo Sey – Younger (Kygo remix)
Dire Straits- So Far Away
Passenger – Let Her Go
Lupe Fiasco - Deliver
Morrissey – Earth Is the Loneliest Planet
The overall sound signature on the
AAW Nebula 2
is full, fairly well balanced and with a great sense of 3D presentation.  
The sub-bass extension on the Nebula 2 is quite good and it hits hard deep down making it quite enjoyable with bass heavy music. The texture of the sub-bass is a touch on the loose side making it a bit soft but it still manage to avoid sounding boomy, this is only noticeable compared to the best though and I actually like the bass on the 2's a lot.  Mid- and upper-bass presence is good enough to make an engaging and enjoyable listening and do only interfere with the mid-range on some recordings and/or pairings. They have enough bass presence to be enjoyable with all kind of music for me but hardcore bass heads would probably like even more.  
The midrange is pretty much in line with the rest of the frequencies, maybe ever so slightly recessed. The good bass presence gives a nice fundament for the midrange and the Nebula 2's full enough without feeling really lush. Male vocals have enough weight to sound natural and female voices are crystal clear without being harsh. Although I usually prefer my midrange more forward then it's on the Nebula 2's I still find the overall balance to be great and highly enjoyable.  
The treble is well extended and detailed but can get slightly harsh with some bad recordings. This is pretty close to how I like my treble with a lot of details and nice sense of airiness, a touch more warmth and richness and it would have been spot on. Ironically my ideal treble would be a mix between the Nebula One and 2.  
Clarity and micro details are above average for an IEM at this price point. Soundstage in all directions is good and I'd even go as far as saying that soundstage width is excellent. 3D feeling and out of the head experience is also very good and well above average.  
All in all the
AAW Nebula 2
offers a very entertaining listening experience and both Thomas Dybdahl and Lil Dicky is presented excellent with an "out of the head" feeling that really brings out the smile.    
Comparison:
Please note that the comments in the comparison section are not in absolute terms but in comparison between subject A and B. This means (as an example) that if subject A is found to be brighter than subject B it does not necessarily mean that subject A is bright sounding in absolute terms. I hope this makes sense.  
These comparisons were done listening from my recently acquired LG G5 with the HiFi Plus module in place.  
AAW Nebula One
($99) vs AAW Nebula 2:
Compared to the Nebula 2 the One's has quite a bit more bass presence especially in the mid- and upper bass. The sub-bass on the two are actually quite similar with the 2's being a bit tighter. The One's has the upper bass bleeding into the midrange with a lot of music and this is a lot less common with the 2's. Both have a bit of recession in the midrange but the Oe's even more so. Apart from that the midrange presentation is quite enjoyable on both with the 2's having a cleaner and clearer characteristic. The treble extension is better on the 2's but it's also a bit thinner. The 2 has a wider soundstage and more airy presentation while the as well as have better depth and 3D presentation.  
To be honest the Nebula 2 are on a different level from the One's when it comes to sound quality and outperforms it in everything except bass quantity.  
Fit, build and isolation are identical on them.   
Vsonic GR07BE ($129) vs
AAW Nebula 2
:
Compared to the Nebula 2 the BE's has quite a bit less bass presence. The sub-bass on the 2's does both reaches deeper and hit harder while the BE's bass is a bit tighter. The Nebula 2's fuller across the frequencies making for a more relaxed listening while the BE's more airy sounding. They both have a bit of recession in the midrange but the mids on the 2's are a bit fuller. The treble extension is quite similar but the BE's a bit thinner. Soundstage with is quite similar while the 2's has better depth and 3D presentation.  
I find the BE's more comfortable due to my issues with the memory wire on the Nebula's.  
I like the metal housings on the 2's better but the cable is definitely better on the BE's. I'd say that overall build quality is pretty similar.  
They BE's are a bit harder to drive.  
Isolation is equally low on both.  
PMV A01 MK2 ($89) vs
AAW Nebula One
:
Although being quite a bit cheaper than the Nebula 2 the PMV's are my favorite sub $100 hybrids so I thought it would be interesting to see how they stuck up to the Nebula's.  
Compared to the 2's the sub-bass on the PMV's reach a touch deeper and has more impact but with less quality making the them sound more boomy. The mid-bass are actually quite similar in both quantity and quality on the two of them. Both have enough mid- and upper bass to makes male vocals sounding full and natural. When it comes to female vocals both continue to perform very well but the 2's pulls ahead with its more relaxed and refined upper midrange. The midrange on the PMV's are definitely more forward but also more shouty and the overall balance of the 2's are much better. The PMV's does actually sound a bit hollow in comparison to the Nebula 2. The treble on the 2's has a bit better extension and is also more refined. Details and clarity is good on both with a slight advantage to the 2'. The Nebula's does also have better soundstage in all directions and better timbre to the notes as well as a more 3D presentation.  
I find the PMV's to be the more comfortable of the two.  
Build quality is good on both but I prefer the lack of memory wire and cable on the PMV's.  
The PMV's are a much easier to drive.  
Isolation is quite similar, and low, on both.  
Summary:
The
AAW Nebula 2
does really offer the full package in my opinion. It has great build quality, is very comfortable and delivers excellent sound quality. They also offer a very good mic/remote making them great to use with mobile phones making them a great alternative for everyday usage. Unfortunately the stiff memory wire makes them less easy to take in and out of the ears than I appreciate and a detachable cable would have been a very welcome feature, especially the price considered.    
If it's not clear I enjoy the sound of the AAW Nebula 2 a lot and would rate it at least on par with other excellent offerings like the VE Duke, Audio-Technica ATH-CKR9 and the Vsonic GR07BE. This puts me in a bit of dilemma since I've rewarded bot the former ones with five star reviews earlier despite the fact that neither of them offers detachable cable and that's the only reason why I wouldn't do the same to the Nebula 2. Being older and wiser (yeah, right
) combined with my hate for memory wires I've still decided to drop half a star on the overall rating. Let there be no doubt that I find the sound to perform to be at a five star level and the same goes for the value.  
The AAW Nebula 2 is an easy recommendation to anyone looking for great performance for everyday usage. The fact that it's easy to drive, has a great mic and that one of the best sources I've found for it is my LG G5 phone with the HiFi Plus module just helps to prove this.