The 7Hz SONUS

The 7Hz company has newly acquired fame, starting with the 7Hz Timeless Planar IEM. Literally the $199.99 7Hz Timeless was the very first Planar IEM to become wildly popular. Having reinvented itself with the 7Hz Timeless AE for $259.00…..and the soon to be made available (price unknown) 7Hz Timeless II. Still the 7Hz company has other talents as found with the wildly popular (single full-range) 7Hz Salnotes Zero. This $19.99 Zero became a sales phenomenon of epic proportions……..almost setting the standard by which all budget single DDs were judged by. 7Hz still didn't stop there, they introduced the strangely shaped Planar Salnotes Dioko, and the bass heavy 2 Dynamic Driver 7Hz Legato, just to name a few. The 7Hz company in truth makes a Dongle, cables and a few other products. But….they never offered a straight-up Hybrid before?
Strangely they have actually produced a whole slew of DDs, like the 7Hz I-77, I-77 Pro the I-88 the I-99, the 7Hz I-88 Mini and the 7Hz Eternal all with a new and different take on the dynamic driver. My 7Hz personal trajectory includes the Zero, the Dioko and the Legato. Yet as most know Hybrids are truly my favorite way to make IEMs………..so when Linsoul suggested I try out the HYBRID SONUS I was intrigued to say the least.
7Hz SONUS HYBRID INNER EAR UNIVERSAL MONITOR
11.3mm DD + Balanced Armature
Technical Details
Model 7HZ SONUS
Frequency Response 10-20KHZ
THD <1%/1KHZ
Impedance 30Ω(@1kHz)
Connector 0.78mm 2Pin
SPL 109DB/V@1KHZ
Material Medical-grade material front chamber + aviation-grade aluminum back chamber
Now the fascinating thing is just how complete this whole shebang sounds. Truly (to me) it doesn't sound like a DD, it sounds like a HYBRID, as that's the point. Yet it's only 2 drivers in the end, also this simplistic set-up comes with an attractive price of $59.99. Such a build design and price bracket will obviously go into direct competition with a few newly realized HYBRID IEMs.
Comparisons/side-by-sides:
The 7Hz Salnotes Zero single full-range DD $19.99 (original price)
The TANGZU FUDU 1DD X 2BA $89.00
The SIMGOT EM6L 1DD X 4BA $109.99
The SIMGOT EA500 (wait this is not a HYBRID) No, but it sounds like one, so it gets included! $79.00
The 7Hz SONUS 1DD X 1BA $59.99
https://www.head-fi.org/showcase/7hz-salnotes-zero-universal-iem.25980/reviews#review-28978
https://www.head-fi.org/showcase/tangzu-audio-fu-du.26581/reviews#review-31833
https://www.head-fi.org/showcase/simgot-em6-l.26639/reviews#review-31512
https://www.head-fi.org/showcase/simgot-ea500.26361/reviews#review-30453
https://www.head-fi.org/showcase/7hz-sonus.26673/reviews#review-31895
(this review)
As I post these side-by-side comparison shots it is noticeable that physical differences arise, though weight remains consistent except for the EA500. With the most weight the EA500 comes in at a staggering 11 grams. The SIMGOT EM6L, 7Hz SONUS and 7Hz Zero are all 5 grams in weight with the low weight award going to the FUDU at only 4 grams. Also while I'm at it the new SONUS cable needs to be mentioned. Why? This new ribbon design we will talk about later, but it is also (from pictures) the new style of the 7Hz Timeless II cable, and weights a remarkable 23 grams. Such a cable shows a slightly new style of weight, and maybe has some ergonomic benefits being so very different.
7Hz Zero v 7Hz SONUS:
Now I will start with the 7Hz Zero, as even though in a different price league, how can you not compare the Zero here? Truth to be told, the Zero review page I started has over 50,000 views, quite an accomplishment for an entry level IEM. While both (full-range) DD methodology and Hybrid methodology have their drawbacks and benefits, there is an indisputable magic taking place with the Zero. Why?
Distractions that's why!
Starting off I will not be the first to exclaim how the sound signature of the Zero is not complete. It is missing top-end sparkle and low-end power. Somehow really it is the bass missing that is probably most noticeable, yet for the money it does so much right in how it's tuned, and how it holds correct timbre. We are literally distracted while listening to the Zero, forgetting anything missing……and it is safe to say the SONUS will have an uphill battle trying to replicate the pure sales hoopla taking place with the Zero.
Still, three times the money of the Zero, there is a chance for the engineer's dreams (and our dreams) to possibly come to light? While in reality the Zero came out a while ago in IEM years, way back in early August of 2022. And while 7Hz seemed to have waited to release a Hybrid, they have in many ways improved on the Zero. In short the SONUS has really the opposite charms of the Zero. Yep, details at both the bottom and top-end! But these aren't any old details….nope! It's how they are done and how they are placed that takes the cake here! Where the same old ideas of DDs vs Hybrids start to take place here, first it's the detail and forwardness of the upper midrange and treble frequencies that start to show we are dealing with an entirely different animal with the SONUS. That and the Bass, did I say Bass…..my gosh is it ever present and in full capability to entertain. There is this purity of intent too, that they are doing all this with only 2 drivers……….but more than that there is this exquisite millisecond delay in the bass, that feeling you get with a slight dislocation and separation (of Bass) that is so very lovable?
Also right at the start I want to explain my trajectory with the SONUS and how at the start both the FUDU and SONUS came at exactly the same time, they were meant to compare. And for starters I gave the FUDU 5 stars in a little first impression review and the SONUS 4.5 stars………..but first impressions are limited, namely because of burn-in. That and experience, as I was using the FUDU more and more I found it was totally source dependent, meaning it could come alive from the correct source, but get it an average source and get average results. Also the more I burned-in the SONUS the better it became, the bass smoothed out and the two drivers became more cohesive, that and the BA became smoother. So much so that I'll spill the beans here……the SONUS gets 5 stars now totally dependent on sound replay ability!
The 7Hz Salnotes Zero:
I put on a slightly different pair of tips to try and get a better fit from the nozzle and the bass came forward, honestly the bass is nice at this point. And while we can vocalize about FR all day long here, it is really the smooth and largely (staged) competent midrange that is pulling our heart strings here. That there is a package of well imagined forwardness of midrange that leaves most satisfied, and people who have never experienced true audiophile IEMs in shock!
The 7Hz SONUS:
First off you can tell they added some length to the nozzles, 10 points! The stage is amazingly bigger due to simply the size of everything. That is actually saying quite a lot as the Zero stage proportions are no joke, way different than you would wrongfully guess for the original asking price of $19.99. Such a forward bass is neither too much or drastic. Following out to the sides is extra SONUS instrument imaging where due to the bass size, and midrange and treble size into the stage ...it's simply wider out to the right and left than the Zero can make. Now it needs to be addressed even now..........that yes, there is a very slight metallic tone to the mids and treble, yet they are so very, very good tonally that even to mention it seems unfair to the SONUS? Yet that is the difference, as we expected, more dislocation, Hybrid dislocation, thus more separation, yet truly everything is well integrated with the 7Hz SONUS, so much so that I don't want to throw rocks. Could the 7Hz Zero and SONUS be complementary……….? You bet, in that they are both doing great FRs and technicalities, but despite their individual make-up are in nature (they are) going to be different, though it troubles me to call them opposite, as the FR is just so even and correct on both at this place and time?

The TANGZU FUDU v The 7Hz SONUS:
Big bass when it comes to understanding the FUDU, except that bass quality comes from the source, yep very few sonic ideas take place with-in the sidewalls of the FUDU landscape. I mean I will revert back to my first impressions comparing the two……that if you have one TOTL source then the FUDU will bring you everything, it's just not as well rounded and will not get you such emotion from a standard phone output. I don't need to continue, except man ...this FUDU response is insane from the right DAP!
The SIMGOT EM6L v The 7Hz SONUS:
While the bass is not as flamboyant as both the FUDU (from a good source) or the SONUS, the bass holds a slightly father back quality that is perfect. I'm getting my Little Brother the EM6L IEMs for Christmas as they are completely his preferred sound. And just like the hand-me-down of my Mom's big 5 foot tall Floor-standers powering his living room 2 channel system, the EM6L's are one of my very favorite IEMs of the year. Smooth yet detailed and it's the big thick midrange and treble itemizations that show the SONUS to offer slightly more brightness. That slight EM6L millisecond delay in the bass…….the one I love often found in Hybrids…..yep, it is here too! There is a smoother midrange imaging that is slightly more utilitarian here…..and due to that treble imaging is slightly more separated and placed outward into the stage.....more BAs. Darn the timbre is super good too, and maybe even better than the SONUS as it's not pushing the envelope of what BAs can do? There is no winner or loser here, just differences, both get 5 stars from me simply due to their individual sex-appeal.
The SIMGOT EA500 v The 7Hz SONUS:
The heavyweight here……heavy due to weight at 11 grams, it is 1 gram more than 2X the little SONUS weight. But also that metal does something maybe to absorb the extra unwanted frequencies, and promote clarity? I mean due to the way they sit inside your ear there are really no problems. Plus at this point with everyone and their Mom buying a pair, the issue of weight would be at least talked about if it was an issue, but it's not. Though the treble heat is talked about, and the ways people have learned to go around it. One way obviously is to switch to the other (red-banded) nozzles they give you. Second is to try the tape mod, that or EQ. With me I simply acclimated by listening, meaning it was for the most part mental, to where my mind was comparing to my pervious IEM listening experience. Truly in this comparison battle..........price asked for each IEM doesn't matter, as to me they are all equal.
The fact that this comparison today is really tough as all of the IEMs are really good.
If anything this comparison will only go to show the subtle differences arrived at by listening, where none of them are wrong, Except with the right source the FUDU, and with many sources the EM6L and 7Hz Zero go and play it safe, they don't ever try to be more than their place in life, and get accolades by being just great performers. Except the EA500 went there…….Yep, the EA500 chose to boost the treble to a controversial place, a fine line for which it would possibly divide listener preference?
The EA500:
It's early morning here at Recarmoose Labs and I just drank a big glass of coffee, not a cup, but a glass……because that's how I roll. The second thing to add to the wake-up call would have to be this EA500. Hello……hello….anyone listening? Wow, the stage is giant, and bigger than I remember. Another thing that is taking place is bass detail. This is an interesting subject, as my pair have more than phenomenal bass, way-way-way more than they graph out to show. And the saddest part is all the graph nerds who are so very strict about thinking what they are going to buy sound exactly like the graph. They passed up the EA500 due to such confusion. And it's sad. It is sad because the graph is a lie…….at least in my case the graph is farthest from the truth……..sorry the coffee is kicking-in, I'm emotional about this subject. And even the next review I write will not have graphs, as why would I put a misleading set of parameters in-place? Meaning I use graphs when they help show realities present, but avoid using them when they are 80% wrong. That 80% is in small areas so it looks like less, but the mistakes are there. Here the EA500 shows even a lesser bass (graphically) than any recent EW200, EM6L offering, except that the bass is super well defined here. This phenomena results in clearer bass having the feeling of more bass, and it is all about perception, not reality in IEMs. Anyways on to the midrange, as such the mids are expanded out farther but showing a tip-off from the treble heat….and the upper midrange heat. And you know what they say about heat, if you can't stand the heat, get out of the kitchen. So.......I will say there is a more technical presentation here that makes the EA500 way better than the SONUS except that could be at the expense of heat…….but I personally have no issue with it. And my Gosh……the coffee is kicking in, that and the EA500….is technically better, what can I say…bigger wider more imaged realism into the stage, and yes, if you compare graphs the bass may seem to be found in the back-seat……..but you remember from your teens how much fun the back-seat can be!

Packaging:
Just so you know there is an extra set of tips that are of a clear silicone make-up on the IEMs in addition to the 4 silicone tips to make a total of 5 sets. In addition there are also 3 sets of black rubber silicone ear-tips. Included is an extra set of four IEM nozzle filters and a case. The cable comes already joined to the IEMs.
Build:
Probably the first thing of note would be the filter system on the nozzles. I in my photography often polish the IEMs so as to not photograph extra dust, in doing so note the very small spikes inside of the outer nozzle filters. Such spikes can grab hold of the outer filter and pull it out. Yet I have never used any extra filter sets with of the extra four included. As they simply allow to be placed back into the nozzle, except just note that it could happen to you with cleaning. The nozzles seem to have three separate layers, the farthest back.........a black foam and the white sticker nozzle filter, with finally the metal partial occlusion (filter) which fits on the end. In the below picture somehow both end filters are not laying flat, but don't worry as they can be repositioned correctly and are hard to lose. There are two vents on the back, one with a black ring in the middle of the back and one hard to see off to the side. The semi-custom shape and 5 gram weight means they fit wonderfully. While offering half a metal faceplate construction and half resin seems to really work here. There is the 2Pin holder which just like the Zero is at an angle so your cables can tilt in if they are ear-hooked. The IEMs themselves also offer color coding to demonstrate Right and Left on the sides of where the 2Pins go. The cable itself shows raised letters to show which is Right and Left, besides being ear-hooked with polarization of terminals.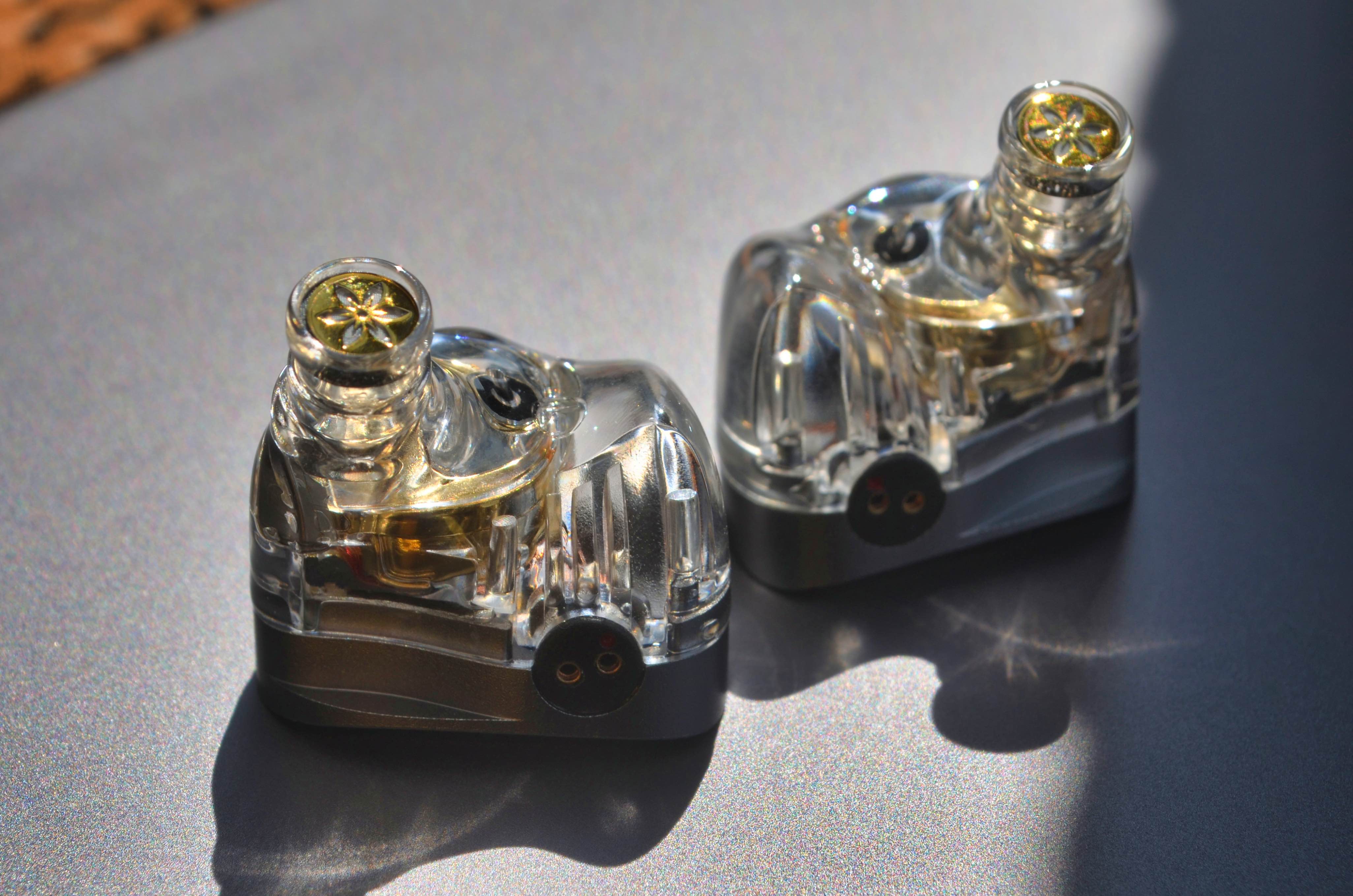 Cable:
Unique is my best word for it. I mean where about 99.99 percent of cables are wound, here we are shown a ribbon cable. Such a cable even has two-pin extensions for what purpose in use............I'm not sure, but maybe the cable goes with other 7Hz creations in the future. I say this as the 2Pin receivers are in no need of such inner placement from the cable as they are flush? There is a plastic chin-cinch and see-through plastic plug. There is nothing wrong with this style of plug and any strangeness may come from the uniqueness in cable form held?
Music:
Hans Zimmer
DUNE OST
Ripples in the Sand
48 kHz - 24 bit
Showing its size and spacial properties is seemingly the very first feature noticed. Though I have to say the SONUS is basing most of its value on being well rounded. What I mean by that is true value being able to play off of any source or file quality. And while it doesn't make a song like Ripples in the Sand as spread-out as I've heard it (like the SIMGOT EA500) there is still a nice balance between all aspects of this replay. Of special note would be the sub-bass at 01:11 which is low and effective but not vibrant, but more of a softer and careful style. There a very thought out demeanor that comes-off well calculated and totally non-offensive? Even the vocals held into positioning at 01:28 is not overly forward or set-back but find themselves rather cosy and comfortable? It's this cosy little room that 7Hz has created for us to live in, not distracting.........yet not boring either?
Lorne Balfe and Andrew Kawcznski
Grand Turismo OST
And We're Off
44.1 kHz - 24 bit
The defining aspect of the SONUS can be found in how the strings are highlighted and positioned right at the 00:13 mark. Really I was looking for a song that would show this ability and here is the example. As to understand what we have here, there have been revelations of bass playback when I was fully taken with such abilities, and the SONUS still offers that.............yet with other songs. Here we are once again concerned with the whole being represented, as such the bass drop at the very start 00:01 is still in its place to be heard, yet not drastically? It is the strings which start to show our emphasis and character.
Contrasts:
It is in fact a thrill that such contrasts can be delineated and described as of now. The separation of bass and the stage of the strings at 00:10…..the vocal choir......my gosh......the choir here? It's all about the implied total.............and I mean total balance. At 01:07 the rhythm starts and again…..somehow everything is well represented here, yet not the most detailed. I mean, I have to fall back once more on the Hybrid solution, that we are in fact hearing the separation due to the two different methodologies in motion…..the DD and the BA. Any lack of detail while small, is maybe due to the ability of the two drivers to only do so much? Still I have trouble writing that as the SONUS is so very complete and sounds like more than only two drivers in action?
Hans Zimmer
Wonder Woman 1984 (sketch)
The Monkey Paw
44.1 kHz - 24 bit
Even the lead-in, even up to the 00:59 mark showing only background effects is nice, and somehow shows the stage to arrive into being bigger than previously guessed? Where of course the strings at 02:05 show a slight metallic tone, that can be forgiven as each thing in the universe is of itself and ultimately of its own nature never masked or always hidden. So how or why should it be any different here? While showcasing the spatial grandeur held in such a piece of recorded music……..such highlights of violins are of a double-edged sword. Thrilling us with their size but also offering a contrast that can only be found with hybrids……that tell-tale tone or better yet separation of tone, becoming both the blackness of night and clarity of day in the same song?
Conclusion:


Well there you have it, another idea and another poetic display of what creativity 7Hz can put forth. While nothing is perfect, there are some perfect moments to be found with the SONUS. I'm guessing they took their time in making a Hybrid because they needed the perfect BA driver, and they needed to match it up with a competent Bass maker? When you hear just how big the SONUS can get with the right file, you truly wonder where all those other drivers are when put into use with more complex designs? In fact I love simplicity, even though you may not guess it. The fact that there is just less noise to get in the way (between you and your music). But more than that, the SONUS has a subtle and versatile quality enabling it to go with any file quality, any DAP or Dongle……even a phone. And when you test as many IEMs as I do, such facts of life become a thing of value. Where the SIMGOT EA500 is more vivid and robust, larger sound and more of a brute, the SONUS is slightly more refined and polite. Where the FUDU has special needs that has to be catered to, yet emits beautiful music when all the requirements are fulfilled. And the SIMGOT EM6L which while driving much in the same direction, finds itself holding back a little midrange and treble vibrance despite costing $50 more and having 3 more BAs involved per side? I mean we are at the point now that has never before existed in history……..IEMs that sound like a million yet all cost close to $100.00. And if you don't believe me, simply try any of the above, I really don't care. As each and every one goes ahead to proclaim its place in sonic history, while each having a slightly different taste. And the taste is really what it is all about……..do you want vibrance and more technicalities, and risk the heat in the kitchen, to move forward on the EA500? Do you want a more laid back EM6L smoothness with a slightly warmer bath water to relax in, yet a speaker experience like what the SIMGOT EM6L displays? Or are you sure of your source and are confident that you can handle the less than perfect phone output, in contrast to the regular audiophile sound a DAP does with the TANGZU FUDU? Maybe your game for simply the under $25.00 7Hz Zero action. As much as stuff changes in the audiophile landscape, true values never go out of style. Sure every six months a whole slew of new products come out, but that never undermines what came out just last year………at least with the 7Hz Zero it doesn't. Maybe you want what a simple yet effective Hybrid can do and are willing to put-up with how it's intrinsically different from a full-range Dynamic Driver? That difference comes from the sonic realization that there are lower notes and higher notes and the Hybrid methodology embraces that fact of life……showing more contrast in the end. Yet all the above wouldn't matter if there wasn't note-weight. Yep, the fact that the SONUS has note weight dialed in. So even when details are showing in the most intense of replay, that note weight is ever present, I wouldn't like the SONUS if such a technicality was missing.



$59.99

https://www.linsoul.com/products/7hz-sonus Comes in your choice of three colors.



Technical Details

Model 7HZ SONUS
Frequency Response 10-20KHZ
THD <1%/1KHZ
Impedance 30Ω(@1kHz)
Connector 0.78mm 2Pin
SPL 109DB/V@1KHZ
Material Medical-grade material front chamber + aviation-grade aluminum back chamber Cable Material High-end silver-plated OCC cable (49 wires per core, 4 cores braided cable)

Linsoul website: https://www.linsoul.com/ Linsoul Aliexpress Store: https://ddaudio.aliexpress.com/store/2894006 Linsoul USA Amazon Store link: https://www.amazon.com/s?i=merchant-items&me=A267P2DT104U3C 7Hz Salnotes Zero
https://www.linsoul.com/products/7hz-salnotes-zero

TANGZU FUDU
https://www.linsoul.com/products/tangzu-fudu-verse-1

SIMGOT EM6L
https://www.linsoul.com/products/simgot-em6l

SIMGOT EA500 https://www.linsoul.com/products/simgot-ea500

Disclaimer:

I want to thank Kareena at Linsoul for the love and the 7Hz SONUS review sample.

Disclaimer:

These are one person's ideas and concepts, your results may vary.

Equipment Used:

Sony WM1Z Walkman DAP MrWalkman Firmware 3.5mm and 4.4mm

Sony WM1A Walkman DAP MrWalkman Firmware 3.5mm and 4.4mm

Sony TA-ZH1ES DAC/AMP Firmware 1.03

Electra Glide Audio Reference Glide-Reference Standard "Fatboy" Power Cord

Sony Walkman Cradle BCR-NWH10

AudioQuest Carbon USB

Shanling UA3 Dongle DAC/Amplifier 3.5mm and 4.4mm

Samsung phone 3.5mm

HiBy R3II DAP