---
The product was provided to me free of charge for the review purpose in exchange for my honest opinion. The review was originally posted on my
blog
, and now I would like to share it with all my readers on head-fi.
Manufacturer website:
64 Audio
.
---
Intro.
Feel free to call me spoiled, but it's not easy to go back to the "lower end" IEMs after being exposed to different flagships. A lot of work goes into the design and the development of flagship models where manufacturers are trying to set the new high bar. Though, sometimes stepping down in driver count of lower model doesn't necessary mean a water-down design but rather a different signature with some performance compromises. For example, when I reviewed U12, my readers asked me about U6 which many consider to be a scaled down version of U12. Not everybody can afford the flagship, thus a lower driver count model could be a nice alternative. Similarly, U8 is known for its powerful bass impact which you can still get in a scaled down and more affordable U4 version.
The fascination with bass impact has been slowly spreading across audiophile community, and I'm sure 64 Audio received a lot of feedback about it. As a result, they came out with a Special Edition U4-SE model, retuned to give the new audiophile flavor to an old basshead classic. When I received U4-SE, the original intent was to take a listen, provide feedback, and maybe write a short impression, but a few paragraphs I started with turned into a full review. I actually learned this Special Edition version laid down some ground work for 64 Audio U18/Fourte flagships. Despite U4 four-driver arrangement, it shares some drivers with the current TIA flagships, including how Apex bore blends with the sound at the back of the stem, resulting in Apex module being even closer to the speaker while relieving the air pressure and fine-tuning the sound.
Of course, you have to be realistic, no manufacturer is going to create a giant-killer lower-end model to compete and to challenge their own flagships, but 64 Audio certainly did create a Special Edition model at a more affordable price (relative to their other higher end models) and with a very impressive sound performance I would like to discuss here in my review.
Unboxing.
The unboxing experience of U4-SE is common with other 64 Audio A/U models, from 2 to 12 driver ones. The packaging box itself is very compact – a dead giveaway that you are dealing with a custom case and not a typical Pelican case. The cover of the packaging sleeve features a company logo with a picture of monitors corresponding to either Universal or Custom shell design. With an outer sleeve off, you will see a cover flap with a picture of a performer and "hear everything" printed underneath, very appropriate for this Special Edition model since it has great retrieval of details. Once you lift the cover flap up, on the other side of it you will find a Quick Start Guide with info about headphone listening safety, volume advisory, and pointers about putting these monitors in your ears - all useful info, especially for beginners.
Also, inside you will find a custom travel case, 64 Audio stickers, and a plastic bag with eartips. Overall, a very compact packaging, unlike U18/Fourte which intentionally had a large packaging box with enough room to list all the special design features of those latest 64 Audio flagships.
Accessories.
Since this is a universal version, it arrived with a handful of eartips. Here you will find a genuine Comply set with 3 pairs (S/M/L) of foam eartips, and a pair of double-flange silicone tips. Choosing the right eartip is a matter of a personal preference which going to affect not only the fit and the comfort, but also the sound. As I mentioned in all my previous 64 Audio reviews, I usually don't find the included tips to work well with my ears, and I end up using a pair from my private stash. I do wish 64 Audio would include a better selection of eartips, maybe another set with hybrid tips that have a firmer cap and a longer stem.
Other included accessories were a custom storage case which I'm going to talk about next, and 64 Audio round stickers. Inside the storage case you will find a small dehumidifier, cleaning tool, and a shirt clip.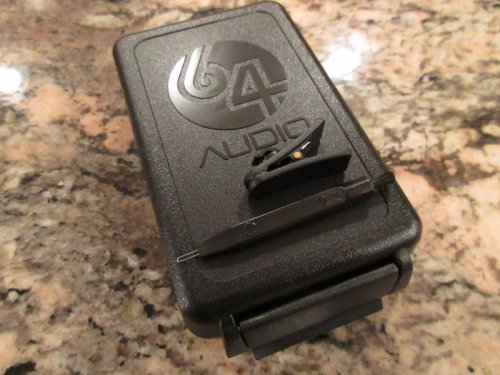 The storage case.
In all my previous 64 Audio reviews, I called their new case a "VIP case". Everything from an easy to handle wide latch and air valve eliminating build-up of inner case pressure when you close it, to individual earpiece storage sections with a removable rubber lining and a custom built-in cable winder, a spot to plug right angled headphone connector and to place the included round dehumidifier container, as well as a built in organizer to hold securely a shirt clip (included), a cleaning tool (included), and 2 sets of Apex modules (M20 included) – all this was custom tailored and well thought of. There is even enough room if you decide to use a thicker replacement cable.
When you place the order, you can also specify if you want your name to be etched on the top of the storage box to personalize it. While many companies use off-the-shelf Pelican or Otterbox storage cases with a pre-cut foam inserts, 64 Audio went one step further with their own custom designed case which protects your investment and keeps everything organized inside. It also great to know that regardless of 64 Audio model, 2 driver or 18 drivers, you are still getting this custom storage case with every order.
Cables.
While U18/Fourte flagship now feature 64 Audio new SPL cable, U2-U12 models still come bundled with their original OFC cable, but it's an updated version which has a more durable 2pin connector housing and a softer cable sleeve.
As far as the cable goes, it feels durable and still flexible without springy memory effect. It has 4 separate conductors, braided from the connector to y-splitter, a tight rubbery black shielding, and no microphonics effect. The headphones plug is a right-angled 3.5mm TRS gold plated connector. The y-splitter is a common heat-shrink tube, nothing fancy, and the chin-slider is a clear short tube piece with enough friction to keep it from sliding freely. After the y-splitter, cables are twisted, and toward the earpiece connector have a memory wire which you pre-shape for comfort. I'm not a big fan of memory wires, but this one works fine, keeping the fit secure. The 2pin connector is universal which can be used in both surface and recessed 2pin shell sockets, and it's conveniently color-coded with a Red dot for the Right side and a Blue dot for the Left side which you have to make sure to attach with both dots pointing the same way to avoid phasing effect.
Aftermarket cables.
Though I have tried different aftermarket cables with U4-SE, I ended up coming back to the original OFC because U4-SE tuning has a little peak around 9k, and most of the SPC, Silver, Copper, and other exotic cables seems to add a little more brightness and air to the treble, making the sound a little piercing to my ears. With OFC cable, you still get a well-defined bass, but upper mids and treble have a bit smoother tonality, just enough to take an edge off the treble. This is a purely subjective opinion because I'm sensitive to high frequencies. But feel free to experiment with other cables if you want to push the retrieval of details and the resolution further.
Out of the box, I actually preferred 64 Audio new SPC cable, but after 24 hours of burn in, I reverted back to the original OFC cable. I know some people don't believe in burn in, even with dynamic drivers, but I'm describing what I hear. You have to take into consideration that crossover components and solder joints can go through a very small change which could have a subtle effect on FR, just enough to be noticed.
Design.
U4-SE Special Edition comes only in universal-fit design, using hypoallergenic acrylic shells in translucent charcoal color. I will talk more about modules later, where M20 Apex module was included by default. Inside this very compact shell, you have 4 balanced armature drivers, which include 2 low, 1 mid, 1 high, and a large vent cavity to accommodate the Apex modules. With this 3-way partitioning, you also have a corresponding 3-way passive crossover.
Unlike the original 4-bore U4 design (one bore per each driver group and Apex module), here you have a new 2 bore design with 2 visible sound tubes. As I mentioned in my Intro, U4-SE shares some drivers with the TIA flagships, and Apex bore blends with the sound at the back of the stem. The Apex module shares the same bore as low and mid drivers, while the high drivers use an independent sound bore. Because most of the air pressure is created by the low drivers, this setup allows the Apex module to vent the air pressure before it even enters the ear canal. Of course, both U18 and TIA Fourte flagships are based on tubeless design, using sound chambers to blend the sound.
The shell itself is compact, doesn't stick out of my ears too much, though don't expect to put your head with your ear down on the pillow while wearing U4-SE. You also get access to easy removal and replacement of Apex module, and my favorite - long enough nozzle for a comfortable fit, depending on the eartip selection. The nozzle has a thicker part in the middle which keeps eartips from sliding off when removing the shell from your ears. The faceplate is flat and comes with a default 64 Audio logo print. The inner part of the shell has rounded edges and sits comfortably inside the ear. The overall size of the shell is on par with U6, maybe even a touch smaller.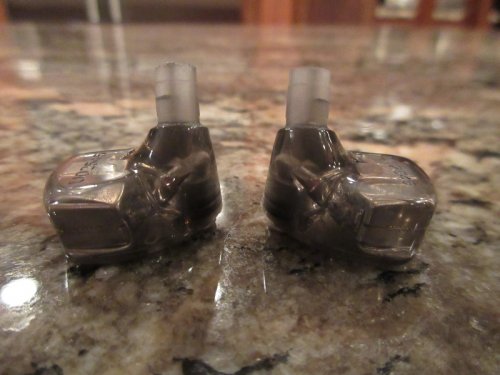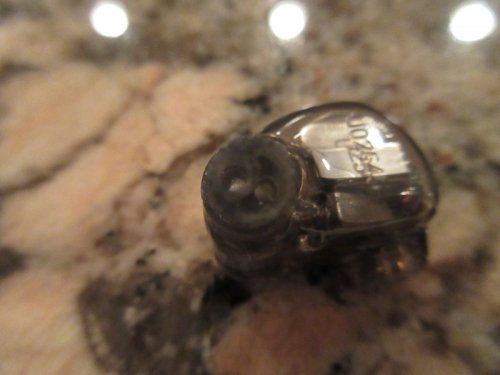 The fit.
Sound Analysis.
U4-SE is based on the drivers of U4 that were originally tuned to have more emphasis on bass, but in this Special Edition version, 64 Audio decided to retune its signature. After a few days of burn in and upon closer listening, I hear U4-SE as having a balanced sound signature with a neutral-revealing tonality. Actually, in some pair ups U4-SE felt even slightly v-shaped, but it still maintained a good sound balance with emphasis on bass, as well as upper mids and lower treble. This IEM also has a good level of detail retrieval with plenty of clarity and transparency.
Starting with a bass, the sub-bass extension goes deep with a nice rumble, and the mid-bass is fast, articulate, with a well controlled impact. Lower mids are quite neutral with a leaner tonality, giving some room for a cleaner separation of bass from the upper mids. As I already mentioned, upper mids have impressive retrieval of details, with a good level of transparency, though not super revealing or micro-detailed on analytical level, but they are leaning more toward the brighter side with lots of clarity. Treble is well defined, with a nice sparkle, and a moderate level of airiness (not lacking, but just enough to help with layering and separation).
Soundstage has a good depth, and above average width. Not exactly the 3D soundstage expansion which I have been spoiled by lately while testing U18 and Fourte, but it's wide enough to provide a realistic imaging with a convincing placement/positioning of instruments.
The layering and separation of the sound (both instruments and vocals) is good, but not exactly on the high level of other 64 Audio flagships. The sound itself is far from being congested or veiled, it just missing some air between the layers which can give a better perception of separation. But regardless of that, the sound is dynamic, detailed, with every instrument being easy to distinguish.
Overall, the sound is more revealing, but it strikes a good balance between neutral and brighter tonality, especially keeping that 9k peak under control with a stock OFC cable.
APEX modules (M20 vs M15).
The review unit I received comes with Apex M20 modules, and you can also use an optional M15 module, but I preferred the default M20 because it offered the best isolation, the most satisfying bass impact with a nice sub-bass extension, and better focused upper mids with a well controlled treble sparkle. The only thing it felt a bit behind was a soundstage width when compared to M15.
In comparison to M20, M15 lowers the bass impact, expands the soundstage width, adds more air to the upper mids/treble which makes vocals sound a little thinner and less focused. In my opinion, M15 module open the sound more, but as a result it affects the upper mids by thinning them out to the point where I wasn't enjoying it as much as with M20.
I also tried "carrot" slug which is a solid module, and I liked the max bass impact and detailed balanced upper mids/vocals. But going back'n'forth between M20 and carrot made me realize that I'm starting to feel air pressure build up without Apex module. This was a perfect example where I can hear the benefit of this air-pressure relief module. 64 Audio currently have only the U4-SE with Apex for sale on their website.
Pair up.
In my pair up test with different sources, I decided to be consistent and use U4-SE with M20 module along with a stock 3.5mm OFC cable. Many of you are probably aware that original U6/U12 were optimized for higher output impedance sources (typical with performing musicians), while this Special Edition version was designed for a more audiophile-friendly performance with low output impedance sources. Another interesting thing, U4-SE has a spec with 12ohm impedance and 116dB sensitivity, which could lead to hissing with some powerful sources. To my big surprise, U4-SE was dead quiet even with PAW Gold where I intentionally dropped the volume down to zero during the playback to check for hissing. Here is how I hear U4-SE with other sources.
Plenue 2
- expanded soundstage, with a balanced signature. deep sub-bass extension, nice mid-bass impact, clear detailed mids, well defined treble with a nice sparkle.
LPG
- wider soundstage, balanced signature but leaning more toward being slightly v-shaped. deep sub-bass extension with a very nice rumble, neutral lower mids, clear detailed upper mids, slightly pushed back; well defined treble with a nice crunchy sparkle.
X7ii
- wider soundstage, balanced signature. deep sub-bass extension, nice mid-bass impact, clear detailed mids, well defined treble with a little more sparkle.
AK120ii
- expanded soundstage, balanced signature, good sub-bass extension but a little less rumble, still a nice mid-bass impact with a fast punch, neutral lower mids, clear detailed upper mids, a snappy treble with a nice sparkle.
DX200 w/AMP2
- expanded soundstage, balanced sig but leaning more toward v-shaped, deep sub-bass rumble with a strong mid-bass punch. A little warmer lower mids, slightly north of neutral, and very organic natural detailed upper mids; treble is well defined, with a well controlled sparkle.
M2s
(5 ohm out) - expanded soundstage, more neutral signature, leaner sub-bass, fast mid-bass punch but with a little less impact, neutral lower mids, clear detailed brighter upper mids, sparkle well defined treble with a little more airiness.
Note 4
- expanded soundstage, deep sub-bass, nice mid-bass punch, though bass is not a tight as with DAPs, lower mids a little warmer, upper mids are clear and detailed, but a bit pushed back, making signature slightly v-shaped, nice sparkly treble.

Comparison.
Using Plenue 2 as my sources, due to its neutrality, I kept U4-SE with a stock OFC cable and M20 module, and volume matched in every comparison by ear. Only 3.5mm P2 port was used since all these have a regular single ended TRS connector. Here are a few selective comparisons.
U4-SE vs U6
- U6 has a little wider soundstage, the sound sig of U6 is more neutral with a warmer tonality, while U4-SE is more balanced with a stronger, tighter, and more articulate mid-bass punch. U6 bass is more neutral and looser in comparison. U6 lower mids are warmer and with a little more body, while U4-SE lower mids are leaner and cleaner. Both have a clean and detailed upper mids, but U6 is a little warmer smoother, while U4-SE is more revealing. Also, U4-SE has more sparkle in treble.
U4-SE vs SD4s
(InEar) - SD4s soundstage is wider, but the sound sig is more mid-forward (J-shaped) while U4-SE is more balanced in comparison. SD4s bass is neutral and doesn't go as deep as U4-SE, also it's not as tight or articulate in comparison to U4-SE. Both have lean neutral lower mids, but in comparison to brighter thinner and harsher upper mids in SD4s, U4-SE sounds more natural, with more body and more realistic timbre. Both have a well-defined treble, though SD4s has more crunch and airiness, which also makes it more piercing and harsher, while U4-SE treble has more control.
U4-SE vs UmPro50
(Westone) - here, U4-SE soundstage is actually wider; both have a balanced sound sig but U4-SE tonality is more revealing. Both have a very good sub-bass extension, but U4-SE has stronger mid-bass punch. Also, overall bass is tighter and better controlled in U4-SE while Pro50 is more laid back and spills a little into lower mids. Lower mids are leaner and more neutral in U4-SE while Pro50 is warmer, thicker, and has more body; with upper mids U4-SE is brighter and more revealing while Pro50 is smoother, warmer, and more laidback. Treble is very similar in both, though I hear just a little more sparkle in U4-SE.
U4-SE vs U6
Conclusion.
I often hear after my reviews: there is no "clear winner" from comparison and pair-up sections. And my response is always the same - the intent of my write-ups is not to give you Top5 with a clear winner and everything else ranked down to the last place. For me, writing a review is the way of describing how I hear audio gear and how it compares relative to others. We all have a different sound preference, use different audio sources, and have a different sensitivity to frequencies across FR spectrum. So, for example, as much as I think U6 is a great pair of IEMs, for me personally I found U4-SE to have a more balanced and revealing tuning which sounds better and hits closer to my sound preference. But this is my own personal preference, and as a reader you have to decide which one is your cup of tea.
Because it's a Special Edition version, the availability of U4-SE model is limited. I have seen it being offered once on MassDrop, and as part of 64 Audio B-stock sales, and currently on Summer Clearance Sale. I don't know how often these go on sale and if 64 Audio will continue to make more U4-SE in limited production batches. But if you ever been curious about 64 Audio and their Apex modules and if you fancy a balanced tuned IEM signature with an excellent low end impact and revealing/transparent upper mids with a nice treble sparkle, give U4-SE a serious consideration, especially if you are on a budget.