1More get almost everything right with their new Airpod Pro-killer
Pros
:
Solid ANC, Great Sound, Portability, Good Calls, Good Battery Life
Cons
:
Bluetooth 5.0 only, no High-Res codec support
RC036

How I review:
(See Previous Reviews)
Instagram:
regancipher
YouTube:
regancipher
Model
: 1More Comfobuds ES901
Price
: MSRP $99.99
Vendor Website
:
1More
Review Reference:
RC036
Manufacturer Specification:
Brand: 1More
Model: Comfobuds Pro ES901
Chipset: BES 2300 HP3
Driver: 13.4mm dynamic moving coils
Codecs: AAC, SBC
Microphones: 6 mic array, Sanmai smart call noise reduction
ANC: Yes, QuietMax dual-band ANC and wind noise reduction up to 40dB!
Impedance: 32 Ω
Operation Range: 10m
Charging Time: Buds 1 hour, Case 2 hours
Single Playtime: 8 hours (ANC off), 6 hours (ANC on)
Total Playtime: Up to 28 hours (ANC off), Up to 20 hours (ANC on)
Charge Case Battery: 3.8v, 450mAh, 1.71Wh
Charge Case Input : 5V (500 mAh)
Charge Case Output: 5V (200 mA)
Quick Charge: Yes, 15 minutes gives 2 hours use
Bluetooth Version: 5.0
Protocols Supported: HFP / A2DP / AVRCP
Water Resistance: IPX4
Includes:
1 x Pair wireless headphones
4 x Pair Silicone Tips (Transparent/Black and Red)
1 x USB Type-C Charge Case (no wireless charging)
1 x USB Type-C Charge Cable
1 x User manual (English, Simplified Chinese, Traditional Chinese, Korean, Japanese, French, German, Spanish, Italian, Russian, Ukrainian)
1 x Warranty Card
1 x Sticker
1 x Carry Pouch
1 x Case Protector (Only with the Black Mode)
Real Life Experience
After running a competition to join 1More's product testing group, I hash-tagged the hell out of my past reviews of 1More products on Instagram (not always good reviews, but for the most part I like their products) to try and snare a review model of these long-awaited, CES 2021 award-winning buds. Not only did I not get picked, they actually trolled me when I commented I was the only person on Instagram to use the hashtag they deemed a pre-requisite to join this elite band of merry bloggers, so I had every reason to give them a bad review! Nevertheless I bought them anyway, both in white and black, after Amazon UK ran a sale on them, dropping the price to as low as £56.
1More (or Wanmo, as they are known in China) need little introduction, having been mainstays in the audio market for over 5 years, operating as a trading name of Tiinlab Corporation (or Tinlab to the rest of us). They also use the trading name Omthing for their budget range.
1More's investors includes, predictably, Xiaomi, GGV Capital, and Singapore Equity Investment Group GIC. After selling over 10 million sets of earbuds in China in 2014, they have expanded to San Diego and have expanded distribution to 26 different countries. With awards such as the RedDot Award for Innovation in 2017, and CES awards in both 2018 and 2021, and Grammy winning artist Luca Bignardi on their books assisting with tuning of their releases, 1More are here to stay and a brand that each new release brings a degree of excitement - their core product is audio, unlike the likes of Soundcore/Anker, who specialise in other areas and also have an audio range. And yet despite this, their footprint in the UK is relatively shallow - hopefully I'll go some way to raising awareness of their excellent products in this and other reviews, as they really are a best-kept secret.
This is the fourth set of 1More Earbuds I've tested, after the Comfobuds, Colorbuds and Stylish. If you include the Omthing Air Free, re-labelled as the 1More Pistonbuds, it's five. And they've got progressively better over time. The Comfobuds Pro promised to be the hiatus, with a host of features such as 40dB ANC and their patented QuietMax technology added to an already firm favourite of mine, the original Comfobuds. But moving from semi-in-ear to in-ear, would they float my boat?! Read on to find out....
The Unboxing - 8.5/10
The Comfobuds Pro box in 2D looks identical to the Comfobuds box, which I gave 7/10. So why the inconsistency? Well, they've actually upped their game (see my video review on instagram for details!)
I quote the esteemed headphone blogger Regancipher
'Unboxing the Tronsmart Apollo Bold is like unboxing a Tag or Longines watch - not quite Rolex, but they've made a bloody good effort!'
- and 1More seem to have been listening. Unboxing is only really important if you're giving these as a gift, which I'd be more than happy to given the premium feel they've applied to the Pro. The box opens up all-in-one, telling the story of the buds in sketched italics and signed 'Luca'. Bravissimo!
The back and the sides also direct you to their key features - 28 hour playtime, ANC, Quietmax, Auto Pause/Play, Quick charge, and enclosed in a cardboard box are the USB-C charging cable, a number of sets of tips, and a 1More Carry Bag, which is handy for carrying the charge cable, case and tips.
Less glam, but arguably more important, is the insert within which the case is held. It gives directions on how to take the buds, which is important as I missed this, and found myself cursing the process when actually, if you read this it is pretty simple.
I read one review, I think it may have even been Gamesky - someone far more reputable than me anyway - where they critisized the 'removability' of the buds from the case. Really, it isn't difficult once you read that top section!
The manual is in a wide array of languages - English, Simplified Chinese, Traditional Chinese, Korean, Japanese, French, German, Spanish, Italian, Russian and Ukraine - and you also get a mini teddy-bear sticker and a warranty card with the QR printed to take you straight to the appropriate page on the site.
The bag is not pictured as I left it in the car and couldn't be bothered to go out and get it! I tested the mic and ANC at a motorway service station last night, so it was for a good cause! It's white, grey logo, small drawstring....etc. EDIT - I found it, needed it as the tips were giving me some discomfort.
On the tips - 1More advertise the product coming with 3 sets of tips. This is not true, they come with 4: the stock set, small and narrow, medium, large and large and flat. I never use large, but like with the Edifier TWS NB2 which also has oval ends, the large fitted me best. However, due to the flatter profile this was far more comfortable. It is a point which I think has been overlooked in every other review I've seen, but is worthy of note as it is these small things that differentiate 1More from the pack.
The black version comes with a rubberized cover for the case too. I eventually got round to attempting to affix it to the case. Don't bother - it is ill-fitting, misaligns very easily, and causes more problems than it offers benefits.
The Case - 9/10
The case looks beautiful. The distinct pearlescent look of the original Comfobuds has been jettisoned in favour of a very high quality matte finish, and for me, whilst both have their merits, it looks nicer.
Now TaoTronics did the same with the SoundLiberty 80 but whilst it looked good from the get-go, it aged badly. The off-white colour used by 1More is definitely a better bet than the bright white that Tao used. Likewise, the hint of gold in the 1More case and on the buds is well-thought-out. You get the impression this will age much better than the Taotronics case did - it just feels high quality in every way.
The beauty of the original Comfobuds case was the portability, and whilst the Pro is a little larger, it doesn't lose that aspect, still small compared with other semi-in-ear and in-ear offerings, and improves in many others.
The case measures in at just under 8cm wide, 4cm depth and 3cm height. For gents, it remains
trouser-pocket friendly
.
The USB type-C charge socket is located at the back, which makes it easy to see whether the buds are charging when sat on your desk. This is the approach used by 1More with the Comfobuds, Boya with the BY-AP4, SoundPEATS with the TrueAir2 and many others. It is, for me at least, more practical than the base, which is the common location for earbud charge sockets - see the TaoTronics 80, 92, 95, Haylou Moripods and QCY T10 for typical examples of this.
There is a nice little nod to the 1More messaging displayed on the reinforced area that protects the hinge and socket.
The case is 50g fully loaded, just under 15g heavier than the original Comfobuds.
Whilst retaining some of the core features - it still has the 'traffic light' charging status indicator in the form of a small LED visible on the front of the case, and importantly, whilst charging. This makes it much easier to see whether the buds need a quick top up or not, and is also displayed in the app. The case still has the metallic surround to protect the USB socket and hinge, and has most of the parameters etched (as opposed to screen printed - nice) on the bottom.
There is an ample 'lip' at the front, the size of which has increased proportionate to the case, for flipping the case open with one hand, although operating it with one hand may be tricky, because as per the unboxing, you have to press the buds down at the tip in order to release them from the magnets, and remove from the case, as below.
This takes a little getting accustomed to, but you get used to it, and is no worse than the rigmorol of trying to get buds to sit correctly in cigarette-box style cases such as the FIIL CC2 and Taotronics SoundLiberty 95.
There is also a reset button in the centre, and if your buds are shipped in single mode or you're having pairing difficulties, then holding this button for 8 seconds should clear the memory and solve many of the problems people face with issues of this kind.
Long battery seems to be increasingly important for the earbud consumer, and vendors are going to some lengths to ensure that the life is longer and safer. The battery design of the case is in-keeping with new earbud models from the likes of ZMI Xiaomi, Edifier and JBL. 1More have used the
Chipsea CSU38M20 8-bit RISC MCU
, which acts as the charge box 'brains', managing charge and discharge, power, comms, upgrades etc.
The rest of the components are also common in newer releases - the battery is from Zijian Electronics, and I've seen this in a number of other earbuds lately, and the over-voltage and over-current protection is handled by LPS LowPowerSemi Microsource, using the LP5305 also seen in the Realme Buds Air 2 and Anker Soundcore Liberty Air Pro 2. Unlike the latter, it does not support wireless charging.
Overall, the case is one of the better ones out there. It looks good, supports quick charge, offering 2 hours use from 15 minutes of charging, gives strong battery life from a full charge, is highly portable, robust, and easy to use. Plus, everything 1More state in their marketing material is correct - I checked a number of the parameters and they are all within tolerance.
Battery Life - 8/10
The buds use the AEC Guoguang Electronics R1250 3.8v, 0.19Wh, and it provides the buds between 6 and 8 hours of charge from a single use. I've had ANC off today, am at 4 hours and 42 minutes and still showing 70% remaining battery, which is outstanding. With ANC on it was around the 6 hour mark, nevertheless still very impressive and testament to the progression of TWS.
This gives a total of between 20 and 30 hours battery, which is up there with the SoundPEATS T2 and ZMI PurPods Pro, but with an impressive quick charge feature making them ideal for on-the-go commuters.
Ergonomics & Design - 8/10
The Comfobuds Pro are longer-than-average stem-based water-drop-style earbuds, with a short silicone tip designed to minimise invasiveness but still retain a seal. This is in contrast to the original Comfobuds, which were essentially semi in-ear. So more 'Airpod Pro' than 'Airpod'.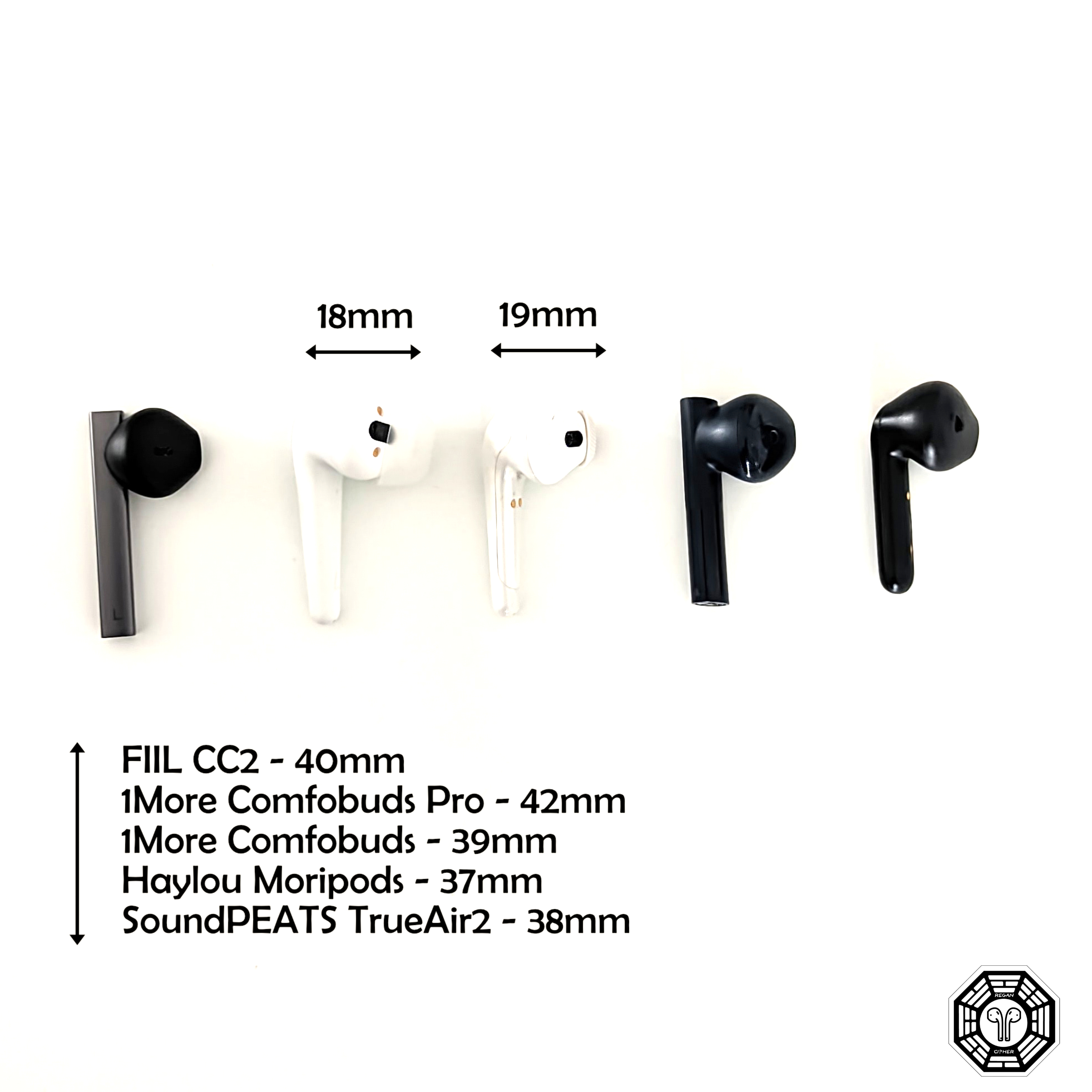 The shape is only 1mm more bulbous than the original Comfobuds, but it does make them stick out a little more, as you would expect from silicone-based buds, and they can look a bit angular and pointy at times, making them not especially attractive compared to the ZMI PurPods Pro. This can be mitigated to a degree by using the larger, flat tips - again, I can't stress the importance of these enough.
The Comfobuds Pro are clearly the big sister of the Comfobuds, with a similar inner design. Measuring in at 42mm long, they protrude slightly longer than the Comfobuds, and many of the other models released during 2021, and the battery connectors have moved from the stem to the neck.
Like many recent releases, the surround that separates the driver and the ear canal is oval, determining the tips used to get the appropriate fit, and also requiring the user to insert them as intended by 1More. Rather than a large mesh exterior to the outer ambient
LaserDiao 0AS64 MEMS mic
, they've made it more of an
indentation
, with a dust-proof net and a lot of glue keeping the mic clear from debris and the internals from moisture. You can see this above on the bottom.
The buds are slightly heavier than the original Comfobuds, but still slightly lighter than the likes of the ZMI Purpods Pro, which would be a direct competitor in features and form factor.
The exterior is consistent with the Comfobuds, with blue and red flashing lights at the base denoting pairing status. The buds flash red intermittently when the battery is getting low.
The bit that goes in your ear has charging contacts either side of a sensor array, comprising of a
TXC PA22 distance/light sensor
which detects whether the earbuds should pause or not, which can be toggled in the 1More app. Next to the sensor is the third mic, another ambient MEMS mic which works with the detection sensor to assist in ANC and ambient sound reduction.
For prolonged use, the Comfobuds Pro are very comfortable, no doubt assisted by a large pressure-relieving chamber at the bottom of the neck of the buds. They can feel extremely light in your ears, despite ANC being on, which is great for those using them as 'all-dayer's' for work calls and webinars.
I eventually suffered a little discomfort from fatigue in the ear after a day of use. They aren't
quite
as comfortable for me as the ZMI PurPods, but as in-ear buds go, they achieve the design objective of comfort for all-day use.
Noise Cancellation - 8/10
1More advertise
up to 40dB noise reduction
. I am not a fan of
'spec sheet top trumps'
as I find it is often tested by the vendor with an inconsistent methodology, unlike something like driver size which can be tested with a calibrated multimeter. Whilst 40dB gives the impression it is better than 35dB, I'd always take that with a grain of salt and test regardless.
ANC on the Comfobuds Pro is good, and whilst not quite as strong as the Edifier NeoBuds Pro, they seem to achieve it without piping too much white noise at high frequencies through, or at least at frequencies I can discern anyway. This will probably make them a more popular option for younger ears that haven't had the audio destruction of years in nightclubs.
The app provides five different modes - Off, Strong, Mild, Pass-Through and WNR. You can also toggle most of the modes by holding the stem for a couple of seconds. Each mode is signified by its own personalised tone. This is a nice additional feature, and the switch between modes is far more pleasant than Anker's Q30, which feels like you've dropped a floor in an elevator.
'Off' provides little in the way of passive isolation unless you choose the flatter, larger tips.
'Strong' is 'ANC on' for the majority of us - good for most frequencies, both near and far. As I said, not as strong as the NeoBuds Pro or even Tronsmart Apollo Bold, but on par with the Honor Magic, and also fit-dependent - a minor adjustment can improve it immeasurably - so make sure you have the right tips.
I found ANC worked more effectively outdoors with a caveat. On a normal day, I found little motorway noise coming through at the aforementioned service station and virtually no ambient sound other than birds chirping. The achilles heel for the Comfobuds Pro seems to be wind. Wind comes through quite clearly regardless of ANC mode. This can be borderline uncomfortable at times. It may be down to fit, so I'm not going to determine it as gospel, but I could hear a seal (when the earbuds make that sound in your ears to say the gap is plugged, not the giant animal you see at sea life centres, nor the former husband of Heidi Klum who topped the UK charts with 'Killer' and 'Kiss From a Rose') so I assume it is a trade off of having ultra sensitive mics. It can be improved slightly with those larger, flatter tips, but not eradicated altogether.
'WNR' or Wind Noise Reduction takes the edge off the typical ambient sound, and is useful for runners or cyclists who need some situational awareness. The sensitivity of the mics means vendors that are using a wide mic array simply have to offer this option to avoid passthrough mode sounding like you're in Limitless - which it does here, as you would expect from having such excellent mics - if you let noise pass through then that's what happens. WNR is a very useful, happy medium.
Indoors, ANC on the Pro is not as effective - I could hear traffic on the adjacent road to my testing area, which I can't with my T2, and they won't blot out screaming toddlers with no music playing. That said, unlike many earbuds, the ANC modes don't worsen the sound quality, which is not always the case. 'Mild' offers very little difference to Strong, certainly that I could tell - it seems to apply a blanket level of noise cancellation across all frequencies, whereas the 'Strong' setting is much more in favour of low frequencies. Keyboard taps are paradoxically more prevalent in Strong mode.
Overall, ANC is not
quite
market-leading in terms of strength, but impressive in how it has been implemented. It's just a shame all modes can't be toggled from the buds without customizing the buttons and compromising volume or track skip, for example.
Call Quality - 8.5/10 (Indoors), 8/10 (Outdoors)
Call quality on the Comfobuds Pro is about as good as it gets on TWS outside of the Airpods Pro or Huawei FreeBuds Pro. The intelligent 6-mic array works well at negating ambient noise - it is still there, but even loud sounds are more of a 'crackle'.
Indoors your voice sounds very natural. I found both on telephone calls and on Zoom it was one of the more natural sounding earbuds I've tested - similar to the Omthing Air Free, but better at noise reduction.
I never recommend earbuds for home office as the mic is rarely strong enough due to bluetooth bandwidth - a USB mic will always trump TWS whilst Bluetooth is the way it is, but for occasional calls the Comfobuds are as good as you would expect a mid to premium set of buds to be at this price point.
They were part of my 2021 indoor mic test, where I wore a mask in a kids climbing area and hosted to YouTube, and were one of the better performers that day:
Outdoors they performed very well on a normal day, but struggled with extreme wind. My voice sounded muffly and the background noise crackly. The Airpods Pro clearly outperformed them in extreme conditions.
With most earbud mic tests I stimulate wind by standing on a nearby railway bridge. The Pro had the misfortune of falling in a testing window where trees and fences are the cause of traffic problems because nature has decided to rip them from their roots and plonk them in the middle of the road, so don't be too alarmed at the description - no earbuds would have performed well in that test!
Sound Quality - 8.5/10 (for the price paid), 8/10 (raw score)
Audio on the Comfobuds Pro is predictably right up my street. I like a balanced sound, and Luca Bignardi and his team never fail to deliver.
Trebles are notched beautifully, although they aren't the strongest point. The mid-bass is very well represented, highlighted by 'I'll Be There' by Jess Glynn and 'Mama' by Jonas Blue, which can often sound fatiguing and even distort on bass-centric earbuds. The sub-bass and lower frequencies are toned down a little - 'Ripgroove' by Double 99 and 'Moaner' by Underworld sound much more detailed than I'm used to, typically feeling them wobbling my soul in tents at festivals, but detail is not ignored. Everything sounds balanced and clear, but notched - ideal for long sessions of listening to Spotify or YouTube music whilst working.
For some this lack of edge will sound instinctively a little
boring
, but I like it, and it fits with their design as all-day buds that work for all music styles. The
13.4mm dynamic drivers
are tuned very nicely - if you want to make the sound punchier, Android users can tweak the sound with Wavelet, and they respond predictably very well with no distortion.
The sound stage is surprisingly a touch narrow considering the balanced sound signature and large drivers, but I suspect this is a constraint of the design more than anything else. I never find in-ear buds to give me the satisfying soundstage that the Samsung Galaxy Buds Live do, for example. Even the original Comfobuds sound a bit wider, which I suspect is auditory illusion created by the position of the drivers in relation to your ears.
Connectivity, Controls and Other Features - 7/10
With no QI wireless charging, 1More rely on their excellent quick-charge feature to satisfy those to whom battery matters. 2 hours charge from 15 minutes in the case is really market leading stuff.
The Pro use the same app as other 1More products. App support is OK - there's nothing exciting about the UI, but it's consistent on both Android and IOS. It handles the basics well. You can change auto-pause and play settings, change controls and upgrade firmware. They shipped with up to date firmware thankfully, as other 1More buds have had tortuously long waits (up to 4 minutes for download and install)
As detailed in the ANC section, the primary screen is concerned with detailing your battery status and ANC mode, where you can toggle through freely. One annoying point of note is they don't always seem to remember your last ANC decision, so you have to go back in the app if you want to choose WNR, for example. This can be a PITA if you're taking them out of the box and popping them back in a lot. In fact, ANC is off by default, so straight away you have to set that. There is also a 4 second delay before the app realises the buds are connected, which is a pain when you pick up a call.
The touch control adjustment feature allows volume control to be programmed, but it is not native - you have to switch it for another command - probably from voice assistant which I did above. They support voice assistant, but I can honestly say it's an earbud feature I never use. If you assign a specific control feature (volume for example), you have to apply it to both earbuds. You can't customise controls to a single bud. Not an issue for me, but I've heard complaints elsewhere about it.
Single mode is possible, and they did accidentally default to single mode on one occasion, which was briefly disconcerting. Latency, whilst not showing the figure in Bluetooth Tweaker, is very low - not quite lip-sync, but not far off.
It is clear that honing their AAC profile has been the focus - the buds do not support the proprietary Qualcomm codecs, nor do they support LDAC or other high resolution codecs, which is a shame. The
BES2300 chip
is popular with earbud vendors currently, and although this is a variant I haven't seen yet, like the others it does not support Bluetooth profiles beyond 5.0. Whilst not a major issue today, the pace of technology means the shelf life could be shorter than you would hope at this price. You only have to look at the release dates between the Soundcore Q20 and Q30 and compare to the Q30 and Q35 to see that earbuds and headphones are aging far quicker than they did two years ago, propelled by the mobile phone and semiconductor markets.
When you remove the buds, they pair with each other instantly - well, it takes a second or two before the blue light initiates on both buds, but the app can sometimes be slow to pick them up, which can be frustrating, and whilst connectivity is solid for the advertised 10m, the Haylou Moripods set the standard for what can be achieved lately with rock solid connection without line of sight. No such joy here.
Water resistance is
IPX4
, which means you can get caught in the rain and work out, but no showering. Decent water resistance with ANC is rare - I won't bore you with the details why, but it's down to the way the buds are built and designed.
I was able to open up one of the sets of buds to check the design, and other than the use of a load of glue around the top mic, it was nice to see a custom designed main board from Tiinlab with some of the critical components shrouded for protection, but unlike the Haylou Moripods, for example, the slimmer form factor as they graduate almost to a point at the base of the stem has prevented them from using, for example, a rubberised cover around the mems mic, because there simply isn't enough room.
When I promote specific earbuds (not for any profit or reward from the vendor I might add - instead I just get trolled by them
) on sites like Hotukdeals, where the average consumer is ambivalent to the design, ODM, OEM and manufacture cycle that is prevalent in electronics, one of the things I can't really articulate is the tangible aspect of this very point. 1More have seemingly designed these from 'the ground up', and it explains to a degree why some tech features are slightly late to the market, but it does ensure that the build quality is likely to offer greater reliability and longevity.
Recommended Tips


A new addition to my reviews, I recommend using the
BGVP W01 L Silicone Tips
with the Comfobuds Pro. Compared with stock, they open the sound out further with a wider inner bore, but are also marginally flatter at 8.09mm high, and at just over 12mm wide, marginally wider, augmenting hybrid noise cancellation whilst simultaneously improving comfort.
Final Comments
The unique form factor of the Comfobuds left me wondering if the Pro would suit me. Thankfully, they are one of the few in-ear, ANC-supporting buds I actually enjoy wearing.
Like their little sister, the balanced sound synonymous with 1More gives them a neutral, natural profile that translates well to most music genres. The case makes them ideally portable for the daily commute, and the mic, battery life and ANC performance makes them ideal for users of all varieties, from commuters, to home office, to sports.
The MSRP of $99.99 is not cheap, but compared to the Anker Soundcore Liberty Air 2 Pro, which retails much higher, I do feel you're getting more for your money, although the lack of support for Bluetooth 5.2 and high-res codecs make them buds for today, but not for next year.
Despite these omissions, 1More have delivered again with a quality alternative to the AirPods Pro that doesn't cut too many corners. At $99.99 it would be hard to justify given the proliferation of releases now featuring the newer BES2500YP chip (OnePlus Buds Pro), Hi Res codecs and Hybrid drivers (Edifier NeoBuds Pro) and Multipoint connectivity (Huawei FreeBuds Pro), but with 1More dropping the price globally recently, as low as $60 in some places, that's much more competitive and a price commensurate with the fluid technology landscape. If you can get them for that price, do it. If you can't, you may want to hang on a little longer.
Price Weighted Score: 87%
Raw Score: 86%
2022 Score: 81%

2022 Comments:
The Comfobuds Pro remain a decent option for well priced ANC stem-based buds, performing reasonably well across the board, however specifications-wise they've fallen behind a little bit now, with 2022 releases priced at the original MSRP now supporting high definition codecs and improving on the slightly awkward ergonomics. At the regularly reduced price (approx. £50) it's difficult to recommend them over something like the Soundpeats Air3 Pro, but if you're a die-hard 1More fan, they are still a fair choice at that price.
ig: @
regancipher
Last edited: