Final Audio Design Pandora Hope VI Headphones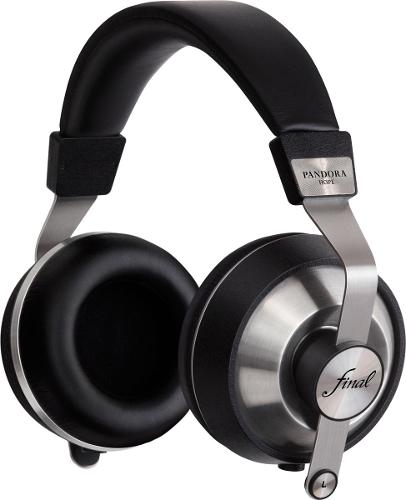 Final Audio Design Pandora Hope VI Headphones
Over-Ear item created by cb3723, Aug 15, 2014
Average User Rating:

4.75

/

5

,
Recent User Reviews
"Very, very nice headphones; my favorite cans in the 500 to 1500 USD range"

Pros - Exceptional vocal clarity, ethereal open-back soundstage PLUS critically damped closed-back bass Very comfy

Cons - Not a perfect fit for my friends with small heads, Rising HF response does not play well with some (inferior) recordings

Very, very nice headphones; my favorite cans in the 500 to 1500 USD range.
 
- Owned for 6 months, would buy again immediately if I lost them
- I design 100k+ speaker systems for a living, and my ears work good
- Best sound I have enjoyed from headphones PERIOD
 
PRO:
Exceptional Vocal Clarity
Ethereal Open-Back Soundstage (from a proprietary balanced armature)  with Critically Damped Closed-Back Bass 
Very comfortable with B-type cushions
 
CON:
Not a perfect fit for my friends with small heads
Rising HF response does not play well with some (inferior) recordings

I ordered these directly from Michael Brown of US FAD operations, because I wanted the old "Pandora Hope VI" logo and name. I had heard good things from a friend, and I needed a pair of over-ear cans. My previous go-to headphones were the JH Audio Layla headphones. Unfortunately, the CIEMs caused me to get a severe fungal/bacterial infection that ended up rupturing my eardrums and developing a mild brain infection. So the in-ears had to go. To make this transition, I considered the best from Sennheiser, Grado, Sony, Hifiman, the LCD 3s, etc. I wasn't interested in spending an inordinate amount of money on Stax headphones or something that required special amplification beyond what my AK380 can provide. Because I design speakers for a living, I figured I would just design my own headphones before going down too long a rabbit trail. Out of all I had tried, the HD800s had the most realistic reproduction of music in the air around my head, which might even overcome my dislike of openback headphones' characteristic environmental noise bleed. None of the planar headphones I had tried carried the bass properly without bloating around 150-200hz or fizzling below 100hz. All of the closed back designs I had tried left me with something very different than a soundstage... more like a sensation that I had not done the toe-in properly for a set of floorstanding speakers.
 
Unfortunately, to my ears the HD800 has an unreal amount of painfully audible distortion from 5-9kHz that bleeds into the upper transients. In my experience, this is usually due to asymmetrical voice coil loading (the HD800s have a tonality that is so eerily reminiscent of an overdriven BMR from cotswold sound systems). This issue is exacerbated, I believe, by the fact that the HD800s are completely open back. THAT BEING SAID, I know plenty of people who love the sound of the HD800s, and would never part with theirs... but I am a purist, and I want soundstage without cannibalizing the nonlinear characteristics of the headphones. I know from my experience building speakers that odd order harmonics in the fraunhofer region collect to form gradient side nodes that dramatically increase the sensation of a soundstage. This is because sounds which are panned farther to the right or left actually get a small volume boost, while at the same time their origin moves from the farthest edge of the speaker to some place between the edge of the speaker and the gradient side nodes. I would imagine that this same principle dictates that transients in the HF range would receive the most distortion that are panned the most. Since non-linear distortions of compression drivers increase exponentially with respect to the input voltage, the HD800s are able to spread out the sound better across the listening field. If only such a soundstage could be achieved by some mechanism besides distortion...
 
I ordered from Michael, and he said if I wasn't thrilled, I could return them, and that suited me just fine. He did instruct me that his headphones only migrate a maximum of 3% during breaking in for 48 hours, and then less that 1% over the next 3000 hours. From this, I expected the headphones to perform perfectly out of the box. When the arrived, I immediately put on some of my favorite Dream Theater songs... as I was listening, I really got lost in the sound. Immersed that way I have only really experienced with sound systems over 50 grand (on the exceptional low end). When I hit the song "Regression", the headphones just blew me away; I actually took them off to make sure I wasn't hearing in-room reflections. The portrayal of the music was clinical, but not harsh, aggressive, but not unbalanced. After burn-in, I had no complaints, but even before then, the headphones were keepers. For a two-way headphone, FAD sure did their work right. After some listening, I called up Michael and told him what I thought. He answered some of my questions, and was a generally awesome guy. If I have any issues with my headphones, I am confident he will be on my side. 
 
Burn-in is a must. After 2 days of burn-in, the headphones sounded much better. While the headphones were wonderful out of the box, they were a major step down from my JH Laylas, maybe even my JH Roxxanes. The soundstage and LF reach did not change over the break-in period, but the speed of the impulse response in the bass end benefited greatly from the . The high-frequencies got much more aligned to the total tonal character of the headphones. I don't know if there is a simple crossover in the headphones, but I would not be surprised - the headphones reacted to burn in the same way floorstanding speakers do. As we all know, the majority of burn-in has to do with the crossover, whether in the integration of a new driver or cables with their new damping factors. For headphones, balanced armatures do need mechanical burn-in to bring the compliance of the mechanics to an ideal level that matches sensitivity parameters used to model the crossover networks. I am not sure whether the quoted 3% value refers to drivers that FAD has already mounted or whether that includes the crossover network. Burn-in is a measurable necessity. Skip only if you enjoy experiencing the shift in headphone characteristics in person.
 
The ear-pieces swivel a bit, and since the balanced armature is mounted on the inside front of the cup, ear-piece positioning has a significant impact on the perception of the soundstage width, height, and depth. I typically hear headphones as if the frequencies panned the right and left are both lower (vertically) than those panned to the middle. However, if I swivel both cups so that the headphone cable connections are pointing farther forward, the soundstage takes an equal vertical position through the whole listening width. In this orientation, full-orchestrata recordings typically create the illusion of depth away from me as equally moving downwards vertically. 


"Relaxation"


 
 
Introduction
 
Final Audio Design (FAD in this review), based in Tokyo, Japan, makes some of the most exotic earphones and headphones available in the last few years. The company's story starts in 1974 but its 1[sup]st[/sup] pair of earphones was released only in 2009. In late 2013 they've released their 1[sup]st[/sup] pair of headphones, the Pandora Hope VI, which I'm going to look at today. FAD being FAD chose a surprising and extremely unique driver configuration, which includes not only a traditional 50mm dynamic driver, but also a Balanced Armature driver too; yes, you're not mistaken, that is the type of tiny drivers that a lot of earphones (but not headphones) utilize.
Having reviewed FAD's Heaven VI earphones a few years ago and liking them a lot had me very excited about the Pandora Hope VI headphones, and as you'll see later on in this review, their special driver configuration proves itself quite well and provides the listener with a great sound.
 

Accessories
 
I cannot comment on the packaging as my unit has arrived without the original one, so we'll start with the accessories. Actually, you only get a single accessory, which is the headphones' cable, which is great ( more on that when I'll talk about the building quality), but it would have surely been nice to get also a nice case to store the headphones inside when not using them.
 
Comfort
 
These headphones weight almost 500 grams, which is quite a bit more than I am used to have on my head. It took me a little time, but now their weight doesn't really bother me anymore, though I would not suggest using them as portable headphones due to it. Another possible problem that we have here is the earpads' depth, which isn't deep enough. Luckily, my ears are quite small, so I haven't experienced this, but some might find their ears touching the drivers quite often, a thing which can surely be bothersome and annoying. On the other hand, the headphones do not put a lot of pressure on your head, and the headband is soft and well padded. In addition, the cups can be slightly rotated in different angles, making them fit nicely and more comfortably. Overall, I have tried more comfortable headphones in the past, but these are not that bad either, I actually quite like these comfort-wise after using them for a while. I would suggest you to try them on before purchasing them because of their weight and earpads depth.
 
Isolation
 
These headphones do not offer anything special in this department. Their level of isolation is about average for full-sized closed headphones. They would be fine for home use, but I do not think that it would be enough for using them outside.
 

 
Building Quality & Design
 
These headphones, like most of FAD's products, are very well designed, they are truly gorgeous, and they are surely one of the best looking headphones out there. Everything in their design screams luxury; these are some real high-fashion headphones. Their ear-cups are made of a combination of shiny stainless-steel and tough and texturized plastic. Finger-prints show quite easily on the headphones' metal parts, so you might need to occasionally use a smooth cleaning cloth in order to remove them. They are also quite scratches-prone unfortunately, my pair already has a few even though I tried to protect them as much as possible. The yokes, which the ear-cups are held on, are made of the same shiny metal as the ear-cups, but with a slightly brushed look. The headband-padding and ear-pads are stitched nicely, and their padding seems to be of a high quality, like all of this headphones' parts.
The Pandora Hope VI utilizes a removable cable, like most (if not all) of the headphones in its price-range; The dual-sided cable connects into sockets in the bottom of the ear-cups. It also has a nice locking mechanism (similar to the SoundMagic HP-100's one) which ensures with a simple twist of the connector that the cable will stay in its place as long as you don't remove it yourself. Unfortunately, you won't be able to use any cable other than the stock one because the cable connectors have a plastic part on them to enable the locking into the sockets. The cable itself is great: it is thick enough, but also flexible and soft. Its three jacks and Y-split are all housed in solid and shiny metal housings, being in line with the design of the headphones. The cable ends with a 3.5mm gold-plated jack, which might look a bit large, but fits well inside any mobile device.
 

 
Sound
 
I have given the Final Audio Pandora Hope VI over 50 hours of burn-in, and there were some slight changes in the overall balance of the sound. Overall, nothing too major.
For this review I've used my 4[sup]th[/sup] Generation iPod Touch and my Lotoo PAW Gold. The iPod was loaded with mostly iTunes Store files while the PAW Gold was loaded with 96/24 & 192/24 FLAC files.
The Pandora Hope VI headphones are quite easy to drive due to their very low impedance, which is rated at only 8Ω. This is nice since it can virtually be used with any device that you would like to use it with; I promise you, volume won't ever be a problem with these headphones. On the other hand, the low impedance causes it to hiss with many of these devices. The PAW Gold proved to be a great digital audio player to use them with since it provided a clean from hiss sound.
I would describe the Pandora Hope VI's sound signature as balanced with a bit of added warmth, resulting a laid-back and natural sounding pair of headphones, but also a bit different than FAD's previous efforts. It still has a touch of the famous FAD mid-range, but it is definitely less prominent here. We'll now move on to a more detailed description of all of the sound's different parts:
 
Lows- the most noticeable quality here is the lows' ability to become whatever the certain track currently played calls for – they can be quite big (but not to a level that will satisfy bass-heads) and impactful but they can also be small and tight. One thing that can always be said about them is that they are quite deep and well controlled. Detailing here is great, as is the instrument separation. On the other hand, these do not have the fastest bass out there.
 
Midrange- the midrange's placement in the Pandora's sound is a bit behind the bass, and it isn't as forward as in the other FAD models that I've tried in the past. We still get here some of FAD's signature mids, but with less prominence than usually: they're airy and open-feeling with a black background, and they also have a slight feeling of darkness in their upper frequencies. In addition, vocals are lush & beautifully rendered plus they're also clear, clean and very well detailed, with not even a tiny vocal detail getting lost in transition.
 
Treble- the Pandora's treble is more laid-back in comparison to the rest of the sound, resulting a quite smooth, non-fatiguing and non-sibilant treble. On the other hand, I've heard better headphones in terms of treble extension; don't get me wrong, there's still a nice extension, but it doesn't reach that far as more treble-oriented cans. Detailing in the high frequencies is as impressive as the midrange's detailing, and so are their clarity and cleanness.
 
Sound-Stage- usually open-headphones offer bigger and better sound-staging than closed headphones and the case isn't different here – most of the open headphones would offer sound-staging than the Pandora. On the other hand, these are better than most other closed headphones out there in this area and in bringing a 3D-feeling to the listener.
 

 
Final Conclusions
The Pandora VI is a very nice effort from Final Audio Design for their 1[sup]st[/sup] retail full-sized headphones. They have a bit of similarity to some of the company's previous efforts, but it also stands on its own as a special and unique pair of headphones, both sound-wise and design-wise. They've provided me with some of the more relaxing listening-sessions that I've ever had, and it's very nice to have such a laid-back and relaxing headphone in my collection. In addition, they also do an amazing job with vocals, which are presented beautifully. The design is beautiful and very special, and these are some of the best looking headphones in the market in my opinion. The comfort is also good in my opinion, with the headbands and ear-pads being soft and of high quality. However, there are two potential problems in this area – the earpads depth and the headphones' weight, which both didn't bother me, but might possibly bother other users.
Overall, I had a very positive experience with the Final Audio Design Pandora VI headphones and I'm looking forward to see what comes in the future in terms of full sized headphones from FAD.
 

User Comments
To view comments, simply sign up and become a member!
3 DOORS DOWN • 3 PILL MORNING • 9 LEFT DEAD • 30 SECONDS TO MARS • THE 1975 • A.R. RAHMAN • A DAY TO REMEMBER • A PERFECT CIRCLE • AARON CARTER • ABBY BAND • AC/DC • ACE OF BASE • ACERA • ADRIAN MICHAELS • ADAM 812 • ADAM LAMBERT • ADRIAN ECCLESTON • AEROSMITH • AGAINST THE CURRENT • THE ALBUM LEAF • ALEX CLARE & BAND • ALLI ROGERS • ALICE IN CHAINS • ALICIA KEYS • ALISTAIR TOBER • ALT-J • ALTER BRIDGE • ANDERSON PAAK • ANDRE O'NEAL, EARTH WIND AND FIRE • ANDRE3000 • ANDREW YEO • ANIMAL COLLECTIVE • ANNA VISSI • ANTHRAX • AMON AMARTH • ARCHITECTURE IN HELSINKI • ARIANA GRANDE • THE ARSENIO HALL SHOW • A$AP FERG • A$AP ROCKY • AS I LAY DYING • AS TALL AS LIONS • ASHLEY SIMPSON • AUDIO • AVENGED SEVENFOLD • AVRIL LAVIGNE • AWOLNATION • BAD RELIGION • BAD THINGS • BARENAKED LADIES • BARRY MANILOW • BASTILLE • BC JEAN • BELA FLECK • BELLA THORNE • BETWEEN THE BURIED AND ME • BIGBANG • BIG TIME RUSH • BIG WRECK • BILLY CURRINGTON • BILLY ELLIOT TOUR • BILLY JOEL • BILLY OCEAN • BILLY TALENT BAND • BLACK FOOSS • BLANC FACES • BLINK 182 • BLOC PARTY • BLONDE REDHEAD • BLONDFIRE • THE BLOODHOUND GANG • BLUE MAN GROUP, ORLANDO • BLUE MAN GROUP, LAS VEGAS • BLUE MAN GROUP, MUNICH • BLUE MAN GROUP, NEW YORK • BOB SEGER • BON JOVI • BONNIE RAITT • BONOBO • BOSTON • BOUNCING SOULS • BOWFIRE BAND • BOYZ II MEN • BRAND NEW • BRANDY • BRANDY CARLILE • BRANDY CLARK • BRIAN MCKNIGHT • BRING ME THE HORIZON • BRITNEY SPEARS • BRUCE SPRINGSTEEN AND THE E STREET BAND • BRUNO MARS • BRYNN MARIE BAND • BRYSON TILLER • BUCKCHERRY • BULLET FOR MY VALENTINE • BUSH • BUTCH VIG • THE CAB • CADENCE • CAGE THE ELEPHANT • CARLY RAE JEPSEN • CARRIE UNDERWOOD • CATFISH AND THE BOTTLEMEN • CAVO • CEELO GREEN • CELINE DION • CELTIC WOMAN • CHAD GILMORE • CHARLI XCX • CHARLIE PUTS • CHEAP TRICK • CHELSEA GRIN • CHER • CHEVELLE • CHICAGO • CHILDISH GAMBINO • CHRIS HESSE, HOOBASTANK • CHRIS JERICHO • CHRIS ISAAK • CHRIS YOUNG • CHRISTINA AGUILERA • CHRISTINA PERRI & BAND • CHUCK AINLAY • CHVRCHES • CIRCA SURVIVE •
CIRQUE DU SOLEIL, IRIS • CIRQUE DU SOLEIL, KA • CIRQUE DU SOLEIL, MICHAEL JACKSON THE IMMORTAL WORLD TOUR • CIRQUE DU SOLEIL, VIVA ELVIS • CIRQUE DU SOLEIL, ZARKANA • CIRQUE DU SOLEIL, ZED • CIRQUE DU SOLEIL, ZUMANITY • CLEAN BANDIT • CLINT WILEY • CODY SIMPSON • COHEED AND CAMBRIA • COLE SWINDELL • COLIN JAMES BAND • COREY SMITH • COUNTING CROWS • THE COURTENEERS • CRAIG CAMPBELL BAND • CREED • CROWN THE EMPIRE • CRYSTAL FIGHTERS • THE CULT • THE CURE • CURT BISQUERA • D'ANGELO • DAN + SHAY • DANIEL POWTER • DARIUS RUCKER • THE DARKNESS • DARREN CRISS • DAUGHTER • DAUGHTRY • DAWES • DAVID LEE ROTH • DAVID NAIL BAND • DEAD BY SUNRISE • DEF LEPPARD • DEFTONES • DELTA GOODREM • DESTROID • DETHKLOK • THE DEVIL WEARS PRADA • THE DIAMONDS • DIERKS BENTLEY • DIRTY HEADS • DISCLOSURE • DISPATCH • DISTURBED • DIXIE CHICKS • DJ CASSIDY • DJ DON P • DJ N.I.N.O. • DNCE • DONNIE WAHLBERG, NKOTB • DONNY & MARIE • DOOBIE BROTHERS • DOWN WITH WEBSTER • DR FU • DRAGONETTE • DRAKE • DREAM • DREAM THEATER • DROPKICK MURPHYS • DURAN DURAN • THE EAGLES • EARTH, WIND AND FIRE • EASTON CORBIN • EDDIE VEDDER • ELIZA DOOLITTLE • ELLIE GOULDING • ELLY AND THE LAST GARAGE BAND • ELVIS COSTELLO • EMBER • EMBLEM3 • EMINEM • EMPHATIC • ENGLEBERT HUMPERDINCK • ENRIQUE IGLESIAS • ERIC BENET BAND • ESCAPE THE FATE • EVANESCENCE • EYE EMPIRE • FAILURE • FAITH EVANS • FAITH MARIE • FALL OUT BOY • FALLING IN REVERSE • FANTASIA • FATHER JOHN MISTY • FEIST • FIONA APPLE • THE FIT SWIMMERS • FIFTH HARMONY • FITZ & THE TANTRUMS • FIVE FINGER DEATH PUNCH • FLEETWOOD MAC • FLIPPIN' SOUL • FLORIDA GEORGIA LINE • FONESCA • FOO FIGHTERS • FOREIGNER • FOREWARNED • FOUR YEAR STRONG • THE FRAY • FRANK OCEAN • FRANK TURNER • FRENCH MONTANA • FRIGHTENED RABBIT • FUN. • FUTURE • GALLANT • GARBAGE • GARTH BROOKS • GARY ALLAN • GAVIN DEGRAW • GEORGE STRAIT • GHOST • GIBSON GUITAR STUDIO, LAS VEGAS • GLASS TIGER • GLEE LIVE TOUR • GLINT • GO RADIO • GODSMACK • GOO GOO DOLLS • THE GOSSIP • GRANGER SMITH • GREAT WHITE • GREEN DAY • GREYSON CHANCE •
GRIMES • GROOVEBOSTON • GROOVY7 • GROUPLOVE • GUNS N' ROSES • HALESTORM • HALFORD • HALSEY • HARVEY MARSHALL • HAWKSLEY WORKMAN • HAYDEN MARINGER • HEART • HELL YEAR • HERE COME THE MUMMIES • HILL KOURKOUTIS • HINDER • HOLLYWOOD UNDEAD • HOMBRES G • HOPE • HOW TO DESTROY ANGELS • HOW TO TRAIN YOUR DRAGON TOUR • HYPER CRUSH • I PREVAIL • ICONA POP • IGGY AZALEA • IMAGINATION MOVERS TOUR • IMAGINE DRAGONS • INGRID MICHAELSON • INTERPOL • INXS • IRATION • IRON MAIDEN • JACK JOHNSON • JAKE OWEN • JADE WARSHAW • JAMES TAYLOR • JAMES TORME • JAMIE FOXX • JANET JACKSON • JASON ALDEAN BAND • JASON BENGE • JASON BONHAM • JASON DERULO • JASON ISBELL • JASON WHITMORE • JAY SEAN • JC CHASEZ • JENNA ROBINSON, BIG APPLE CIRCUS • JENNIFER CHASE • JENNIFER HUDSON • JENNIFER STONE, WITH KESHA • JEREMIAH MCCONICO • JESSE MCCARTNEY • JIMMY BUFFET • JIMMY EAT WORLD • JOE.E • JOE JONAS • JOE NICHOLS BAND • JOEY BADA$$ • JOHN GRANT BAND • JOHN HIATT AND THE COMBO • JOHN MAYER • JOHN STAMOS • JOHN TEMPESTA • JOJO • JONATHAN KNIGHT, NKOTB • JORDIN SPARKS • JOSH DAY • JOSH GROBAN • JOSH GROBAN BAND • JOSHUA RADIN • JOSS STONE • JOURNEY • THE JOY FORMIDABLE • JOYWAVE • JUDAS PRIEST • JUDD HOOS • JUICY J • JULE VERA BAND • JULIO IGLESIAS • JULLY BLACK • JUSTIN BIEBER • JUSTIN TIMBERLAKE & BAND • KACEY MUSGRAVES • KAMILAH MARSHALL • KARMA • KARMIN • KAT DELUNA • KATE EARL BAND • KATY PERRY • KEITH SWEAT • KEITH URBAN • KELLIE PICKLER • KENDRICK LAMAR • KENNY CHESNEY & BAND • KENNY LOGGINS • KESHA • KIP MOORE • KISS • KLAYE SANDERS • KOOL & THE GANG • KORN • KROPP CIRCLE • LACUNA COIL • LADY GAGA • LALAH HATHAWAY • LAUREN WILEY, LES MISERABLES US TOUR • LAURYN HILL • LAWSON • LE REVE, WYNN LAS VEGAS • LEA MULLEN • LEE DEWYZE • LENNY KRAVITZ • LEON J • LEONA LEWIS • LIANNE LA HAVAS • LIBIDO • LIDO • LIGHTS OVER PARIS • LIL' KIM • LIL WAYNE • LIMP BIZKIT • LINDSEY STIRLING • LINKIN PARK • LIONEL RICHIE • LITTLE BIG TOWN • THE LIVING END • LOCAL NATIVES • LOU REED • LOVE AND THEFT BAND • LUCINDA WILLIAMS • LUIS MIGUEL •
THE LUMINEERS • M83 BAND • MAC MILLER • MACHINE GUN KELLY • MACHINE HEAD • THE MACCABEES • MAD HATTER STUDIOS • MADEON • MADLIFE • MADONNA • MAGIC! • MAJORS AND MINORS, TV SHOW • MANA • MANDY JIROUX • MARC ANTHONY • MARIAH CAREY • MARIANA'S TRENCH • MARILYN MANSON • MARINA AND THE DIAMONDS • THE MARKER • MAROON 5 • MARY J BLIGE BAND • MASTODON • MATCHBOX 20 • MATT & KIM • MATT MORRISON & BAND • MATT NATHANSON • MATT OCHOA • MAXWELL • THE MCCLAIN SISTERS • MEGADETH • MEGHAN TRAINOR • MEL B • MELANIE MARTINEZ • MELISSA ETHERIDGE • MICAPELLA • MICHAEL ANTHONY • MICHAEL BOLTON • MICHAEL FRANTI & SPEARHEAD • MICHELLE OSBOURNE • MIDNIGHT OIL • MIGUEL • MIKA • MIKE PORTNOY • MILEY CYRUS • MIKE MARLIN • MINDLESS BEHAVIOR • MIRANDA LAMBERT • MISS MAY I • MISSION TRANSMISSION • MODEST MOUSE • MODESTEP • THE MONKEES • MONSTER TRUCK • MONTGOMERY GENTRY • MOODY BLUES • MOTLEY CRUE • MY CHEMICAL ROMANCE • NAS • NEVEREST • NEON TREES • NEW EDITION • THE NEW SHINING • NICK FRADIANI • NICK JONAS • NICKELBACK • NICKI MINAJ • NICO VEGA • NICOLE SCHERZINGER • NINE INCH NAILS • NKOTB • NO DOUBT • NOAH BENARDOUT • NOEL GALLAGHER'S HIGH FLYING BIRDS • NORMAN BROWN • NOSTALGHIA • O.A.R. • OF MICE AND MEN • OLLY MURS • ONE REPUBLIC • OPERATOR PLEASE • OPETH • THE ORANGE EFFECT • OUR LAST NIGHT • OWL CITY • OZZY OSBOURNE • PALOMA FAITH • PANDORA • PAPA ROACH • PAPER TONGUES • PASSION PIT • PATRICK WOLF • PAUL BRANDT • PENNYWISE • PENTATONIX • PETER GABRIEL • PETSHOP BOYS • PHANTOGRAM • PHARRELL WILLIAMS • PHILLIP PHILLIPS • PHOENIX • PIERCE THE VEIL • P!NK • PITBULL • PIXIE LOTT BAND • THE PIXIES • POLARIS AT NOON • POP EVIL • POST MALONE • THE PRETTY RECKLESS • PRINCE BAND • PRINTZ BOARD • PROFESSOR GREEN • PUFF DIDDY • PUNCH BROTHERS • PVRIS • PUSCIFER • QUEENS OF THE STONE AGE • R. KELLY • R5 • RACHEL CROW • RAE SREMMURD • RAMMSTEIN • RANDY HOUSER • RASCALL FLATTS • RED LINE CHEMISTRY • RICI JO • RICKY MARTIN • RICO LOVE • RIHANNA • RISE AGAINST • RITA ORA • ROB THOMAS • ROBBIE WILLIAMS BAND •
ROCK OF AGES ON TOUR • RODNEY HOWARD • ROGER WATERS' THE WALL TOUR • THE ROLLING STONES • RUMMER WILLIS • RUSH • ST. VINCENT • ST. LUCIA • SALIVA • SAM HUNT • SAM SMITH • SAM WARSHAW • SAN CISCO • SANTIGOLD • THE SATURDAYS • SAVING ABEL • SCISSOR SISTERS • SCORPION • SCOTT STAPP • SEAN ALEXANDER • SEBASTIAN BACH • SEBASTIAN INGROSSO • SEETHER • SEGARRA • SEIGMEN • SELENA GOMEZ • SEVENDUST • "SGT. PEPPER LIVE" FEATURING CHEAP TRICK • SHAKIRA • SHARON AGUILAR • SHANE DUNCAN BAND • SHEILA E. • SHEILA MAJID • SHINEDOWN • SIA • SIGUR ROS • THE SILVER BULLET BAND • SILVERSUN PICKUPS • SIMMONE JONES • SIMONE BATTLE • SKIP DORSEY • SKYLAR GREY • SLASH BAND • SLAYER • SLIPKNOT • SMASHING PUMPKINS • SMOKIE • SOCIAL DISTORTION • SOIL • SOLANGE • SONATA ARCTICA • SONGA LEE • STAIND • STARSHELL • STEEL PANTHER • STEELY DAN • STEREO SHOUT OUT • STEVE AUGERI • STEVE RODRIGUEZ • STEVE VAI • STING • THE STONE ROSES • STONE SOUR • STRATOVARIUS • THE STRUTS • STRYPER • SUBLIME WITH ROME • SUEDE • SULLY ERNA BAND • SUM 41 • SYSTEM OF A DOWN • T.I. • T-PAIN • TALA • TAME IMPALA • TANK • TAYLOR BURRISE • TAYLORED • TEARS FOR FEARS • TEEL MERRICK • TEI SHI • TENACIOUS D • TERRY ILOUS OF GREAT WHITE • TESTAMENT • THEFT • THEOPHILUS LONDON • THE TEMPER TRAP • THREE DAYS GRACE • TIMBALAND • TIM MCGRAW • TIM OWENS • TIMBALAND • TINASHE • TOOL • TONIC • TONY SAVAGE • TOOL • TOTO • TRACE ADKINS • TRAIN • TRAVIS BARKER • TRAVIS TRITT • TREY SONGZ • TRILLIUM VEIN • TRISHA YEARWOOD • TRIVIUM • TWENTY ONE PILOTS • TWO DOOR CINEMA CLUB • TY DOLLA $IGN • U2 • UNION J • THE USED • VAIN • VAMPIRE WEEKEND • VAN HALEN • VANCE JOY • VINCE STAPLES • VIRUS • THE VOICE TV SHOW 2011, 2012 • VOLBEAT • WALT DISNEY WORLD • THE WANTED • THE WAR ON DRUGS • WARRANT • WE ARE THE FALLEN • THE WEEKND • WEEZER • WELL HUNGARIANS • WHITESNAKE • WIZ KHALIFA • THE WHO • WILD BEAST • WINTERSUN • THE WOMBATS • X FACTOR • X-JAPAN • YOUNG GUNS • YOUNG THE GIANT • YOUNGBLOOD HAWKE • YOUTH LAGOON • ZAC BROWN BAND • ZAYN MALIK • ZELLA DAY • ZZ WARD • AND MANY MORE...