Brand new in box, never opened.
After a massively annoying ordeal with the first card (USPS dropped it into a river or something), Thomann sent me a new replacement card rather than refunding me.
I've decided that since I'm doing tons of overtime right now, I'll see if anyone else wants this for the price I paid without the wait from Germany, and I'll grab one again in a few months when I approach the end of crunch time at work when I can dedicate time to its use.
If nobody wants it for retail, I'll just hang onto it and use it later on.
In short, you can use it as a transport from your computer to a DAC (S/PDIF), as a sound card itself, as a measurement card, as an ADC, MIDI interface, and a number of other baller features.
They're really hard to get in the USA (the only vendor I know of who carries ESI has been out of stock on this for more than 3 months now).
Like its PCI sibling, it features highest quality 24-bit 192Khz ADC (114dB) and DAC (112dB) for only the best quality audio.
Its unique swappable I/O socket allows you to choose your analog connectors between unbalanced RCA jacks and balanced TRS jacks, making Juli@ XTe the perfect solution for any stereo I/O application, analog and digital. This means that you don't have to configure your studio to Juli@ XTe, you can configure Juli@ XTe to your studio and requirements. The EWDM drivers of Juli@ XTe provide unparalled performance and stability, and provide support for all professional audio applications using ASIO and also offering support for any other modern driver standard for both Windows (32-bit and 64-bit) and Mac OS X.
With its digital I/O and the integrated MIDI interface, Juli@ XTe is perfect for post-production studios, one man bands and use with mixers and you can monitor the inputs and outputs directly through the digital mixer. Juli@ XTe features optical and digital outputs that allow AC3/DTS pass through for Dolby Digital and DTS surround sound playback.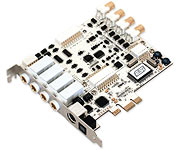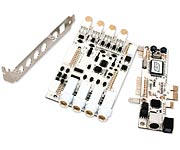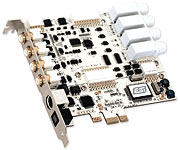 Features
2 analog input channels, 2 analog output channels

24-bit/192kHz AD converter with 114dB(a) dynamic range

24-bit/192kHz DA converter with 112dB(a) dynamic range

swappable socket (Unbalanced RCA with -10dBv or Balanced TRS with +4dBu )

coaxial S/PDIF digital input

synchronisation to digital S/PDIF input signals

optical S/PDIF digital output with automatic shutter (max. 96kHz specified)

coaxial S/PDIF digital output (max. 192kHz)

1 MIDI input (16 channels) / 1 MIDI output (16 channels)

PCIe x1 interface card, works in x1 and any other PCIe slot

support for DirectWIRE 3.0

4 inputs and 4 outputs can be used with 24bit/192kHz simultaneously (incl. MIDI I/O) - full duplex

independent monitoring control for analog and digital input signals and playback

EWDM driver: MME, DirectSound and ASIO 2.0 support

Windows XP / Vista / 7 / 8 / 8.1 / 10 compatible (32-bit and 64-bit)

compatible with Mac OS X

Linux compatible (ALSA)