OK, so normally this would go in a different part of the forums, but I'm looking for an objectivist view on the subject, so here I am. I call myself an objectivist and therefore do not really believe in differences in amps (unless one is underpowered for the application or just a very bad amp that doesn't have a flat frequency response). We obviously know about the tests done proving the point that you can make one amp sound exactly like another.
The difference I'm hearing is between my iPod 5.5 and the Fiio E11
So, the weird thing is that I recently bought a fiio E11 to power my HE-500s in my portable setup and heard a difference! I actually had some IEM's plugged in and wouldn't have bothered using the fiio, but it was rubberbanded to my iPod so I tried both and heard a stark difference. The other weird thing was that it wasn't just frequency response that seemed different (E11 had better bass and treble extension), but the sound stage seemed way bigger while using the E11. Now this can't be all in my head since I wasn't expecting to hear any difference. Trying the HE-500 produced the same results, but that was to be expected since the iPod was at about 95% volume. I don't have an A/B rig or SPL meter yet, so this wasn't super scientific, but the differences weren't subtle.
I thought the iPod 5.5 was a pretty good product, and it seems to measure flat according to stereophile (see below). It's also interesting that I'd be seeing positive results by switching to a budget, portable amp.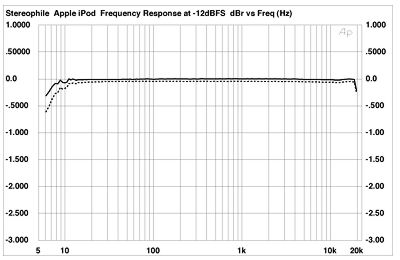 So, any ideas about why I hear a difference even when I run within the ipod's power capabilities?
Edited by mnarwold - 10/31/13 at 6:05am