Quote:
Originally Posted by
zilch0md
Done!  I just ordered it.  Thanks Stew!
Remainder of my previous post
(Click to show)
http://www.amazon.com/gp/product/B003U8O2OY
Again, I have to say, this is not among my usual genre of preference, but the MG3 simply sings this Lawrence Juber stuff!
I love it when the gear is connecting all the dots so well that almost everything starts sounding worthy of your time!  My horizons are expanding. 
Take for example, my recently deceased father's love of Ray Stevens (a singing comedian).  I was shuffling through my library and started playing Ray Steven's Ahab the Arab.  Give me a break - it's really a good recording, but it has never sounded so musical, before - in addition to the entertaining lyrics.
Mike
Thanks again Stew!  I can't get enough of Volume 2!  
Laurence Juber's rendition of Drive My Car is such a unique "re-arrangement" of that song and his guitar sounds so fantastic with the MG3 to LCD-2!  
And, you're right - Vol. 2 is indeed better than the first.  
Please tell me what else you like for the MG3 and your Paradox.  Expand my horizons!  It's about the music, after all.  
Meanwhile, I've returned the HM-801 for a refund under their 30-day policy.  As a card reader to DAC with analog Line Out, it just didn't offer any substantial benefit over my more neutral Sony PCM-M10.
I'm back to using the PCM-M10 as a portable DAC and the CEntrance DACmini CX as my desktop DAC for the MG3.
But I've ordered something else to try with the MG3.   I'm determined to go "transportable" with the MG3, so I'm trying to find a portable DAC with card reader that can significantly outperform my PCM-M10.
Next up...  The TASCAM DR-100 Mk II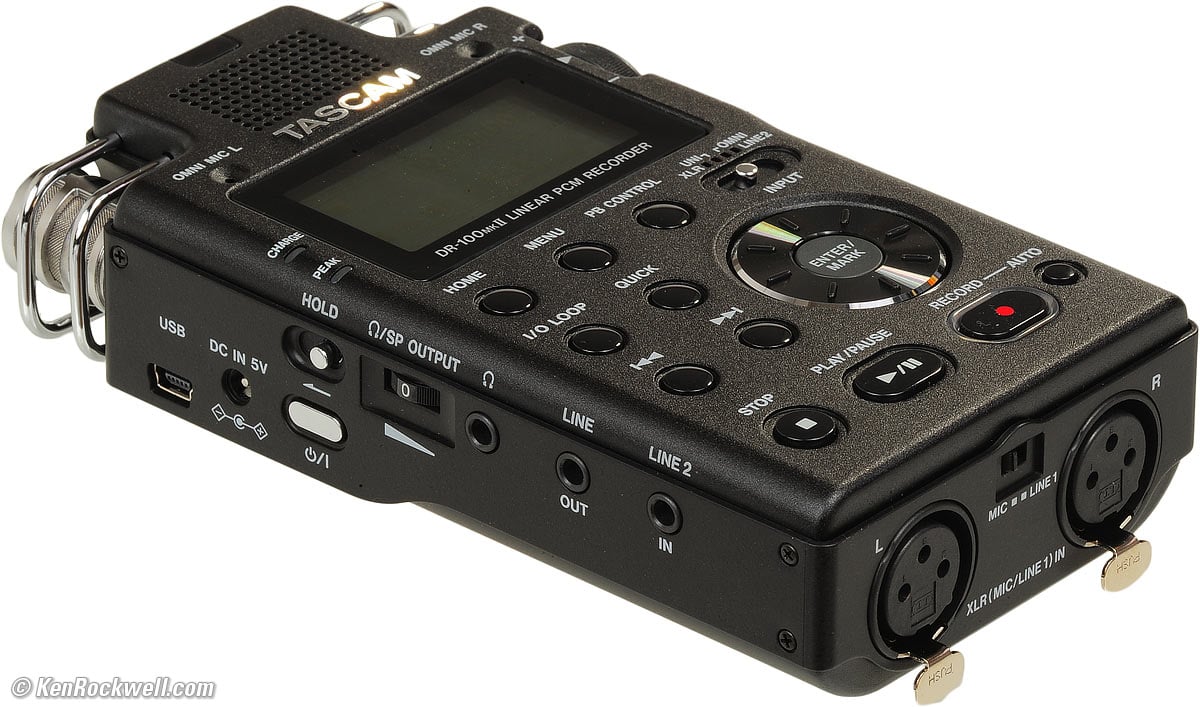 Read Ken Rockwell's review here, and check out the very good measurements he captured of this digital recorder's 96/24-capable DAC.  If you order one, use the links he provides at his page.  If you're unfamiliar with Ken, let me say that he has made a lot of great contributions to photographic and audio gear at his web site.
TASCAM is a division of TEAC corporation.  Their DR-100 Mk II is yet another example of how much we're asked to pay for gear that sells exclusively to the relatively tiny market of headphone users.  Contrast the parts count and build quality of this relatively mass-produced, $300 recorder/player to that of the far more expensive iBasso DX100 or HiFiMan HM-901.  Even if I never use it as a recorder, if its Line Out sounds any better than my $239 Sony PCM-M10, it will be just as good a value for the money.
Impressions with the MG3 > LCD-2 are forthcoming.  Here's hoping they get along nicely!
Is there anyone else on this thread hoping to use the MG3 as part of a "transportable" headphone rig (or is everyone using it strictly as a desktop amp)?
Thanks!
Mike
Edited by zilch0md - 9/14/13 at 9:19pm