This Classified is Closed
For Sale:
SOLD - Meier Corda Headsix Portable Amp
Will Ship To: Anywhere

SOLD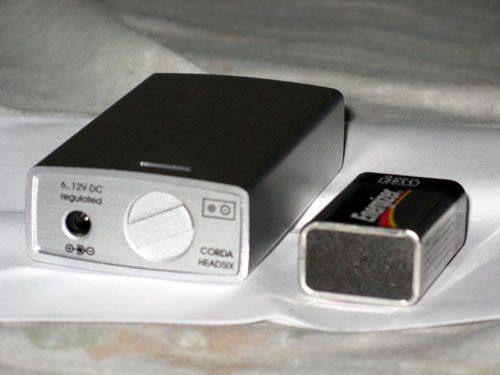 I have a Jan Meier Corda Headsix amp in black for sale. It's the prior model similar to this current one:
http://www.meier-audio.homepage.t-online.de/2stepdance.htm
Has some signs of usage but no major scratches or anything. Works and sounds perfect!
Has adjustable gain and can drive high Ohm headphones as well as high efficiency ones well.
Anyone familiar with Jan Meiers work knows his amps are extremely high quality, and made in Germany.
I will include some velcro pieces for you so you can attach your iPod or other device to the amp, or you may peel them off the amp if you do not want to use velcro. Note, one of the screw holes is stripped which is a common issue with this amp that can be fixed by adding a longer screw.
Just $100. OBO shipped in USA! Can only ship to PayPal confirmed address.
And here is the official thread on the great Headsix -
http://www.head-fi.org/t/261529/the-headsix-a-head-fi-support-sales-action
Please PM if interested, thanks!
Technical details:
Weight without battery: 100 gr.
Measures: 9.3 x 4.7 x 2.2 cm
Supply voltage: 6 .. (9) .. 12 Volts DC
Mean current uptake: 7 mA
Maximal amplification (1 kHz): 4 / 17 dB (low/high gain)
Input impedance: 13 kOhm
Output impedance: < 1 Ohm
The unit runs from a single 9V battery and internally the supply voltage is used to create a pair of +4.5 and -4.5V power lines.
Alternatively external power supplies can be connected with supply voltages between 6V and 12V DC. The external supply voltage is internally splitted to create a pair of +3..+6V and -3..-6V power lines.
The total buffer capacity is 4000 uF to lower the effective battery impedance.
For amplification two single AD8610 opamps are used for maximal sonic performance.(No dual or quad-opamps!)
The 3.5 mm sockets are silver-plated.
Inside the signal path only metal-resistors and high-quality film-capacitors are used (polypropylene).
The enclosure is made entirely of aluminium.
Accessories:
- mini-mini interconnect (gold plated)
- screwdriver to open the amp
- 4 rubber feet
- user manual
Edited by Mediahound - 1/1/13 at 2:40pm