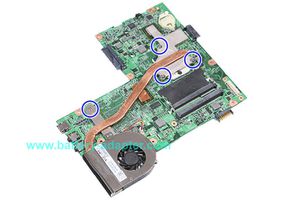 http://img.over-blog.com/300x200/5/07/75/22/Dell-Inspiron-17R/Dell-Inspiron-N5010-Fan10.jpg
On the right where the three blue circles make a triangle is the cpu. Hard to tell from the picture, but I bet the flat copper piece to the upper left of the RAM slots is the gpu.
Since the heatpipe covers both and has to come off you best do both. Just a word of caution; that's really old thermal paste. It may have dried out quite a bit and not want to release from the components. Possibly partially disassemble and then run furmark or similar stress test to loosen up the ninja death grip may be a good idea so there's little time for it to cool.
As an aside, backing up ~/home (or the Windows equivalent...C:\Documents and Settings?) to an external hard drive would let you format. The fact that you don't have any back ups is very bad! Should anything happen to that laptop where will your data be?
**had to put a link to the picture as it will preview in my post but not show in the thread on my phone**
Edited by lostinthesauce - Yesterday at 11:43 am