Just received this afternoon, can't say I have spent enough time with it but it is enough for pictures and some first impression. Here is brief introduction to E02i - it is an inline mic + remote for iDevice with amp and bass boost. This mean not only you get to to control your iDevice from it (as long as the iDevice supports remote function, it will act as a mic for phone call (or recording), amp what even audio signal from the headphone-out, hopefully music, and there is a bass boost switch. Oh, and this little amp is self-powered so it doesn't drain your iDevice's battery. The official battery life is quoted at 10 hours. Don't worry, even if the battery runs out of juice, you can still set it to OFF / Bypass mode and it will just act like a regular mic+remote adapter for your headphone.




Inner - an USB to Micro-USB cable for charging, the amp itself and a manual.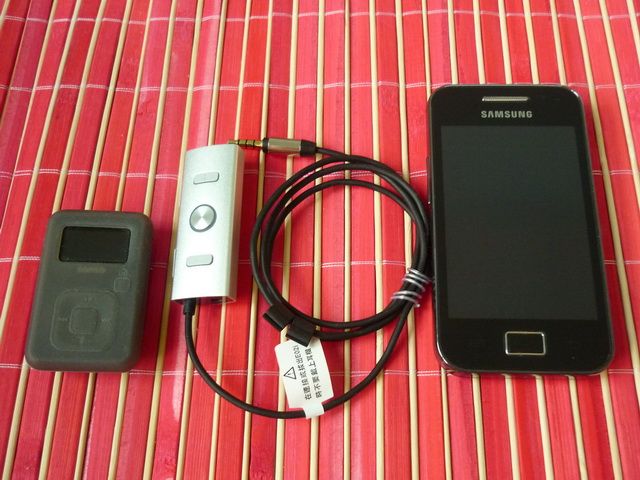 Size comparison: Left - Sansa Clip+; Right - Samsung Galaxy Ace. Sorry, don't own an iPhone, but Ace has the same dimension as the original iPhone.

[First Impression]

A few things I can immediately tell:

1st, this isn't going to beat E6 on SQ. For now, I'll place it somewhere between E6 and E7. Not too bad actually, definitely a step up from the old E1.

2nd, though I haven't had the time to go in very deep on SQ, I can tell this amp is slightly on the warm, lusher side, especially once the bass boost is on. But it isn't super warm like the SoundMAGIC A10. The bass kick is really good though, better than E6 and E7 for sure even when bass boost is off. Current seem sufficient enough, but gain isn't very high.

3rd. Output impedance is super low, measured at only 0.08ohm.

4th, Build quality is excellent, the main body is aluminum with a shirt clip on the back (aluminum too). Cable length is 0.8m. In case you wonder, I'll say that is about chest height (more or less) if it is connect to an iPhone in the front pocket.

That's is it for now. Will update once I have the time to measured it via RMAA and listen to it more thoroughly.
---
[Final Thought]
E02i is basically FiiO's answer to those who want to use their iPhone with amp but also want the function of remote and mic. Inline amp isn't exactly the most welcomed of solution among audiophile since line-out has always been the prime choice for amping. However, given how well iPhone's (and Apple's products in general) headphone-out behaves, and negative from double amping is outweighed by the convenient of having one device that can do it all. That's what E02i is about – an amp with bass boost that also acts as remote and mic. Add in your favorite pair of IEM and you got yourself a minimalistic rig.
Spec
Output: > 70mW (32ohm)
Headphone Impedance Recommendation: 16ohm – 150ohm
Frequency Response: 20Hz – 20kHz
Power Supply: 5V DC 500mA MicroUSB
Size: 23.3mm x 57.3mm x 15.3mm (main body, including clip)
Cable Length: 80cm
Weight: 27g
Battery Life: 10 hours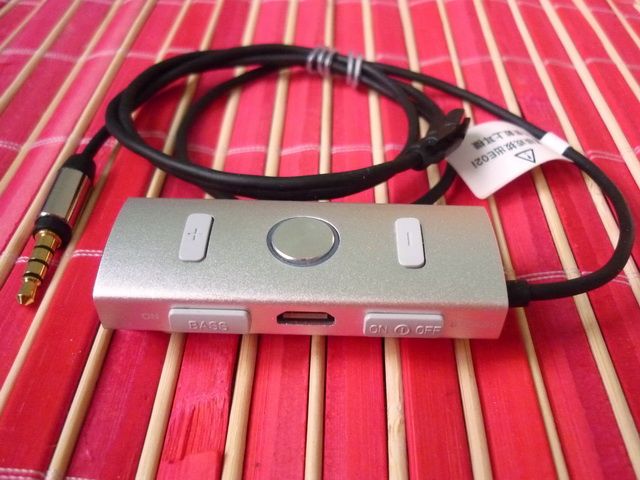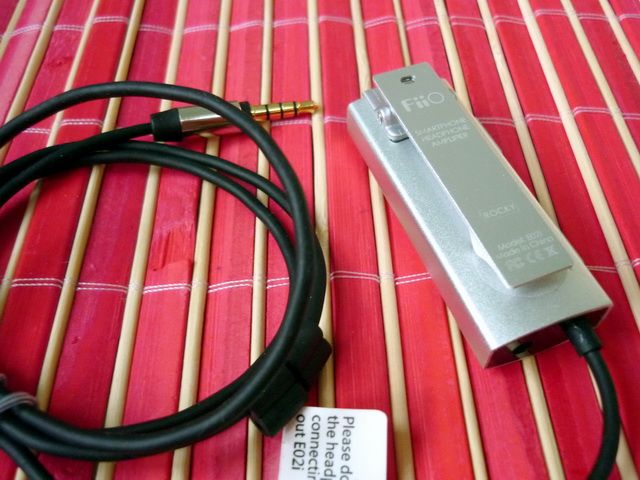 Build Quality and Accessories
As always the build quality is pretty good. The main unit is mostly aluminum, including the shirt clip, and the cable is fairly thick so it should be able to handle some stressing / pulling. If you are not the kind who likes to clip something to your shirt, there is a tiny hole on the clip that you can attach a lanyard cable to hand it over your neck. Accessory is minimum with just one USB cable for charging.
Navigation and Functions
On first look, E02i is pretty much like an oversized iPhone remote. The volume up/down and call button are on the front. Mic is located on the top. Shirt clip is on the back. Power and bass switches are on the left side and between them, the microUSB charging port.
The remote and mic themselves can be operated without turning on the amp section (indicated by the blue light around the call button), so you can keep using them even if you run out of battery.
Battery Life
Battery life is quoted at 10 hours, which is the same as FiiO own E5 / E6. Not particularly long by any mean, but still decent consider how small E02i is. I never fully drain the battery, but from daily use it seems to hold up to the spec quite well.
Gain, Hiss and EMI
E6 is about 7-8dB in gain, E5 is about 5dB, E02i on the other hand is only about 4dB. Not really a lot so low sensitivity headphone might not get very loud. The good news is the newer generation of iDevice seems to capable of outputting higher volume (which get amplified by E02i), so I don't see any problem for E02i to work with anything below 150ohm.
Level of hiss is compatible to that of E6. Noticeable with hiss prone IEM (i.e. Shure SE530) when no music is playing but overall not an issue with most other IEM.
For something that specifically designed to use with cellphone, EMI is not an issue with E02i as it is very well shielded.
SQ
RMAA measurement wise, E02i is doing quite well. First the bad news – there is a tiny roll-off in the sub-bass region. However, it is -0.5dB @ 30Hz with a 16ohm load so it should be close to unnoticeable. Otherwise E02i does measured quite well and doesn't add anything funny to the original signal. Output impedance is measured to be a very low 0.08ohm. Output power to a 47ohm fixed load are excellent and actually doing even better with a 23.5ohm fixed load.
For the most part, I think the sound quality of E02i can be summed up as 'E6 with remote and mic for iPhone'. The two actually sound very close in A/Bing, with the exception that E02i has a slightly warmer tone. Not a lot by any mean but it is noticeable when you listen to them side by side. While the warmer tone does reduce the background transparency by a little, it isn't big enough to affect the actual quality of the sound. All and all, E02i and E6 are on par with each other performance wise.
EQ
Bass boost is around 5dB @ 50Hz but goes up as high as 0.5dB @ 1kHz. This is consistence to the smaller bass boost (EQ2) we have seen on E6.
Ending
I guess it is not hard to see E02i as the adapted version of E6 for the iPhone user. As far as performance goes, it is excellent for an entry level amp, much like E6. Of course it won't replace any full size portable amp any time soon, but that is not what it is designed to do. Given how well Apple's product usually is, E02i can served as a decent add-on but probably not a killer accessory. However, I do see a similar amp will bring much more benefit to the Android user where amp section are generally not nearly as solid as Apple products.
A thanks to FiiO for the sample.
Edited by ClieOS - 1/1/13 at 8:51am