Post A Painting
offline
3,232 Posts. Joined 6/2009
Location: Milwaukee, WI
Eugène Delacroix - Death of Sardanapalus (La Mort de Sardanapale)
Oil painting on canvas, 1827
Location: Musée du Louvre, Paris.
Size: 392 x 496 cm (12′ 1" x 16′ 3")
Edited by mpsipos - 7/14/12 at 5:52am
                                         Maxfield Parrish 
Something I have looked at for about 40 years.
Edited by Redcarmoose - 7/14/12 at 5:58am
Caspar David Friedrich - Wanderer above the Sea of Fog (Der Wanderer über dem Nebelmeer)
Oil painting on canvas, 1818
Location: Kunsthalle Hamburg, Germany
Size: 98.4 × 74.8cm (37.3 × 29.4in)
Eugène Delacroix - Liberty Leading the People (La Liberté guidant le peuple)
Oil painting on canvas, 1830
Location: Musée du Louvre, Paris.
Size: 260 cm × 325 cm (102.4 in × 128.0 in)
J. M. W. Turner - The Fighting Temeraire tugged to her last Berth to be broken up, 1838
Oil painting on canvas, 1839
Location: National Gallery, London
Size: 91 cm × 122 cm (36 in × 48 in)
Quote:
Max Ernst    The Eye Of Silence
Art by the great German surrealist Max Ernst!
Would Modern/20th-Century art happen to be your period of choice?
Thanks for asking. As simple as just collecting art books in the mid-seventies and learning about a couple painters. I guess I like the 20th century the best. Really Ernst was always amazing to look at because of his ugly anti-art da-da stance and mixing in a drama only he seemed to have. I'm no expert but an arm-chair art-booker. I'm sure to see any of his work in real life, it must look unworldly. What bugs me the most is I don't know if I have ever really seen the correct color he wanted, as reproductions are always so off? If I was really motivated I guess I would have searched them out! HA
It has always been surrealist use of "3D" that was always fun. Not saying that there was not the use earlier, just something different with them?
Edited by Redcarmoose - 7/14/12 at 6:33am
offline
5,605 Posts. Joined 1/2007
Location: Denver, North Carolina
Andrew Wyeth, The Quaker. I have a collotype of this issued By the Metropolitan in 1976 to commemorate the Wyeth exhibit.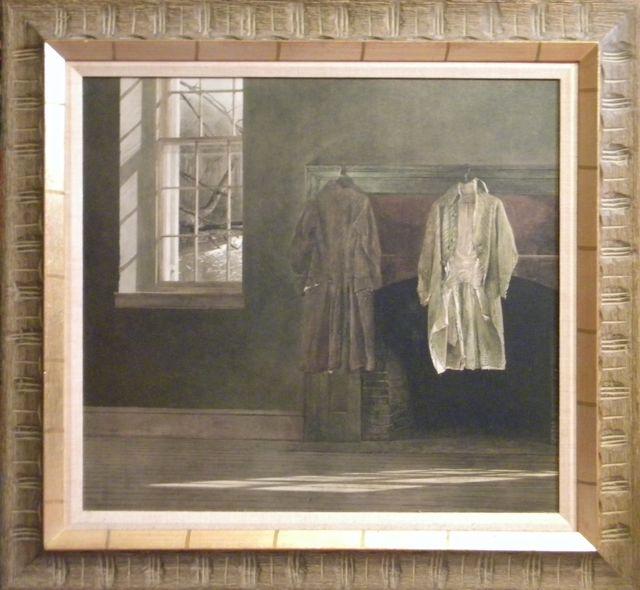 offline
13,336 Posts. Joined 4/2010
Location: Hipster Haven of the South (Austin, Texas)
It's not titled if I recall. Jon Burleson out of Dallas. A family friend. I actually own 2 of his originals. Hoping to snag more next time I see him.
offline
740 Posts. Joined 5/2004
Location: Los Angeles, CA
offline
77 Posts. Joined 11/2011
Location: NYC