Quote:
Originally Posted by
jant71
Okay I got this package today and wasn't quite sure what to make of it as I opened it up...

Had me going for a minute as my R3 replacement was sent in a big sheet of bubble wrap inside the HM5 case and box! Suffice to say this one made it safe and sound and now I can hear what Dsnuts is talking about. These are quite balanced and more neutral sounding but not monitor voiced or sterile in any way. Still enjoyable, just more uncolored.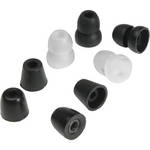 The R3 are a great candidate for the Grado big bi-flange tips which I put on them. The fit is very easy with the black pair I put on them and they look cool. A good match, big earphones and big tips! More tip rolling needs to be done though.
The one phone I think of when I hear the R3 is the RE400. I wish I had a pair of those to compare since they are the choice for well balanced phones in this price range. I'm sure we will see some comparison of the two down the line.
I will burn this pair in and compare to my other phones and see how do match my sources which are differently voiced. So far I agree with D's that they are a unique presentation. I can hear the spacing/layers and the treble is refined and well integrated but still really distinct and served up a little more forward. Still sounds like it is coming from a different driver than the bass at this point. I hear the same bass driver needing to tighten up a bit. Unamped impression so interesting to see how that changes the low end and other things. They seem further away than most of my other phones. The drivers are back from the ear more and it sounds like it. Certainly due to the design. These are not like other dual driver designs and it shows in how they sound.
Ha those guys made sure nothing was gonna happen to this one. They sent it in a headphone case. Lol. These are the type of earphones that grow on a person. They don't necessarily wow a person off the bat as they have that unique sound so you kinda have to adjust to their sound signature and you do have to mess around with some tips they provide or whatever you have to get the right seal happening. It is more neutral in tonality than anything with big bass or too forward a sound like most dual dynamics we are used to.. That in of itself is unique if you think about it. I am certain most dual dynamics will have some type of emphasis on the bass region. Even the FXZs have emphasis on the bass. I believe these are the first dual dynamics I can recall that actually has more of a neutralish tilt to them, which actually makes more sense if your gonna throw in more than one driver in a housing. It is that sound layering that will impress on these.
Brainwavz are onto something with these earphones..These hang in there with the best of what your $100 can get you in sound yet they have more potential I can hear what these can possibly lead to and I have a feeling we will eventually get to hear that realization.