Continuing my exploration of my newly acquired stash of 6DJ8 derivatives. Have you ever heard of Coronado tubes? Neither have I, until now. Here are two action pictures of my 6BC8 tube:
Obviously, Coronado is a re-brander, but who made this tube? No information on the tube except the name, designation, and a yellow rectangle. Let's look at the box: In fine print it says Gamble-Skogmo Inc, Minneapolis, MN. (Artsi and Oskari know that Skogmo means wood marsh - there were many Swedes that settled in Minnesota.) The bottom inside flap says BC-646 with the number 37 underneath.  Perhaps this tube could have been made in June 1964. (1946?)
Next stop Google. Gamble-Skogmo was founded in the 20's selling cars and started to produce radios in 1935. This company encompassed many different businesses, stores and department chains and grew to be the 15th largest US retailer in the 70's with 4300 stores under many names and 26,000 employees. When one of the founders retired in the late 70's the company was sold. The new owners drove the company into bankruptcy and it went under with many divisions sold off.
For you designers out there, here is a picture of a beautiful 50s-60s Coronado tube radio: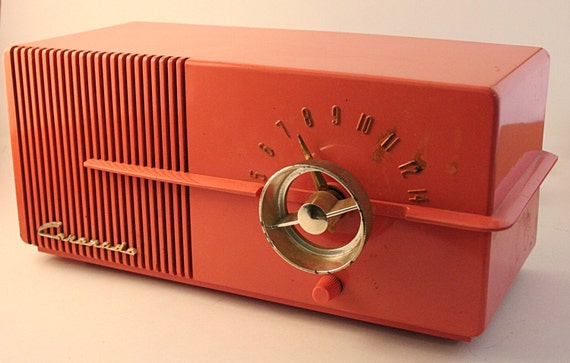 If you live near Colorado Springs, this tube radio console is available for local pick up for $195.00:

http://www.ebay.com/itm/Vintage-Antique-Vacuum-Tube-CORONADO-Console-Radio-Professionally-Tested-WORKS-/301041001384?pt=Vintage_Electronics_R2&hash=item46177123a8
Back from our history detour to the the tube. It has the 6DJ8 signature sound of very wide sound stage, punchy bass (in this case extra punchy) and great treble with tons of detail. A light, quick and lively presentation. The treble is slightly bright, but this tube has not been burnt in yet.
The manufacturer? No clue, perhaps Raytheon. My only hunch is the yellow rectangle which reminds me of the yellow silk screening on some US Raytheon tubes.
Another winner.