This Classified is Closed
For Sale:
FS: MDR-SA5000 genuine leather earpads, NIB
Will Ship To: Anywhere

Hi there, my old feedback thread is visible at http://www.head-fi.org/t/407556/leeperry
I've got one last pair of MDR-SA5000 genuine leather earpads available: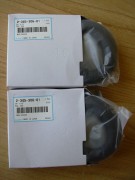 They're BNIB, never used and cost $124 a pop + shipping directly off SONY(no reseller markup)..look for the "234530601" part number: https://servicesales.sel.sony.com/ecom/accessories/web/productSearch.do
They do wonders on the Fostex T50RP as well(and would prolly also fit the SRH840 and so):
They're made of genuine leather, and being natural leather it follows your body temperature and never feels hot or cold...they also don't flake out after a few months like pleather always does. They provide a very SONY'ish color to the sound, an über-tight bass response and you can easily angle them in order to benefit from the highly sought after SONY 3D SS 
Of course they also fit the SA3000, for an improved bass response and a higher isolation from the outside noise. They might be worth a shot on the Z1k too.
Got one very last pair and they might be close to OOP, asking $OLD shipped worldwide with registered+insured mail.
Edited by leeperry - 10/16/13 at 3:30am