Up for sale are my Joe Grado HP-1s. They are modified (phase switches are disabled), re-cabled with a 6' Stefan Audio Arts to four pin connector and a four pin to SE 1/4" plug. Looking for $SOLD shipped, paypal'd and insured to known good feedback buyer in CONUS. I'd send these OCONUS to known / high feedback HF-er. OCONUS buyer must pay actual shipping - depending on feedback, may require wire transfer/money order.

I've had / heard a number of pairs of HP1000s; these are my favorites. I have the original Joe Grado Ultrawide Bandwidth cable, HP1000 box and phase switch guts. They were re-cabled by someone you may recognize (last pic) at the Denver Head-Fi meet in July 09.

I bought these in March of 2008, except for the modifications they are in the same excellent shape.

That said the headband has a few scuffs, the screens are fraying a little and there are no letters on the cups but the L and Right circles are intact. There is one little nip on the cable coating from the case I was transporting them in to meets - ugh.




Case is not included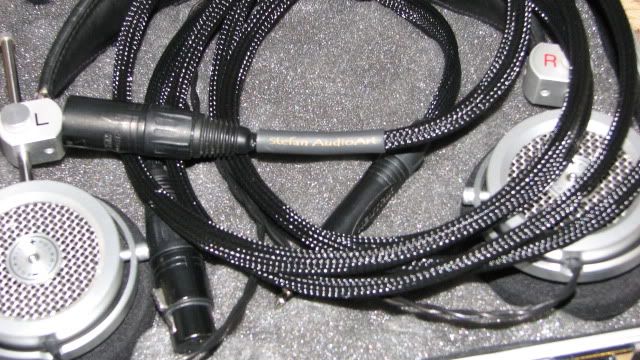 Stefan Audio Arts 4 pin balanced cable and 4 pin to SE adapter




Left and Right cup views show writing on polarity switch circle totally intact.




Small nip on cable - causes no sonic impact - does not cut out... usually covered but wanted to show all imperfections.




Screens over drivers are frayed a little...




Slight scuffs on headband - the flash really exaggerates this..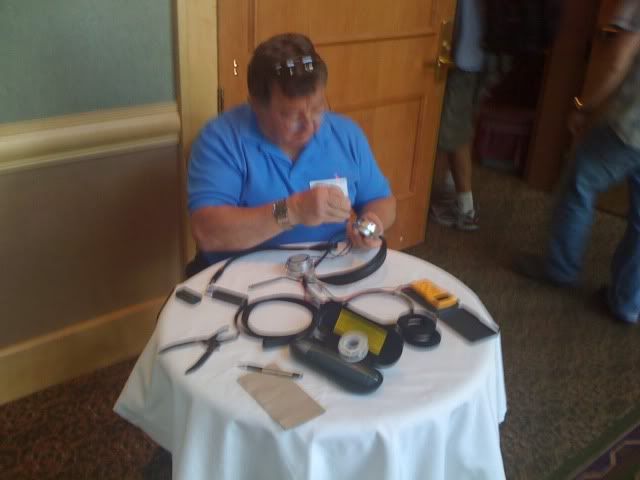 A very gracious Ray Samuels!
Edited by Blutarsky - 6/26/10 at 4:44am