Introduction
н¨ÍøÒ³ 1
I thought it might be useful to include some background information so it's easier to know where I'm coming from. I was using a Styleaudio Peridot DAC + Audioengine A5 speakers. I had a Compass DAC before and back when I was comparing the two (just the DAC section), they were pretty much on par, with the Compass having a more colored low-mid range. Then, I upgraded to Dynaudio BM5A monitors.
But there was something strange about the overall sound that I could not put my finger on. The music sounded dry, clinical and lacking soul. I know some people are thinking that it's just the nature of the bm5a's pro-audio heritage. But I felt otherwise and I thought it was the DAC holding me back.
Good sound is most certainly subjective. But when it comes to DACs, I'm of the opinion that a truly good DAC is one that simply does a 100% pure, accurate digital->analog conversion. That sounds like a stupid thing to say, but let's face it, many DACs add so much of their own character to the music. IMO, if you like your music colored, get it from your amp/headphones/speakers, not the DAC.
Initial Impressions
The DAC19 DF/DSP has a matt black aluminium chassis. It's not going to win any design awards, but I'd much rather have quality innards than the most beautiful (read: expensive) chassis that costs 1/3 of the total DAC's price and skimp on the quality of the components inside.
Vent on the top of chassis, right above the transformer/power section. I've been using it for hours on end and it gets barely warm.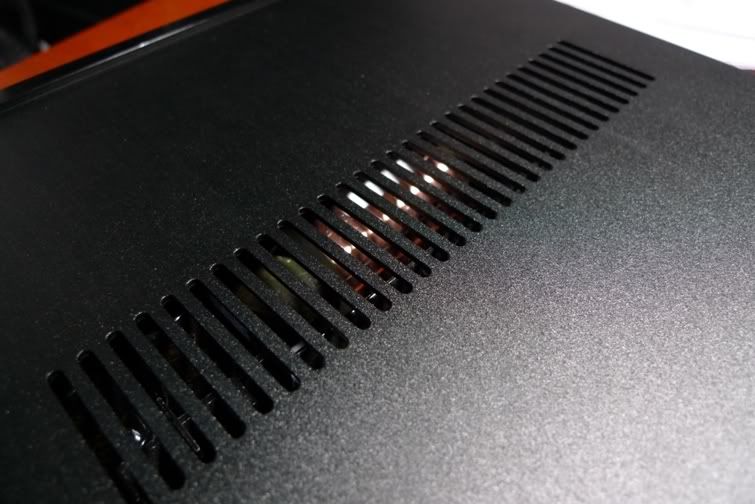 It comes with a set of RCA and ACSS outputs, the latter used for matching with other audio-gd gear. But if you're like me and don't need the ACSS, you can request for them to be swapped for RCA outputs.
Digital inputs include: USB/SPDIF Coax/Optical. Coax is the recommended input, but I'm using USB for now since my motherboard's coax is a real pile of crap.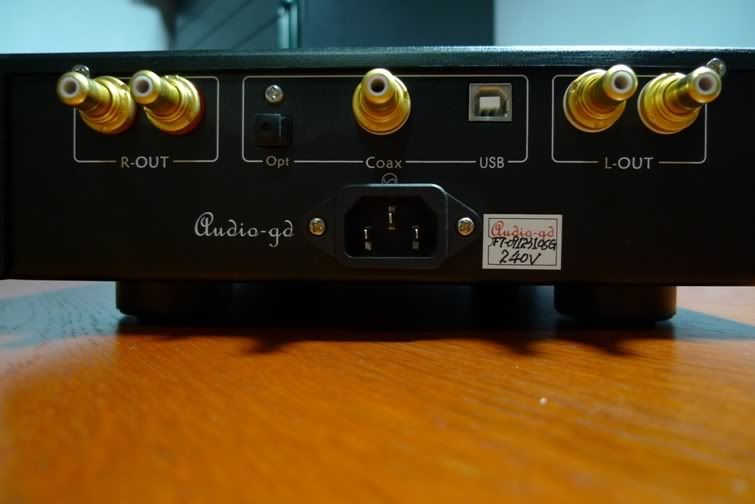 Internals of the DAC19
The Audio-Gd website has nice, clear pictures of the inside but I thought I should share some of these up-close shots. The DAC-19 has 100% discrete components, zero feedback circuit, separated power supplies etc. This is not marketing hype, it's just good design. It puzzles me why people think that the DAC chip is all that matters when other things like the power stage and overall implementation are much more important.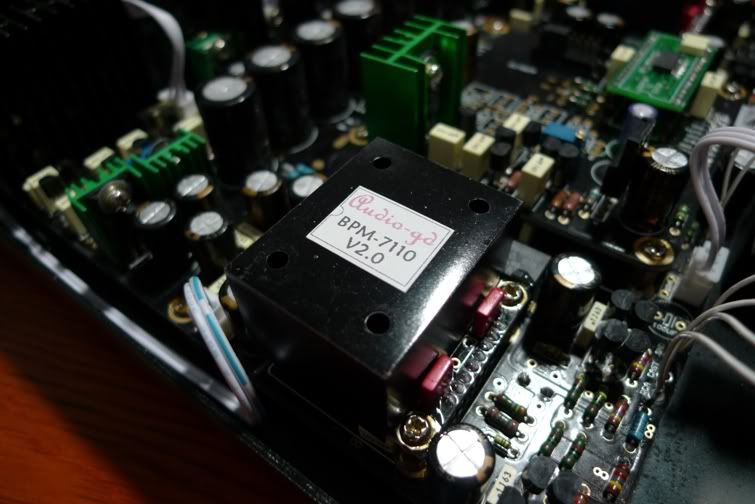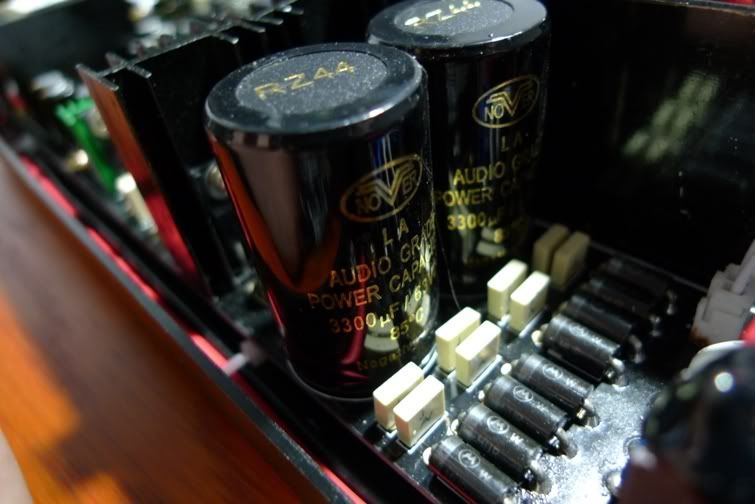 Burr-Brown DF1704 Filter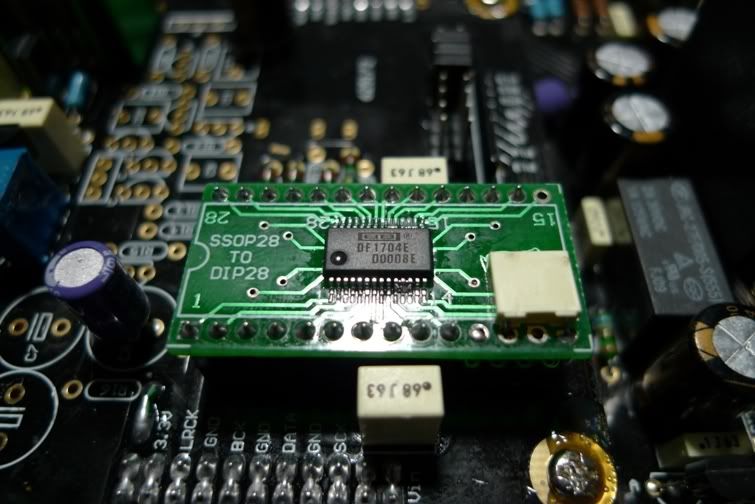 Burr-Brown PCM1704UK DAC. It's the top grade UK version, the 2 white dots are indicators. Unfortunately it doesn't show up very well in my picture.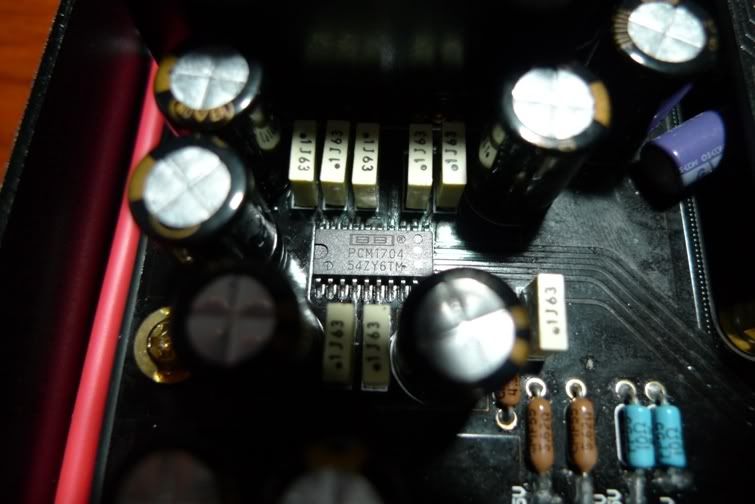 Listening Tests
Setup: USB>DAC19>RCA to XLR>TC Level Pilot>BM5A
I've been listening with the DAC19 for almost a week now and I still think it's quite difficult for me to describe its' sound/character. It's a DAC that is very much dependent on what you feed it with. I'm not just talking about FLAC vs 320 here, but the quality of the recording itself. The DAC19 reminds me of a crystal-clear magnifying glass, allowing you to see all the nice juicy details, but at the same time, you'll see the imperfections that come along with it.
I put on Michael Jackson's Off The Wall and I was blown away. The dynamics in this album are killer. The low end is extremely well articulated, with a clear distinction between the bass guitar and bass drum. Even with a lot going on, the bass line still comes forth with such clarity without being muddled by, or muddying up, the other frequency ranges. There's not a tinge of sibilance nor harshness in Jackson's voice even with his generous use of falsetto. Cymbals have the right amount of air and crispness to the top-end; hi-hats have a solid 'chick' sound. There was no effort needed on my part to make sense, or try to make out, the stereo image. It all fit together nicely like a jig-saw puzzle, each band member living in their own space.
Next up was Diana Krall. I was floored at how wide and deep the sound stage was - it sounded like I was there with the musicians. The boundaries of the sound stage literally exploded and I have to say I didn't expect that much of a difference. Immersive is truly the word that came to mind. The brush stick playing on the drums was organic and natural, never sounding gritty or fuzzy. Strings are masterfully rendered and they just sound so authentic. On other DACs that I've heard, the strings are usually distastefully done, sounding shrill or too harsh. The vocals were exceedingly smooth, but at the same time, without lacking any detail.
The DAC19 gave new insight into how a particular song was recorded, whether it was in a small recording studio, a large studio, or a concert hall. The background is extremely dark, allowing the smallest details to emerge with such clarity, yet it is never in-your-face, but right where it is supposed to be.
Instrument Reproduction
I've always wondered why acoustic pianos just didn't sound 'right' on my previous setups. The DAC19 has changed that for me. It captures the sound of musical instruments with accuracy and authenticity, and this is definitely one of its strongest points. A piano finally sounds like a piano, with a full-bodied and natural sound. It's definitely not some sort of artificially boosted frequency response. I'm quite a piano nut, but I'm sure no one needs to know how to play the piano to know what it sounds like.
Guitars sound really natural too, with just the right amount of decay after each strum. It's quite hard to put in words what this sounds like, but the best way I can put it is – it sounds real. I did not hear smooth, lush guitar tones if the recording didn't call for it; with Tom Morello (RATM), there was his raw, edgy guitar sound; but with John Mayer, it was his warm, lucid guitar tones. The DAC19 brings out the best (or worst) of the recordings, nothing more, nothing less.
The toms (drums) are masterfully done. Not only is the fundamental tone (pitch) present, the many overtones are present too, resulting in a highly textured, full-sounding tom that doesn't just sound like a flat 'thud', but with a beautiful resonance that sings. Floor toms don't just sound like some mere extension of the bass drum, but have a nice low end that is distinctly separate from the bass drum. The snare sounds true-to-source, with Red Hot Chili Pepper's snare drum cutting the mix with a very nice attack and crack, the high pitched overtones easily heard.
I could go on and on about how natural instruments sound but suffice to say, the DAC19 does a superb job.
Conclusion/After Thoughts
The DAC19 has shed new light on what the "garbage in, garbage out" mantra means to me. Indeed, with the DAC19, the quality of the recordings is everything. There is, and can be, no voodoo to salvage poor recordings. It's ruthless in revealing the true state of one's recordings. I played some Muse and Linkin Park (don't laugh) and musical preference aside, they didn't sound all that great. It's not that they sounded bad per se, but when put side-by-side with quality recordings with good dynamic range, they just fall short. I'm not saying that this DAC will change the type of music you like, because I do enjoy my Muse even more. I just think that the DAC has opened my eyes to explore more genres that I would not have had, without a revealing setup.
The DAC19 is to me, a neutral, transparent, revealing and true-to-source DAC. It is certainly not a bright, harsh or unnatural DAC, unless the recording calls for that kind of sound. Detailed sound does not equate to bright, nor does bright mean detailed. True detail usually sounds good and doesn't make your ears bleed.
What about the DSP1?
As you might already know, the DAC19 comes in two flavours: DF and DSP1. The DF is USD480 and the DSP1 is USD630. I struggled for a long time deciding which one to take, wheter the DSP1 chip and better capacitors was worth the added USD150 expense. Not much is known about the DSP1, except that it's used in Audio-Gd's flagship DAC products and quite a powerful processor. It can deal with jitter, although I don't know how well it works. Saying that the Ref 1 uses the DSP1 and so the DSP1 must be good is somewhat of a flawed argument to me, because the Ref 1 probably still sounds pretty darn good with a DF filter, the circuit topology making much more of a difference than one filter chip.
But what I can say with certainty is that it is very difficult to go wrong with the DF @ USD480.