This is a very basic headphone config for
stock
Asus Xonar STX/ST. I decided to post this because I was very happy with this config and I was tired of repeating it in every STX-related post. I hope its helpful.
Driver version: 7.12.8.1777
OS: Windows 7 64bit
After installing the driver you have two options, using the line out or the headphone out. The popular opinion used to be/still is that the line out is 'better' but although that's how it looks on the paper, the real life experience of many including myself differs. The built-in headphone amp of Xonar STX is especially well-suited for high impedance headphones.
Setting up the software for headphone listening: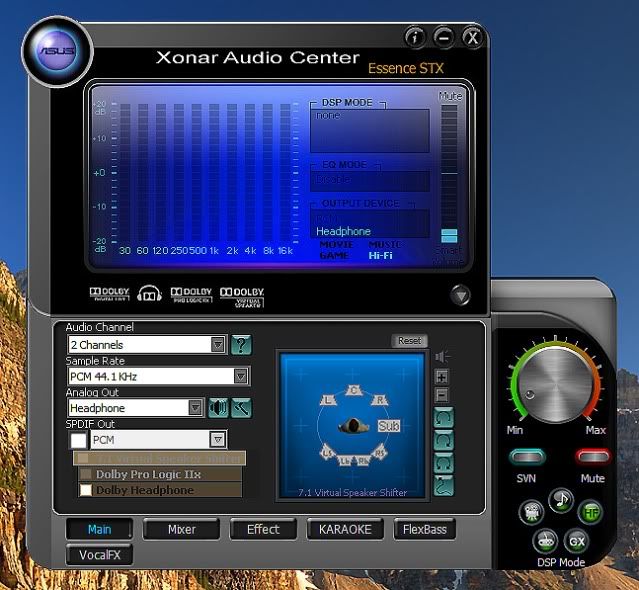 Audio Channel:
2 Channels
Sample Rate:
The default setting is 96khz, I don't know the reason for that, it could be lack of auto sample rate but all my music is 44.1 and I set the sample rate at 44.1 to avoid any resampling. I have the windows sound option for Xonar also set to 24/44.1.
Analog out:
I use the headphone out and I recommend the headphone out especially for high impedance headphones (64ohms and above). For reference read the xbitlab review and scroll down to the charts and commentary in regards to Xonar's headphone amp chip (TPA6120A2):
http://www.xbitlabs.com/articles/multimedia/display/asus-xonar-essence-stx_3.html
The highest gain setting of 300-600ohms provides the best sound quality, and it's a perfect match for example with HD580/HD600/HD650, all these headphones have an impedance range of 300ohms to 600ohms.
Use the headphone gain setting at your own risk and make sure you know what you're doing. This is the most important setting and you must get it right.
DSP mode
(bottom right)
:
The only option enabled there should be HF (hi fi) this is very important. HF or hi fi disables all post processing of the signal, for example environment size in Effects option (look below). Environment size creates artificial sound staging and in the process distorts the sound. If you click on any of its options L M S the HF option will be disabled, so make sure HF option is always enabled for optimum fidelity.
Volume Control:
Use the volume in Xonar, set the volume at your music player (foobar, winamp etc) at 100%.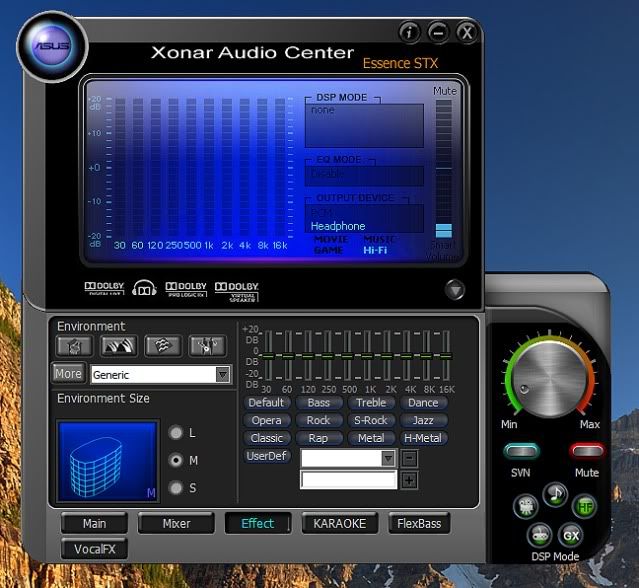 Everything else in the driver should be left at default unless needed for some specific reason.
This is what I use for headphone listening. The biggest difference for me was setting the proper gain setting for my headphone and enabling HF.
Please don't hesitate to share what are your Xonar STX/ST settings and why. But after playing around with this card for three months, this is what I have decided and its very simple and straight forward.