Well, today was my most fun day at work! All day, I awaited a cold ten minute walk home in freezing winds with a glaring, yet cold sun. Hat, mittens and lazily chosen Doc Martins to battle the icy paths that lay ahead (damn those things have zero traction!) Making it several steps out the door does nothing to instill confidence in the choice I made in taking those first steps. I end up making several tough decisions along the way; first and foremost, should I scale this nine foot snow bank, or make the five minute long trek around this heap of cloud crap.
Journeying around the chilling obstruction, I feel a slight sensation in my ear; 'tis but a faint glimpse of near future sanctuary I feel. The sound was muffled, unclear, and undefined. My hand touches my head, hoping to find the source of this sound, but with no return. My hands keep their place at my ears, as sheltering igloos for the unprepared eskimos that my ears have become.
I find there is road to cross up ahead, with terrified drivers, keen on ending their misery in the nearest snow bank. Hoping not to be the cushion that protects the car from the oncoming icy obstacle, I wait patiently. Patience, by itself, is not enough to explain what comes back to my mind; it is the sound once more. Even more sensational and with greater clarity and refinement. I go to reach for my ears again, but find nothing there, yet again. Its presence escapes my reasoning, but faintly is grasped by my memory; there is something odd going on.
I prance across the road, avoiding cold where ever possible, but with no success. These winters know no limits. I now see my door to my home, my ever saving grace. My senses sharpen, as I realize there is an end in sight to this despair. My feet move quickly, in a truly melodic fashion. My breathing becomes pronounced, matching harmoniously with the repetitive crushing sound that my feet make in the snow. The sound of my jacket rubbing against itself, escapes its nature of annoying scraping, and begins to sink into the developing sound that my desperate running first created. Again, the sensational sound I heard earlier, is back yet again, more clear and defined then ever! It whispers, flirting with my mind, cluing me in on the big mystery that surrounds my journey.
My hand reaches for the door, almost pulling on the door before my hand has even touched. I become motionless for a split second, as all momentum comes to a halt. The once glorious sound and its accompanying harmony disappear, as a true Minnesota Vikings fan does to the idea of Brett Favre playing on their side. It all gone, the sound, the cold, and time. And then...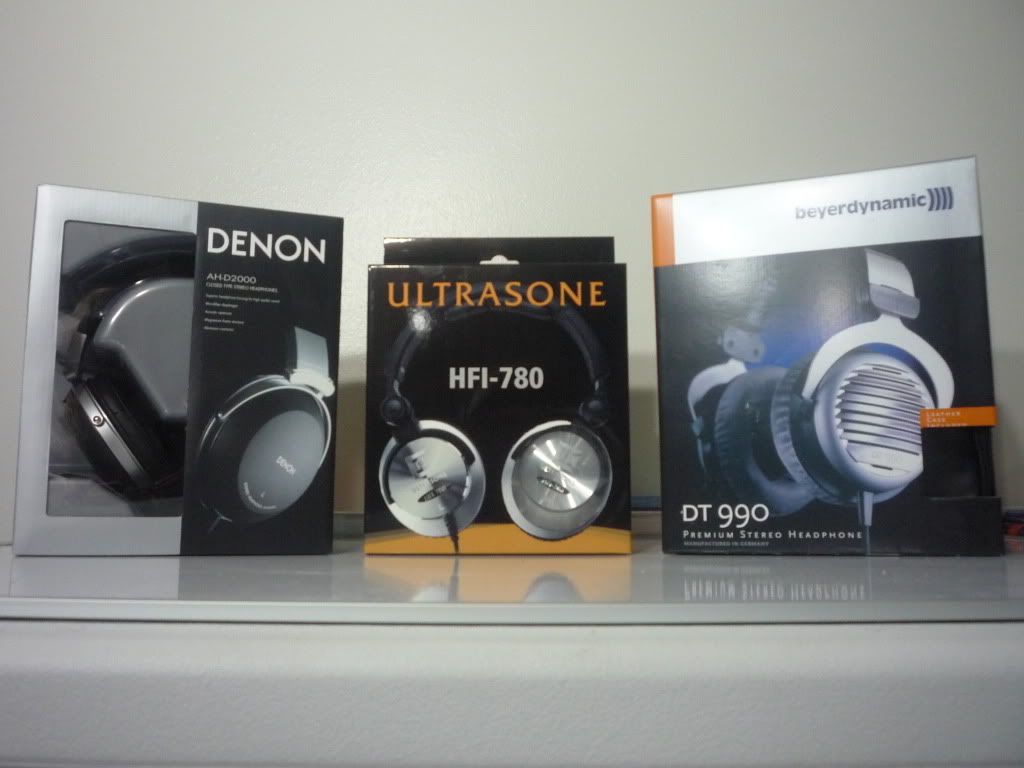 I found this on the doorstep. Well... I guess not like this... it didn't stay in the box for more than 15 seconds... it became like the shown picture before I had time to exhale.
Sorry for the long narrative, but I was so damn excited when I saw the box just sitting there. This whole time that my ear was taunting to me, it knew that I had something waiting at home for me! I guess my ears are just sensitive to things they like... and I didn't really get them anything for Christmas, though belated will have to do
More to come, you guys! I want to finally give something us Electronica-heads have been wanting, a review with Electonica-heads in mind. I've got two Chrystal Method CDs and a Paul Oakenfold CD, but I'll need some more quality source stuff.
If you guys have anything you want me to try out, I'll do my best to get a hold of it.
I hope to do some before burn-in testing, as well as some progressive updates during burn-in, maybe every few days. I also want to mention that I'm new to critical listening as a whole, but I will do my darn best to describe what I hear. Don't expect me to be able to pick apart every song, but I will subjectively note which headphones d0 best with each aspect of a certain song.
I also have my RX900s as a basic reference for myself, as well as some Monster Turbines. I won't exactly refer to them ever, unless someone wants a quick opinion on how any of the phones compare.
I also have a Bithead, but will treat an amped and unamped headphone as different headphones in regards to comparison. I know the Beyers will need it, but I'm curious how much the D2000 will be benefiting. Wish me the best! I have lots of work to do! More pictures will come later as well
MOVE: Shoot! I spent some time typing... all in the wrong forum
Would a moderator be able to help out an overly excited human find his thread a place (meant to put it in the Headphone section) Thanks Bunches!!!