Hi All.
I recently got hold of some vintage Koss Pro4AA Headphones that I plan to restore. From what I have read, this model is reasonably well rated by their owners.
I'm pretty sure that I have one of the earlier models, the origional pads are there, though in need of replacement. There are a few things needing tidied up on these headphones so I am looking to renovate them to a point that I can use them.
Soundwise they are pretty impressive, even in their less than sterling condition. They seem easy to drive and have a good solid sound to them. A little crackle when manipulated, but other than that a reasonable sound.
Tonight I began their renovation. I have recieved some modern replacement parts via Koss's most excellent service network...
Some images...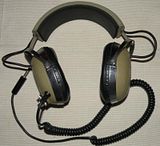 At first glance they look in very good condition, but a closer look will reveal some blemishes!
The pads are I think the original oil filled items, but there is no oil in them now, just half full of air and not very comfortable to wear. I have modern foam filled replacement items from Koss's UK distributer!
The foam inserts have long since perished, All that remains is the mesh and grotty dust which is everywhere. The distributer managed to get hold of replacements!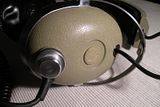 The badges are missing, yep you guessed it, I have replacements via the distributer!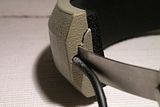 Some damage to the headband end caps. This had been glued to fix it unfortunately gluing the adjustment of the headband on one side. I have managed to release the leg now...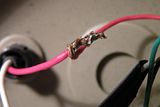 I also found that the cables are showing a little bit of corrosion in the left hand cup. Stripping back a little and re-making the connections can sort this I am sure if I opt to keep the original cable.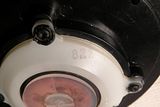 Here you can see the drivers, they are annotated with the number 822.
I have taken the phones apart and have started cleaning up the casework. The headband is cleaning up quite nicely. The colour is a sort of greyish cream colour. The current version looks more of a cream than this sets colour, does that seem right?
Now here is my questions...
One, what age are these phones likely to be? Is there a way of determining Year of Manufacture?
Any hints on bringing the finish on the cups back to origional? I have tried scrubbing them with washing liquid and I can see some improvement (the one on the left of the above image has been tentatively cleaned)... It's slow going though and I not sure if its more sympathetic to leave a little age on them... Thoughts?
Should I bother with re-cabling?
Assuming their age, is there any work that should be done to the drivers. You can see in the above picture that they are melted in place, I am pretty confident that I can take them apart and put them back together (hot glue?) but I dont want to get into it if there is nothing to be done...
Would they benefit from re-magnetising at this age?
Any other tips are welcome...