I've owned my new Vortex for about a month now, made by Qusp of Twisted Cables, and have decided to write a proper review of this new Sennheiser aftermarket cable. A local Head-Fi'er friend of mine loaned me his Cardas Smurf and Equinox cables for comparison, which I've been doing over the past 2 weeks.
Disclaimers
My listening impressions were NOT done blind. This was not an ABX test, rather it was listening impressions over a period of a few weeks. I used two critical listening methodologies when comparing these three cables:
1) Listen to an entire track on one cable, from start to finish, and then switch to the next cable and listen to the entire track again. Repeat until I'd listened to the track 3 times on each cable, or 9 times total, and write down notes as I go.
2) Listen to a specific portion of a track - such as the intro, usually between 30 seconds and 1 minute - 3 times on a cable, and then switch to the next cable and listen to it 3 times. Repeat until I'd heard that sample of the track 3 times in succession on all 3 cables, writing notes as I go.
Additionally, the Cardas cable was the longest cable of the three - half again the length of the Equinox, and perhaps a quarter again the length of the Vortex - which may have negatively impacted on its sound quality compared to its shorter bretheren.
The test setup was:
PC playing FLAC using ASIO4ALL > USB out to a Pico DAC-Only > RCA out to a WA6SE Maxed at 350hrs burn in, using stock tubes > HD600
History and how the Vortex came about
The Vortex is a newly-christened sennheiser cable from Twisted Cables, that came about when I approached Qusp some months ago looking for a new cable for my HD600's. My previous cable was an APureSound V3, which while sounding excellent, detracted from my musical enjoyment somewhat due to its thickness and weight. I also found that the V3 changed the tonality of the HD600's slightly, and while the result was pleasing, I was happy with the tone of the HD600's as they were and didn't feel they necessarily needed any changes in this area. Likely this change was due to the choice of silver plated copper (or copper cored silver, more correctly) that APureSound uses.
So, my criteria for a new cable was: lightweight, un-microphonic, with as little cable drag as possible, and using pure copper as the conductor. Initially I was looking into the typical braided Jena cables, but Qusp came up with a better solution for me.
The Vortex uses Cryoparts "
The Wire
" Cryo-treated OCC copper, which is thinner and lighter than Jena, and theoretically should sound better, as it uses the
Ohno Continuous Casting
process. I don't know if there is truly any audible difference between regular OFC/OF8N copper to OCC copper, but there seems to be a fair bit of literature floating around the Web about the OCC process and its merits, so it seemed like a sound choice. Interestingly, I found out that the Moon Audio Blue Dragon V3 also uses OCC copper.
Instead of braiding, Qusp elected to use a double twisted-pair configuration, which are then loosely twisted together along the length of the cable. The rationale of using this configuration rather than braiding was, according to Qusp, to reduce crosstalk and interference between the two channels, by preventing the L and R conductors from crossing each other as often as would occur in a braided cable. The pictures below will probably illustrate this much better than I can. The cable was terminated in a Furutech 1/4" stereo plug, with Cardas sennheiser plugs and a heatshrink Y-split.
The Vortex in its final incarnation: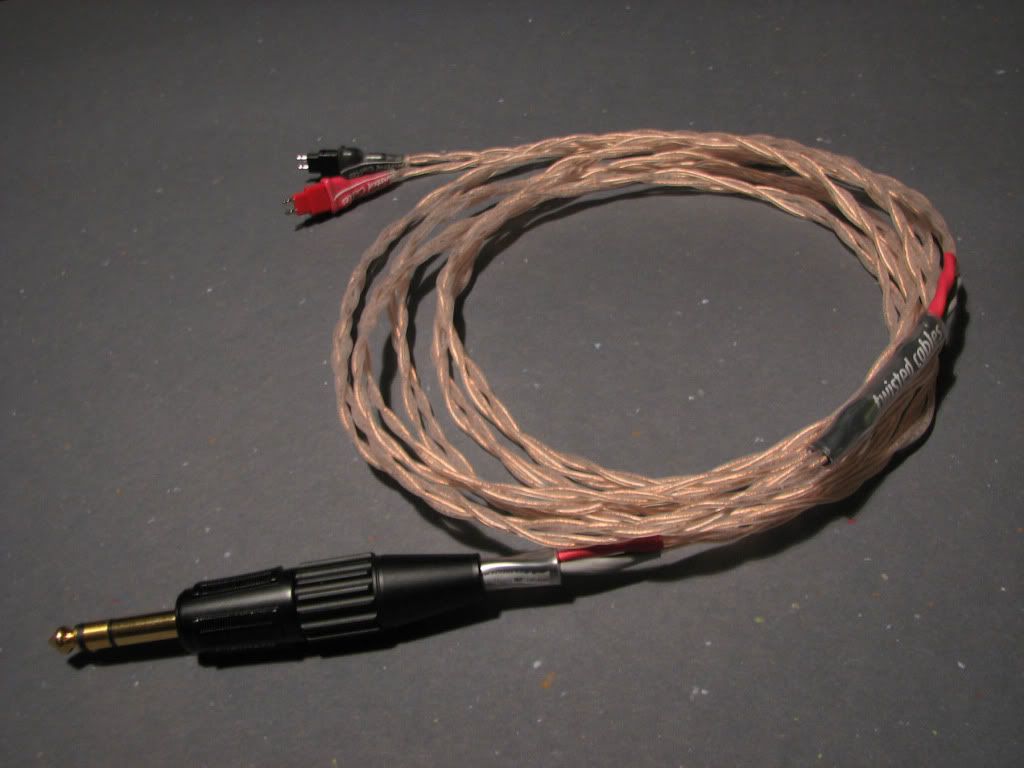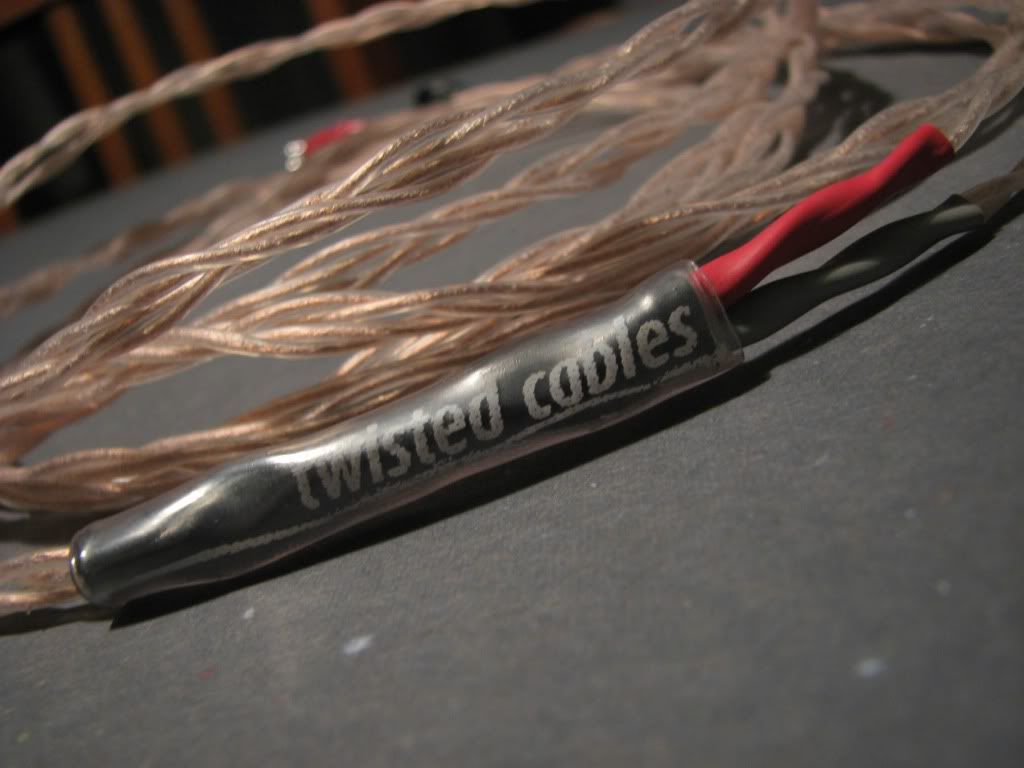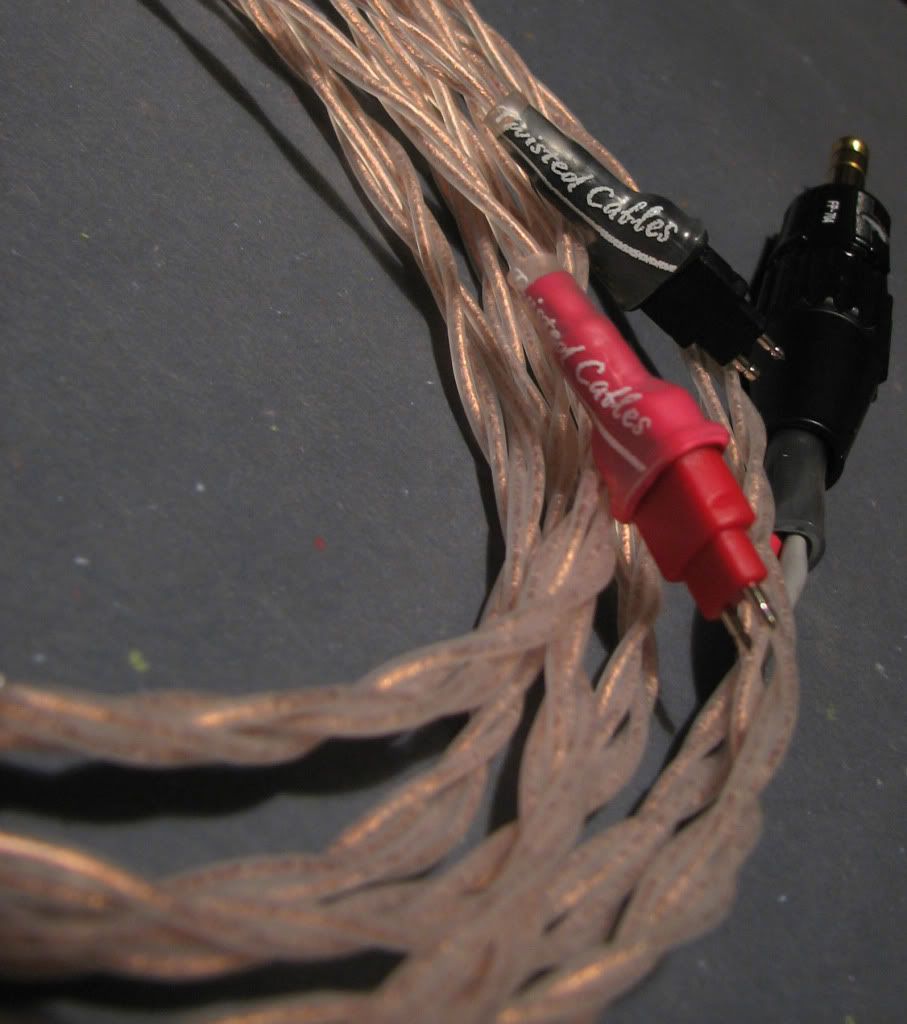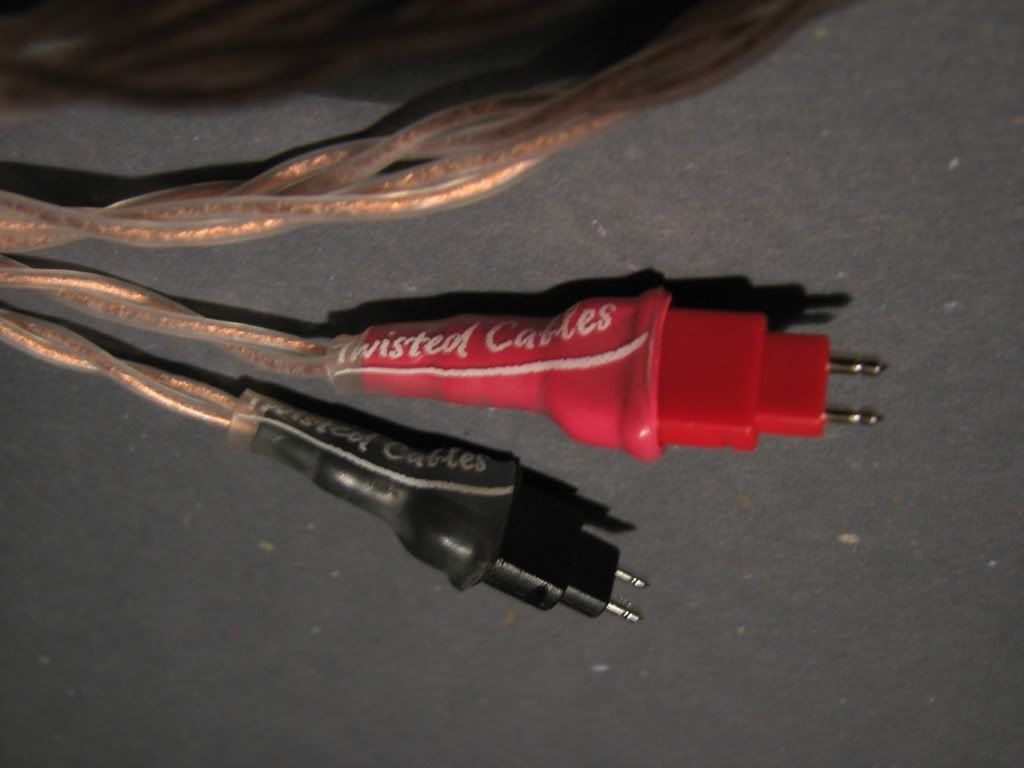 Comparison Vs the Cardas and Equinox: Part 1. Build Quality
Cardas "Smurf"
This one won't win any awards on its looks, but despite that I found it to be a remarkably usable cable. The one I have here exhibits very little microphonics - I can turn my head, run my fingers down the length of the cable, get up and move around, without hearing any microphonics. I have to actually drum my fingers against the sleeving before microphonics become audible.
It is also just light enough that I don't feel too much cable drag on my HD600's, making it easier to forget about and concentrate on the music.
This cable has grey shrink over the stereo plug and Y-split with text that reads "Custom Hand Terminated by The Silent Terminators" along with a seashell Cardas logo. I'm not sure who "The Silent Terminators" are, I might check with the cable's owner and find out, but regardless the logos and sleeving work all look very good.
Equinox
Black-techflex sleeved, with very tightly twisted wires past the Y split leading up to the sennheiser connectors, this cable is a microphonics nightmare. Any movement made by the cable is audible, it transmits up that sleeving and post-Y split wires like nobody's business. It seems this cable is using stock HD650 connectors rather than Cardas connectors, as well, and I found plugging and unplugging these from my HD600's to be more difficult than the Cardas plugs used on the Smurf and Vortex cables.
Despite this, the all-black colour scheme with the white "Stefan AudioArt" label near the stereo jack makes for a very good looking cable, which well suited my HD600's and black WA6SE.
Vortex
Easily the lightest and thinnest of the three, due to using bare wires rather than sleeving. Also exhibits zero microphonics, even during vigorous movement.
The Cryoparts wire looks and feels awesome in person, as well. It has a very slight opacity to the sleeving that gives it an ephemeral look, and the twisted double-twisted pair (geez that's a mouthful) configuration actually keeps its shape quite well. Personally I prefer the look of braided cables, but the Vortex is no slouch in looks, and if it achieves even a minor increase in performance thereby, all well and good.
One noteworthy thing about the Vortex that I haven't seen used in other cables is clear protective shrink over the manufacturer logos. The "Twisted Cables" logo on both the Y split and Sennheiser plugs are underneath a top-coat of clear shrink, so that they cannot fade or be rubbed away. A good innovation, in my oppinion.
Comparison Vs the Cardas and Equinox: Part 2. How they Sound
Cardas "Smurf"
On first listen, I realised why people often say that the HD600 and Cardas have good synergy. The smurf cable seems to maintain the basic tonality of the HD600's, while only increasing resolution, speed, and smoothness. It's a very neutral-sounding cable in this pairing, dissapearing quite easily and giving you unadulterated music. The change you notice on going from the stock cable to the Cardas is one of
clarity
, and it seems to stem mostly from an increase in resolution, rather than a tipping-up of treble or upper mids. Images become more defined, there is less "bleed" of one image to the other. PRaT and dynamics also increase, giving the HD600 more sense of life.
Equinox
My very first listen to the Equinox was when its owner was still at my place to drop the cables off, two weeks ago. I listened to the Cardas first, and then the Equinox, and immediately remarked "Hm, is it just me, or does this cable sound sort of... harsh? Or edgy?"
This impression has stuck with me throughout all the listening I've done with the Equinox. Initially I thought that perhaps this was a matter of the Equinox having greater resolution and letting me hear faults in the recording that the Cardas didn't, but I now know this to not be the case. It exhibits a slightly fatigueing character with even my best-recorded material, and the Pico DAC if anything tends to be one of the smoother-sounding sources out there, so the Equinox is not showcasing shortcomings in the source. This characteristic is entirely its own.
Resolution and dynamics seem to be about on-par with the Cardas, however once I established that I could detect a graininess of texture with the Equinox on varied genres and material, I stopped bothering to listen to it and focussed the rest of my time on the Cardas Vs Vortex comparison.
Vortex
The differences between the Cardas and Vortex were subtle, and I was into my second week of listening before I started to detect them. Both cables are very close in performance, with both exhibiting a very natural tone with the HD600's, and improving over the stock cable in the fields of resolution, speed, micro-and-macrodynamics, and visceral impact.
When I at first noticed the difference between these two cables, I couldn't quantify it. I was listening to the intro of The Obsessive Devotion, from Epica's Divine Conspiracy album. I listened to it 3 times on the Cardas, and then switched to the Vortex. There was an immediate, but subtle, increase in
enjoyment
, for want of a better term. The Vortex presented the intro in a way that was more gripping, more musical than the Cardas did, but the source of the difference was hard to pin down. I switched back and forth several times on this track looking for the specific nuances - was resolution better on one than the other? No, doesn't seem to be. Imaging? No, about the same. Soundstage size? Nope. Upper or lower frequency extension? Nope. It was baffling.
So I went hunting through my collection for my best punchy, dynamic recordings. Listen 3 times, swap, listen 3 more times, swap, rinse repeat. And the difference started to reveal itself. It wasn't any particular frequency range, or a speed/resolution issue. It was a change in the domain of
tone
.
The Vortex exhibits a
palpability
that the Cardas cannot quite match. I know this a very vague audophile term, but that's the best word that comes to mind. There is a presence, a realness, to the music as presented by the Vortex, and when compared very closely against the Cardas, the latter sounds ever so slightly artifical or "washed-out". Keep in mind these differences are VERY subtle, and I could not detect them on first, second, or even fifth or sixth listen.
Comparison Vs the Cardas and Equinox: Conclusion
As you can probably tell, I'm happy with my Vortex. From a usability perspective it matches my requirements well, being light weight, flexible, and non-microphonic, and from a sound-quality perspective it slightly betters the Cardas, to my ears.
However, the Cardas remains an excellent match for the HD600's at a much lower price, and for a price/performance cable its hard to beat and I wouldn't hesitate to recommend it to anyone with a pair of HD600's looking for an aftermarket cable on the cheaper side of the fence.
The Equinox was a dissapointment. It looks good, but it's stiff and microphonic, and performs at a level clearly a step behind both the Cardas and Vortex, to my ears.
Thanks for reading