Disclaimer: As I have stated before in other reviews, I am not an audiophile or in this business, just an enthused listener who enjoys comparing notes.
Warning, this is not a review, rather a one year follow up to my UE11 Review, covering what has changed, wear & tear, cables, strain relief, custom shell housing, comfort and very little on sound quality. If you want to read my original review
click here
or for Martin Sägmüller's review you can
click here
.
I started writing down my thoughts the day the ue11 monitors arrived a year ago, wow how time flies. One of my thoughts at the time of the initial writing was how would I feel a year down the line, would I feel different with the passage of time? Was this large investment worth it? Obviously, I decided to re-read my words from last year, as well as Martin's review and also take the time to speak with Brad Jensen from Ultimate Ears to get the insiders view. This way I could cover my bases and share how my opinion changed or not, as well as how I feel about the investment in high end custom monitors today. If I were rich, the investment would probably be mute as I still have other high end headphones and iem's on my must have list that I don't see in my near future, but hopefully one day soon.
So what's changed over the last year? Well I lost my job and have been unemployed for several months now, the kids are giving me more grey hair, the iguanas are trying to destroy our seawall (but not without a fight), oh and the global weather patterns are sending less ground swells our way to surf, so needless to say the scooter, skateboard and ue11's have come in handy over the last year! Well enough chatting from me, lets get wet discussing the ue11's and how they have held up to my abuse.
After rereading the reviews, the first thing I did was to look over Ultimate Ears website to see what if any changes were implemented and to my surprise, nothing in the UE11 offering has changed, not even the price. Not to get side tracked, I did find their new UE4 release on their site and found them interesting enough to post them on abi. According to Brad Jensen they were designed for the entry level custom market and I'm guessing they are also a good idea with the current economic situation. Apologies for the slight side tracking, back on track now …
Usage
I use my UE11's almost every day for as little as 1 to 2 hours and on longer sessions between 3 to 4 hours and occasionally have fallen asleep with them. Thus I can estimate over the last year they have over 600 hours of use. I predominately use the UE11's on the go and during trips, rarely at home as there I use my stereo or headphone tube amp. As previously stated, I haven't babied them, I use them in real life situations, well not like a rock star, but I believe my observations are valid.
I have taken the UE11's
biking, scootering, skateboarding, canoeing
and other active "on the go activities," so I have really put them through the demands of an active life style. On another note, I can honestly say that I have also taken good care of them by regular cleaning of the housing and cables. I also store them properly at the end of each day hoping they'll be around for years to come.
Cables:
As you may know, the cables are thin and light weight with a soft plastic covering over the wire. Over all they have held up good to all my abuse and believe me; I have put them to the test over the last year. I ended up using the short cables (48"/122cm) included in my initial order the whole year and overall they have functioned very well. Although, UE also has the option of ordering a 66"/168cm cable as well, at the last minute I pulled the plug on ordering a secondary longer cable. While one of the great advantages about these cables is that they are user replaceable, so there shouldn't be any issues when I need to replace them.
The 3.5mm gold plate plug held up very well, the gold plating has not worn off like it tends to do on cheaper gold plated plugs. Also above the plug there has not been any fraying on the cable or above the strain relief. Not much more to say on the plug other than I prefer right angled plugs for iem's on most set ups and these are. On the other end of the cable are the gold plated connectors that connect the cables to the housing which I have rarely removed and have not given me any trouble. I took a good look at them and they too seem to be holding up fine, no oxidation or wear and have held in place fine. As stated before, I like this modular connection design allowing you to change your cables without having to heat up the old soldering iron.
Loved by some and hated by others is the memory wire, this is probably due to minor cable microphonics from the memory wire while rubbing against eye glasses, oxidation of the wire within the plastic tubing and possible comfort issues. Yes mine too made a strange sound while rubbing against my sun glasses and the sound did bother me at first, but I quickly learned to properly adjust them in a way to avoid this noise while still wearing my shades. As far as comfort, the memory wire never really bothered me at all and it too has held up very well, no issues with it.
I did have the opportunity to ask Brad about the oxidation issues with the clear cables and it has been a problem as the wire is made of copper. He just had to laugh when I mentioned that this green oxidation is a highly sought after look when copper is used in housing, especially on copper roof fascia. If mine has it, it's impossible to tell as my cables are black and I really don't see it. They are looking into this issue, but honestly copper is the best wire to use because of its flexible quality and if you go with clear you may just have to live with it. While some users have removed the memory wire, which is a great idea, I haven't as I like it. The memory wire holds the cable up out of my way firmly and during sporting activities it keeps it there streamlined above my ears towards my back and down my shirt. I guess UE could offer the cables with or without the memory wire, but it's probably a pain for them to add another cable sku to their inventory and fairly easy to remove if it does bother you.
If you look at the cable pictures below, you really don't see any wear on them, the only area of concern is at the Y splitter which shows a little wear or cable fraying on the cable sleeve above the strain relief. This is my only area of dislike; it doesn't function well with the sliding clear tube, used to tighten up the slack behind the head and is responsible for getting hung up on some collars. What bothers me most is the flat surface area of the Y which tends to stick to my upper back from perspiration during physical activities. Here I think UE can learn from looking at a more practical design like the smooth splitter transition in use with other phones, similar to the stock hd650 headphone cable or on a small scale other iem's that do not have the pronounced Y shape and are more streamlined. Although this issue isn't a deal breaker, if you are active in sports or a rock musician jumping around, a little tug every now and then can be bothersome. After stating the above facts clearly, I am still of the opinion that the ue11 cable performance has been very good because it's light weight, thin, almost unnoticeable, has held up very good over the last year and if worn properly it has no noticeable cable microphonics. As you well know, there are many iem cables out there that don't last a year and I believe with care these could easily last another.
Custom Shell Housing & Comfort
Beyond delivering great sound quality and build quality, I believe that important attributes of a good custom shell monitor design should include: ease of insertion, freedom from discomfort during long term use, the positional relationship to the ear (a lack of extrusion or sticking out from the ear, fitting flush) and a pleasing or aesthetically acceptable cosmetic design. Where comfort, especially long term comfort being of utmost importance in the listening experience.
Here I can not refrain from stressing enough the importance of having good impressions of your ears taken, don't know if you remember that my original impressions were rejected by UE and I'm so glad they were. I submitted a second one that was perfect, which I attribute to my high level of satisfaction with comfort and fit. In an industry using traditional methods, the refit rate is between 15 to 25%. Although according to UE, less than 3% of their custom monitors are returned for refitting when customers submit properly taken and acceptable ear impressions or when they use the UE recommended locations for impressions.
In addition to their tough requirement of good impressions, their return percentage is low because they use
Virtual Translation Manufacturing (VTM)
, which means they have the ability to laser scan, design, capture and manipulate 3 dimensional models within a software environment in order to print highly accurate custom shells for final use. Then In'Tech Industries Inc in Ramsey Minnesota manufactures the shells, sends them to UE to insert and position the balanced armatures, properly tune them and add their finishing touches.
The housing themselves are made from a hard acrylic resin which should have at least 10 to 12 years or more of life expectancy with good care. What scares me most is that the armatures have a life expectancy of 7 years and way shorter if dropped or abused. According to Brad, the armatures can not take too much shock, so if you're one who drops them or throws them on the table after use, rather than gently setting them down, be forewarned.
Furthermore we discussed if they have experimented with soft shells, which they had but abandoned for longer lasting hard shells. From what I have read the life expectance of the soft shells is only a few years but they are supposed to offer a greater degree of comfort. I am rather glad that mine are hard, I just couldn't imagine having to get new shells every few years, regardless this discussion is mute as UE uses the hard shells in their products.
I believe the housing itself is very similar to the canal style earmold, which includes the half-shell with a cover, canal and canal-lock configuration. The canal-lock earmold possesses a small plastic tail (lock) extended to the
antitragus
, which rests against it and prevents the earmold from moving out of the canal. This keeps them held in place firmly and provides good retention.
An important point to mention as Martin noted in his review that the combination of this hard shell, depth into your head along with a very good seal causes a bit of unnecessary microphonics/noise conduction from one's body that can be heard in certain situations. Personally I learned not to brush my teeth or eat while wearing the UE11's and I don't experience much unwanted noise as 90% of the time I wear very soft sneakers, soft boat shoes or sandals. I have either become immune to some extent or I am so use to these monitors that it doesn't bother me or all that is so great about them makes me ignore it. Some times I will decompress my ears as if I were diving (opening and a slight backward movement of the jaw), which reduces the seal and eliminates or reduces some of this unwanted noise.
It is my belief their housing is aesthetically pleasing and comfortable to wear for an extended period of time. I might feel differently if they didn't have such a good fit, but once again and I stress, if the impressions are made properly, UE delivers a housing that fits well, is easy to insert, provides a good level of comfort and the acoustic seal is best in class. By this I mean isolation second to none and absolutely no
wind noises
(comic relief), although I actually did try this. Don't get me wrong, if I pause or turn off the music, I can hear external noises and communicate with others, but I've yet to wear any universal fit iem's that provide this level of isolation.
Nonetheless, with proper care and cleaning my housings have held up very well over the last year. I really don't see any difference from when they were new other than cable wear; I just hope they last longer than expected, although I could post back in a few years to update you.
Cables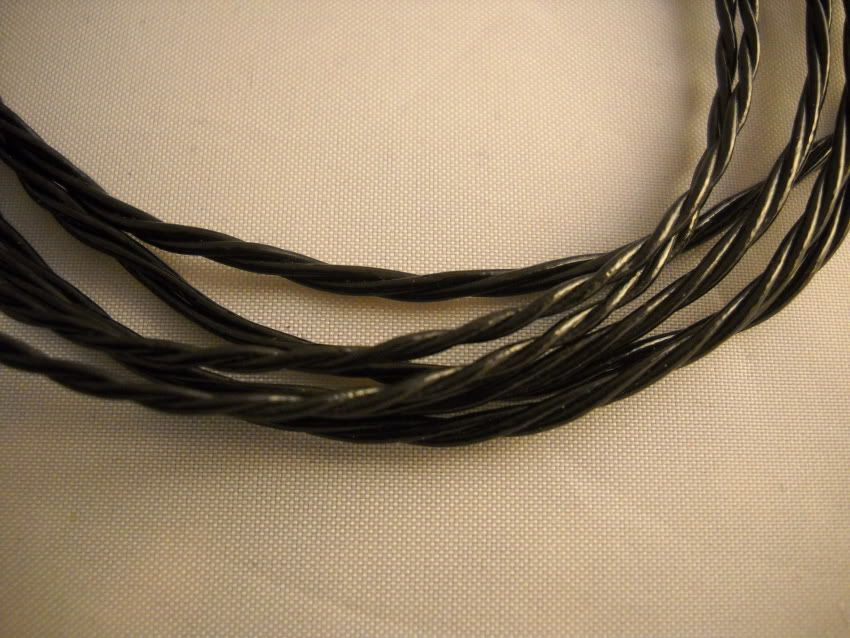 3.5mm Gold Right Angled Plug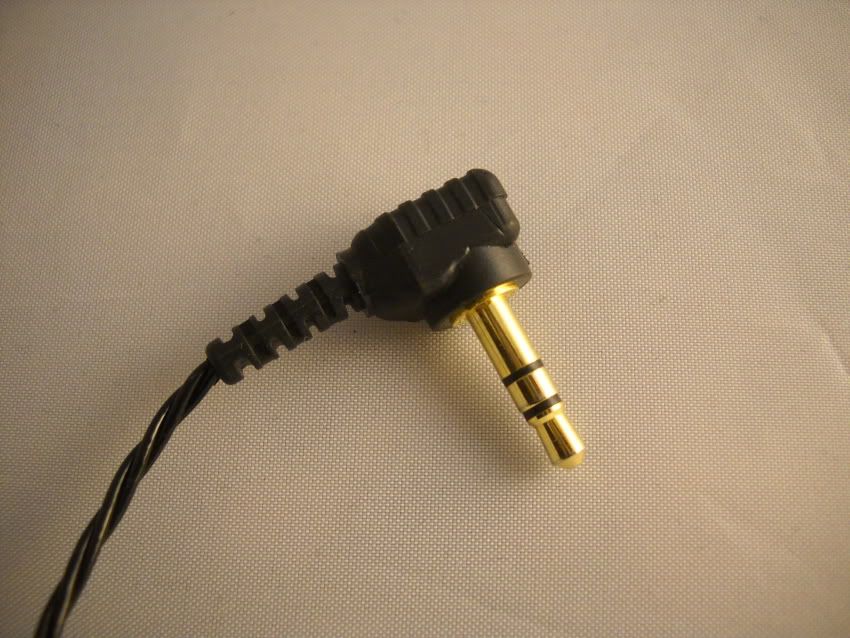 Gold plated connectors that connect cables to the housing
Female Modular Connection on Monitor Housing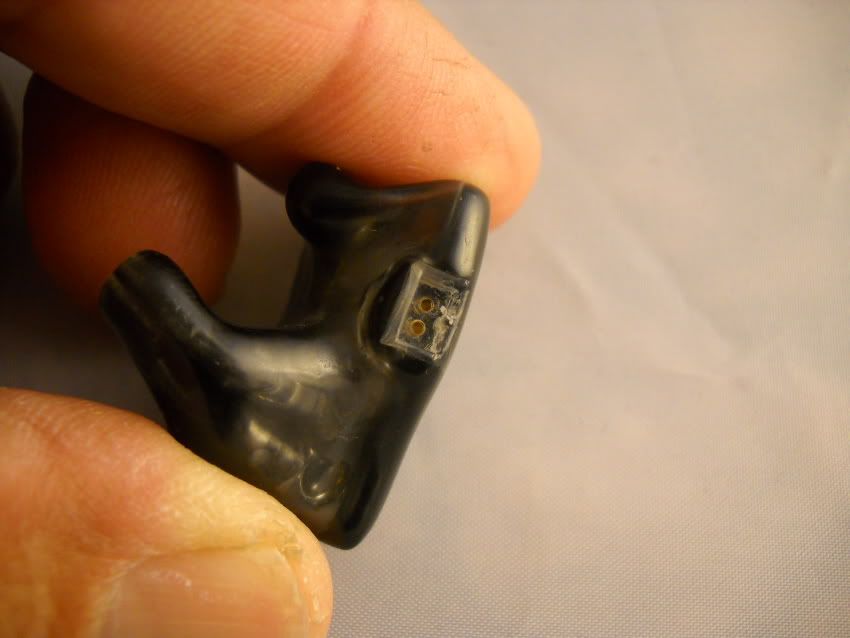 Memory wire
Y Splitter (note the fray above the strain relief)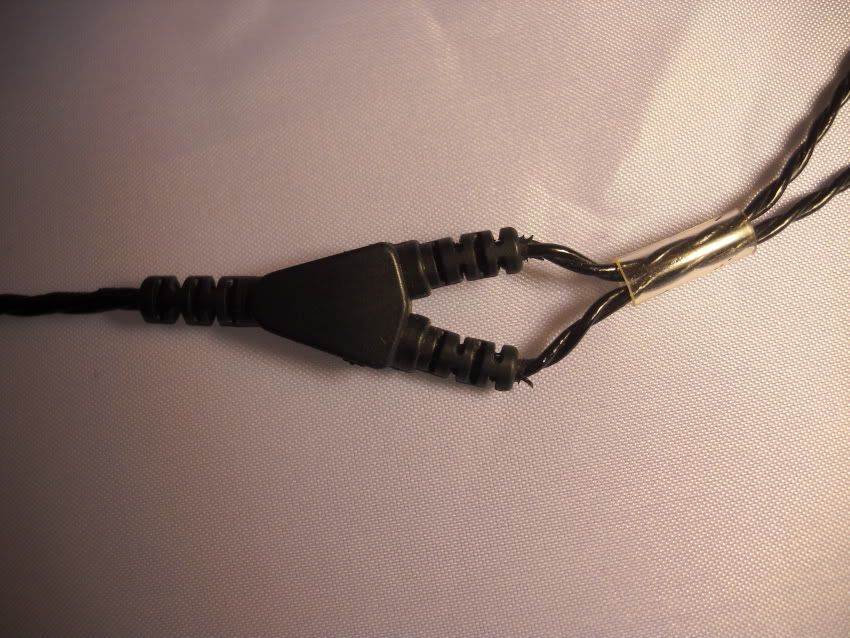 Custom Shell Housing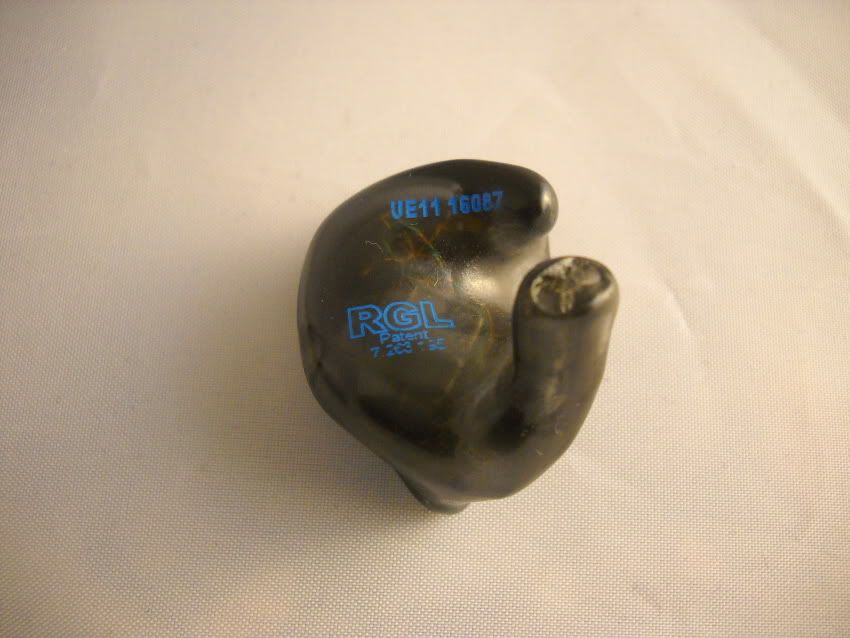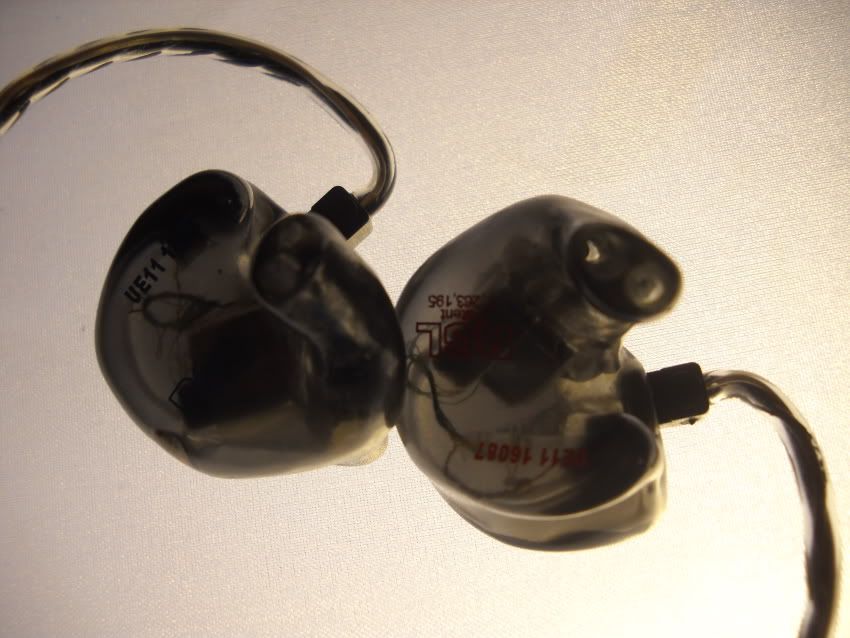 Sound Quality
I really didn't want to rehash the sound quality again as my opinion hasn't changed, I did want to mention that the sound quality hasn't changed over time and that I possibly like them even more now with all the extended use. A quick note without going into too much depth is that the highs are very pleasing, clear, fast, precise and detailed. The midrange makes the vocals sound life like, a real pleasure to hear, even when someone is just speaking. Which brings us to the bass, for a portable solution to listening, the bass is to die for, it's deep, intense and more than substantial! Although if you really want to read about the sound quality, I recommend that you re-read either my review or Martin's and hopefully this will fulfill your sound quality quiver. In winding up sound quality, as I have stated before, I still believe that they out perform all portable earphones I have heard and many full sized headphones available on the market today.
Accessories
Not much to say here, the included cases have held up well. I use the little case all the time for my monitors, but the larger one I only use when I travel and it's large enough to hold my DAP, amp and monitors. I did break the cleaning tool during regular use recently, luckily I use it with the housings upside down and the little wire fell right out rather than in. The tool did last almost the full year with regular use and these tools are relatively cheap so this isn't an issue. I'd like to thank my BC-HIS,
Maria D. Rosa, H.I.S. of A Atlantic Hearing AId Center, 2310 E Oakland Park Blvd, Ft. Laud, FL
for giving me a few spare cleaning tools.
Conclusion
In closing I would like to say that Ultimate Ear's UE11's certainly are not cheap, but are well built from top to bottom with an extraordinary and elite sound quality that is very pleasing to my ears. Their dedication to provide top notch equipment is evident by how well my monitors have held up and endured my abuse over the last year. And after spending some time speaking with Brad, I can truly say that they are focused on customer care. So I can truly say "hats off" to a very good product one year later and I have no qualms with recommending them.
Are You Wondering What's Next?
We did get a chance to speak offline about CanJam and the JH13 Pro, he wished Jerry Harvey as much success as two friends before a football game can wish each other, heh. Even though Brad was a bit reluctant to speak candidly about what other projects they might have on the drawing board, I did hear they are testing some new equipment and he told me if I spill the beans the UE ninjas would be knocking on my door to take care of business. I got the feeling that they are always looking at ways to improve their existing products and develop new ways to tease our auditory senses and I don't put anything past these dedicated acoustically minded professionals, so we'll just have to wait and see what's next.
A special thanks to Brad Jensen from Ultimate Ears for his time, contribution and support. Ultimate Ears can be hailed at UltimateEars.com, as well 1-800-589-6531.