Mine has arrived.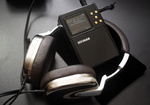 I have managed to make a few hours listening until the remaining battery run out. I tried it mostly on the go with Edition8 and JH13. Both of them has great synergy.
Here is the first impressions.
HM-801 is laterally a bit bulky but much better than carrying dap/amp combo. In addition, HM801 is lighter than I thought.
Sound quality is simply outstanding for a portable. Not in the portable league, this is even better than my iHP140/D10(8397) combo in one box.
Overall sounded much detailed, refined and neutral. In short, an audiophile sound. Bass is deep and not humped, the control of bass is fairly tight, I was impressed.
LCD is simple, no frills but clear enough and works well. However I think key operation is not so intuitive. (no manuals provided at this moment)
I use HM801 mostly with FLAC, that is ripped using EAC.
Song track navigation is Rockbox like and file/folder management is easy to understand. I even tried some 96/24 flac which I bought from LINN, HDtracks and others. 96/24 works fine but some track caused freeze. Not all but some of them. 44/16s are no problem at all.
I use Sandisk 32GB SDHC. I also tried Transcend 8GB SDHC and this works well too.
This is a fantastic piece of work.
Thank you Fang!