My journey in the world of portable audio has been a long but very fulfilling one. Ever since buying a pair of Sony "earphones" to replace the stock ibuds I've been searching for ways to improve the sound and bring it closer me audio Nirvana. The Crossroads Mylars were a revelation, so were the Westone UM1's. I even owned a pair of Zu-cabled Sennheiser HD650's for a while but gave them up because I have almost no time to listen at home and when I do, I prefer speakers.
About a year ago I decided to go to the limit of stock audiophilia. My search for the perfect amp had already ended when I with the purchade of a headamp AE-2, in my opinion the best and most "relaxed" portable amp money can buy. The great thing about local headphone heaven Jaben is that it gives you the opportunity to listen to almost anything without commitment. That's how I discovered I really like the Shure E500 (aka E530). Its triple drivers bring lots of details to the party and the bass response is really good. It shines most in the mid-range, especially in percussion. After about a year or so, I was still searching for improvement but was unable to satisfy the everlasting upgrade fever. The only solution would be to go for customs. The problem with that is that you can never be sure about the results and/or that their hideously expensive. If you don't like the signature, you're stuck with them because they're made for your ears and your ears alone.
Another solution would be custom sleaves for my Sures. After having seen the result, I decided not to. I don't want to walk around with 2 pieces of plastic protruding out of my ears like sellery stalks.
To my dismay the cables of my Shures began to crack even though I'm always very careful. $700 dollar IEMs and cables that crack? Unbelievable!
Last December on holiday, I was talking to a guy who claimed to have the ultimate solution: real customization and detachable cables. He sent me some pictures later and proposed that I should try it. If the signature would change or if I didn't like anything else he would replace my IEMs, no questions asked.
So that's where I am now. Yesterday, the extreme made-over Shure E500s came in, complete with braided silver cable. It took a little over 2 weeks which is very short compared to Livewires or the (demised?) Freqs.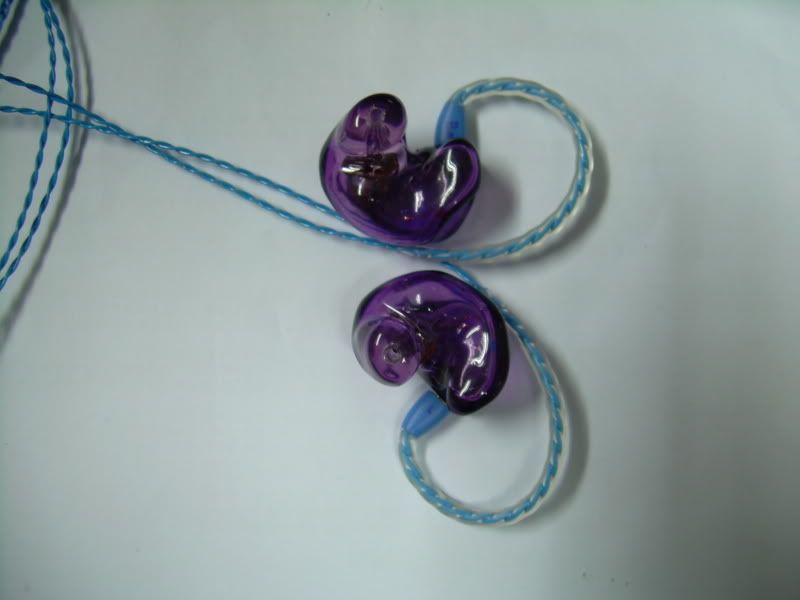 The result:
Making a pair of customs out of existing IEMs has both advantages and disadvantages. The biggest issue is getting the job done without a degrading change in sound signature. This was remedied by analysing the response of the original Shures on a scope and later comparing it with the customized casing.
Minor issue is off course that the thing must look good. I liked the shape of the Shures, especially with olive tips. The new transparent purple casing however is a piece of art. It fits perfectly and provides at least 90% isolation which is about 30% better then the standard tips and 25% better then the olives. The casings fit flat to my ears so I don't look like Frankenstein.
The wires I chose are silver braided with a neutrik plug. I could have chosen Westone cables or any other but for now, this is okay. The blue looks a bit cheap but I could have gone for black cables if I wanted to. The cables are thin but sturdy and loop around the ears.
On to the testing:
The music I used for testing (all in ripped FLAC and transcoded to Apple lossless by DBAmp). The rig is an iPod 5th generation with a special out with Black Gate caps going to a HeadAmp AE2.
1. Murray Perahia – J.S. Bach - Goldberg Variations
2. Muse – Black Holes and Revelations
3. Vladimir Ashkenazy – Mozart piano concertos
4. Depeche Mode – Music for the Masses
5. Howard Shore – The Lord of the Rings
6. 50 Cent – The Massacre
The sound is a bit brighter in the high ends as can be expected from silver cables but the mids are still solid. Best is that the bass seems to have firmed up. The improved isolation will add to bass response and there's not sign of flab at all.
The biggest improvement is the soundstage. Original Shures already have a large soundstage but the custom casing makes the soubndstage really huge! In large orchestral pieces like the LOTR soundtrack you really feel like sitting front row. Single piano is rendered very lifelike and so detailed that I can hear Murrays chair creaking. I didn't use my favorite Glen Gould version because he tends to hum with the music which is distracting.
It's the electronic music of Depeche Mode and the melodic rock of Muse where the Shure really shines. The total isolation makes it easy to concentrate on the music (although you have to be careful not to bump into people
Footsteps do travel though so hard soles are not advisable. The cables sometimes rub a bit causing microphonics but it isn't distracting. Again, the cables are detachable so you can choose whatever you want!
I have extensively tested for change as compared to my original casing and can say that I can hear no degradation in the Shure's fantastic signature. Don't expect a magic change though. If you don't like your IEMs, they won't suddenly change.
This operation was a complete success. I couldn't be happier and truly believe that a pair of customized Shure E500 can beat any custom out there. Best thing is that the price was extremely reasonable and even when added to the price of the Shures it is below what most customs cost and certainly below any 3 driver custom IEM out there.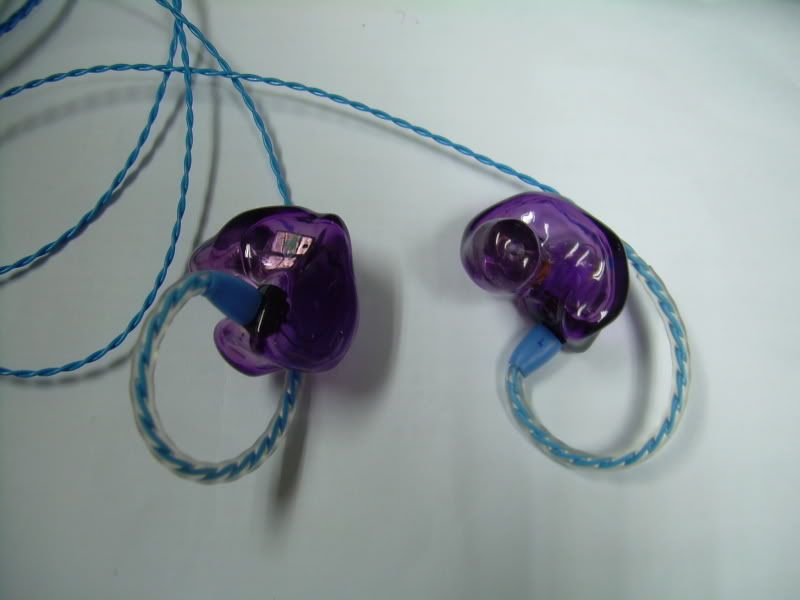 The manufacturer has a very limited capacity so if you're interested, give me a pm or email send2erik[a.t.]gmail.com I'm in no way commercially affiliated with him.