Let me preface this by saying that my taste for sound reproduction devices is very simple--accuracy, neutrality, defined, clear, no hype or dip in any frequency range, as deep a soundstage and expansive stereo imaging to accommodate all recording's original intent, fast transient response, smooth (no graininess), and I believe when a pair of speakers/headphones achieve that, there's no longer any need for words like "musical" or "fun" or "dynamic," nor is there need for descriptions like "great for (insert genre of music) but not as good on other genres)." In short, if a sound reproduction device itself does not color the sound, then the only thing left is the intent of the original recording/mixing/mastering engineers. Sound reproduction devices should not sound "warm" or "clinical" or whatever other adjectives used to describe these products--they should simply be invisible and let the original recordings express the artistic ideas intended. A piece of music should only sound warm if that's what the original mastering engineer wanted, not because a pair of speakers/headphones colored them that way. If a recording is supposed to sound very clean and clinical, the that's how the speakers/headphones should reproduce them. If we expect our TV screens to not have a noticeable color cast (too much blue or red or green), then why do we tolerate sound reproduction devices that leave their fingerprints all over the music they reproduce? Unfortunately, it appears to be easier to reproduce a neutral TV screen than it is a neutral pair of speakes/headphones (I could be wrong about this though).
So, with that out of the way, let me share my impression of the Westone 3. I got them in the mail today and have been testing them for a whole day. I purchased them from a reputable dealing online here in China (
¶ú»ú£*°²ÈóÉ̳ǣºÆ·ÖÖ×îÆëÈ«µÄ¸ßµµ¶ú»úÉ̳Ç
) for roughly $291 USD.
I compared the Westone 3 to the following:
Klein + Hummel O 300D (3-way professional reference monitors in a fully acoustically treated studio using broadband absorbers--see my website for photos of the studio)
Sennheiser HD555 (open back headhpones)
I purchased the Westone 3 to replace my destroyed Shure E4C (I was never totally happy with the E4C due to the anemic bass and slightly hyped high's around 12Khz-ish). I essentially had to listen with EQ compensation and that drains the battery faster and I really wanted a pair of IEM's that required no EQ'ing to be totally accurate and flat across the frequencies (as much as possible).
The most accurate sound production tool I have in the studio are my Klein + Hummel O 300D's, and I trust them completely, especially after doing shootouts between various professional monitors over the years. I know it's unfair to compare headphones to monitors, or full sized headphones to IEM's, but I have no other quality IEM on hand to test against (the only other IEM in the household is my wife's JVC Marshmellows, and they are definitely not high-end).
So, I tested the Westone 3 against the Sennheiser HD555 (which I purchased after doing extensive testing against the HD600 and felt the HD555 was just a tiny bit warmer--meaning the high's are slightly rolled off, and that tiny bit of difference didn't not justify the much more expensive price of the HD600 for me) and the K+H O 300D's. I tested with a wide range of styles--from jazz, classical, electronica, industrial, rock, pop, trip-hop, soundtracks, and so on. I also tried all the different tips available.
First of all, the tips either fit or they don't--there's not in-between. If they don't fit you do not get a proper seal (or they fall out easily) and that's the end of the story. If they fit, then they essentially all sound very similar--I do not believe the different tips will significantly change the sound signature of the IEM--that would be a terrible design flaw if that were true. If it fits (meaning getting proper seal), then that's it--nothing more to say.
After hours of testing and comparing, this is what I found:
1) The Westone 3 is not neutral or accurate. The high's are significantly rolled off--to the point of sounding like a veil is placed in front of the tweeters. The bass is hyped, to the point of sounding muddy. I was not happy about this because with all the research I've done, the Westone 3's are supposed to be one of the more neutral/accurate sounding IEM's on the market currently. As things stand, I cannot use them without customized EQ settings, and this is enough for me to exchange them for something else (I don't know if the online retailer even allow it).
2) In comparison, my Sennheiser HD555 sounds far more similar to my K+H O 300D's than the Westone 3's. This leads me to believe that the higher end Sennheisers are indeed quite accurate in general (the HD555 is only their mid-level product).
3) I started to troubleshoot Westone 3's frequency curve and I tried to match a custom EQ setting on the Westone 3 to sound like the Sennheiser HD555 and the K+H O 300D's. This is what I ended up with: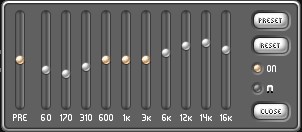 (I also double checked by reversing this EQ setting on the HD555 and K+H so they sound like the Westone 3's.)
As you can see, the high's in the 12Khz~14Khz area had to be bumped up quite a bit, while the low's in the 170Hz range had to be pushed down quite a bit as well to get rid of the muddiness. With this setting, the Westone 3's sound close enough to the HD555 and K+H's that if they sounded that way naturally, I'd be happy with them.
So, as things stand, I'm pretty disappointed. After all the hype and reading dozens and dozens of pages of forum discussions and reviews, I still ended up with an unsatisfactory product.
Before I go ahead and try to exchange the Westone 3, I'd like to hear from those of you who have both the Westone 3 and a Sennheiser HD500 to 600 series full size headphones. Can you please replicate my EQ settings and see if you also get a very close match between your Westone 3 and your Sennheiser HD 500/600 series (please don't try this if you have some other number series of Sennheiser headphones because they do not sound like the 500/600 series. For example the HD280 Pro sounds nothing like the 500/600 series). I'm asking for this because there's a small part of me that wonders if I had gotten a fake one (it's China afterall). I kind of doubt it since the retailer is fairly reputable and the packaging looks perfectly legit to me. IF there's way to spot fakes, please let me know--just in case.
So, with all that I've said, if I were to exchange the Westone 3's, what is a far more accurate IEM? The goal is to get a pair of IEM that require no custom EQ settings to sound neutral and accurate.