A 3-Way Comparison: Apple In-Ears vs. Nuforce NE-7M vs. ZAGG Z.Buds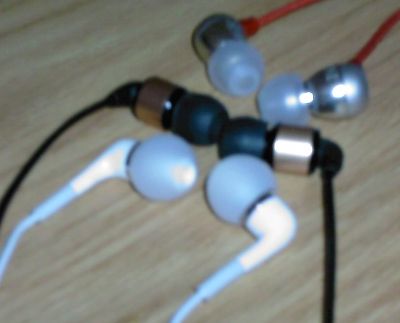 Individual Reviews
http://www.head-fi.org/forums/f103/n...-er-6i-391701/
http://www.head-fi.org/forums/f103/r...n-c700-383617/
http://www.head-fi.org/forums/f103/z...review-394809/
Well, here it is. I've been putting this off for a number of reasons, mostly because I wanted to make sure I had enough time with each IEM to make a fair comparison. I've spent about a week and a half using these three interchangeably between my PC, laptop and Sansa Fuze. I feel that each of these has received the necessary burn in they respectively require. While I write this I'll be listening through foobar2000 on my PC and rapidly swapping these three out (trying to keep the volume the same as well) while making my comparisons. Let's begin.
Sound Signatures
Apple In-Ears
┣ Treble: ★★★★
┣ Mid: ★★★★★
┣ Bass: ★★★
Nuforce NE-7M
┣ Treble: ★★★★★
┣ Mid: ★★★★☆
┣ Bass: ★★★★
ZAGG Z.Buds
┣ Treble: ★★★★
┣ Mid: ★★★★★
┣ Bass: ★★★★★
Quick Comment
: The NE-7M makes me feel like I'm listening to a high-def radio (with bass!), which is interesting to say the least. As has been mentioned before, the NE-7M is somewhat similar to the Image X10 in sound signature, albeit somewhat darker and muffled. The Apple In-Ears mids feel a bit abnormally tweaked, almost like the fullness they have is hollow. They are a touch dark on the treble side of things, which means you probably won't find them shrill. The bass is there but I wouldn't complain if it was boosted a few dB. The Z.Buds mainly have a problem with a bit too much mid-bass which can cause some songs to feel too warm. Vocals are overly warm with the Z.Buds, having an unnatural fullness, and I feel in complex instrumental pieces the Z.Buds almost introduce a built-in "dither" to the sound, which somewhat confuses the overall picture. On the plus side, the sound signature of the Z.Buds is the most non-fatiguing and fun of the three, and the easiest in my opinion to listen to for long stretches at a time. The Z.Buds have the most bass of the three by a fair margin.
Sound Quality
Fair note, my Etymotic HF5 (Highs), Shure SCL4 (Mids) and Klipsch Image X10/Future Sonics Atrio M5 (Bass) are my anchors here on sound quality. Also, three stars does not mean poor. It means adequate or average, and is a great rating. Anything above that means above average to superior quality in that area.
Apple In-Ears
┣ Treble: ★★★☆
┣ Mid: ★★★★
┣ Bass: ★★★☆
Nuforce NE-7M
┣ Treble: ★★★☆
┣ Mid: ★★★
┣ Bass: ★★★★☆
ZAGG Z.Buds
┣ Treble: ★★★
┣ Mid: ★★★★
┣ Bass: ★★★★
Quick Comment
: I feel the Apple In-Ears have the most refinement in overall sound quality of the three, but some of it feels unnatural, kind of "hollow", especially in the mids and bass. This is why I docked them perhaps more than they may deserve. The NE-7M shines on the treble end, having the best extension and brightest presentation of the three. Mids are reproduced well, but it's nothing special, and I feel vocals are put in the background more frequently than with the Apple In-Ears or the Z.Buds. The NE-7M makes a great compromise between bass hit and quality, but overall I think the Z.Buds offer a better compromise if you're looking for the most bass possible without sacrificing an excessive amount of quality. Some will say the mid-bass creeps into the lower mids on the Z.Buds, but I feel that most of that comes from how warm the mids on the Z.Buds are throughout. I don't feel sibilance is a major issue for any of these three IEMs. As for sound stage, the NE-7M and Z.Buds feel like they have the same sound stage which I'd rate about par for the course with most IEMs, and they both easily beat the Apple In-Ears, which feels about 75% of what the other two are.
Overall Pros & Cons
Please note that the length of my comments on pros or cons doesn't necessarily mean any of these IEMs is better or worse because of that. I know most of you realize this, but I wanted to clarify for those who might think a long "Cons" section automatically means "bad". Take these thoughts for what they are, an explanation of what's good and bad about each IEM.
Apple In-EarsPros:
Most stylish, nice wind-up case for cord management, decently comfortable, best overall sound quality if the hollowness doesn't bother you like it does me. Cord is sturdy enough to take some abuse.
Cons:
"Mug me!" white with no other color options (AFAIK), the sound (to me) feels slightly off, bass may be anemic for some, weak sound stage, long stem on enclosures may be uncomfortable if you have to insert deeply to get a good seal, straight 1/8" jack, pill-shaped spare tip container tends to roll around a lot and may get lost
Nuforce NE-7MPros:
Very nice airy presentation, carrying case is decent for blocking sound while burning in and isn't annoying or pretentious to boot, bent 1/8" jack
Cons:
That airy presentation in this case sometimes sounds like a "better radio", which can be aggravating or pleasant depending on the song. The comfort is the worst of the three, and out of the many IEMs I own, the tips included with the NE-7M are the most uncomfortable and difficult I've used by far. The tips are also quite annoying to remove once you've tired of trying to get a seal with them (I use small UE tips on mine). If the copper part of the housing touches your ear if you have to insert deeply for a seal, it can be quite grating. No color options beside black + copper. The carrying case may be too fragile for some people's liking, as it doesn't offer any real protection other than from getting dirty. The cord is the weakest and most fragile of the three, which is another similarity to the Image X10 (although the Image X10 has a weaker cord still). Nuforce forgot to include any foamies with my NE-7M.
ZAGG Z.BudsPros:
Sturdy nylon cord which is much better than the other two, two color options [Red & Black], most comfortable of the three, most bass of the three while not being too much of a slouch on quality (handles artists like DragonForce and Infected Mushroom just fine), most tips of the three (2 different sizes of foamies, three different sizes of silicone tips, one tri-flange set), volume control in-line (great for all-around use), multiple ways to wear the Z.Buds, microphonics are the least of the three if worn in the "hangin' tight" fashion (as seen on ZAGG's website)
Cons:
Too much mid-bass for some, certain functional parts of the cord feel a bit fragile or are easy to lose (microphone/iPhone control and button loop), button loop would be better not in a "T" shape but rather screwing into the side of the metal instead of on the end, avoiding what I feel is a weak point in the cord structure while keeping the cord straight overall, carrying case (or bag, as it is) doesn't provide much protection as with the NE-7M, triple flange tips require Herculean effort to get on, straight 1/8" jack, Z.Buds are slightly weightier than other two if worn straight down like normal IEMs/earbuds as well as having slightly more microphonics than the other two when worn in this fashion.
Final Thoughts
These are three excellent IEMs for their price point, and all are worth the money. What's important to consider when deciding which one you want is what kind of sound you like out of a headphone and what compromises in comfort and functionality you want to make. If sound stage is important to you, that's something else to consider when deciding between the three here. Same thing with straight 1/8" jack vs. bent 1/8" jack.
Good luck deciding which is right for you!
Please note that I will likely be making minor adjustments to the format, wording, and possibly to some information if I think of anything I may have missed. Directly comparing three IEMs to each other fairly is no easy task, so please bear with any changes that occur.